Abstract
In the process of underground excavation with weak and broken surrounding rock, high-strength arch support is the primary bearing structure to resist rock pressure, especially after shotcrete layer cracks. Field destruction in underground excavation indicates that, with high ground pressure, the primary failure mode of arch is instability failure, which might lead to sudden loss of strength. Therefore, a quantitative analysis of arch instability in tunnel support design is necessary to avoid insufficient support strength so as to ensure the safety of underground engineering. The research method in this paper is based on the application of convergence-confinement method in underground arch support. The modified assumption of support characteristic curve (SCC) is proposed considering the instability failure of arch. The SCC of I-shaped arch and concrete-filled steel tubular (CFST) arch is constructed, respectively, based on mechanical analysis and verified by numerical simulation. A parametric analysis is also carried out to provide reference for arch design. Ground reaction curves (GRCs) of tunnel surrounding rocks with different lithology and ground stress considering arch failure mode are obtained to study the rock–arch interaction mechanism. The research results provide a theoretical reference for the design and application of arch support in related projects.
Access options
Buy single article
Instant access to the full article PDF.
US$ 39.95
Tax calculation will be finalised during checkout.
Subscribe to journal
Immediate online access to all issues from 2019. Subscription will auto renew annually.
US$ 79
Tax calculation will be finalised during checkout.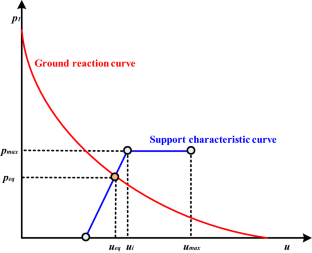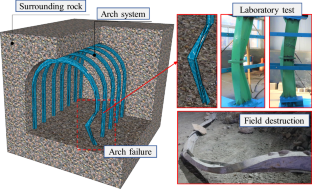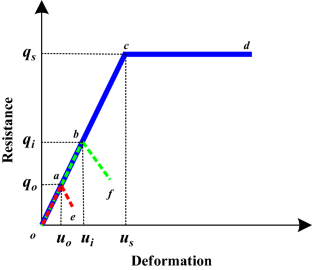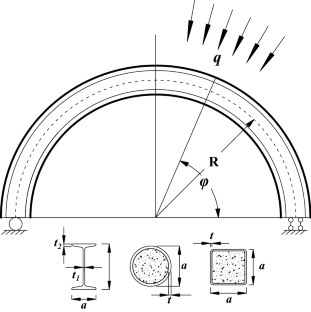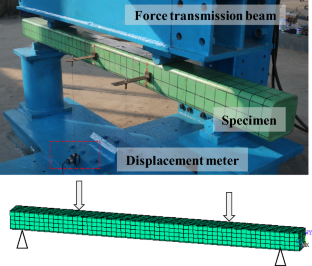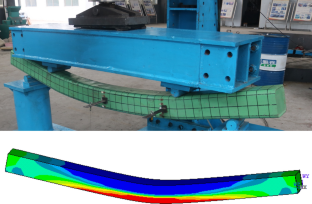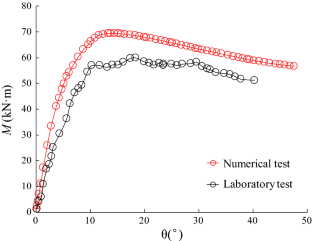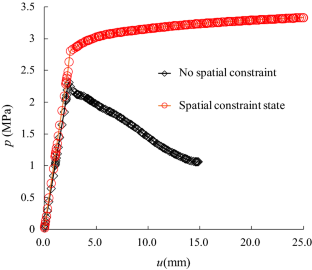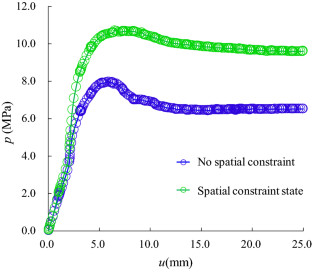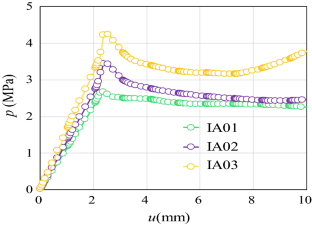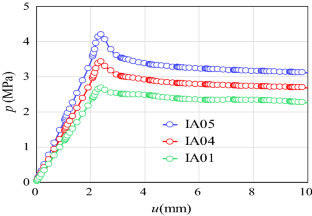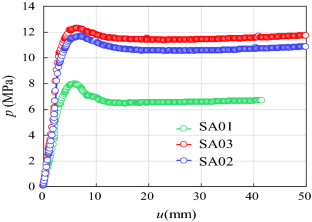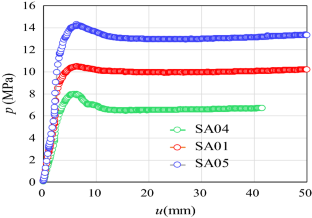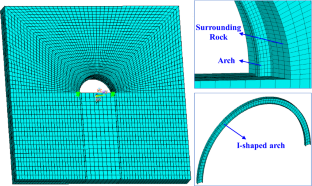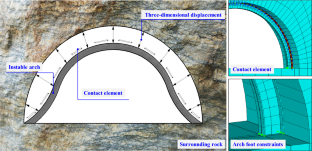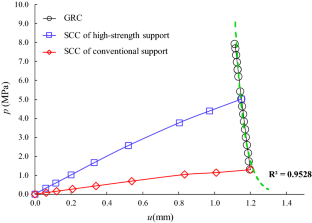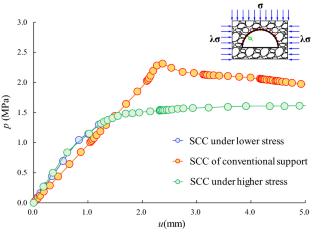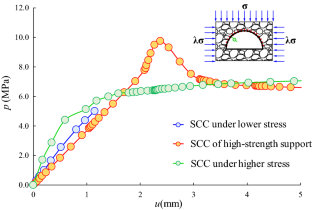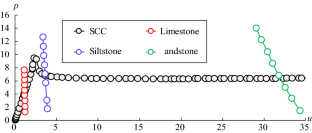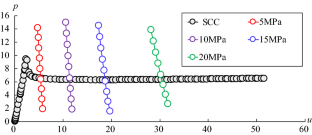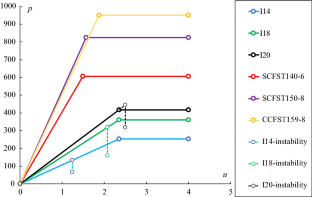 References
Bei Jiang (2016) Control mechanism and application of confined concrete for super large section tunnel on weak surrounding rock. Dissertation, Shandong University

Cai M (2013) Rock mechanics and engineering. China science press, Beijing

Carranza-Torres C, Engen M (2017) The support characteristic curve for blocked steel sets in the convergence-confinement method of tunnel support design. Tunnel Undergr Space Technol 69:233–244. https://doi.org/10.1016/j.tust.2017.04.003

Chao DOU, Yan-lin GUO (2012) Study on flexural-torsional buckling load of circular arches. Eng Mech 29(3):83–89

European Committee for Standardization (2004) Eurocode 4: design of steel and concrete structures-Part-1: general rules and rules for building, Brussels

Han LH (2007) Modern concrete-filled steel tubular structure technology. China Architecture & Building Press, Beijing

Han L-H, Yao G-H, Tao Z (2007) Performance of concrete-filled thin-walled steel tubes under pure torsion. Thin-Wall Struct 45:24–36. https://doi.org/10.1016/j.tws.2007.01.008

Hou G (2008) Review of interaction mechanism between surrounding rock and support and analysis of conceptual model of rheological deformation mechanism. Chin J Rock Mechan Eng 27(2):3618–3629

Jaeger JC, Cook NGW (1978) Fundamentals of rock mechanics. Chapman and Hall Ltd., Great Britain

Li W, Yang N, Yang Bo, Ma H, Li T, Wang Qi, Wang G, Yiteng Du, Zhao M (2018) An improved numerical simulation approach for arch-bolt supported tunnels with large deformation. Tunn Undergr Space Technol 77:1–12. https://doi.org/10.1016/j.tust.2018.03.001

Liu D, Zuo J, Wang J, Li P, Duan K, Zhang D, Guo S (2019) Bending failure mechanism and strengthening of concrete-filled steel tubular support. Eng Struct 198:109449. https://doi.org/10.1016/j.engstruct.2019.109449

Obert L, Duvall WI (1967) Rock mechanics and the design of structures in rock. John Wiley and Sons Inc, New York

Pan YW, J.-J, (1991) Dong Time-dependent tunnel convergence-II, advance rate and tunnel-support interaction. Int J Rock Mech Min Sci Geomech Abstr 28(6):477–488. https://doi.org/10.1016/0148-9062(91)91123-9

Stille H, Holmberg M, Nord G (1989) Support of weak rock with grouted bolts and shotcrete. Int J Rock Mech Min Sci 26(1):99–113. https://doi.org/10.1016/0148-9062(89)90530-5

Terzaghi K (1943) Theoretical soil mechanics. John Wiley & Sons Inc, New York

Wei Lu, Sun H (2020a) Study on support characteristic curve of primary support structures in underground excavation considering bond-slip behavior. Adv Struct Eng. https://doi.org/10.1177/1369433220958764

Wei Lu, Sun H (2020b) Study on support characteristic curve of concrete-filled steel tubular arch in underground support. Structures 27:1809–1819. https://doi.org/10.1016/j.istruc.2020.07.066

Xiang H, Liu G (1991) Stability and vibration of arch structure. China communications press, Beijing

Xuefu Yu, Zheng Y, Liu H (1983) Stability analysis of surrounding rock in underground engineering. China coal industry publishing house, Beijing

Zheng Y (1988) Design guide for bolting and shotcreting support of underground engineering. China railway publishing house, Beijing

Zhou X, Huang Y, Ding Z (2002) Ultimate bearing capacity formula of Terzaghi foundation considering intermediate principal stress. Chin J Rock Mechan Eng 21(10):1554–1556
Funding
This work was supported by the Doctoral Research Foundation of Shandong Jianzhu University (Grant/Award Number: XNBS20106) and the Foundation of China State Key Laboratory of High Speed Rail Technology (Grant/Award Number: 2020YJ109).
Ethics declarations
Conflicts of interest
The authors declare that they have no known competing financial interests or personal relationships that could have appeared to influence the work reported in this paper.
About this article
Cite this article
Lu, W., Sun, H., Song, S. et al. Mechanical Analysis of Arch Support and Rock–Arch Interaction Considering Arch Failure Mechanism. Iran J Sci Technol Trans Civ Eng (2021). https://doi.org/10.1007/s40996-021-00587-x
Received:

Accepted:

Published:
Keywords
Arch instability

Support characteristic curve

Underground excavation

Convergence-confinement method