Abstract
The effects of dip angles and thicknesses of bedding layers at the interaction line in between the planes of a normal fault and bedding layers are numerically studied by a discrete element modelling technics. The calibration of the numerical method is accomplished by using an inverse-modelling approach. The laboratory results of Brazilian tensile tests may be used to measure the micro-mechanical parameters of the intact rocks. The shear test results are also performed on the rock joints to determine the micro-mechanical parameters of the bedding interfaces in the present simulation work. The numerical simulation of the shear behaviour of normal fault is performed by making box models with dimensions of 100 mm × 72 mm to represent the bedding layers with different dips and thicknesses. The bedding plane dip angles change from 0° to 165° with an increment of 15° and the thicknesses of these layers change from 6 mm to 12 mm with an increment of 6 mm. The shear testing conditions are exposed to these models to form the normal faults for the numerical modelling of the physical problem under a lateral pressure of 2 MPa. The numerical modelling results show that the shear cracks initiate from all of the bedding interfaces. In this numerical modelling, three major oriented parallel tensile bands are developed and one vertical tensile fracture also propagates through the shear band so that the model is failed. As the bedding layers' dips are increased, the angle in between the shear bands and the bedding layers is decreased, and as the bedding thickness is decreased, the lengths of shear bands are increased. However, when the bedding angles are 120° and 135° the minimum shear strength of the model is occurred.
Access options
Buy single article
Instant access to the full article PDF.
US$ 39.95
Tax calculation will be finalised during checkout.
Subscribe to journal
Immediate online access to all issues from 2019. Subscription will auto renew annually.
US$ 79
Tax calculation will be finalised during checkout.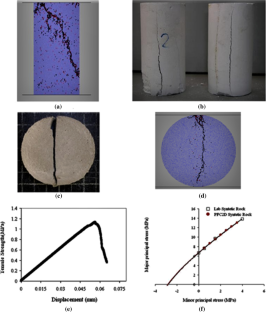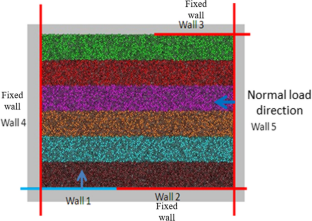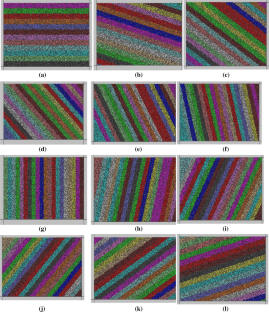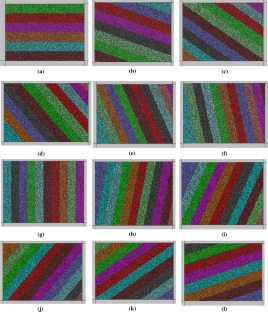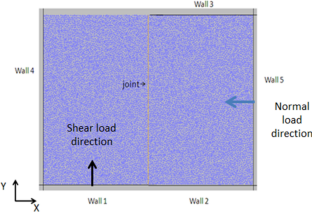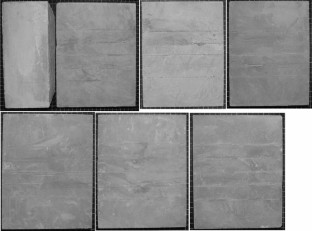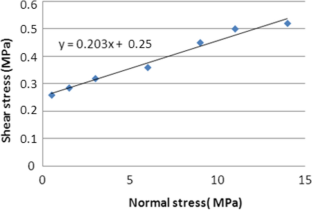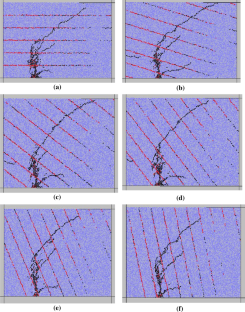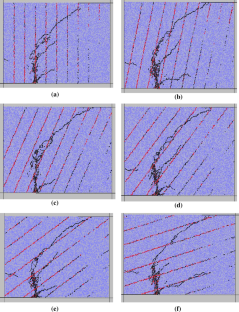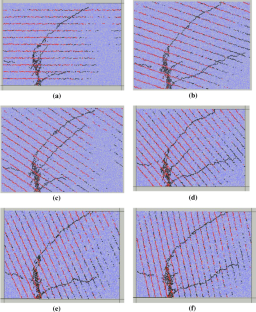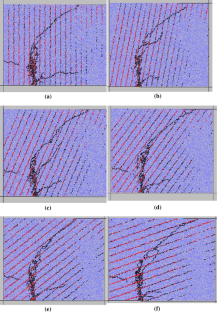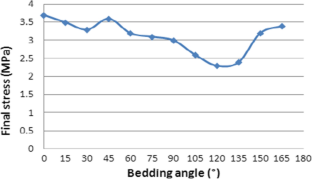 References
Atkinson BK (ed) (1992) Fracture mechanics of rock (Translated by Yin X C). Seismological Press, Beijing

Bahaaddini M, Sharrock G, Hebblewhite BK (2013) Numerical investigation of the effect of joint geometrical parameters on the mechanical properties of a non-persistent jointed rock mass under uniaxial compression. Comput Geotech 49:206–225. https://doi.org/10.1016/j.compgeo.2012.10.012

Bi J (2016) The 3D numerical simulation for the propagation process of multiple pre-existing flaws in rock-like materials subjected to biaxial compressive loads. Rock Mech Rock Eng 49:1611–1627

Bobet A (2001) A hybridized displacement discontinuity method for mixed mode I-II–III loading. Int J Rock Mech Min Sci 38(8):1121–1134. https://doi.org/10.1016/S1365-1609(01)00081-8

Chan HCM, Li V, Einstein HH (1990) A hybridized displacement discon-tinuity and indirect boundary element method to model fracture prop-agation. Int J Fract 45(4):263–282

Cheng H, Zhou XP, Zhu J, Qian Q (2014) The effects of crack openings on crack initiation, propagation and coalescence behavior in rock-like materials under uniaxial compression. Rock Mech Rock Eng 49(9):3481–3494

Cundall PA, Strack ODL (1979) A discrete numerical model for granular assemblies. Geotechnique 29(1):47–65

Dyskin AV, Sahouryeh E, Jewell RJ et al (2003) Influence of shape and locations of initial 3D cracks on their growth in uniaxial compression. Eng Fract Mech 70(15):2115–2136

Ghazvinian A, Sarfarazi V, Schubert W, Blume IM (2012) A study of the failure mechanism of planar non-persistent open joints using PFC2D. Rock Mech Rock Eng 45(5):677–693

Haeri H, Shahriar K, Marji MF, Moarefvand P (2014) Experimental and numerical study of crack propagation and coalescence in pre-cracked rock-like disks. Int J Rock Mech Miner Sci 67:20–28

Haeri H, Sarfarazi V, Lazemi H (2016) Experimental study of shear behavior of planar non-persistent joint. Comput Concr 17(5):639–653

Haeri H, Sarfarazi V, Zhu Z (2017) Effect of normal load on the crack propagation from pre-existing joints using particle flow code (PFC). Comput Concr 19(1):99–110

Itasca PFC2D (1999) Particle flow code in 2 dimension, theory and background. Itasca consulting group. Minneapolis, pp 1–124

Kulatilake PHSW, Malama B, Wang J (2001) Physical and particle flow model-ing of jointed rock block behavior under uniaxial loading. Int J Rock Mech Min Sci 38(5):641–657. https://doi.org/10.1016/S1365-1609(01)00025-9

Li H, Wong LNY (2012) Influence of flaw inclination angle and loading condition on crack initiation and propagation. Int J Solids Struct 49:2482–2499

Li Y, Zhou H, Zhu W, Li S, Liu J (2015) Numerical study on crack propagation in brittle jointed rock mass influenced by fracture water pressure. Materials 8(6):3364–3376

Li JY, Zhou H, Zhu W, Li S (2016a) Experimental and numerical investigations on the shear behavior of a jointed rock mass. Geosci J 20:371–379

Li S, Wang H, Li Y, Li Q, Zhang B, Zhu H (2016b) A new mini-grating absolute displacement measuring system for static and dynamic geomechanical model tests. Measurement 82:421–431

Liu LQ, Ma J, Wu XQ (1986) An experimental study on deformation and destabilization of en-echelon fault. Acta Seismol Sin 8(4):393–403 (in Chinese)

Liu LQ, Ma J, Ma SL (1998) Numerical simulation on geometry and stress field of en-echelon structure. Seismol Geol 20(1):43–62 (in Chinese)

Liu PX, Ma J, Liu LQ et al (2007) An experimental study on variation of thermal fields during the deformation of a compressive en echelon fault set. Prog Nat Sci 17(4):454–459 (in Chinese)

Ma J (1983a) An experimental study on behavior of deformation and acoustic emission near the intersections of faults. Acta Seismol Sin 5(2):69–80 (in Chinese)

Ma XY (1983b) Discussion on the analytical tectonics. Earth Sci-J Wu-han College Geol 8(3):1–9 (in Chinese)

Ma J, Zhang BT, Yuan SR (1979) Preliminary study on the evolution of strain field near locked region of a fault. Seismol Geol 1(3):47–55 (in Chinese)

Ma SL, Deng ZH, Ma WT et al (1995) Experimental study on evolution of physical field during deformation of en-echelon faults. Seismol Geol 17(4):327–335 (in Chinese)

Ma RY, Peng JB, Men YM et al (2003) A study on mechanical mechanism on development of thrust fault. J Northwest Univ Nat Sci Ed 33(2):196–199 (in Chinese)

Manouchehrian A, Marji MF (2012) Numerical analysis of confinement effect on crack propagation mechanism from a flaw in a pre-cracked rock under compression. Acta Mech Sin 28:1389–1397

Marji MF (2013) On the Use of power series solution method in the crack analysis of brittle materials by indirect boundary element method. Eng Fract Mech 98:365–382

Marji MF, Hosseinin_Nasab H, Kohsary AH (2006) On the uses of special crack tip elements in numerical rock fracture mechanics. Int J Solids Struct 43:1669–1692

Mughieda O, Karasneh I (2006) Coalescence of offset rock joints under biaxial loading. Geotech Geol Eng 24(4):985–999. https://doi.org/10.1007/s10706-005-8352-0

Potyondy DO, Cundall PA (2004) A bonded-particle model for rock. Int J Rock Mech Min Sci Geomech Abstracts 41:1329

Ramsay JG (1967) Folding and fracturing of rocks. McGraw-Hill, New York

Sahouryeh E, Dyskin AV, Germanovich LN (2002) Crack growth under biaxial compression. Eng Fract Mech 69(18):2187–2198

Sarfarazi V, Haeri H (2016) Effect of number and configuration of bridges on shear properties of sliding surface. J Min Sci 52(2):245–257

Sarfarazi V, Ghazvinian A, Schubert W, Blumel M, Nejati HR (2014) Numerical simulation of the process of fracture of echelon rock joints. Rock Mech Rock Eng 47(4):1355–1371

Sarfarazi V, Haeri H, Khaloo A (2016) The effect of non-persistent joints on sliding direction of rock slopes. Comput Concr 17(6):723–737

Tang CA, Kou SQ (1998) Crack propagation and coalescence in brittle materials under compression. Eng Fract Mech 61(3–4):311–324. https://doi.org/10.1016/S0013-7944(98)00067-8

Tang CA, Liu H, Lee PKK, Tsui Y, Tham LG (2000a) Numerical studies of the influence of microstructure on rock failure in uniaxial compression—part I: effect of heterogeneity. Int J Rock Mech Min Sci 37(4):555–569. https://doi.org/10.1016/S1365-1609(99)00121-5

Tang CA, Tham LG, Lee PKK, Tsui Y, Liu H (2000b) Numerical studies of the influence of microstructure on rock failure in uniaxial compression—Part II constraint, slenderness and size effect. Int J Rock Mech Min Sci 37(4):571–583. https://doi.org/10.1016/S1365-1609(99)00122-7

Teng CK, Yin XC, Li SY et al (1987) An experimnental investigation on 3D fractures of non-penetrating crack in plane samples. Acta Geophys Sin 30(4):371–378 (in Chinese)

Wang X, Zhu Z, Wang M, Ying P, Zhou L, Dong Y (2017) Study of rock dynamic fracture toughness by using VB-SCSC specimens under medium-low speed impacts. Eng Fract Mech 181:52–64

Wei MD, Dai F, Xu NW, Xu Y, Xia K (2015) Three-dimensional numerical evaluation of the progressive fracture mechanism of cracked chevron notched semi-circular bend rock specimens. Eng Fract Mech 134:286–303

Whittaker BN, Singh RN, Sun Q (1992) Rock fracture mechanics, principals, design and applications, developments in geotechnical engineering. Elsevier, Amsterdam

Wong RHC, Chau KT, Tang CA et al (2001) Analysis of crack coales-cence in rock, part i: experimental approach. Int J Rock Mech Min Sci 38:909–924

Wong RHC, Huang ML, Jiao MR et al (2004) The mechanisms of crack propagation from surface 3-D fract ure under uniaxial compression. Key Eng Mater 261:219–224

Xu NW, Dai F, Wei MD, Xu Y, Zhao T (2015) Numerical observation of three dimensional wing-cracking of cracked chevron notched Brazilian disc rock specimen subjected to mixed mode loading. Rock Mech Rock Eng 49:79–96

Yin X C, Li S Y, Li H, et al (1991) An experimental investigation on exten-sion of non-penetrating crack in rocks and other brittle solids. In: The collection of Chinese scholars for 17th international conference of theoretical and applied mechanics. Peking University Press, Beijing, pp 156–166 (in Chinese)

Yin XC, Li SY, Li H et al (1988) Experimental study of interaction be-tween two flanks of closed crack. Acta Geophys Sin 31(3):307–314 (in Chinese)

Zhang X-P, Wong LNY (2011) Cracking processes in rock-like material containing a single flaw under uniaxial compression: a numerical study based on parallel bonded-particle model approach. Rock Mech Rock Eng 45(5):711–737. https://doi.org/10.1007/s00603-011-0176-z

Zhang X-P, Wong LNY (2013) Crack initiation, propagation and coalescence in rock-like material containing two flaws: a numerical study based on bonded-particle model approach. Rock Mech Rock Eng 46(5):1001–1021. https://doi.org/10.1007/s00603-012-0323-1

Zhang H, He Y, Han L, Jiang B, Liang Z, Zhong S (2009) Microfracturing characteristics in brittle material containing structural defects under biax-ial loading. Comput Mater Sci 46(3):682–686. https://doi.org/10.1016/j.commatsci.2009.05.015

Zhou X-P (2004) Analysis of the localization of deformation and the complete stress-strain relation for mesoscopic heterogeneous brittle rock under dynamic uniaxial tensile loading. Int J Solids Struct 41(5–6):1725–1738

Zhou XP (2015) Numerical simulation of crack growth and coalescence in rock-like materials containing multiple pre-existing flaws. Rock Mech Rock Eng 48:1097–1114

Zhou XP, Yang HQ (2007a) Micromechanical modeling of dynamic compressive responses of mesoscopic heterogenous brittle rock. Theor Appl Fract Mech 48(1):1–20

Zhou XP, Yang HQ (2007b) Micromechanical modeling of dynamic compressive responses of mesoscopic heterogenous brittle rock. Theoret Appl Fract Mech 48(1):1–20

Zhou X-P, Ha Q, Zhang Y, Zhu K (2004) Analysis of deformation localization and the complete stress-strain relation for brittle rock subjected to dynamic compressive loads. Int J Rock Mech Min Sci 41(2):311–319

Zhou X-P, Zhang Y-X, Ha Q-L, Zhu K-S (2008a) Micromechanical modelling of the complete stress-strain relationship for crack weakened rock subjected to compressive loading. Rock Mech Rock Eng 41(5):747–769

Zhou XP, Zhang YX, Ha QL (2008b) Real-time computerized tomography (CT) experiments on limestone damage evolution during unloading. Theoret Appl Fract Mech 50(1):49–56

Zhou X-P, Zhang Y-X, Ha Q-L, Zhu K-S (2008c) Micromechanical modelling of the complete stress-strain relationship for crack weakened rock subjected to compressive loading. Rock Mech Rock Eng 41:747–769

Zhou XP, Cheng H, Feng YF (2014a) An experimental study of crack coalescence behaviour in rock-like materials containing multiple flaws under uniaxial compression. Rock Mech Rock Eng 47(6):1961–1986

Zhou XP, Cheng H, Feng YF (2014b) An experimental study of crack coalescence behaviour in rock-like materials containing multiple flaws under uniaxial compression. Rock Mech Rock Eng 47:1961–1986

Zhu Z, Xie H, Ji S (1997) The mixed boundary problems for a mixed mode crack in a finite plate. Eng Fract Mech 6(5):647–655

Zhu WS, Chen WZ, Shen J (1998) Simulation experiment and fracture mechanism study on propagation of echelon pattern cracks. Acta Mech Solida Sin 19(4):355–360 (in Chinese)
About this article
Cite this article
Haeri, H., Sarfarazi, V. & Fatehi Marji, M. Numerical Simulation of the Interaction Between Normal Fault and Bedding Planes Using PFC. Iran J Sci Technol Trans Civ Eng (2021). https://doi.org/10.1007/s40996-020-00558-8
Received:

Accepted:

Published:
Keywords
Normal fault

Bedding layers

Interactions

Shear behaviour

Discrete element modelling