Abstract
An important part in designing stepped spillways is making the spillway in order to direct the flow appropriately on the first step. In low discharges, the water flow moves over the spillway and arrives at the first step, and if the first step is high enough, the flow may leave the first step horizontally, skip some steps and land as a free jet of water on the lower steps, which might cause some damages to the structure. One of the solutions to this problem is to use CEDEX profile, transition steps between the ogee crest and the stepped chute. The present research carries out a numerical study of the effects of CEDEX profile on various hydraulic parameters and also the effects of the chute slope on the performance of this profile in preventing the flow jump. For this purpose, four models were created with different geometries and were studied in various discharges with FLOW-3D software. The results show that deploying CEDEX profile in the initial parts of the spillway leads to lower velocity and less risk of cavitation. Also, the results illustrate that CEDEX profile can shift the inception point of aeration to downstream. Furthermore, findings show that CEDEX profile, in the slope of less than 50°, can prevent flow jump in the first step. In steeper slopes, however, it fails to achieve the optimal performance.
This is a preview of subscription content, log in to check access.
Access options
Buy single article
Instant access to the full article PDF.
US$ 39.95
Tax calculation will be finalised during checkout.
Subscribe to journal
Immediate online access to all issues from 2019. Subscription will auto renew annually.
US$ 99
Tax calculation will be finalised during checkout.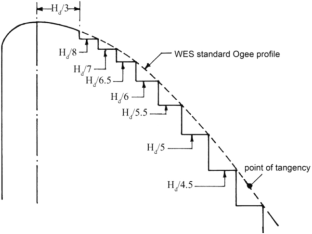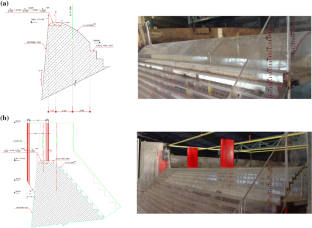 References
Amador A, Sánchez-Tembleque F, Sánchez-Juny M, Puertas J, Dolz J (2004) Velocity and pressure field in skimming flow in stepped spillways. Taylor & Francis, London, pp 279–286

Amador A, Sánchez-Juny M, Dolz J (2009) Developing flow region and pressure fluctuations on steeply sloping stepped spillways. J Hydraul Eng 135(12):1092–1100. https://doi.org/10.1061/(asce)hy.1943-7900.0000118

Baylar A, Emiroglu ME, Bagatur T (2006) An experimental investigation of aeration performance in stepped spillways. Water Environ J 20(1):35–42. https://doi.org/10.1111/j.1747-6593.2005.00009.x

Bombardelli FA, Meireles I, Matos J (2010) Laboratory measurements and multi-block numerical simulations of the mean flow and turbulence in the non-aerated skimming flow region of steep stepped spillways. Environ Fluid Mech 11(3):263–288. https://doi.org/10.1007/s10652-010-9188-6

Chamani MR, Rajaratnam N (1999) Onset of Skimming Flow on Stepped Spillways. J Hydraul Eng 125(9):969–971. https://doi.org/10.1061/(asce)0733-9429(1999)125:9(969)

Chanson H (1994) Hydraulics of skimming flows over stepped channels and spillways. J Hydraul Res 32(3):445–460. https://doi.org/10.1080/00221689409498745

Chanson H (1996) Prediction of the transition nappe/skimming flow on a stepped channel. J Hydraul Res 34(3):421–429. https://doi.org/10.1080/00221689609498490

Chanson H (2002) Hydraulics of stepped chutes and spillways. CRC Press, Boca Raton

Chen Q, Dai G, Liu H (2002) Volume of fluid model for turbulence numerical simulation of stepped spillway overflow. J Hydraul Eng 128(7):683–688. https://doi.org/10.1061/(asce)0733-9429(2002)128:7(683)

Cheng X, Chen Y, Luo L (2006) Numerical simulation of air-water two-phase flow over stepped spillways. Sci China Ser E: Technol Sci 49(6):674–684. https://doi.org/10.1007/s10288-006-2029-2

Christodoulou GC (1993) Energy dissipation on stepped spillways. J Hydraul Eng 119(5):644–650. https://doi.org/10.1061/(asce)0733-9429(1993)119:5(644)

De Carvalho RF, Amador AT (2009) Physical and numerical investigation of the skimming flow over a stepped spillway. Adv Water Resour Hydraul Eng. https://doi.org/10.1007/978-3-540-89465-0_304

Falvey HT (1990) Cavitation in chutes and spillways. US Department of the Interior, Bureau of Reclamation

Frizell KW, Renna FM, Matos J (2013) Cavitation potential of flow on stepped spillways. J Hydraul Eng 139(6):630–636. https://doi.org/10.1061/(asce)hy.1943-7900.0000715

Hamedi A, Hajigholizadeh M, Mansoori A (2016) Flow simulation and energy loss estimation in the nappe flow regime of stepped spillways with inclined steps and end sill: a numerical approach. Civ Eng J 2(9):426–437

Hirt CW, Nichols B (1988) Flow-3D user's manual. Flow Science Inc, Santa Fe, p 107

Hunt SL, Kadavy KC (2013) Inception point for embankment dam stepped spillways. J Hydraul Eng 139(1):60–64. https://doi.org/10.1061/(asce)hy.1943-7900.0000644

Javeh Dam hydraulic studies, Final Report (2011) Iran Water Research Institute, Tehran, Iran

Liao HS, Wu CG (1995) Numerical model of stepped spillway overflow. In: Proceedings of 2nd international conference on hydro-science and engineering

Mansoori A, Erfanian S, Moghadam FK (2017) A study of the conditions of energy dissipation in stepped spillways with Λ-shaped step using FLOW-3D. Civ Eng J 3(10):856–867

Mateos C, Elviro V (2000) Stepped spillways. Design for the transition between the spillway crest and the steps. In: Proceedings of 26 IAHR congress, Hydra, pp 260–265

Meireles I, Matos J (2009) Skimming flow in the nonaerated region of stepped spillways over embankment dams. J Hydraul Eng 135(8):685–689. https://doi.org/10.1061/(asce)hy.1943-7900.0000047

Morovati K, Eghbalzadeh A, Soori S (2016) Study of energy dissipation of pooled stepped spillways. Civ Eng J 2(5):208–220

Nikseresht AH, Talebbeydokhti N, Rezaei MJ (2013) Numerical simulation of two-phase flow on step-pool spillways. Sci Iran 20(2):222–230

Peyras L, Royet P, Degoutte G (1992) Flow and energy dissipation over stepped gabion weirs. J Hydraul Eng 118(5):707–717. https://doi.org/10.1061/(asce)0733-9429(1992)118:5(707)

Pfister M, Hager WH, Minor H-E (2006) Stepped chutes: pre-aeration and spray reduction. Int J Multiph Flow 32(2):269–284. https://doi.org/10.1016/j.ijmultiphaseflow.2005.10.004

Pinto MMM, Matos JDSG, dos Santos Viseu MTF (2017) Energy dissipation on stepped spillways with a piano key weir: experimental study

Rahimzadeh H, Maghsoodi R, Sarkardeh H, Tavakkol S (2012) Simulating flow over circular spillways by using different turbulence models. Eng Appl Comput Fluid Mech 6(1):100–109. https://doi.org/10.1080/19942060.2012.11015406

Rice CE, Kadavy KC (1996) Model study of a roller compacted concrete stepped spillway. J Hydraul Eng 122(6):292–297. https://doi.org/10.1061/(asce)0733-9429(1996)122:6(292)

Sorensen RM (1985) Stepped spillway hydraulic model investigation. J Hydraul Eng 111(12):1461–1472. https://doi.org/10.1061/(asce)0733-9429(1985)111:12(1461)

Tabbara M, Chatila J, Awwad R (2005) Computational simulation of flow over stepped spillways. Comput Struct 83(27):2215–2224. https://doi.org/10.1016/j.compstruc.2005.04.005

Yakhot V, Orszag SA, Thangam S, Gatski TB, Speziale CG (1992) Development of turbulence models for shear flows by a double expansion technique. Phys Fluids A 4(7):1510–1520. https://doi.org/10.1063/1.858424
About this article
Cite this article
Dalili Khanghah, K., Kavianpour, M.R. Numerical Investigation of the Effect of CEDEX Profile on the Hydraulic Parameters in the Stepped Spillway and the Performance of This Profile in Various Chute Slopes. Iran J Sci Technol Trans Civ Eng 44, 1247–1254 (2020). https://doi.org/10.1007/s40996-019-00313-8
Received:

Accepted:

Published:

Issue Date:
Keywords
Stepped spillways

CEDEX profile

FLOW-3D

Flow jet

Chute slope