Abstract
Optimum design parameters of tuned mass dampers are calculated as a function of damper to structure mass ratio and inherent damping ratio of the main structure in frequency domain. A robust control algorithm is adopted in order to assure response reduction in controlled structure subjected to different earthquakes, and an equivalent single degree-of-freedom structure is introduced to reduce the computation cost of optimum design. H∞ norm minimization of this equivalent structure is considered as the objective function. Considering inherent structural damping for main structure, the recently developed metaheuristic algorithm known as CBO is used to find the optimum values of the design parameters. Using the proposed procedure, design charts are prepared for a 10-story shear building.
This is a preview of subscription content, log in to check access.
Access options
Buy single article
Instant access to the full article PDF.
US$ 39.95
Price includes VAT for USA
Subscribe to journal
Immediate online access to all issues from 2019. Subscription will auto renew annually.
US$ 99
This is the net price. Taxes to be calculated in checkout.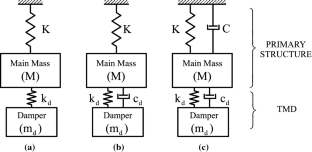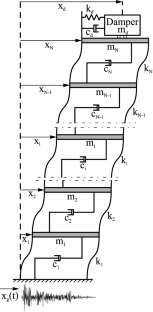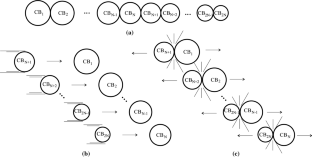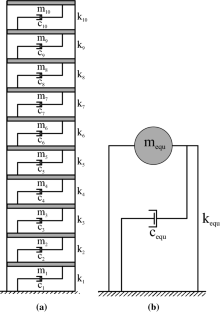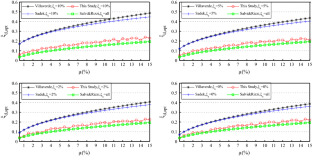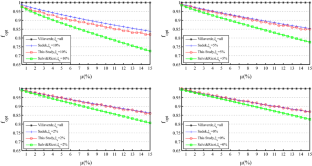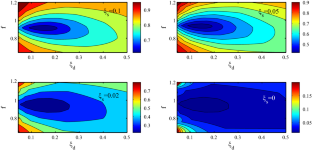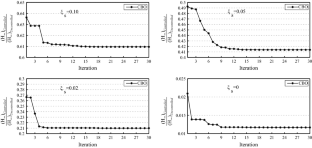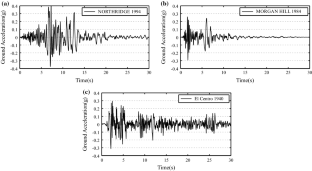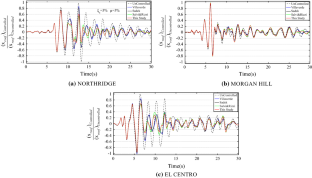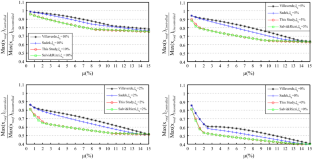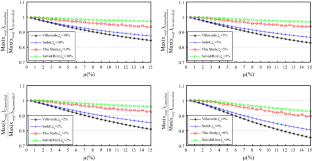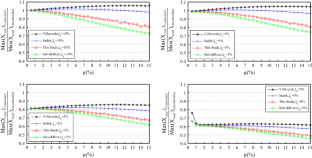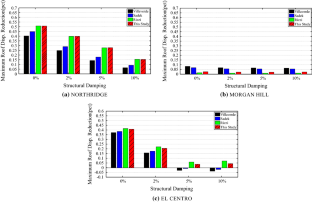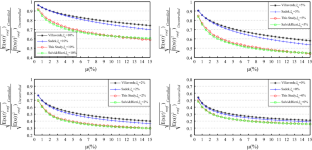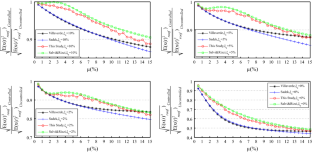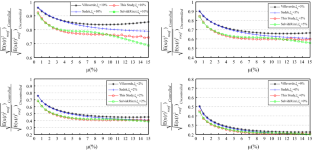 References
Arfiadi Y (2016) Reducing response of structures by using optimum composite tuned mass dampers. Procedia Eng 161:67–72

Asami T, Nishihara O, Baz AM (2002) Analytical solutions to H∞ and H2 optimization of dynamic vibration absorbers attached to damped linear systems. Struct Control Health Monit 124(3):617–635

Bekdas G, Nigdeli SM (2011) Estimating optimum parameters of tuned mass dampers using harmony search. Eng Struct 33:2716–2723

Bekdas G, Nigdeli SM (2017a) Optimum tuned mass damper design in frequency domain for structures. KSCE J Civ Eng 21(3):912–922

Bekdas G, Nigdeli SM (2017b) Metaheuristic based optimization of tuned mass dampers under earthquake excitation by considering soil-structure interaction. Soil Dyn Earthq Eng 92:443–461

Chopra AK (2001) Dynamics of structures: theory and applications to earthquake engineering, 2nd edn. Prentice Hall, Englewood Cliffs

Debnath N, Deb SK, Dutta A (2013) Frequency band-wise passive control of linear time invariant structural systems with H∞ optimization. J Sound Vib 332(23):6044–6062

Den Hartog JP (1947) Mechanical vibrations, 3rd edn. McGraw-Hill, New York

Farshidianfar A, Soheili S (2013a) ABC optimization of TMD parameters for tall buildings with soil structure interaction. Int Multi-scale Mech 6(4):339–356

Farshidianfar A, Soheili S (2013b) Optimization of TMD parameters for earthquake vibrations of tall buildings including soil structure interaction. Int J Optim Civ Eng 3(3):409–429

Farshidianfar A, Soheili S (2013c) Ant colony optimization of tuned mass dampers for earthquake oscillations of high-rise structures including soil-structure interaction. Soil Dyn Earthq Eng 51(1):14–22

Gutierrez Soto M, Adeli H (2013) Tuned mass dampers. Arch Comput Methods Eng 20(4):419–431

Gutierrez Soto M, Adeli H (2014) Optimum tuning parameters of tuned mass dampers for vibration control of irregular high-rise building structures. J Civ Eng Manag 20(5):609–620

Hadi MNS, Arfiadi Y (1998) Optimum design of absorber for MDOF structures. ASCE J Struct Eng 124:1272–1280

Ioi T, Ikeda K (1978) On the dynamic damped absorber of the vibration system. Bull Jpn Soc Mech Eng 21:64–71

Kaveh A (2017a) Advances in metaheuristic algorithms for optimal design of structures, 2nd edn. Springer, Switzerland

Kaveh A (2017b) Applications of metaheuristic optimization algorithms in civil engineering. Springer, Switzerland

Kaveh A, Ilchi Ghaazan M (2018) Meta-heuristic algorithms for optimal design of real-size structures. Springer, Switzerland

Kaveh A, Mahdavi VR (2014) Colliding bodies optimization method for optimum design of truss structures with continuous variables. Adv Eng Softw 70:1–12

Kaveh A, Mohammadi S, Khadem Hosseini O, Keyhani A, Kalatjari VR (2015) Optimum parameters of tuned mass dampers for seismic application using charged system search. Iran J Sci Technol Trans Civ Eng 39:21–40

Kazemzadeh Azad S (2017) Enhanced hybrid metaheuristic algorithms for optimal sizing of steel truss structures with numerous discrete variables. Struct Multidiscip Optim 55(6):2159–2180

Kazemzadeh Azad S, Hasançebi O (2015) Computationally efficient discrete sizing of steel frames via guided stochastic search heuristic. Comput Struct 156:12–28

Kazemzadeh Azad S, Hasançebi O, Kazemzadeh Azad S (2013) Upper bound strategy for metaheuristic based design optimization of steel frames. Adv Eng Softw 57:19–32

Leung AYT, Zhang H (2009) Particle swarm optimization of tuned mass dampers. Eng Struct 31:715–728

Leung AYT, Zhang H, Cheng CC, Lee YY (2008) Particle swarm optimization of TMD by non-stationary base excitation during earthquake. Earthq Eng Struct Dyn 37:1223–1246

Lu X, Zhang Q, Weng D, Zhou Z, Wang S, Mahin SA, Ding S, Qian F (2016) Improving performance of a super tall building using a new eddy current tuned mass damper. Struct Control Health Monit 24(3):e1940

Nigdeli SM, Bekdas G, Yang XS (2016) Optimum tuning of mass dampers for seismic structures using flower pollination algorithm. Int J Theor Appl Mech 1:264–268

Sadek F, Mohraz B, Taylor AW, Chung RM (1997) A method of estimating the parameters of tuned mass dampers for seismic applications. Earthq Eng Struct Dyn 26(6):617–635

Salvi J, Rizzi E (2011) Minimax optimization of tuned mass dampers under seismic excitation, In: Proceedings of the 8th international conference on structural dynamics, Leuven, Belgium

Salvi J, Rizzi E (2016) Closed-form optimum tuning formulas for passive tuned mass dampers under benchmark excitations. Smart Struct Syst 17(2):231–256

Salvi J, Rizzi E (2017) Optimum earthquake-tuned TMDs: seismic performance and new design concept of balance of split effective modal masses. Soil Dyn Earthq Eng 101:67–80

Soong TT (1990) Active structural control theory and practice, 1st edn. Wiley, New York

Villaverde R (1985) Reduction seismic response with heavily-damped vibration absorbers. Earthq Eng Struct Dyn 13(1):33–42

Warburton GB (1982) Optimum absorber parameters for various combinations of response and excitation parameters. Earthq Eng Struct Dyn 10(3):381–401
About this article
Cite this article
Fahimi Farzam, M., Kaveh, A. Optimum Design of Tuned Mass Dampers Using Colliding Bodies Optimization in Frequency Domain. Iran J Sci Technol Trans Civ Eng 44, 787–802 (2020). https://doi.org/10.1007/s40996-019-00296-6
Received:

Accepted:

Published:

Issue Date:
Keywords
Tuned mass dampers

Earthquake excitation

Metaheuristic algorithm

H∞ norm

Robust control