Abstract
The present paper investigates the behaviour of circular shallow footings on soft clay soils with skirted and non-skirted sand piles. The main goal of this study is to evaluate the settlement and bearing capacity of a circular foundation, which is placed on a soft clay layer, based on a sandy soil layer. Different piles with varying length to clay layer thickness ratios ranging from 0.25 to 1 were modelled experimentally, as well as numerically, both with and without skirt. The effects of using a steel skirt and the length to clay layer thickness ratio of the piles, compared to the case in which the footing is placed on a pile without any skirt, and in the case of a shallow foundation without piles, were also investigated in this study. A model generated by finite element software was also used for numerical analysis. The results indicate that the use of skirted piles can affect the load–settlement curves and increase the bearing capacity. By increasing the ratio of pile length to clay thickness, the bearing capacity of the shallow foundation will be increased and the corresponding settlement will be decreased. Therefore, the bearing capacity failure mechanism of a footing resting on soft clay can be modified from the punching failure to the general shear failure at the tip of the confined replaced sand column. Load–settlement diagrams and bearing capacity obtained by numerical results are in accordance with the results derived from experimental observations.
This is a preview of subscription content, log in to check access.
Access options
Buy single article
Instant access to the full article PDF.
US$ 39.95
Price includes VAT for USA
Subscribe to journal
Immediate online access to all issues from 2019. Subscription will auto renew annually.
US$ 99
This is the net price. Taxes to be calculated in checkout.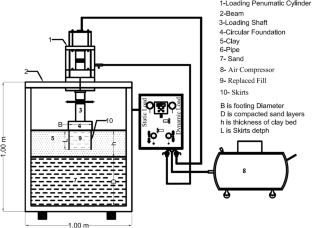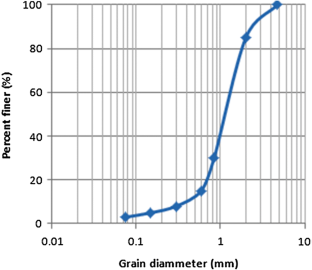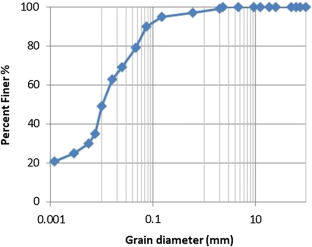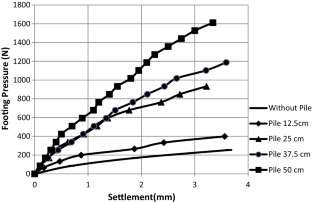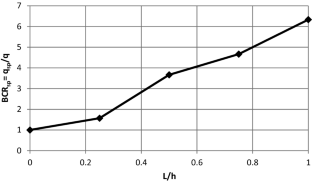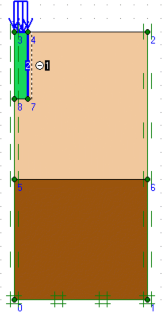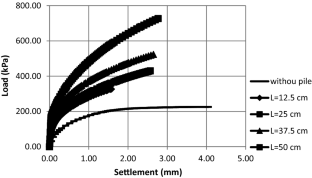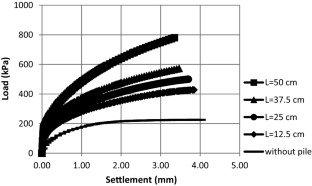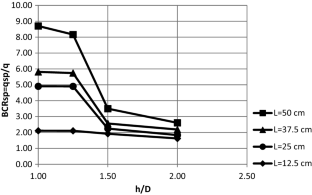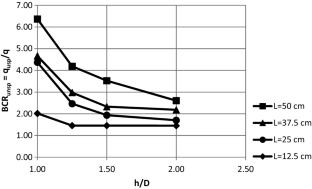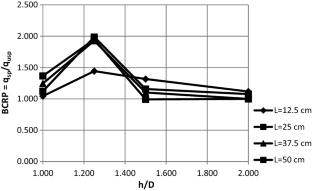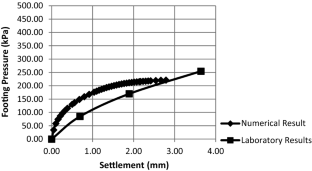 References
Ajdari M, Esmail Pour A (2015) Experimental evaluation of the influence of the level of the ground water table on the bearing capacity of circular footings. Iran J Sci Technol Trans Civ Eng 39:497–510

Ausilio E, Conte E (2005) Influence of groundwater on the bearing capacity of shallow foundations. Can Geotech J 42(2):663–672

Bashir MA, Furuuchi H, Ueda T, Bashir MN (2016) Numerical simulation of axial anchorage capacity of concrete-filled steel box footing. Iran J Sci Technol, Trans Civ Eng 40(3):257–262

Bhattacharya P, Kumar J (2017) Bearing capacity of foundations on soft clays with granular column and trench. Soils Found 57(3):488–495

Boushehrian AH, Afzali A (2016) Experimental investigation of dynamic behavior of shallow foundation resting on the reinforced sand with embedded pipes. Int J Geogr Geol 5(9):182–193

Boushehrian AH, Hataf N (2008) Bearing capacity of ring footings on reinforced clay. In: Li G, Chen Y, Tang X (eds) Geosynthetics in civil and environmental engineering. Springer, Berlin, pp 328–331

Boushehrian AH, Hataf N, Ghahramani A (2011) Modeling of the cyclic behavior of shallow foundations resting on geomesh and grid-anchor reinforced sand. Geotext Geomembr 29(3):242–248

Boushehrian AH, Vafamand A, Kohan S (2017) Investigating the experimental behavior of the reinforcements effect on the railway traverse under the dynamic load. Scientia Iranica 24(5):2253–2261

Chandrawanshi S, Kumar R (2015) Bearing capacity improvement of soft soils upon the application of confined footings. In: 50th Indian geotechnical conference, Pune, India

Cong M, Longzhu C, Bing C (2014) Analysis of strength development in soft clay stabilized with cement-based stabilizer. Constr Build Mater 71:354–362

Dash SK, Krishnaswamy NR, Rajagopal K (2001) Bearing capacity of strip footings supported on geocell-reinforced sand. Geotext Geomembr 19(4):235–256

Deb T, Pal SK (2019) Study on the uplift behaviour and failure pattern of single belled anchor with 3D and 2D models in cohesionless soil bed. Iran J Sci Technol Trans Civ Eng 43(2):327–343

Debnath P, Dey AK (2017) Bearing capacity of reinforced and unreinforced sand beds over stone columns in soft clay. Geosynth Int 24(6):575–589

Eid HT (2012) Bearing capacity and settlement of skirted shallow foundations on sand. Int J Geomech 13(5):645–652

El Sawwaf MA (2007) Behavior of strip footing on geogrid-reinforced sand over a soft clay slope. Geotext Geomembr 25(1):50–60

El Sawwaf M, Nazer A (2005) Behavior of circular footings resting on confined granular soil. J Geotech Geoenviron Eng 131(3):359–366

Frikha W, Tounekti F, Kaffel W, Bouassida M (2015) Experimental study for the mechanical characterization of Tunis soft soil reinforced by a group of sand columns. Soils Found 55(1):181–191

Garzón E, Cano M, OKelly BC, Sánchez-Soto PJ (2016) Effect of lime on stabilization of phyllite clays. Appl Clay Sci 123:329–334

Hataf N, Boushehrian AH, Ghahramani A (2010) Experimental and numerical behavior of shallow foundations on sand reinforced with geogrid and grid anchor under cyclic loading. Civ Eng 17(1):1–10

Hegde AM, Sitharam TG (2015) Effect of infill materials on the performance of geocell reinforced soft clay beds. Geomech Geoeng 10(3):163–173

Huang YB, Heng-bo ZHAO, Chang-Cun GU (2013) Field experimental study of lateral load capacity of filling pile enhanced by soil-cement pile. Rock Soil Mech 34(4):1109–1115

Jagadeesan K, Prakash K, Prema M, Khatri J, Mugundan M (2018) Study of enhancement of carrying capacity of foundation in soft clay soil using sand pile. Int Res J Eng Technol (IRJET) 5(2):1880–1883

Khemissa M, Mahamedi A (2014) Cement and lime mixture stabilization of an expansive overconsolidated clay. Appl Clay Sci 95:104–110

Liang ZR, Li ZC, Liu J, Weng XR, Li W (2009) Strength analysis and experimental research on soil-cement mixed pile made by triaxial stirring machine. Chin J Undergr Space Eng 5(S2):1562–1567

Luo DS, Xiao C, Zhang KN, Chen XG (2012) Experimental study on strength of bidirectional deep cement mixing piles. Min Metall Eng 32(1):5–8

Merifield RS, Sloan SW, Yu HS (1999) Rigorous plasticity solutions for the bearing capacity of two-layered clays. Geotechnique 49(4):471–490

Meyerhof GG, Hanna AM (1978) Ultimate bearing capacity of foundations on layered soils under inclined load. Can Geotech J 15(4):565–572

Nazir AK, Azzam WR (2010) Improving the bearing capacity of footing on soft clay with sand pile with/without skirts. Alex Eng J 49(4):371–377

Ng KS (2017a) Prediction of drained settlement and ultimate bearing capacity for stone columns supported foundation. In: International congress and exhibition "sustainable civil infrastructures: innovative infrastructure geotechnology". Springer, Cham, pp 12–19

Ng KS (2017b) Settlement ratio of floating stone columns for small and large loaded areas. J GeoEng 12(2):89–96

Ng KS, Tan SA, Sun J (2014) A new approach to the estimation of settlement and ultimate bearing capacity of stone columns supported shallow foundation. In: The 8th European conference on numerical methods in geotechnical engineering (NUMGE 2014), pp 18–20

Ornek M, Laman M, Demir A, Yildiz A (2012) Prediction of bearing capacity of circular footings on soft clay stabilized with granular soil. Soils Found 52(1):69–80

Pachauria DK, Kumar R, Jain PK (2014) Behaviour of circular footing resting on skirted loose sand. Int J Adv Eng Res Stud/III/IV/July-Sept 10:12

Plaxis Manual (2009) Plaxis software company. https://www.plaxis.com/. Accessed 3 June 2018

Shin EC, Das BM, Puri VK, Yen SC, Cook EE (1993) Bearing capacity of strip foundation on geogrid-reinforced clay. Geotech Testing J 16(4):534–541

Table Curve (2002) Microsoft software company. www.sysat.com/. Accessed 4 Aug 2018

Veiskarami M, Eslami A, Kumar J (2011) End-bearing capacity of driven piles in sand using the stress characteristics method: analysis and implementation. Can Geotech J 48(10):1570–1586
About this article
Cite this article
Zeydi, H., Boushehrian, A.H. Experimental and Numerical Study of Bearing Capacity of Circular Footings on Layered Soils With and Without Skirted Sand Piles. Iran J Sci Technol Trans Civ Eng 44, 949–958 (2020). https://doi.org/10.1007/s40996-019-00284-w
Received:

Accepted:

Published:

Issue Date:
Keywords
Skirted pile

Bearing capacity

Circular footing

Soft clay soil

Experimental study

Numerical analysis