Abstract
To accurately calculate the shear lag amplitude of multi-rib T-beam (MRTB) with various flange widths, multi-longitudinal displacement differential functions considering the axial self-equilibrium conditions (SECs) for shear lag warping stress, shear stress lag and shear deformation of MRTB are set. Further, a new warping displacement model of MRTB is employed to meet the axial SECs for shear lag warping stress. Based on the energy-variation principle, the governing differential equations of the generalized displacement and the corresponding natural boundary conditions of MRTB are established. Through the calculation examples, the contribution of SECs, shear lag and shear deformation to the normal stress on the flanges of MRTB are characterized. By finite element analysis, the calculated results are in good agreement with the numerical results, which demonstrates the effectiveness of this proposed approach. Hence, it provides a more accurate method for the static analysis of MRTB.
This is a preview of subscription content, log in to check access.
Access options
Buy single article
Instant access to the full article PDF.
US$ 39.95
Price includes VAT for USA
Subscribe to journal
Immediate online access to all issues from 2019. Subscription will auto renew annually.
US$ 99
This is the net price. Taxes to be calculated in checkout.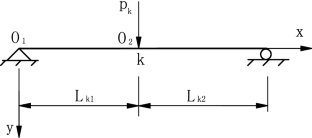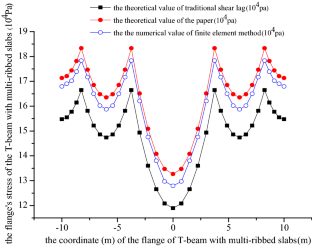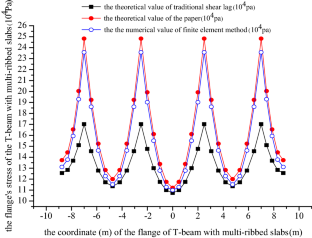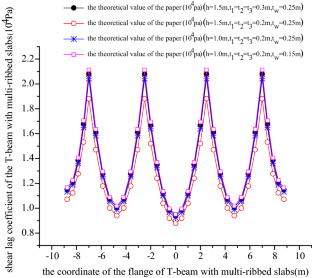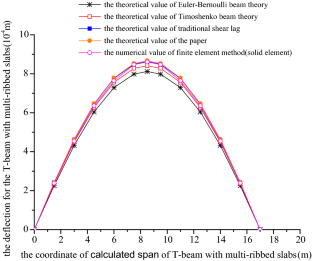 References
Foutch DA, Chang P (1982) A shear lag anomaly. J Struct Div 108:1653–1658

Gan Y, Zhou G (2008) An approach for precision selection of longitudinal shear lag warping displacement function of thin-walled box girders. Eng Mech 25:100–106

Grace N, Ushijima K, Baah P, Bebawy M (2013) Flexural behavior of a carbon fiber-reinforced polymer prestressed decked bulb T-beam bridge system. J Compos Constr 17:497–506

Gupta T, Misra A (2007) Effect on support reactions of T-beam skew bridge decks. ARPN J Eng Appl Sci 2:01–08

Hag-Elsafi O, Alampalli S, Kunin J (2001) Application of FRP laminates for strengthening of a reinforced-concrete T-beam bridge structure. Compos Struct 52:453–466

Hasançebi O, Dumlupınar T (2013) Linear and nonlinear model updating of reinforced concrete T-beam bridges using artificial neural networks. Comput Struct 119:1–11

Hu H (1981) Variational principle in elastic mechanics and application. Science Press, Beijing

Kuzmanovic BO, Graham HJ (1981) Shear lag in box girders. J Struct Div 107:1701–1712

Pei X, Chen L, Li J, Tang Y, Chen K (2016) Effect of damage on the vibration modal of a novel three-dimensional and four-directional braided composite T-beam. Compos B Eng 86:108–119

Qin XX, Liu HB, Wang SJ, Yan ZH (2014) Symplectic analysis of the shear lag phenomenon in a T-beam. J Eng Mech 141:04014157

Reissner E (1946) Analysis of shear lag in box beams by the principle of minimum potential energy. Q Appl Math 4:268–278

Shreedhar R, Mamadapur S (2012) Analysis of T-beam bridge using finite element method. Int J Eng Innov Technol 2:340–346

Song Q-G, Scordelis AC (1990) Shear-lag analysis of T-, I-, and box beams. J Struct Eng 116:1290–1305

Timoshenko S, Goodier J (1970) Theory of elasticity, Chap. 12, 3rd edn. McGraw-Hill Book Company, New York

Vlasov VZ (1959) Thin-walled elastic beams. PST Catalogue 428. U.S. Department of Commerce

Wang R, Zhou J (2003) Spatial calculation FEM for skew T-beam bridge with multi-ribbed slabs. Eng Mech 20:163–167

Wei C, Li B, Zen Q (2008) Transfer matrix method considering both shear lag and shear deformation effects in non-uniform continuous box girder. Eng Mech 25:111–117

Wu Y, Lai Y, Zhu Y, Liu S, Xuefu Z (2002) Finite element method considering shear lag effect for curved box beams. Eng Mech 19:85–89

Wu Y-M, Yue Z-F, Lü Z-Z (2008) Finite segment method for calculating the shear lag in thin-walled curved box girders. Acta Phys Sin 58:4002–4010

Xie H, Wang Y, Zou R (2015) Reliability analysis of RC T-beam highway bridges in China based on a virtual bridge dataset. Eng Struct 104:133–140

Zhang Y-H, Li Q (2004) A refined analysis method for shear lag effect of thin-walled T-Beams with wide flanges. J Lanzhou Jiaotong Univ 23:94–97

Zhang S, Deng X, Wang W (1998) Shear lag effect of box shaped thin-walled beams. Communications Press, China

Zhou J, Tu L (1994) Restudy on the shear lag in the wide-channel beams. Eng Mech 2:65–75
Acknowledgement
This work is financially supported by the National Natural Science Foundation of China (Grant Nos. 51769028, 51509139, 51508137), Post-Doctoral Foundation of China (Grant Nos. 2015M570108, 2014M560266), and Natural Science Foundation of Qinghai Province in China (Grant No. 2017-ZJ-933Q).
About this article
Cite this article
Shi, F., Cao, P., Gan, Y. et al. Calculating Precision Analysis of Static Characteristics of Multi-rib T-Beam Structure. Iran J Sci Technol Trans Civ Eng 44, 813–824 (2020). https://doi.org/10.1007/s40996-019-00257-z
Received:

Accepted:

Published:

Issue Date:
Keywords
Multi-rib T-beam

Self-equilibrium conditions

Shear lag effect

Shear deformation

Energy-variation principle

Warping stress