Abstract
Increasing concerns about the emergence of antibiotic-resistant bacteria have drawn much attention for research efforts to introduce new types of antibacterial compounds among scientists. In the present report, 24 bacterial strains isolated from the coastal areas of the Persian Gulf in Iran were investigated in order to assess their potentials to produce antibacterial metabolites. Among these, the crude extract from the isolate REB264 showed promising inhibition activity on the growth of two pathogenic bacteria, Pseudomonas aeruginosa and Staphylococcus aureus. Molecular identification via sequencing of the amplified 16S rDNA gene of the strain REB264 revealed that the bacterium belonging to the genus Bacillus and was tentatively named Bacillus sp. REB264, while the sequence was deposited in GenBank database, NCBI. Optimization of the carbon and nitrogen sources of the strain REB264 culture media determined that 743 mg/l active extract was achieved when using 1% glycerol and 0.5% yeast extract as carbon and nitrogen sources, respectively. Crude extract purification to obtain the antibacterial metabolite was performed in three steps using fractionation in organic and aqueous solvents, silica gel 60 column chromatography and LH-20 gel filtration with the yield of 80%. The purified compound exhibited inhibitory effect on P. aeruginosa growth at minimum inhibitory concentration (MIC) of 15 µg/ml, while lacking antibacterial effect on S. aureus. The P. aeruginosa growth inhibitor 264 (PAGI264) compound was further purified using reversed-phase high-performance liquid chromatography (C18-HPLC) up to 95% and the structural analysis by FTIR and H1-NMR confirmed that PAGI264 is composed of alcoholic, carbonyl and phenolic functional groups. Moreover, MS data in positive mode showed that the molecular weight of the compound is 761.74 Da. Lack of toxicity to MCF-7 cell line up to 500 µg/ml and lack of the hemolytic effect on red blood cells showed that the present natural product, PAGI264, has capability to use as a lead or drug in the future.
Access options
Buy single article
Instant access to the full article PDF.
US$ 39.95
Tax calculation will be finalised during checkout.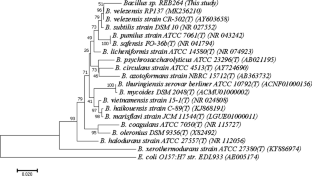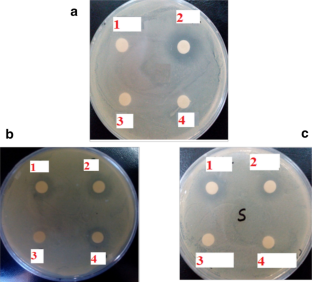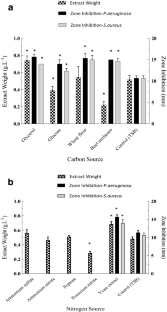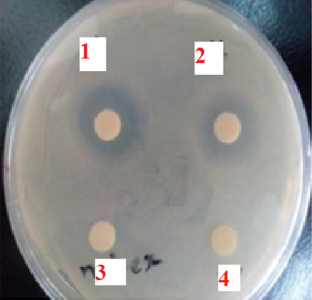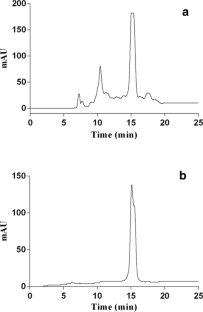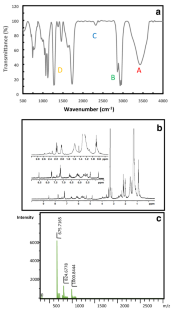 References
Andryukov B, Mikhailov V, Besednova N (2019) The biotechnological potential of secondary metabolites from marine bacteria. J Mar Sci Eng 7:176. https://doi.org/10.3390/jmse7060176

Bassetti M, Vena A, Croxatto A, Righi E, Guery B (2018) How to manage Pseudomonas aeruginosa infections. Drugs Context 7:212527. https://doi.org/10.7573/dic.212527

Caulier S, Nannan C, Gillis A, Licciardi F, Bragard C, Mahillon J (2019) Overview of the antimicrobial compounds produced by members of the Bacillus subtilis group. Front Microbiol 10:302. https://doi.org/10.3389/fmicb.2019.00302

Chakraborty K, Thilakan B, Chakraborty RD, Raola VK, Joy M (2017) O-Heterocyclic derivatives with antibacterial properties from marine bacterium Bacillus subtilis associated with seaweed, Sargassum myriocystum. Appl Microbiol Biotechnol 101:569–583. https://doi.org/10.1007/s00253-016-7810-3

Chakraborty K, Thilakan B, Kizhakkekalam V (2018) Antibacterial aryl-crowned polyketide from Bacillus subtilis associated with seaweed Anthophycus longifolius. J Appl Microbiol 124:108–125. https://doi.org/10.1111/jam.13627

Cockerill F, Patel J, Alder J, Bradford P, Dudley M, Eliopoulos G (2013) Performance standards for antimicrobial susceptibility testing: twenty-third informational supplement; M100-S23. http://www.techstreet.com, under license from Clinical and Laboratory Standards Institute (CLSI)

Elaiyaraja V, Latha MH, Devi CS (2018) Optimization and production of anti-inflammatory and anti-diabetic metabolites from marine Streptomyces sp. VITJS8. Res J Pharm Technol 11:2866–2868. https://doi.org/10.5958/0974-360X.2018.00528.0

Fleischmann C et al (2016) Assessment of global incidence and mortality of hospital-treated sepsis. Current estimates and limitations. Am J Respir Crit Care Med 193:259–272. https://doi.org/10.1164/rccm.201504-0781OC

Freitas-Silva J, Silva-Oliveira T, Muricy G, Laport MS (2020) Bacillus strains associated to homoscleromorpha sponges are highly active against multidrug resistant bacteria. Curr Microbiol 77:807–815. https://doi.org/10.1007/s00284-019-01870-x

Hou CT (2008) New bioactive fatty acids. Asia Pac J Clin Nutr 17(Suppl 1):192–195

Hudzicki J (2009) Kirby–Bauer disk diffusion susceptibility test protocol. http://www.microbelibrary.org/component/resource/laboratory-test/3189-kirby-bauer-disk-diffusion-susceptibility-test-protocol. Accessed 241114

Humphreys G, Fleck F (2016) United Nations meeting on antimicrobial resistance. World Health Organ Bull World Health Organ 94:638. https://doi.org/10.2471/BLT.16.020916

Jafarzade M, Yahya NA, Shayesteh F, Usup G, Ahmad A (2013) Influence of culture conditions and medium composition on the production of antibacterial compounds by marine Serratia sp. WPRA3. J Microbiol 51:373–379. https://doi.org/10.1007/s12275-013-2440-2

Jaruchoktaweechai C, Suwanborirux K, Tanasupawatt S, Kittakoop P, Menasveta P (2000) New macrolactins from a marine Bacillus sp. Sc026. J Nat Prod 63:984–986. https://doi.org/10.1021/np990605c

Jeyanthi V, Anbu P, Vairamani M, Velusamy P (2016) Isolation of hydroquinone (benzene-1,4-diol) metabolite from halotolerant Bacillus methylotrophicus MHC10 and its inhibitory activity towards bacterial pathogens. Bioprocess Biosyst Eng 39:429–439. https://doi.org/10.1007/s00449-015-1526-0

Kiranmayi MU, Sudhakar P, Sreenivasulu K, Vijayalakshmi M (2011) Optimization of culturing conditions for improved production of bioactive metabolites by Pseudonocardia sp. VUK-10. Mycobiology 39:174–181. https://doi.org/10.5941/MYCO.2011.39.3.174

Kumar S, Stecher G, Tamura K (2016) MEGA7: Molecular Evolutionary Genetics Analysis version 7.0 for bigger datasets. Mol Biol Evol 33:1870–1874. https://doi.org/10.1093/molbev/msw054

Ling LL et al (2015) A new antibiotic kills pathogens without detectable resistance. Nature 517:455–459. https://doi.org/10.1038/nature14098

Liu S-W et al (2013) PJS, a novel isocoumarin with hexahydropyrimidine ring from Bacillus subtilis PJS. J Antibiot 66:281–284. https://doi.org/10.1038/ja.2012.118

Moore T, Globa L, Barbaree J, Vodyanoy V, Sorokulova I (2013) Antagonistic activity of Bacillus bacteria against food-borne pathogens. J Probiot Health 1:110. https://doi.org/10.4172/2329-8901.1000110

Moradali MF, Ghods S, Rehm BH (2017) Pseudomonas aeruginosa lifestyle: a paradigm for adaptation, survival, and persistence. Front Cell Infect Microbiol 7:39. https://doi.org/10.3389/fcimb.2017.00039

Mulcahy LR, Isabella VM, Lewis K (2014) Pseudomonas aeruginosa biofilms in disease. Microb Ecol 68:1–12. https://doi.org/10.1007/s00248-013-0297-x

Padilla G, Hindle Z, Callis R, Corner A, Ludovice M, Liras P, Baumberg S (1991) The relationship between primary and secondary metabolism in Streptomycetes. In: Baumberg S, Krügel H, Noack D (eds) Genetics and product formation in streptomyces, vol 55. Springer, Boston, pp 35–45

Pan S, Chen G, Wu R, Cao X, Liang Z (2019) Non-sterile submerged fermentation of fibrinolytic enzyme by marine Bacillus subtilis harboring antibacterial activity with starvation strategy. Front Microbiol 10:1025. https://doi.org/10.3389/fmicb.2019.01025

Pang Z, Raudonis R, Glick BR, Lin T-J, Cheng Z (2019) Antibiotic resistance in Pseudomonas aeruginosa: mechanisms and alternative therapeutic strategies. Biotechnol Adv 37:177–192. https://doi.org/10.1016/j.biotechadv.2018.11.013

Paterson DL, Bonomo RA (2019) Multidrug-resistant Gram-negative pathogens: the urgent need for 'Old' polymyxins. Adv Exp Med Biol 1145:9–13. https://doi.org/10.1007/978-3-030-16373-0_2

Peleg AY, Hooper DC (2010) Hospital-acquired infections due to Gram-negative bacteria. N Engl J Med 362:1804–1813. https://doi.org/10.1056/NEJMra0904124

Pournejati R, Gust R, Karbalaei-Heidari HR (2019) An aminoglycoside antibacterial substance, S-137-R, produced by newly isolated Bacillus velezensis strain RP137 from the Persian Gulf. Curr Microbiol. https://doi.org/10.1007/s00284-019-01715-7

Romano G, Costantini M, Sansone C, Lauritano C, Ruocco N, Ianora A (2017) Marine microorganisms as a promising and sustainable source of bioactive molecules. Mar Environ Res 128:58–69. https://doi.org/10.1016/j.marenvres.2016.05.002

Sanchez S, Demain AL (2002) Metabolic regulation of fermentation processes. Enzyme Microb Technol 31:895–906. https://doi.org/10.1016/S0141-0229(02)00172-2

Sánchez S et al (2010) Carbon source regulation of antibiotic production. J Antibiot 63:442–459. https://doi.org/10.1038/ja.2010.78

Sansinenea E, Ortiz A (2011) Secondary metabolites of soil Bacillus spp. Biotechnol Lett 33:1523–1538. https://doi.org/10.1007/s10529-011-0617-5

Silby MW, Winstanley C, Godfrey SA, Levy SB, Jackson RW (2011) Pseudomonas genomes: diverse and adaptable. FEMS Microbiol Rev 35:652–680. https://doi.org/10.1111/j.1574-6976.2011.00269.x

Sumi CD, Yang BW, Yeo I-C, Hahm YT (2015) Antimicrobial peptides of the genus Bacillus: a new era for antibiotics. Can J Microbiol 61:93–103. https://doi.org/10.1139/cjm-2014-0613

Thirumurugan D, Cholarajan A, Raja SS, Vijayakumar R (2018) An introductory chapter: secondary metabolites. Second Metab Sources Appl. https://doi.org/10.5772/intechopen.79766

Velho-Pereira S, Kamat N (2016) Optimization of an anti Staphylococcus antibiotic produced by tropical soil dwelling Streptomyces parvulus. Avail SSRN 2986073. https://doi.org/10.1101/060392

Vranakis I, Goniotakis I, Psaroulaki A, Sandalakis V, Tselentis Y, Gevaert K, Tsiotis G (2014) Proteome studies of bacterial antibiotic resistance mechanisms. J Proteom 97:88–99. https://doi.org/10.1016/j.jprot.2013.10.027

Wiegand I, Hilpert K, Hancock RE (2008) Agar and broth dilution methods to determine the minimal inhibitory concentration (MIC) of antimicrobial substances. Nat Protoc 3:163–175. https://doi.org/10.1038/nprot.2007.521

Zhao H et al (2017) Biological activity of lipopeptides from Bacillus. Appl Microbiol Biotechnol 101:5951–5960. https://doi.org/10.1007/s00253-017-8396-0
Acknowledgements
This work was financially supported by the research affairs of Shiraz University, Shiraz, Iran under Grant Code of 97GCU2M143077.
Ethics declarations
Conflict of interest
The authors declare that they have no conflict of interest.
Supplementary Information
Below is the link to the electronic supplementary material.
About this article
Cite this article
Ebrahimi, R., Pournejati, R. & Karbalaei-Heidari, H.R. Pseudomonas aeruginosa Growth Inhibitor, PAGI264: A Natural Product from a Newly Isolated Marine Bacterium, Bacillus sp. Strain REB264. Iran J Sci Technol Trans Sci (2021). https://doi.org/10.1007/s40995-021-01107-2
Received:

Accepted:

Published:
Keywords
Antimicrobial agents

Pseudomonas aeruginosa

Natural products

Marine Bacillus