Abstract
Nanoparticles are being used in many areas in biotechnology. Silver nanoparticles are the most frequently used ones among the others, because of their eco-friendly natures. Biosynthetic silver nanoparticles have some beneficial effects on plant tissue cultures. However, their effects have rarely been investigated. In this study, biosynthetic nanoparticles were used at 0, 1, 2 and 4 mg/L concentration in order to determine their effects on Digitalis purpurea node cultures. At the first stage of experimental data analyses, MANOVA was employed to understand the significant growth parameters of D. purpurea plantlets. At the second stage, an artifical neural network (ANN) model was designed and tested under a wide range of input parameters (concentration of silver nanoparticles). The statistical differences between shoot elongations, single and multiple shoot formations, root formations, root fresh and dry weights were not found significant. However, the difference between shoot and total fresh weights, shoot and total dry weights (the significant variables) were found statistically significant. Optimum silver nanoparticle concentration for plantlet growth was detected as 2 mg/L. Biomass accumulations were enhanced up to 2,4 times. The results showed that ANN model provided a good prediction for the plant growth parameters and can be adapted for in vitro large-scale production.
Access options
Buy single article
Instant access to the full article PDF.
US$ 39.95
Tax calculation will be finalised during checkout.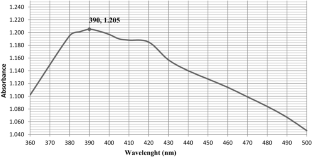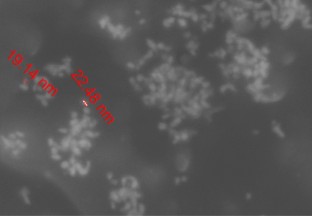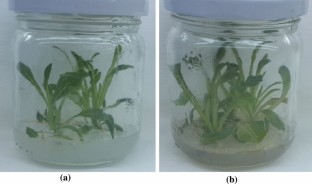 Data Availability
All data were given in the manuscript and the references parts.
Code Availability
STATISTICA v.15 software for MANOVA and Matlab R2019a for ANN.
References
Dhoondia ZH, Chakraborty H (2012) Lactobacillus mediated synthesis of silver oxide nanoparticles. Nanomater Nanotechnol 15(2):1–7

García-Pérez P, Lozano-Milo E, Landín M, Gallego PP (2020) Combining medicinal plant in vitro culture with machine learning technologies for maximizing the production of phenolic compounds. Antioxidants 9:210

Hesami M, Naderi R, Tohidfar M (2019) Modeling and optimizing medium composition for shoot regeneration of Chrysanthemum via radial basis function-non-dominated sorting genetic algorithm-II (RBF-NSGAII). Sci Rep 9:18237

Jograna MB, Patil DS, Kotwal SW (2020) Digitalis species a potent herbal drug: A review on their pharmacognosy and pharmacological activities. J Curr Pharm Res Satara 10(4):3821–3831

Lloyd GB, McCown BH (1980) Commercial-feasible micropropagation of mountain laurel-Kalmia latifolia by use of shoot- tip culture. Proc Int Plant Prop Soc 30:421–427

Nartop P (2018) Green sterilization of Rosmarinusofficinalis L. stem surfaces with silver nanoparticles synthesized using Rubiatinctorum L. cell culture extracts. Iran J Sci Technol Trans A Sci 42(2):411–414

Nartop P (2018) Effects of surface sterilization with green synthesized silver nanoparticles on Lamiaceae seeds. IET Nanobiotechnol 12(5):663–668

Nartop P (2018a) Engineering of biomass accumulation and secondary metabolite production in plant cell and tissue cultures, plant metabolites and regulation under environmental stress, In: P Ahmad, MA Ahanger, VP Singh (eds.) Chapter 9, Elsevier: Amsterdam

Nartop P (2019) Silver nanoparticles: ecofriendly surface sterilization of plant seeds in different shapes and sizes. J Anim Plant Sci 29(2):453–460

Nartop P, Günbeldek Z (2020) Impact of green synthesised silver nanoparticles on in vitro-grown L. officinalis plantlets, plant science research and practices, The Lamiaceae Family, An Overview, (ed.) Alexander Adler, Chapter 4, Nova Science Publishers, New York, pp. 181–210, ISBN: 9781536170788.

Nezami-Alanagh E, Garoosi GA, Maleki S, Landín M, Gallego PP (2017) Predicting optimal in vitro culture medium for Pistacia vera micropropagation using neural networks models. Plant Cell Tiss Organ Cult 129:19–33

Patil JG, Ahire ML, Nitnaware KM, Panda S, Bhatt VP, Kishor PBK, Nikam TD (2013) In vitro propagation and production of cardiotonic glycosides in shoot cultures of D.purpurea L. by elicitation and precursor feeding. Appl Microbiol Biotechnol 97(6):2379–2393

Perez-Alonso N, Wilken D, Gerth A, Jahn A, Nitzsche H-M, Kerns G, Capote-Perez A, Jimenez E (2009) Cardiotonic glycosides from biomass of D. purpurea L. cultured in temporary immersion systems. Plant Cell Tiss Organ Cult 99:151–156

Perez-Alonso N, Martin R, Capote A, Perez A, Hernandez-Diaz EK, Rojas L, Jimenez E, Ouiala E, Angenon G, Garcia-Gonzales R, Chong-Perez B (2018) Efficient direct shoot organogenesis, genetic stability and secondary metabolite production of micropropagated D. purpurea L. Ind Crop Prod 116:259–266

Sarmast MK, Niazi A, Salehi H, Abolimoghadam A (2015) Silver nanoparticles affect ACS expression in Tecomella undulata in vitro culture. Plant Cell Tiss Organ Cult 121:227–236

Sintubin L, Verstraete W, Boon N (2012) Biologically produced nanosilver: current state and future perspectives. Biotechnol Bioeng 109(10):2422–2436

Tabachnick BG, Fidell LS (2012) Using multivariate statistics, 6th edn. Pearson Education, Harlow, Essex

Tran QH, Nguyen VQ, Le A-T (2013) Silver nanoparticles: synthesis, properties, toxicology, applications and perspectives. Adv Nat Sci Nanosci Nanotechnol 4:033001

Yasin S, Liu L, Yao J (2013) Biosynthesis of silver nanoparticles by bamboo leaves extract and their antimicrobial activity. J Fiber Bioeng Inform 6(1):77–84

Yücesan B, Mohammed A, Eker İ, Sameeullah M, Demir-Ordu Ö, Cihangir C, Şahbaz N, Kaya Ö, Müller-Uri F, Kreis W, Gürel E (2016) In vitro propagation and cardenolide profiling of Digitalis ferruginea subsp. schischkinii, a medicinally important foxglove species with limited distribution in Northern Turkey, In Vitro Cell Dev Biol —Plant 52:322–329.
Funding
This study was not supported by a foundation.
Ethics declarations
Conflict of interest
There is no conflict of interests or competing interests for this study.
About this article
Cite this article
Nartop, P., Altan, A.D. & Titrek, A. Modeling of In Vitro Biomass Production of Digitalis purpurea Under the Effects of Biosynthetic Silver Nanoparticles. Iran J Sci Technol Trans Sci 45, 775–783 (2021). https://doi.org/10.1007/s40995-021-01105-4
Received:

Accepted:

Published:

Issue Date:
Keywords
Digitalis purpurea

in vitro biomass production

Biosynthetic silver nanoparticles

Syzygium aromaticum

Artifical neural network

MANOVA