Abstract
Previous studies have shown that oxidative stress plays a crucial role in behavioral changes due to social isolation. The influence of natural products for the treatment of nervous system damages has been the subject of several investigations. For example, sesame oil and its major compound -oleic acid- have a neuroprotective effect. Therefore, we studied the effect of sesame oil and oleic acid on hippocampal oxidative stress and some behavioral deficits in socially isolated rats. Adult male Wistar rats were isolated socially during 8 consecutive weeks and treated with sesame oil (4 ml/kg, by gavage) or oleic acid (1500 μl/kg, intraperitoneally). Social isolation increased malondialdehyde levels, lowered reduced glutathione content, and increased catalase activity in the hippocampus. Social isolation also diminished time spent in the target quadrant in the Morris water maze test and decreased the percentage of open arm entrance and time spent in the open arm in the elevated plus-maze. Both sesame oil and oleic acid could prevent the mentioned changes in isolated animals. We concluded that sesame oil and oleic acid prevent memory impairment and anxiety in isolated rats, and these effects are associated with a strengthening of the hippocampal antioxidant system.
Access options
Buy single article
Instant access to the full article PDF.
US$ 39.95
Tax calculation will be finalised during checkout.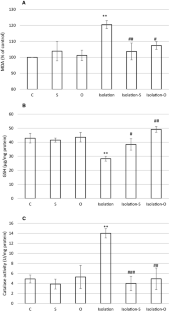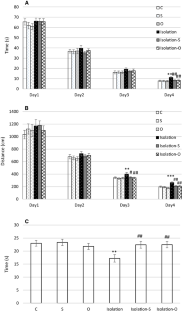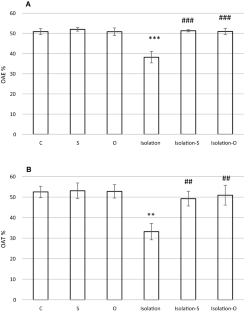 Data availability statement
The authors confirm that the data supporting the findings of this study are available within the article.
References
Ahmad S, Yousuf S, Ishrat T, Khan MB, Bhatia K, Fazli IS, Khan JS, Ansari NH, Islam F (2006) Effect of dietary sesame oil as antioxidant on brain hippocampus of rat in focal cerebral ischemia. Life Sci 79(20):1921–1928. https://doi.org/10.1016/j.lfs.2006.06.017

Ahmad S, Khan MB, Hoda MN, Bhatia K, Haque R, Fazili IS, Jamal A, Khan JS, Katare DP (2012) Neuroprotective effect of sesame seed oil in 6-hydroxydopamine induced neurotoxicity in mice model: cellular, biochemical and neurochemical evidence. Neurochem Res 37(3):516–526. https://doi.org/10.1007/s11064-011-0638-4

Ali W, Ikram M, Park HY, Jo MG, Ullah R, Ahmad S, Bin Abid N, Kim MO (2020) Oral administration of alpha linoleic acid rescues Aβ-induced Glia-mediated neuroinflammation and cognitive dysfunction in C57BL/6N mice. Cell 9:667. https://doi.org/10.3390/cells9030667

Al-Shudiefat A, Sharma A, Bagchi A, Dhingra S, Singal P (2013) Oleic acid mitigates TNF-α-induced oxidative stress in rat cardiomyocytes. Mol Cell Biochem 372(1/2):75–82. https://doi.org/10.1007/s11010-012-1447-z

Alves JL, Figueira AS, Souto M, Lopes IL, Dionísio JC, Quinta-Ferreira RM, Quinta-Ferreira ME (2020) Oleic acid enhances the production of reactive oxygen species in neuronal tissue. Energy Rep 6:885–890. https://doi.org/10.1016/j.egyr.2019.11.034

Bal N, Acar ST, Yazici A, Yazici K, Tamer L (2012) Altered levels of malondialdehyde and vitamin E in major depressive disorder and generalized anxiety disorder. Dusunen Adam 25(3):206–211. https://doi.org/10.5350/DAJPN2012250302

Bernal-Morales B, Cueto-Escobedo J, Guillén-Ruiz G, Rodríguez-Landa JF, Contreras CM (2017) A fatty acids mixture reduces anxiety-like behaviors in infant rats mediated by GABAA receptors. BioMed Res Int. https://doi.org/10.1155/2017/8798546

Calderón Guzmán D, Osnaya Brizuela N, Ortiz Herrera M, Juarez Olguin H, Hernández García E, Valenzuela Peraza A, Barragan Mejia G (2016) Oleic acid protects against oxidative stress exacerbated by cytarabine and doxorubicin in rat brain. AntiCancer Agents Med Chem (Formerly Current Medicinal Chemistry-Anti-Cancer Agents) 16 (11): 1491–5. https://doi.org/10.2174/1871520615666160504093652

Draper HH, Hadley M (1990) Malondialdehyde determination as index of lipid peroxidation. Method Enzymol 186:421–431. https://doi.org/10.1016/0076-6879(90)86135-I

Filipović D, Todorović N, Bernardi RE, Gass P (2017) Oxidative and nitrosative stress pathways in the brain of socially isolated adult male rats demonstrating depressive-and anxiety-like symptoms. Brain Struct Funct 222(1):1–20. https://doi.org/10.1007/s00429-016-1218-9

García-Cerro S, Rueda N, Vidal V, Puente A, Campa V, Lantigua S, Narcís O, Velasco A, Bartesaghi R, Martínez-Cué C (2020) Prenatal administration of oleic acid or linolenic acid reduces neuromorphological and cognitive alterations in ts65dn down syndrome mice. J Nut 150(6):1631–1643. https://doi.org/10.1093/jn/nxaa074

Guillén-Ruiz G, Bernal-Morales B, Contreras CM, Cueto-Escobedo J, Rodríguez-Landa JF (2016) Oleic acid produces motor incoordination and hypoactivity in infant Wistar rats through GABAA receptors. Am J Psychiatry Neurosci 4 (2): 18–25. https://doi.org/10.11648/j.ajpn.20160402.11

Holt-Lunstad J, Smith TB, Baker M, Harris T, Stephenson D (2015) Loneliness and social isolation as risk factors for mortality: a meta-analytic review. Perspect Psychol Sci 10(2):227–237. https://doi.org/10.1177/1745691614568352

Hsu DZ, Su SB, Chien SP, Chiang PJ, Li YH, Lo YJ, Liu MY (2005) Effect of sesame oil on oxidative-stress-associated renal injury in endotoxemic rats: involvement of nitric oxide and proinflammatory cytokines. Shock 24(3):276–280. https://doi.org/10.1097/01.shk.0000172366.73881.c7

Jianguang C, Dazhong Y (2011) Malondialdehyde decreased the capability of learning and spatial memory, impaired the ultra-microstructure of the hippocampal CA1 area in SD rats. In Proceedings 2011 International Conference on Human Health and Biomedical Engineering (pp. 371–377). IEEE. https://doi.org/10.1109/HHBE.2011.6027976

Jollow DJ, Mitchell JR, Zampaglione N, Gillette JR (1974) Bromobenzene-induced liver necrosis. Protective role of glutathione and evidence for 3,4-bromobenzene oxide as the hepatotoxic metabolite. Pharmacology 11:151–169. https://doi.org/10.1159/000136485

Lauritzen I, Blondeau N, Heurteaux C, Widmann C, Romey G, Lazdunski M (2000) Polyunsaturated fatty acids are potent neuroprotectors. EMBO J 19(8):1784–1793. https://doi.org/10.1093/emboj/19.8.1784

Lieberwirth C, Liu Y, Jia X, Wang Z (2012) Social isolation impairs adult neurogenesis in the limbic system and alters behaviors in female prairie voles. Horm Behav 62(4):357–366. https://doi.org/10.1016/j.yhbeh.2012.03.005

Lowry OH, Rosebrough NJ, Farr AL, Randall RJ (1951) Protein measurement with the Folin phenol reagent. J Biol Chem 193: 265–275. https://www.cabdirect.org/cabdirect/abstract/19511404458

Matthäus B, Özcan MM (2018) Fatty Acid Composition and Tocopherol Contents of some Sesame Seed Oils. Iran J Chem Chem Eng 37(5):151–155

Mohamed MM, Mohamed EA (2016) Sesame oil modulates scopolamine-induced Alzheimer-like pathological dysfunction in rats. Int J Sci Res 5(1):70–74

Mumtaz F, Khan MI, Zubair M, Dehpour AR (2018) Neurobiology and consequences of social isolation stress in animal model—A comprehensive review. Biomed Pharm 105:1205–1222. https://doi.org/10.1016/j.biopha.2018.05.086

Naeem S, Ali L, Rizwani GH, Ikram R, Khan SS, Shareef H, Younus I, Malick TZ, Aleem U (2020) A comparative neurobehavioral study of sesame oil and fish oil on experimental animals. Pak J Pharm Sci 33(2):511–521

Narasimhulu CA, Selvarajan K, Litvinov D, Parthasarathy S (2015) Anti-atherosclerotic and anti-inflammatory actions of sesame oil. J Med Food 18(1):11–20. https://doi.org/10.1089/jmf.2014.0138

Patki G, Solanki N, Atrooz F, Allam F, Salim S (2013) Depression, anxiety-like behavior and memory impairment are associated with increased oxidative stress and inflammation in a rat model of social stress. Brain Res 1539:73–86. https://doi.org/10.1016/j.brainres.2013.09.033

Periasamy S, Liu CT, Chien SP, Chen YC, Liu MY (2016) Daily sesame oil supplementation mitigates ketoconazole-induced oxidative stress-mediated apoptosis and hepatic injury. J Nutr Biochem 37:67–75. https://doi.org/10.1016/j.jnutbio.2016.07.016

Perić I, Stanisavljević A, Gass P, Filipović D (2017) Fluoxetine reverses behavior changes in socially isolated rats: role of the hippocampal GSH-dependent defense system and proinflammatory cytokines. Eur Arch Psy Clin Neurosci 267(8):737–749. https://doi.org/10.1007/s00406-017-0807-9

Prasanthi K, Rajini PS (2005) Fenvalerate-induced oxidative damage in rat tissues and its attenuation by dietary sesame oil. Food Chem Toxicol 43(2):299–306. https://doi.org/10.1016/j.fct.2004.10.005

Queiroz MP, da Silva Lima M, de Melo MF, Bertozzo CC, de Araújo DF, Guerra GC, do Egypto RD, Soares JK (2019) Maternal suppplementation with conjugated linoleic acid reduce anxiety and lipid peroxidation in the offspring brain. J Affect Disord 243: 75-82. https://doi.org/10.1016/j.jad.2018.09.020

Raman S, Asle-Rousta M, Rahnema M (2020) Protective effect of fennel, and its major component trans-anethole against social isolation induced behavioral deficits in rats. Physiol Int 107(1):30–39. https://doi.org/10.1556/2060.2020.00012

Rammal H, Bouayed J, Younos C, Soulimani R (2008) Evidence that oxidative stress is linked to anxiety-related behaviour in mice. Brain Behav Immun 22(8):1156–1159. https://doi.org/10.1016/j.bbi.2008.06.005

Salehzadeh A, Abbasalipourkabir R, Shisheian B, Rafaat A, Nikkhah A, Rezaii T (2019) The alleviating effects of sesame oil on diazinon-induced toxicity in male wistar rats. Drug Chem Toxicol 42(3):280–285. https://doi.org/10.1080/01480545.2018.1449852

Salim S (2017) Oxidative stress and the central nervous system. J Pharmacol Exp Ther 360(1):201–205. https://doi.org/10.1124/jpet.116.237503

Scaccianoce S, Del Bianco P, Paolone G, Caprioli D, Modafferi AM, Nencini P, Badiani A (2006) Social isolation selectively reduces hippocampal brain-derived neurotrophic factor without altering plasma corticosterone. Behav Brain Res 168(2):323–325. https://doi.org/10.1016/j.bbr.2005.04.024

Shao Y, Yan G, Xuan Y, Peng H, Huang QJ, Wu R, Xu H (2015) Chronic social isolation decreases glutamate and glutamine levels and induces oxidative stress in the rat hippocampus. Behav Brain Res 282:201–208. https://doi.org/10.1016/j.bbr.2015.01.005

Singh PK, Gari M, Choudhury S, Shukla A, Gangwar N, Garg SK (2020) Oleic acid prevents isoprenaline-induced cardiac injury: effects on cellular oxidative stress, inflammation and histopathological alterations. Cardiovasc Toxicol 20(1):28–48. https://doi.org/10.1007/s12012-019-09531-y

Solfrizzi V, Panza F, Torres F, Mastroianni F, Del Parigi A, Venezia A, Capurso A (1999) High monounsaturated fatty acids intake protects against age-related cognitive decline. Neurology 52(8):1563. https://doi.org/10.1212/WNL.52.8.1563

Song J, Kim YS, Lee DH, Lee SH, Park HJ, Lee D, Kim H (2019) Neuroprotective effects of oleic acid in rodent models of cerebral ischaemia. Sci Rep 9(1):1–3. https://doi.org/10.1038/s41598-019-47057-z

Tabari SS, Babri S, Mirzaie F, Farajdokht F, Mohaddes G (2016) Enduring amnesia induced by ICV scopolamine is reversed by sesame oil in male rats. Acta Cir Bras 31(8):520–526. https://doi.org/10.1590/S0102-865020160080000004

Zlatković J, Filipović D (2013) Chronic social isolation induces NF-κB activation and upregulation of iNOS protein expression in rat prefrontal cortex. Neurochem Int 63(3):172–179. https://doi.org/10.1016/j.neuint.2013.06.002

Zorzo C, Méndez-López M, Méndez M, Arias JL (2019) Adult social isolation leads to anxiety and spatial memory impairment: Brain activity pattern of COX and c-Fos. Behav Brain Res 365:170–177. https://doi.org/10.1016/j.bbr.2019.03.011
Funding
We did not receive any funding for this work.
Ethics declarations
Conflict of interest
The authors declare that they have no conflict of interests.
Ethical approval
Animal experiments were approved by the Islamic Azad University-Zanjan Branch-Ethics Committee (Ethical code: IR.IAU.Z.REC.1399.076).
About this article
Cite this article
Maghsoud-Nia, L., Asle-Rousta, M., Rahnema, M. et al. Sesame Oil and Its Component Oleic Acid Ameliorate Behavioral and Biochemical Alterations in Socially Isolated Rats. Iran J Sci Technol Trans Sci (2021). https://doi.org/10.1007/s40995-021-01098-0
Received:

Accepted:

Published:
Keywords
Sesame oil

Oleic acid

Oxidative stress

Memory

Anxiety

Social isolation