Abstract
Climate change has been recognized as one of the biggest threats to biodiversity conservation. Therefore, predicting and quantifying the impacts of climate change on biodiversity can be useful for its conservation and management. In this regard, we forecasted climate-change effects on one of the common fish species in catches in south-western Iran, i.e. Garra rufa by using species distribution modelling tools. Seven environmental variables (i.e. basin, stream slope, bank-full width, elevation, mean air temperature, air temperature range, and annual precipitation) were used for modelling by BioMOD2 package in R software. Moreover, six modelling techniques (i.e. GLM, GAM, GBM, MARS, ANN, and RF) were applied and finally summarized by the ensemble model in order to reduce the uncertainty. According to true skill statistic, the average accuracy of the modelling was excellent (0.91). This species showed both expansion (gain) and reduction (loss) under different climate-change scenarios [optimistic and pessimistic scenarios (RCP 4.5 and RCP 8.5)] in 2050 and 2080. Consequently, in order to protect this species, it is necessary for managers to implement appropriate measures for conservation of future predicted potential suitable areas as well as areas where this species is likely disappeared.
Access options
Buy single article
Instant access to the full article PDF.
US$ 39.95
Tax calculation will be finalised during checkout.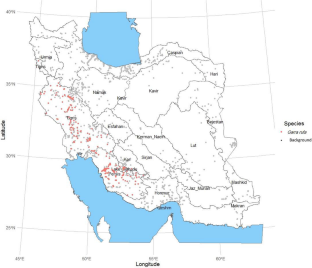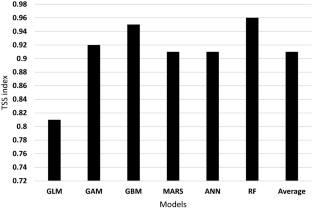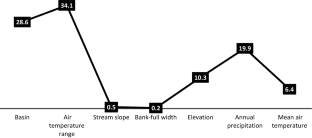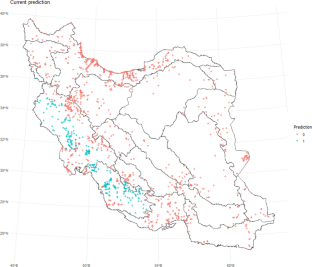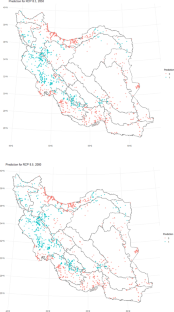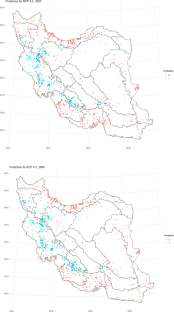 Availability of data and material
The data that support the findings of this study are available from the corresponding author, upon reasonable request.
References
Abbaspour KC, Faramarzi M, Ghasemi SS, Yang H (2009) Assessing the impact of climate change on water resources in Iran. Water Resour Res 45(10):W10434

Abdoli A (2000) The inland water fishes of Iran. Iranian Museum of Nature and Wildlife, Tehran, Iran

Amiri MJ, Eslamian SS (2010) Investigation of climate change in Iran. J Environ Sci Technol 3(4):208–216

Araujo M, New M (2007) Ensemble forecasting of species distributions. Trends Ecol Evol 22(1):42–47

Araújo MB, Thuiller W, Pearson RG (2006) Climate warming and the decline of amphibians and reptiles in Europe. J Biogeogr 33(10):1712–1728

Bond N, Thomson J, Reich P, Stein J (2011) Using species distribution models to infer potential climate change-induced range shifts of freshwater fish in south-eastern Australia. Mar Freshw Res 62(9):1043–1061

Buisson L, Grenouillet G (2009) Contrasted impacts of climate change on stream fish assemblages along an environmental gradient. Divers Distrib 15(4):613–626

Buisson L, Thuiller W, Lek S, Lim PUY, Grenouillet G (2008) Climate change hastens the turnover of stream fish assemblages. Glob Change Biol 14(10):2232–2248

Cardinale BJ, Palmer MA, Collins SL (2002) Species diversity enhances ecosystem functioning through interspecific facilitation. Nature 415(6870):426–429

Carosi A, Padula R, Ghetti L, Lorenzoni M (2019) Endemic freshwater fish range shifts related to global climate changes: a long-term study provides some observational evidence for the Mediterranean Area. Water 11(11):2349

Chu C, Mandrak NE, Minns CK (2005) Potential impacts of climate change on the distributions of several common and rare freshwater fishes in Canada. Divers Distrib 11(4):299–310

Coad BW (2020) Freshwater fishes of Iran. http://www.briancoad.com/Contents.htm. Accessed 22 July 2020

Dastorani MT, Poormohammadi S (2016) Mapping of climatic parameters under climate change impacts in Iran. Hydrol Sci J 61(14):2552–2566

Elith JH, Graham CP, Anderson R, Dudík M, Ferrier S, Guisan A et al (2006) Novel methods improve prediction of species' distributions from occurrence data. Ecography 29(2):129–151

Esmaeili HR, Sayyadzadeh G, Eagderi S, Abbasi K (2018) Checklist of freshwater fishes of Iran. FishTaxa 3(3):1–95

Filipe AF, Markovic D, Pletterbauer F, Tisseuil C, De Wever A, Schmutz S et al (2013) Forecasting fish distribution along stream networks: Brown trout (Salmo trutta) in Europe. Divers Distrib 19(8):1059–1071

Heikkinen RK, Luoto M, Araújo MB, Virkkala R, Thuiller W, Sykes MT (2006) Methods and uncertainties in bioclimatic envelope modelling under climate change. Prog Phys Geogr 30(6):751–777

Hijmans RJ, Cameron SE, Parra JL (2007) WorldClim version 1.4. Museum of vertebrate zoology, University of California

Hijmans RJ, Cameron SE, Parra JL, Jones PG, Jarvis A (2005) Very high resolution interpolated climate surfaces for global land areas. Int J Climatol 25(15):1965–1978

Jouladeh-Roudbar A, Ghanavi HR, Doadrio I (2020) Ichthyofauna from Iranian freshwater: annotated checklist diagnosis taxonomy distribution and conservation assessment. Zool Stud 59(21):1–303

Jouladeh-Roudbar A, Vatandoust S, Eagderi S, Jafari-Kenari S, Mousavi-Sabet H (2015) Freshwater fishes of Iran: an updated checklist. Aquac Aquar Conserv Legis 8(6):855–909

Kafash A, Ashrafi S, Ohler A, Yousefi M, Malakoutikhah S, Koehler G, Schmidt BR (2018) Climate change produces winners and losers: differential responses of amphibians in mountain forests of the Near East. Glob Ecol Conservn 16:e00471

Lobo JM, Jiménez-Valverde A, Real R (2008) AUC: a misleading measure of the performance of predictive distribution models. Glob Ecol Biogeogr 17(2):145–151

Loreau M, Naeem S, Inchausti P, Bengtsson J, Grime JP, Hector A et al (2001) Biodiversity and ecosystem functioning: current knowledge and future challenges. Science 294(5543):804–808

Maloney KO, Weller DE, Michaelson DE, Ciccotto PJ (2013) Species distribution models of freshwater stream fishes in Maryland and their implications for management. Environ Model Assess 18(1):1–12

Melcher A, Schmutz S, Haidvogl G, Moder K (2007) Spatially based methods to assess the ecological status of European fish assemblage types. Fish Manag Ecol 14(6):453–463

Mostafavi H, Kambouzia J (2019) Impact of climate change on the distribution of brown trout Salmo trutta Linnaeus 1758 (Teleostei: Salmonidae) using ensemble modelling approach in Iran. Iran J Ichthyol 6(1):73–81

Mostafavi H, Kordjazi Z, Valavi R, Shafizadeh-Moghadam H, Kambouzia J, Infante DM (2019a) Ensemble modelling of sensitive stream fish species distributions in Iran: expanding knowledge to aid species conservation. Am Fish Soc Symp 90:441–462

Mostafavi H, Teimori A, Schinegger R, Schmutz S (2019b) A new fish based multi-metric assessment index for cold-water streams of the southern Caspian Sea Basin in Iran. Environ Biol Fishes 102(4):645–662

Mostafavi H, Rashidian Doliskani M, Valavi R (2018) Modelling the effects of climate change on the distribution of Kura bleak (Alburnus filippii Kessler 1877) on the Iranian scale. J Appl Ichthyol Res 6(4):1–12

Mostafavi H, Schinegger R, Melcher A, Moder K, Mielach C, Schmutz S (2015) A new fish-based multi-metric assessment index for cyprinid streams in the Iranian Caspian Sea Basin. Limnologica 51:37–52

Mostafavi H, Pletterbauer F, Coad BW, Mahini AS, Schinegger R, Unfer G et al (2014) Predicting presence and absence of trout (Salmo trutta) in Iran. Limnologica 46:1–8

Muths E, Chambert T, Schmidt BR, Miller DAW, Hossack BR, Joly P et al (2017) Heterogeneous responses of temperate-zone amphibian populations to climate change complicates conservation planning. Sci Rep 7(1):1–10

Oberdorff T, Pont D, Hugueny B, Chessel D (2001) A probabilistic model characterizing fish assemblages of French rivers: a framework for environmental assessment. Freshw Biol 46(3):399–415

Palmer MA, Covich AP, Lake SAM, Biro P, Brooks JJ, Cole J et al (2000) Linkages between aquatic sediment biota and life above sediments as potential drivers of biodiversity and ecological processes: a disruption or intensification of the direct and indirect chemical physical or biological interactions between aquatic sediment biota and biota living above the sediments may accelerate biodiversity loss and contribute to the degradation of aquatic and riparian habitats. Bioscience 50(12):1062–1075

Pont D, Hugueny B, Oberdorff T (2005) Modelling habitat requirement of European fishes: do species have similar responses to local and regional environmental constraints? Can J Fish Aquat Sci 62(1):163–173

Rahimi J, Malekian A, Khalili A (2019) Climate change impacts in Iran: assessing our current knowledge. Theoret Appl Climatol 135(1–2):545–564

Reid WV (2005) Millennium ecosystem assessment. Island Press, Washington

Schinegger R, Trautwein C, Schmutz S (2013) Pressure-specific and multiple pressure response of fish assemblages in European running waters. Limnologica 43(5):348–361

Schinegger R, Trautwein C, Melcher A, Schmutz S (2012) Multiple human pressures and their spatial patterns in european running waters. Water Environ J 26(2):261–273

Schmutz S, Cowx IG, Haidvogl G, Pont D (2007) Fish-based methods for assessing European running waters: a synthesis. Fish Manag Ecol 14(6):369–380

Schmutz S, Kaufmann M, Vogel B, Jungwirth M, Muhar S (2000) A multi-level concept for fish-based river-type-specific assessment of ecological integrity. Hydrobiologia 422:279–289

Simpson SD, Blanchard JL, Genner MG (2013) Impacts of climate change on fish. MCCIP Sci Rev 2013:113–124

Thuiller W, Georges D, Engler R, Breiner F (2016) biomod2: ensemble platform for species distribution modeling. R package version 3.3-7. http://CRAN.R-project.org/package=biomod2. Accessed 24 Sept 2020

Thuiller W (2003) BIOMOD–optimizing predictions of species distributions and projecting potential future shifts under global change. Glob Change Biol 9(10):1353–1362

Vescovi L, Berteaux DB, Blois Sde (2009) Freshwater biodiversity versus anthropogenic climate change: the United Nations World Water Development Report–N° 3–2009. UNESCO.

WMO (2019) WMO Statement on the State of the Global Climate in 2018 (No, WMO-No.1233). World Meteorological Organisation (WMO)

Yousefi M, Jouladeh-Roudbar A, Kafash A (2020) Using endemic freshwater fishes as proxies of their ecosystems to identify high priority rivers for conservation under climate change. Ecol Ind 112:106137

Yousefi M, Kafash A, Valizadegan N, Ilanloo SS, Rajabizadeh M, Malekoutikhah S et al (2019) Climate change is a major problem for biodiversity conservation: a systematic review of recent studies in Iran. Contemp Probl Ecol 12(4):394–403

Yousefi M, Ahmadi M, Nourani E, Rezaei A, Kafash A, Khani A et al (2017) Habitat suitability and impacts of climate change on the distribution of wintering population of Asian Houbara bustard chlamydotis macqueenii in Iran. Bird Conserv Int 27(2):294–304

Yousefi M, Ahmadi M, Nourani E, Behrooz R, Rajabizadeh M, Geniez P, Kaboli M (2015) Upward altitudinal shifts in habitat suitability of mountain vipers since the last glacial maximum. PLoS ONE 10(9):e01
Acknowledgements
We would like to thank Amena Dashtbozorgi and Babak Mirbagheri, who all provided insight and expertise that greatly assisted the research.
Funding
No funding was received for conducting this study.
Ethics declarations
Conflict of interest
The authors have no relevant financial or non-financial interests to disclose.
Ethics approval
All applicable international, national, and/or institutional guidelines for the care and use of animals were followed. Our main guidelines is?
Human and animal rights
This article does not contain any studies involving human participants performed by any of the authors.
About this article
Cite this article
Makki, T., Mostafavi, H., Matkan, A. et al. Modelling Climate-Change Impact on the Spatial Distribution of Garra Rufa (Heckel, 1843) (Teleostei: Cyprinidae). Iran J Sci Technol Trans Sci 45, 795–804 (2021). https://doi.org/10.1007/s40995-021-01088-2
Received:

Accepted:

Published:

Issue Date:
Keywords
Cypriniformes

Ecological niche modelling

Spatial distribution

Conservation

Iran