Abstract
One of the environmental issues is the release of heavy metal ions into groundwater, in which finding a cost-effective solution is crucial. In this study, lead as a toxic heavy metal cation was adsorbed by two low-cost industrial products of ground granulated blast-furnace slag (GGBFS) and phosphorus slag (PS). Both adsorbents were characterized by various analyses. The response surface methodology (RSM) based on the central composite design (CCD) method is employed to compare the performance of both adsorbents in Pb(II) removal from an aqueous solution. The experiment design was performed by considering three factors of initial Pb(II) concentration (20–100 mg.L−1), rotation rate (15–195 rpm), and adsorbent weight (0.1–2.1 g) at five levels. From the RSM predictions, the maximum adsorption capacity was obtained at 0.1 g, 100 mg.L−1, and 195 rpm. Based on the adsorption capacity data, GGBFS was more efficient than PS adsorbent in Pb(II) removal under the same conditions. The most influential parameter on the adsorption capacity was the adsorbent weight, and the other parameters had no significant effects. The influence of rotation rate could be observed only at low adsorbent weights. Two correlations are developed by taking into account the interaction effects between the studied parameters that fitted well the experimental data with R2-values of 0.986 and 0.993 for GGBFS and PS, respectively. The statistical parameters and plots were also reported for the adsorption capacity of the both adsorbents.
Access options
Buy single article
Instant access to the full article PDF.
US$ 39.95
Tax calculation will be finalised during checkout.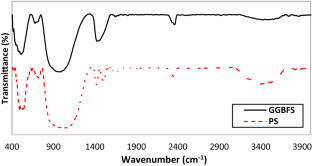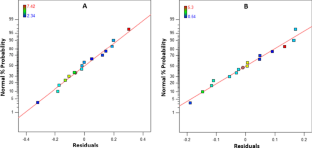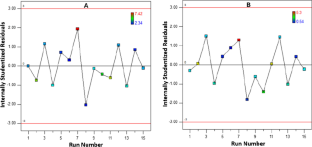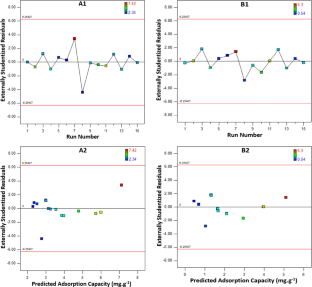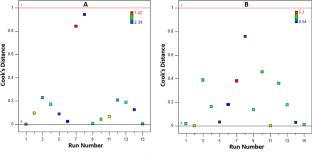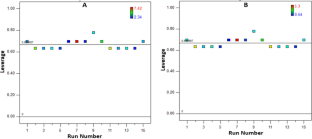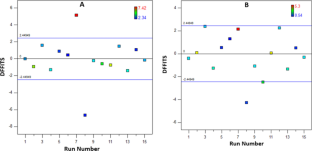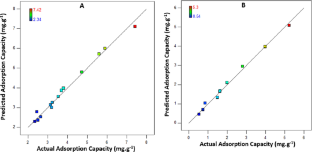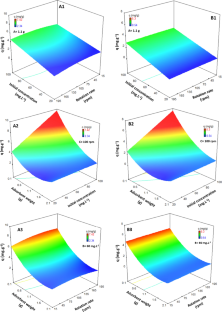 References
Agency USEP. Environmental Pollution Control Alternatives: drinking water treatment for small communities: EPA Center for Environmental Research Information; 1990.

Ahmadi A, Heidarzadeh S, Mokhtari AR, Darezereshki E, Harouni HA (2014) Optimization of heavy metal removal from aqueous solutions by maghemite (γ-Fe2O3) nanoparticles using response surface methodology. J Geochem Explor 147:151–158

Asuquo E, Martin A, Nzerem P, Siperstein F, Fan X (2017) Adsorption of Cd (II) and Pb (II) ions from aqueous solutions using mesoporous activated carbon adsorbent: Equilibrium, kinetics and characterisation studies. J Environ Chem Eng 5:679–698

Baş D, Boyacı IH (2007) Modeling and optimization I: Usability of response surface methodology. J Food Eng 78:836–845

Behroozi AH, Akbarzad N, Ghaemi A (2020) Reactive Absorption into an Aqueous Blended MDEA and TMS Solution: Experimental and Modeling. Int J Environ Res 14:347–363

Celis R, Hermosin MC, Cornejo J (2000) Heavy metal adsorption by functionalized clays. Environ Sci Technol 34:4593–4599

Chen Q, Hills CD, Yuan M, Liu H, Tyrer M (2008) Characterization of carbonated tricalcium silicate and its sorption capacity for heavy metals: A micron-scale composite adsorbent of active silicate gel and calcite. J Hazard Mater 153:775–783

Deng S, Wang P, Zhang G, Dou Y (2016) Polyacrylonitrile-based fiber modified with thiosemicarbazide by microwave irradiation and its adsorption behavior for Cd (II) and Pb (II). J Hazard Mater 307:64–72

Garg VK, Kataria N. Nanomaterial-based sorbents for the removal of heavy metal ions from water. Advanced Nanomaterials for Wastewater Remediation. 2016:179.

Ghaemi A, Behroozi AH (2020) Comparison of hydroxide-based adsorbents of Mg (OH) 2 and Ca (OH) 2 for CO2 capture: utilization of response surface methodology, kinetic, and isotherm modeling. Sci Technol, Greenhouse Gases

Ghaemi A, Torab-Mostaedi M, Ghannadi-Maragheh M (2011) Characterizations of strontium (II) and barium (II) adsorption from aqueous solutions using dolomite powder. J Hazard Mater 190:916–921

Ghaemi A, Torab-Mostaedi M, Shahhosseini S, Asadollahzadeh M (2013) Characterization of Ag (I), Co (II) and Cu (II) removal process from aqueous solutions using dolomite powder. Korean J Chem Eng 30:172–180

Gilmour SGJB (2006) Response surface designs for experiments in bioprocessing 62:323–331

Hamad H, Ezzeddine Z, Lakis F, Rammal H, Srour M, Hijazi A (2016) An insight into the removal of Cu (II) and Pb (II) by aminopropyl-modified mesoporous carbon CMK-3: adsorption capacity and mechanism. Mater Chem Phys 178:57–64

He K, Chen Y, Tang Z, Hu Y (2016) Removal of heavy metal ions from aqueous solution by zeolite synthesized from fly ash. Environ Sci Pollut Res 23:2778–2788

Hu C, Zhu P, Cai M, Hu H, Fu Q (2017) Comparative adsorption of Pb (II), Cu (II) and Cd (II) on chitosan saturated montmorillonite: Kinetic, thermodynamic and equilibrium studies. Appl Clay Sci 143:320–326

Kataria N, Garg V (2018) Optimization of Pb (II) and Cd (II) adsorption onto ZnO nanoflowers using central composite design: isotherms and kinetics modelling. J Mol Liq 271:228–239

Kyzas G, Bomis G, Kosheleva R, Efthimiadou E, Favvas E, Kostoglou M (2019) Nanobubbles effect on heavy metal ions adsorption by activated carbon. Chem Eng J 356:91–97

Lian Q, Ahmad ZU, Gang DD, Zappi ME, Fortela DLB, Hernandez R (2020) The effects of carbon disulfide driven functionalization on graphene oxide for enhanced Pb (II) adsorption: Investigation of adsorption mechanism. Chemosphere 248:126078

Liu S-Y, Gao J, Yang Y-J, Yang Y-C, Ye Z-X (2010) Adsorption intrinsic kinetics and isotherms of lead ions on steel slag. J Hazard Mater 173:558–562

Liyana-Pathirana C, Shahidi F (2005) Optimization of extraction of phenolic compounds from wheat using response surface methodology. Food Chem 93:47–56

Mittal A, Naushad M, Sharma G, Z ALothman, S Wabaidur, M Alam, (2016) Fabrication of MWCNTs/ThO2 nanocomposite and its adsorption behavior for the removal of Pb (II) metal from aqueous medium. Desalination Water Treat. 57:21863–21869

Mohammadi M, Ghaemi A, Torab-Mostaedi M, Asadollahzadeh M, Hemmati A (2015) Adsorption of cadmium (II) and nickel (II) on dolomite powder. Desalination Water Treat 53:149–157

Mourabet M, El Rhilassi A, El Boujaady H, Bennani-Ziatni M, Taitai A (2017) Use of response surface methodology for optimization of fluoride adsorption in an aqueous solution by Brushite. Arabian J Chemy 10:S3292–S3302

Pacheco S, Tapia J, Medina M, Rodriguez R (2006) Cadmium ions adsorption in simulated wastewater using structured alumina–silica nanoparticles. J Non-Cryst Solids 352:5475–5481

Pashaei H, Ghaemi A, Nasiri M, Karami B (2020) Experimental modeling and optimization of CO2 absorption into piperazine solutions using RSM-CCD methodology. ACS omega 5:8432–8448

Peng W, Li H, Liu Y, Song S (2016) Comparison of Pb (II) adsorption onto graphene oxide prepared from natural graphites: Diagramming the Pb (II) adsorption sites. Appl Surf Sci 364:620–627

Rahmati A, Ghaemi A, Samadfam M (2012) Kinetic and thermodynamic studies of uranium (VI) adsorption using Amberlite IRA-910 resin. Ann Nucl Energy 39:42–48

Rao MM, Ramana D, Seshaiah K, Wang M, Chien SC (2009) Removal of some metal ions by activated carbon prepared from Phaseolus aureus hulls. J Hazard Mater 166:1006–1013

Rasoulzadeh H, Dehghani MH, Mohammadi AS, Karri RR, Nabizadeh R, Nazmara S (2020) Parametric modelling of Pb (II) adsorption onto chitosan-coated Fe3O4 particles through RSM and DE hybrid evolutionary optimization framework. J Mol Liq 297:111893

Saleh TA (2016) Nanocomposite of carbon nanotubes/silica nanoparticles and their use for adsorption of Pb (II): from surface properties to sorption mechanism. Desalination Water Treat 57:10730–10744

Shafeeyan MS, Daud WMAW, Houshmand A, Arami-Niya A (2012) The application of response surface methodology to optimize the amination of activated carbon for the preparation of carbon dioxide adsorbents. Fuel 94:465–472

Sherlala A, Raman A, Bello M, Asghar A (2018) A review of the applications of organo-functionalized magnetic graphene oxide nanocomposites for heavy metal adsorption. Chemosphere 193:1004–1017

Sun C, Chen T, Huang Q, Wang J, Lu S, Yan J (2019) Enhanced adsorption for Pb (II) and Cd (II) of magnetic rice husk biochar by KMnO 4 modification. Environ Sci Pollut Res 26:8902–8913

Torab-Mostaedi M, Ghaemi A, Ghassabzadeh H, Ghannadi-Maragheh M (2011) Removal of strontium and barium from aqueous solutions by adsorption onto expanded Perlite. Canadian J chem eng 89:1247–1254

Wang C, Wei A, Wu H, Qu F, Chen W, Liang H (2016) Application of response surface methodology to the chemical cleaning process of ultrafiltration membrane. Chin J Chem Eng 24:651–657

Wu J, Zhao X, Li Z, Gu X (2020) Thermodynamic and kinetic coupling model of Cd (II) and Pb (II) adsorption and desorption on goethite. Sci Total Environ. https://doi.org/10.1016/j.scitotenv.2020.138730

Yin P, Xu Q, Qu R, Zhao G, Sun Y (2010) Adsorption of transition metal ions from aqueous solutions onto a novel silica gel matrix inorganic–organic composite material. J Hazard Mater 173:710–716

Zhao G, Ren X, Gao X, Tan X, Li J, Chen C et al (2011) Removal of Pb (II) ions from aqueous solutions on few-layered graphene oxide nanosheets. Dalton Trans 40:10945–10952
About this article
Cite this article
Shafaghat, J., Ghaemi, A. Comparison of Pb(II) Adsorption by Ground Granulated Blast-Furnace and Phosphorus Slags; Exploitation of RSM. Iran J Sci Technol Trans Sci (2021). https://doi.org/10.1007/s40995-021-01075-7
Received:

Accepted:

Published:
Keywords
Pb(ii) adsorption

Phosphorus slag

Ground granulated blast-furnace slag

Response surface methodology