Abstract
Elicitors, such as salicylic acid (SA), stand as the effective agents that are applied to plant cell suspension cultures for the fabrication of biomaterials. At this project, we have studied the elicitor effects on the increase in phenols, PAL activities, POX, and CAT enzymes that exist in the cell culture of Salvia leriifolia. Upon the addition of SA to the cell culture, an increase has been detected in the phenols (CA and Sal B) and the activity of PAL, POX, and CAT enzymes. The increases of phenols and PAL activity have been stimulated 48 h after being treated with SA and the activities of resulting antioxidant enzymes have been detected to be greatly improved. Elicitation of SA on phenols gathering has been dependent on the applied dose and time period. The appropriate SA assemblage for eliciting phenols accumulations has been determined to be 10 mg/L. Elicitation influence of SA on phenols gatherings has associated with the rate of PAL, indicating that PAL may be the crucial role for the synthesis of Sal B and CA. The increased PAL activity can lead to the progress of phenolic compounds amount, which is quite significant in regards to the usage of cell culture systems for biofabrication of secondary metabolites such as CA and Sal B.
Access options
Buy single article
Instant access to the full article PDF.
US$ 39.95
Tax calculation will be finalised during checkout.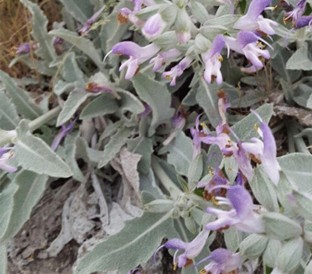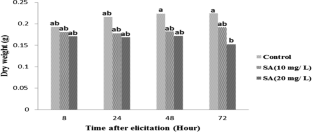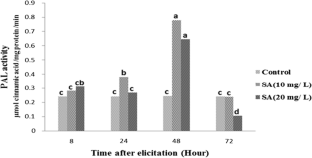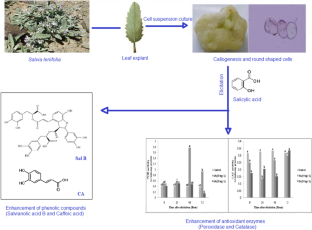 Abbreviations
SA:

Salicylic acid

PAL:

Phenyl Alanine Ammonialyase

POX:

Peroxidase

CAT:

Catalase

CA:

Caffeic Acid

Sal B:

Salvianolic acid B

NAA:

Naftalen Acetic Acid

BAP:

Benzil Amino Purin
References
Ajithkumar IP, Panneerselvam R (2014) ROS scavenging system, osmotic maintenance, pigment and growth status of Panicum sumatrense roth Under drought stress. Cell Biochem Biophy 68(3):587–595

Amiri MS, Yazdi MET, Rahnama M Medicinal plants and phytotherapy in Iran: glorious history, current status and future prospects. Plant Sci Today 8(1):95–111

Ashna M, Es-Haghi A, Karimi Noghondar M, Al Amara D, Yazdi MET (2020) Greener synthesis of cerium oxide nanoemulsion using pollen grains of Brassica napus and evaluation of its antitumour and cytotoxicity properties. Mat Tech, pp1–8

Belbin FE, Fraser DP, Comben NE, Dodd AN (2019) Plant circadian rhythms and vertical agriculture plant factory using artificial light. Elsevier, Nether lands, pp 79–88

Chakraborty U, Tongden C (2005) Evaluation of heat acclimation and salicylic acid treatments as potent inducers of thermotolerance in Cicer arietinum L. Current Sci, 384–389

Chandlee J, Scandalios J (1984) Analysis of variants affecting the catalase developmental program in maize scutellum. Theoretical Appl Gene 69(1):71–77

Chavoushi M, Najafi F, Salimi A, Angaji S (2019) Improvement in drought stress tolerance of safflower during vegetative growth by exogenous application of salicylic acid and sodium nitroprusside. Ind Crops Prod 134:168–176

Chen H, Liu L, Je Dong, Xia G (2012) Hydrogen peroxide is involved in the signal transduction of salicylic acid-induced salvianolic acid B biosynthesis in Salvia miltiorrhiza cell cultures Sheng wu gong cheng xue bao. Chinese J Biotech 28(7):834–846

Dong J, Wan G, Liang Z (2010) Accumulation of salicylic acid-induced phenolic compounds and raised activities of secondary metabolic and antioxidative enzymes in Salvia miltiorrhiza cell culture. J Biotechnol 148(2–3):99–104

Emami S, Nadjafi F, Amine G, Amiri M, Khosravi Mt NM (2012) Les espèces de plantes médicinales utilisées par les guérisseurs traditionnels dans la province de Khorasan, nord-est de l'Iran. J Ethnopharm 48:48–59

Escapa C, Coimbra R, Paniagua S, García A, Otero M (2017) Paracetamol and salicylic acid removal from contaminated water by microalgae. J Environ Manage 203:799–806

Hoyle M (1972) Indoleacetic Acid oxidase: a dual catalytic enzyme? Plant Physiol 50(1):15–18

Jamshidi M, Ghanati F, Rezaei A, Bemani E (2016) Change of antioxidant enzymes activity of hazel (Corylus avellana L.) cells by AgNPs. Cytotech 68(3):525–530

Kar D, Panda MK, Pattnaik PK (2018) Analysis of Antimicrobial activities of different parts of Symplocos racemosa: an Endangered medicinal plant of Eastern Ghats of India. Iranian J Sci Tech, Trans A: Sci 42(3):1077–1085

Lu Y, Foo LY (2002) Polyphenolics of Salvia—a review. Phytochem 59(2):117–140

Luo X, Weng S, Ni X et al (2012) The effects of elicitation on the expression of key enzyme genes and on production of tropane alkaloids in Anisodus acutangulus plant. Biologia 67(2):352–359

Ma Y, Wang P, Wang M, Sun M, Gu Z, Yang R (2019) GABA mediates phenolic compounds accumulation and the antioxidant system enhancement in germinated hulless barley under NaCl stress. Food Chem 270:593–601

Majeed S, Malik TA, Rana IA, Azhar MT (2019) Antioxidant and physiological responses of upland cotton accessions grown under high-temperature regimes. Iranian J Sci Tech Trans: A Sci 43(6):1–10

Modarres M, Asili J, Lahouti M, Gangali A, Iranshahy M, Sahebkar A (2014) Simultaneous determination of rosmarinic acid, salvianolic acid b and caffeic acid in Salvia leriifolia Benth. root leaf and callus extracts using a high-performance liquid chromatography with diode-array detection technique. J Liq Chromat Relat Tech 37(12):1721–1730

Modarres M, Bahabadi SE, Yazdi MET (2018) Enhanced production of phenolic acids in cell suspension culture of Salvia leriifolia Benth. using growth regulators and sucrose. Cytotech 70(2):1–10

Mutlu S, Atici Ö, Nalbantoglu B (2009) Effects of salicylic acid and salinity on apoplastic antioxidant enzymes in two wheat cultivars differing in salt tolerance. Biol Plant 53(2):334–338

Narasimhamurthy K, Soumya K, Udayashankar A, Srinivas C, Niranjana S (2019) Elicitation of innate immunity in tomato by salicylic acid and Amomum nilgiricum against Ralstonia solanacearum. Biocatalysis Agri Biotech 22:101414

Shakya P, Marslin G, Siram K, Beerhues L, Franklin G (2019) Elicitation as a tool to improve the profiles of high-value secondary metabolites and pharmacological properties of Hypericum perforatum. J Pharm Pharmacol 71(1):70–82

Shamasi Z, Es-haghi A, Taghavizadeh Yazdi ME, Amiri MS, Homayouni-Tabrizi M (2020) Role of Rubia tinctorum in the synthesis of zinc oxide nanoparticles and apoptosis induction in breast cancer cell line. Nanomed J. https://doi.org/10.22038/nmj.2020.16848

Shimizu K, Uji T, Yasui H, Mizuta H (2018) Control of elicitor-induced oxidative burst by abscisic acid associated with growth of Saccharina japonica (Phaeophyta, Laminariales) sporophytes. J Appl Phycol 30(2):1371–1379

Shivashankar S, Sumathi M, Krishnakumar N, Rao V (2015) Role of phenolic acids and enzymes of phenylpropanoid pathway in resistance of chayote fruit (Sechium edule) against infestation by melon fly. Bactrocera cucurbitae Annals of Appl Bio 166(3):420–433

Singh PP, Kujur A, Yadav A, Kumar A, Singh SK, Prakash B (2019) Mechanisms of plant-microbe interactions and its significance for sustainable agriculture PGPR amelioration in sustainable agriculture. Elsevier, Netherlands, pp 17–39

Song J, Wang Z (2011) RNAi-mediated suppression of the phenylalanine ammonia-lyase gene in Salvia miltiorrhiza causes abnormal phenotypes and a reduction in rosmarinic acid biosynthesis. J Plant Res 124(1):183–192

Taghavizadeh Yazdi M, Khara J, Housaindokht M et al (2018) Biocomponents and antioxidant activity of ribes khorasanicum. Int J Basic Sci Med 3(3):99–103

Torun H (2019) Time-course analysis of salicylic acid effects on ROS regulation and antioxidant defense in roots of hulled and hulless barley under combined stress of drought, heat and salinity. Physiol Plant 165(2):169–182

Wada KC, Mizuuchi K, Koshio A, Kaneko K, Mitsui T, Takeno K (2014) Stress enhances the gene expression and enzyme activity of phenylalanine ammonia-lyase and the endogenous content of salicylic acid to induce flowering in pharbitis. J Plant Physiol 171(11):895–902

Wang JW, Zheng LP, Wu JY, Tan RX (2006) Involvement of nitric oxide in oxidative burst, phenylalanine ammonia-lyase activation and Taxol production induced by low-energy ultrasound in Taxus yunnanensis cell suspension cultures. Nitric Oxide 15(4):351–358

Yang D, Huang Z, Xing B et al (2016) Regulation of folic acid on phenolic acids production in Salvia miltiorrhiza hairy roots. Plant Cell Tissue Organ Culture (PCTOC) 127(1):175–185

Yazdi MET, Amiri MS, Akbari S et al (2020) Green synthesis of silver nanoparticles using helichrysum graveolens for biomedical applications and wastewater treatment. BioNanoSci 10(4):1121–1127

Yazdi MET, Amiri MS, Hosseini HA et al (2019) Plant-based synthesis of silver nanoparticles in Handelia trichophylla and their biological activities. Bull Mater Sci 42(4):155

Yazdi MET, Darroudi M, Amiri MS et al (2020) Anticancer, antimicrobial, and dye degradation activity of biosynthesised silver nanoparticle using Artemisia kopetdaghensis. Micro Nano Lett 15(4):1046–1050

Yazdi MET, Modarres M, Amiri MS, Darroudi M (2018) Phyto-synthesis of silver nanoparticles using aerial extract of Salvia leriifolia Benth and evaluation of their antibacterial and photo-catalytic properties. Res Chem Intermed 45(3):1105–1116

Yazdi T, Ehsan M, Housaindokht MR et al (2020) Assessment of phytochemical components and antioxidant activity of Rheum turkestanicum Janisch. Stud Med Sci 31(2):75–81

Yu Z-Z, Fu C-X, Han Y-S, Li Y-X, Zhao D-X (2006) Salicylic acid enhances jaceosidin and syringin production in cell cultures of Saussurea medusa. Biotech Lett 28(13):1027–1031

Zhao J, Davis LC, Verpoorte R (2005) Elicitor signal transduction leading to production of plant secondary metabolites. Biotechnol Adv 23(4):283–333

Zuo Z, Weraduwage SM, Lantz AT et al (2019) Isoprene acts as a signaling molecule in gene networks important for stress responses and plant growth. Plant Physiol 180(1):124–152
Acknowledgements
The authors thank the Farhangian University of Mashhad for providing the required equipments and facilities.
Ethics declarations
Conflict of Interest
The authors declare that they have no conflict of interest.
About this article
Cite this article
Modarres, M., Taghavizadeh Yazdi, M.E. Elicitation Improves Phenolic Acid Content and Antioxidant Enzymes Activity in Salvia leriifolia Cell Cultures. Iran J Sci Technol Trans Sci 45, 849–855 (2021). https://doi.org/10.1007/s40995-021-01070-y
Received:

Accepted:

Published:

Issue Date:
Keywords
Salvia leriifolia

Elicitation

Cell culture

Salicylic acid

Phenols

Antioxidant enzymes