Abstract
In this study, magnetic graphene oxide was functionalized with N-amidinoglycine as efficient bioligand for the copper ions immobilization. This nanocomposite was characterized using Raman, XRD, FE-SEM, EDX, ICP-OES, VSM and FT-IR analysis. This nanocomposite was showed high catalytic activity in the synthesis of alkyl aminophenols via one-pot Petasis Boron Mannich reaction and simply recovered from the reaction mixture by using an external magnetic field and reused for five catalytic cycle without any pre-activation with acceptable yields.
Access options
Buy single article
Instant access to the full article PDF.
US$ 39.95
Tax calculation will be finalised during checkout.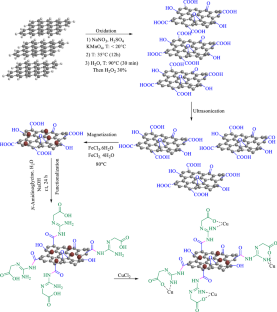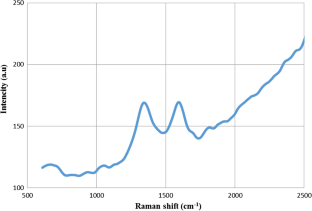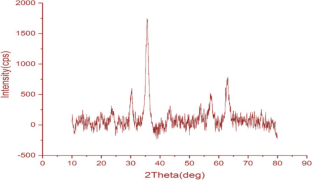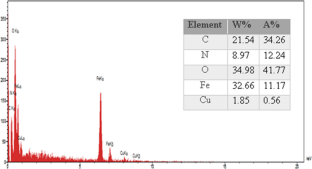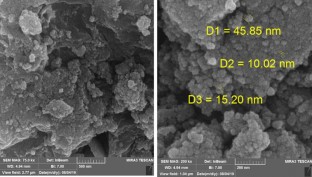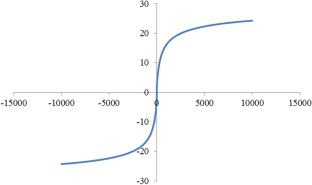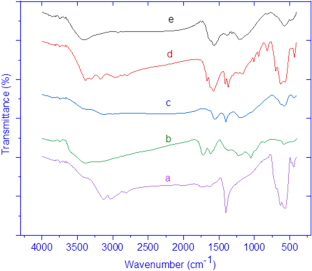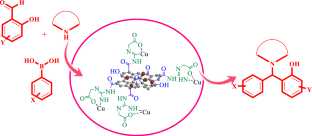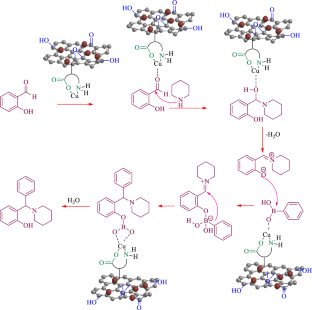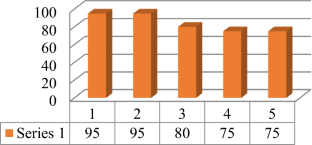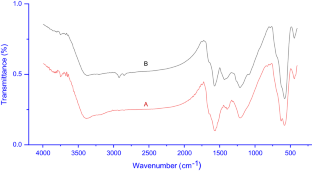 References
Asadi S, Sedghi R, Heravi MM (2017) Pd Nanoparticles immobilized on supported magnetic GO@PAMPS as an auspicious catalyst for Suzuki-Miyaura coupling reaction. Catal Lett 147:2045–2065

Ayaz M, Dietrich J, Hulme C (2011) A novel route to synthesize libraries of quinoxalines via Petasis methodology in two synthetic operations. Tetrahedron Lett 52:4821–4823

Berrée F, Debache A, Marsac Y, Collet B, Girard-Le Bleiz P, Carboni B (2006) Stereoselective synthesis of 2-hydroxymorpholines and aminodiols via a three-component boro-Mannich reaction. Tetrahedron 62:4027–4037

Candeias NR, Montalbano F, Cal PMSD, Gois PMP (2010) Boronic acids and esters in the petasis-borono mannich multicomponent reaction. Chem Rev 110:6169–6193

Chacko P, Shivashankar K (2018) Synthesis of aminomethylphenol derivatives via magnetic nano Fe3O4 catalyzed one pot Petasis borono-Mannich reaction. J Chem Sci 130:154–164

Chrzanowska M, Grajewska A, Meissner Z, Rozwadowska M, Wiatrowska I (2012) A concise synthesis of tetrahydroisoquinoline-1-carboxylic acids using a Petasis reaction and Pomeranz–Fritsch–Bobbitt cyclization sequence. Tetrahedron 68:3092–3097

Dandia A, Bansal S, Sharma R, Rathore KS, Parewa V (2018) Microwave-assisted nanocatalysis: a CuO NPs/rGO composite as an efficient and recyclable catalyst for the Petasis-borono–Mannich reaction. RSC Adv 8:30280–33028

Font D, Heras M, Villalgordo JM (2008) Synthesis of pyrimidinyl arylglycines through subsequent Mitsunobu and Petasis reactions. Tetrahedron 64:5226–5235

Fu W, Zhang Z, Zhuang P, Shen J, Ye M (2017) One-pot hydrothermal synthesis of magnetically recoverable palladium/reduced graphene oxide nanocomposites and its catalytic applications in cross-coupling reactions. J Colloid Interface Sci 497:83–92

Hummers WS, Offeman RE (1958) Preparation of graphitic oxide. J Am Chem Soc 80:1339-1339

Huo X, Liu J, Wang B, Zhang H, Yang Z, She X, Xi P (2013) A one-step method to produce graphene–Fe3O4 composites and their excellent catalytic activities for three-component coupling of aldehyde, alkyne and amine. J Mater Chem A 1:651–656

Hwang J, Borgelt L, Wu P (2020) Multicomponent Petasis reaction for the synthesis of functionalized 2-aminothiophenes and thienodiazepines. ACS Comb Sci 22:495–499

Jourdan H, Gouhier G, Van Hijfte L, Angibaud P, Piettre SR (2005) On the use of boronates in the Petasis reaction. Tetrahedron Lett 46:8027–8031

Kaiser PF, Churches QI, Hutton CA (2007) Organoboron reagents in the preparation of functionalized α-amino acids. Aust J Chem 60:799–810

Krishnamoorthy K, Mohan R, Kim SJ (2011) Graphene oxide as a photocatalytic material. Appl Phys Lett 98:244101–244104

Kulkarni AM, Pandit KS, Chavan PV, Desai UV, Wadgaonkar PP (2015) Cobalt ferrite nanoparticles: a magnetically separable and reusable catalyst for Petasis-Borono–Mannich reaction. RSC Adv 5:70586–70594

Lenci E, Bellini Puglielli R, Bucaletti E, Innocenti R, Trabocchi A (2020) A Glucose-derived α-hydroxy aldehyde for the Petasis reaction: facile access to polyfunctional δ-amino acids. Eur J Org Chem 2020:4227–4234

Li Y, Xu MH (2012) Lewis Acid Promoted highly diastereoselective Petasis borono-Mannich reaction: efficient synthesis of optically active β, γ-unsaturated α-amino acids. Org Lett 14:2062–2065

McLean NJ, Tye H, Whittaker M (2004) Microwave assisted Petasis boronic-Mannich reactions. Tetrahedron Lett 45:993–995

Noushini S, Mahdavi M, Firoozpour L, Moghimi S, Shafiee A, Foroumadi A (2015) Efficient multi-component synthesis of 1,4-benzodiazepine-3,5-diones: a Petasis-based approach. Tetrahedron 71:6272–6275

Nun P, Martinez J, Lamaty F (2010) Microwave-assisted neat procedure for the Petasis reaction. Synthesis 12:2063–2068

Petasis NA, Boral S (2001) One-step three-component reaction among organoboronic acids, amines and salicylaldehydes. Tetrahedron Lett 42:539–542

Petasis NA, Zavialov IA (1997) A new and practical synthesis of α-amino acids from alkenyl boronic acids. J Am Chem Soc 119:445–446

Petasis NA, Zavialov IA (1998) Highly stereocontrolled one-step synthesis of anti-β-amino alcohols from organoboronic acids, amines, and α-hydroxy aldehydes. J Am Chem Soc 120:11798–11799

Petasis NA, Goodman A, Zavialov IA (1997) A new synthesis of α-arylglycines from aryl boronic acids. Tetrahedron 53:16463–16470

Portlock DE, Naskar D, West L, Li M (2002) Petasis boronic acid–Mannich reactions of substituted hydrazines: synthesis of α-hydrazinocarboxylic acids. Tetrahedron Lett 43:6845–6847

Potowski M, Esken R, Brunschweiger A (2020) Translation of the copper/bipyridine-promoted Petasis reaction to solid phase-coupled DNA for encoded library synthesis. Bioorg Med Chem 28:115441

Prakash GKS, Mandal M, Schweizer S, Petasis NA, Olah GA (2000) A facile stereocontrolled synthesis of anti-α-(trifluoromethyl)-β-amino alcohols. Org Lett 2:3173–3176

Rafiee F, Khavari P (2020) One-pot three-component synthesis of propargylamines using an efficient and reusable copper bio-functionalized magnetic graphene oxide nanocomposite. Polyhedron 177:114309–114314

Reddy SS, Reddy BRP, Reddy PVG (2015) Chitosan: highly efficient, green, and reusable biopolymer catalyst for the synthesis of alkylaminophenols via Petasis borono–Mannich reaction. Tetrahedron Lett 56:4984–4989

Reddy BRP, Reddy PVG, Kumar DP, Reddy BN, Shankar MV (2016) Rapid synthesis of alkylaminophenols via the Petasis borono–Mannich reaction using protonated trititanate nanotubes as robust solid–acid catalysts. RSC Adv 6:14682–14691

Rosholm T, Gois PMP, Franzen R, Candeias NR (2015) Glycerol as an efficient medium for the Petasis Borono-Mannich reaction. ChemistryOpen 4:39–46

Selander N, Kipke A, Sebelius S, Szabó KJ (2007) Petasis borono-Mannich reaction and allylation of carbonyl compounds via transient allyl boronates generated by palladium-catalyzed substitution of allyl alcohols. An efficient one-pot route to stereodefined α-amino acids and homoallyl alcohols. J Am Chem Soc 129:13723–13731

Shi X, Hebrault D, Humora M, Kiesman WF, Peng H, Talreja T, Wang Z, Xin Z (2011) Acceleration of Petasis reactions of salicylaldehyde derivatives with molecular sieves. J Org Chem 77:1154–1160

Sim YE, Nwajiobi O, Mahesh S, Cohen RD, Reibarkh MY, Raj M (2020) Secondary amine selective Petasis (SASP) bioconjugation. Chem Sci 11:53–61

Stas S, Abbaspour Tehrani K (2007) Lewis acid promoted Mannich type reactions of α, α-dichloro aldimines with potassium organotrifluoroborates. Tetrahedron 63:8921–8931

Tong M, Bai X, Meng X, Wang J, Wang T, Zhu X, Mao B (2019) Enantioselective synthesis of α-amino esters through Petasis borono-Mannich multicomponent reaction of potassium trifluoroborate salts. J Chem Res 43:557–564

Veerapandian M, Lee MH, Krishnamoorthy K, Yun K (2012) Synthesis, characterization and electrochemical properties of functionalized graphene oxide. Carbon 50:4228–4238

Wang Q, Finn MG (2000) 2H-Chromenes from salicylaldehydes by a catalytic Petasis reaction. Org Lett 2:4063–4065

Wu P, Givskov M, Nielsen TE (2019) Reactivity and synthetic applications of multicomponent Petasis reactions. Chem Rev 119:11245–11290

Yadav JS, Reddy BVS, Lakshmi PN (2007) Ionic liquid accelerated Petasis reaction: a green protocol for the synthesis of alkylaminophenols. J Mol Catal A: Chem 274:101–104

Zhao X, Liu X (2015) A novel magnetic NiFe2O4@graphene–Pd multifunctional nanocomposite for practical catalytic application. RSC Adv 5:79548–79555
Acknowledgements
We gratefully acknowledge the partial financial support received from the research council of Alzahra University.
About this article
Cite this article
Rafiee, F., Hosseinvand, S. CuII Immobolized on the Amidinoglycine Functionalized Magnetic Graphene Oxide Promoted the Alkyl Aminophenols Synthesis. Iran J Sci Technol Trans Sci (2021). https://doi.org/10.1007/s40995-020-01051-7
Received:

Accepted:

Published:
Keywords
Petasis Boron Mannich reaction

Alkyl aminophenol

Functionalized graphene oxide

Copper catalyzed reactions

Magnetic nanocatalyst