Abstract
Increased activities of enzymatic and non-enzymatic antioxidants provide a common reaction to environmental stress in most crops. To investigate the effect of foliar application of stress moderators on enzymatic and non-enzymatic antioxidant changes, field experiments were conducted as split-plot design based on a randomized complete block design with three replications in 2017 and 2018. Planting date (early and late) was considered as the main plot, and foliar applications with 50 and 100 mM of Glycine Betaine, 1 and 2 mM of salicylic acid, and 100 and 200 µM of sodium nitroprusside, along with the control treatment, were regarded as the subplot. The results showed that the amounts of chlorophyll pigments and the levels of enzymatic antioxidants (glutathione peroxidase, ascorbate peroxidase, superoxide dismutase, catalase), and proline increased, and H2O2 level decreased with the foliar application of stress moderators. Glycine betaine and sodium nitroprusside had the lowest and highest effects on the enzymatic antioxidant activities, respectively. The analysis of the main components revealed that in the early and delay planting date, the characteristics of enzymatic antioxidants and photosynthetic properties had the greatest effects on the enhancement of tolerance to salinity stress. In general, the results of this research demonstrated that the elevated activities of enzymatic antioxidants compared to non-enzymatic ones were more effective in reducing the impacts of salinity stress. Moreover, the foliar application of sodium nitroprusside at a concentration of 100 µM served as the most suitable moderator for augmenting the activities of enzymatic antioxidants in salinity stress conditions.
Access options
Buy single article
Instant access to the full article PDF.
US$ 39.95
Tax calculation will be finalised during checkout.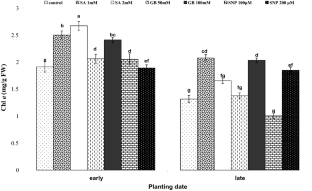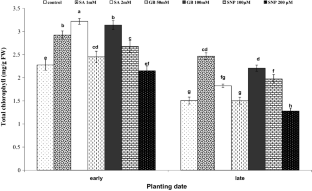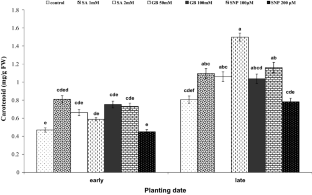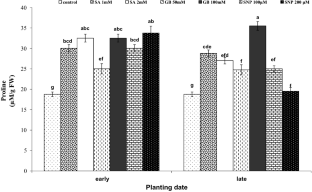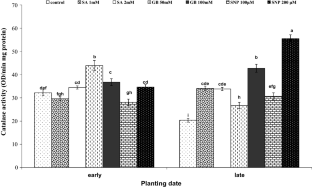 References
Abbas G. et al. (2019) Effect of Planting Dates on Agronomic Crop Production. In: Hasanuzzaman M. (eds) Agronomic Crops. Springer, Singapore. https://doi.org/10.1007/978-981-32-9151-5_8

Aebi H (1984) Catalase in vitro. In: Wilchek M, Bayer EA (eds) Methods in enzymology, vol 105. Elsevier, Amsterdam, pp 121–126

Afzal MN, Tariq M, Ahmed M, Abbas G, Mehmood Z (2020) Managing planting time for cotton production. In: Ahmad S, Hasanuzzaman M (eds) Cotton production and uses. Springer, Berlin, pp 31–44

Alhoshan M, Zahedi M, Ramin AA, Sabzalian MR (2019) Exogenous application of salicylic acid and glycine betaine as tools to enhance biomass and tolerance of potato cultivars. Gesunde Pflanz 71:25–35. https://doi.org/10.1007/s10343-018-00438-2

Arif Y, Sami F, Siddiqui H, Bajguz A, Hayat S (2020) Salicylic acid in relation to other phytohormones in plant: a study towards physiology and signal transduction under challenging environment. Environ Exp Bot. https://doi.org/10.1016/j.envexpbot.2020.104040

Barzoi Z, Armin M, Marvi H (2020) Physiological and biochemical responses of cotton to times and type of stress modulator in saline conditions Communications Faculty of Sciences University of Ankara Series C Biology (In press)

Bates LS, Waldren RP, Teare I (1973) Rapid determination of free proline for water-stress studies. Plant Soil 39:205–207. https://doi.org/10.1007/bf00018060

Chavoushi M, Najafi F, Salimi A, Angaji SA (2020) Effect of salicylic acid and sodium nitroprusside on growth parameters, photosynthetic pigments and secondary metabolites of safflower under drought stress. Sci Hortic-Amst 259:108823. https://doi.org/10.1016/j.scienta.2019.108823

Dong Y, Jinc S, Liu S, Xu L, Kong J (2014) Effects of exogenous nitric oxide on growth of cotton seedlings under NaCl stress. J Soil Sci Plant Nutr 14:1–13. https://doi.org/10.4067/s0718-95162014005000001

Giannopolitis CN, Ries SK (1977) Superoxide dismutases: I. Occurrence in higher plants. Plant Physiol 59:309–314

Hasanuzzaman M, Nahar K, Fujita M (2013) Plant response to salt stress and role of exogenous protectants to mitigate salt-induced damages. In: Ahmad P, Azooz MM, Prasad MN (eds) Ecophysiology and responses of plants under salt stress. Springer, Berlin, pp 25–87

Hayat S, Ahmad A (2007) Salicylic acid-a plant hormone. Springer, Berlin

Hossain MA, Fujita M (2010) Evidence for a role of exogenous glycinebetaine and proline in antioxidant defense and methylglyoxal detoxification systems in mung bean seedlings under salt stress. Physiol Mol Biol Pla 16:19–29

Hossain MA, Kumar V, Burritt DJ, Fujita M, Mäkelä PS (2019) Osmoprotectant-mediated abiotic stress tolerance in plants: recent advances and future perspectives. Springer, Berlin

Hu L, Hu T, Zhang X, Pang H, Fu J (2012) Exogenous glycine betaine ameliorates the adverse effect of salt stress on perennial ryegrass. J Am Soc Hortic Sci 137:38–46

Jayakannan M, Bose J, Babourina O, Rengel Z, Shabala S (2013) Salicylic acid improves salinity tolerance in Arabidopsis by restoring membrane potential and preventing salt-induced K+ loss via a GORK channel. J Exp Bot 64:2255–2268. https://doi.org/10.1093/jxb/ert085

Khan MA, Wahid A, Ahmad M, Tahir MT, Ahmed M, Ahmad S, Hasanuzzaman M (2020) World cotton production and consumption: an overview. In: Ahmad S, Hasanuzzaman M (eds) Cotton production and uses. Springer, Berlin, pp 1–7

Killi F, Bolek Y (2006) Timing of planting is crucial for cotton yield. Acta Agric Scand B-Soil Plant Sci 56:155–160. https://doi.org/10.1080/09064710510029178

Kotb M, Elhamahmy M (2014) Improvement of wheat productivity and their salt tolerance by exogenous glycine betaine application under saline soil condition for long-term Zagazig. J Agric Res 41:1127–1143

Kumar V, Yadav SK (2009) Proline and betaine provide protection to antioxidant and methylglyoxal detoxification systems during cold stress in Camellia sinensis (L.) O. Kuntze. Acta Physiol Plant 31:261–269

Lichtenthaler HK, Wellburn AR (1983) Determinations of total carotenoids and chlorophylls a and b of leaf extracts in different solvents. Portland Press Ltd., South Portland

Lin CC, Kao CH (2001) Cell wall peroxidase activity, hydrogen peroxide level and NaCl-inhibited root growth of rice seedlings. Plant Soil 230:135–143

Liu S, Dong Y, Xu L, Kong J (2014) Effects of foliar applications of nitric oxide and salicylic acid on salt-induced changes in photosynthesis and antioxidative metabolism of cotton seedlings. Plant Growth Regul 73:67–78

Malekzadeh P (2015) Influence of exogenous application of glycinebetaine on antioxidative system and growth of salt-stressed soybean seedlings (Glycine max L.). Physiol Mol Biol Plant 21:225–232

Nakano Y, Asada K (1981) Hydrogen peroxide is scavenged by ascorbate-specific peroxidase in spinach chloroplasts. Plant Cell Physiol 22:867–880

Nawaz K, Ashraf M (2010) Exogenous application of glycinebetaine modulates activities of antioxidants in maize plants subjected to salt stress. J Agron Crop Sci 196:28–37. https://doi.org/10.1111/j.1439-037x.2009.00385.x

Timachi F, Armin M, Jamimoeini M, Abhari A (2020) Physiological response of cumin to times and type of stress modulator in rain-fed and irrigated conditions. Russ J Plant Physl 67:1163–1172. https://doi.org/10.1134/S1021443720060175

Venkateswarlu B, Shanker AK, Shanker C, Maheswari M (2011) Crop stress and its management: perspectives and strategies. Springer, Berlin

Wang H, Liang X, Wan Q, Wang X, Bi Y (2009) Ethylene and nitric oxide are involved in maintaining ion homeostasis in Arabidopsis callus under salt stress. Planta 230:293–307

Yadu S, Dewangan TL, Chandrakar V, Keshavkant S (2017) Imperative roles of salicylic acid and nitric oxide in improving salinity tolerance in Pisum sativum L. Physiol Mol Biol Plant 23:43–58. https://doi.org/10.1007/s12298-016-0394-7

Zhang L, Ma H, Chen T, Pen J, Yu S, Zhao X (2014) Morphological and physiological responses of cotton (Gossypium hirsutum L.) plants to salinity. PLoS One 9(11):e112807. https://doi.org/10.1371/journal.pone.0112807

Zheng C, Jiang D, Liu F, Dai T, Liu W, Jing Q, Cao W (2009) Exogenous nitric oxide improves seed germination in wheat against mitochondrial oxidative damage induced by high salinity. Environ Exp Bot 67:222–227. https://doi.org/10.1016/j.envexpbot.2009.05.002
Ethics declarations
Conflict of interest
The authors declare that they have no conflict of interest.
Human and Animal Participants
This article does not contain any studies involving animals or human participants performed by any of the authors.
About this article
Cite this article
Shenavaei Zare, M., Armin, M. & Marvi, H. Physiological Responses of Cotton to Stress Moderator Application on Different Planting Date Under Saline Conditions. Iran J Sci Technol Trans Sci 45, 11–25 (2021). https://doi.org/10.1007/s40995-020-01009-9
Received:

Accepted:

Published:

Issue Date:
Keywords
Antioxidant enzymes

Glycine betaine

Salicylic acid

Salinity stress

Sodium niroporoside