Abstract
Ketotifen fumarate, a mast cell stabilizer, and salbutamol sulfate, a bronchodilator, are frequently prescribed together for chronic asthma. This study aimed to combine both anti-asthmatic drugs in single polymeric responsive matrix type transdermal patches. Drug release from polymeric device was optimized by varying ratios of hydrophilic (polyvinyl pyrrolidone) and hydrophobic (ethyl cellulose) polymers. Propylene glycol was used as plasticizer and solvent system including mixture of chloroform and methanol. Physicochemical evaluations like thickness, weight variation, folding endurance, tensile strength, content uniformity and % moisture absorbance of developed patches were carried out. Developed patches were also subjected for in vitro release of drugs, and formulation of P6 with equal proportion of polyvinyl pyrrolidone and ethyl cellulose found optimized formulation with respect to release rate of both drugs. 76.49% of ketotifen fumarate and 77.49% of salbutamol sulfate were released from P6, and release of both drugs sustained up to 24 h. In the next step, permeability enhancers like Tween 20, isopropyl myristate, eucalyptus oil and span 20 were added to the formulation P6 and subjected to in vitro permeation study on Franz diffusion cell using rabbit skin. Results of in vitro permeation study revealed that transdermal patches with permeation enhancers permeate the significant amount of drugs in comparison with the formulation without enhancer.
Access options
Buy single article
Instant access to the full article PDF.
US$ 39.95
Tax calculation will be finalised during checkout.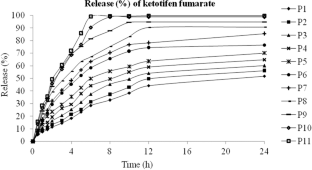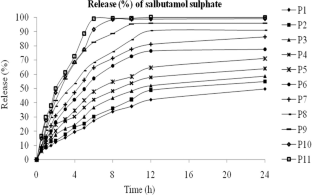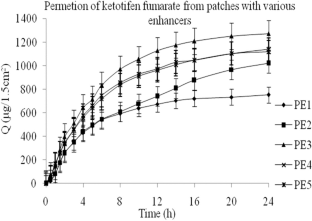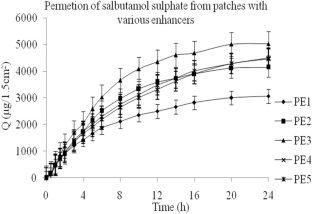 References
Alexander A, Dwivedi S, Ajazuddin (2012) Approaches for breaking the barriers of drug permeation through transdermal drug delivery. J Control Release 164(1):26–40

Arora P (2002) Design, development, physicochemical, and in vitro and in vivo evaluation of transdermal patches containing diclofenac diethylammonium salt. J Pharm Sci 91(9):2076–2089

Baichwal MR (1985) Polymer films as drug delivery systems. Advances in drug delivery systems. Msr Found, Bombay, pp 136–147

Banker GS, Rhodes CT (1990) Modern pharmaceutics, 2nd edn. Marcel Dekkar Inc, New York, p 239

Bromberg L (1996) Cross linked polyethylene glycol networks as reservoirs for protein delivery. J Apply Poly Sci 59(3):459–466

Brown MT, Bussell JK (2011) Medication adherence: WHO cares? Mayo Clin Proc 86(4):304–314

Chi C, Rhee YS, Choi JG, Park ES, Chi SC (2010) Transdermal delivery of ketoprofen using microemulsions. Int J Pharm 228(1–2):161–170

Chien YW (1987) Development of transdermal drug delivery systems. Drug Dev Ind Pharm 13(1):589–651

Chien YW (1992) Novel drug delivery systems. Marcel Dekkar, New York, p 797

Gannu R, Vamshi VY, Kishan V, Madhusudan RY (2007) Development of nitrendipine transdermal patches: in vitro and ex vivo characterization. Curr Drug Deliv 4(1):69–76

Garala KC, Shinde AJ, Shah PH (2009) Formulation and in vitro characterization of monolithic matrix transdermal systems using HPMC/Eudragit S 100 polymer blends. Int J Pharm Pharm Sci 1:108–120

Girish JG, Sharma AK, Agrawal SS (1996) Transdermal controlled administration of verapamil—enhancement of skin permeability. Int J Pharm 130(2):169–177

Gupta R, Biswajit M (2003) Development and In Vitro evaluation of diltiazem hydrochloride transdermal patches based on povidone—ethyl-cellulose matrices. Drug Dev Ind Pharm 29(1):1–7

Guy RH (1996) Current status and future prospects of transdermal drug delivery. Pharm Res 12:1765–1769

Guyot M, Fawaz F (2000) Design and in vitro evaluation of adhesive matrix for transdermal delivery of propranolol. Int J Pharm 204(19):171–182

Hyun JH, Choi HK (2002) Effect of additives on the crystallization and the permeation of ketoprofen from adhesive matrix. Int J Pharm 236(1–2):81–85

Ibrahim AA, Bosela AA, Ahmed SM, Mahrous GM (2004) Role of surfactants as penetration enhancer in transdermal drug delivery. Eur J Pharm Biopharm 59(4):485–490

Keith AD (1983) Polymer matrix consideration for transdermal devices. Drug Dev Ind Pharm 9:605–621

Kulkarni R, Mutalik S, Hiremath D (2002) Effect of plasticizers on the permeability and mechanical properties of Eudragit films fortransdermal application. Ind J Pharm Sci 64:28–31

Lalatendu P, Snigdha P, Saroj KG (2005) Controlled drug delivery system. AAPS Pharm Sci Technol 6:167–173

Minoura N (1996) Polymeric materials encyclopedia J.C. Salamone. CRC Press, Boca Raton, pp 7744–7751

Misra AN (1997) Transdermal drug delivery and novel drug delivery. CBS Publishers and Distributors, New Delhi, p 100

Mutalic S, Udupa N (2004) Glibenclamide transdermal patches: physicochemical, pharmacodynamic, and pharmacokinetic evaluations. J Pharm Sci 93(6):1577–1594

Rama RP, Diwan PV (2000) Drug release kinetics from polymeric films containing propranolol. J Pharm Dev Technol 5:1–8

Sankar V, Benito DJ, Sivanand V, Ravichandran V, Velrajan G, Raghuraman S (2003) Design and evaluation of nifedipine transdermal patches. Indian J Pharm Sci 65(5):510–515

Sathyapriya LS, Jayaprakash S, Prabhu S, Abirami A, Subramanian K, Nagarajan M (2008) Int J Pharm Sci Technol 1:22–28

Saxena M, Mutalik S, Reddy MS (2006) Formulation and evaluation of transdermal patches of metoclopramide hydrochloride. Indian Drugs 43(9):740–745

Shivaraj A, Panner SR, Tamiz MT, Sivakumar T (2010) Design and evaluation of transdermal drug delivery of ketotifen fumarate. Int J Pharm Biomed Res 1(2):42–47

Suchika S, Geeta A, Sanju D (2010) Development and evaluation of transdermal patches of Colchicine. Der Pharm Lett 2:84–98

Tanwar YS (2005) Formulation and evaluation of transdermal films of salbutamol Sulphate. Dhaka Univ J Pharm Sci 4:93–97

Ubaidulla U, Reddy M, Kandasamy R, Ahmad F, Khar R (2007) Transdermal therapeutic system of carvedilol: effect of hydrophilic and hydrophobic matrix on in vitro and in vivo characteristics. AAPS Pharm Sci Technol 8(1):105–123

Verma PP, Iyer SS (2000) Transdermal delivery of propranolol using mixed grades of eudragit: design and in vitro and in vivo evaluation. Drug Dev Ind Pharm 26:471–476

Walters K (1991) Transdermal drug delivery: system design and composition. Encyclopedia of pharmaceutical technology. Marcel Dekker, New York, p 306

Yousuf M, Ahmad M, Usman M, Ali I (2013) Ketotifen fumarate and salbutamol sulphate combined transdermal patch formulations: in vitro release and ex vivo permeation studies. Indian J Pharm Sci 75(5):569–577
Acknowledgements
The authors sincerely thank and acknowledge the efforts of HOD of Institute of Pharmaceutical sciences, Peoples University of Medical and Health Sciences for Women, Nawabshah, for providing the research facilities.
Ethics declarations
Conflict of interest
The authors report no conflicts of interest in this work.
About this article
Cite this article
Yousuf, M., Ahmad, M., Naeem, M. et al. Development and In Vitro Evaluation of Polymeric Responsive Release Matrix Type Transdermal Patches of Two Anti-asthmatic Drugs. Iran J Sci Technol Trans Sci 45, 1–10 (2021). https://doi.org/10.1007/s40995-020-00985-2
Received:

Accepted:

Published:

Issue Date:
Keywords
Anti-asthmatics

Transdermal patches

Polymers

Enhancers

Release

Permeation