Abstract
The removal efficiency for Cd (II) by the marine algae Ulva fasciata and Ulva lactuca was studied at different culture conditions. The maximum biosorption capacities were 8.353 and 8.804 mg g−1 dwt for U. fasciata and U. lactuca, respectively, at optimum conditions for each alga. Ten milliliters of 4% calcium alginate immobilized different algal weights. Effect of different factors such as pH, temperature, contact time, biosorbent dose, and agitation speed on Cd (II) biosorption was examined. The results demonstrated the highest absorption efficiency obtained by using 0.05 and 0.15 g for U. fasciata and U. lactuca, respectively, as compared with the control. The results of Fourier transform infrared analysis for the fresh algae and pretreated algal biomasses demonstrated that hydroxyl, amide with hydrogen bond, and carbonyl extension in carboxyl groups played a significant role in biosorption. The biosorption mechanism was also investigated by energy-dispersive X-ray analysis; the results showed the presence of cadmium ion signal at 3.1 keV after the biosorption process. Immobilization of different weights of algae by using calcium alginate enhanced the biosorption capacity in case of low weight. Comparison of immobilized algal beads before and after Cd (II) biosorption showed morphological changed as shown by SEM. Ion exchange was the mechanism involved in Cd (II) biosorption by algae as elucidated by EDX analysis.
Access options
Buy single article
Instant access to the full article PDF.
US$ 39.95
Tax calculation will be finalised during checkout.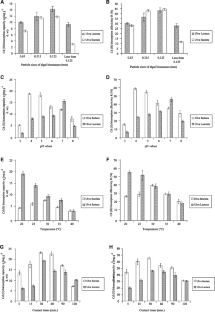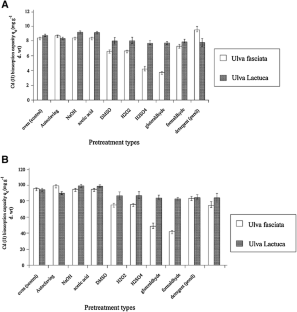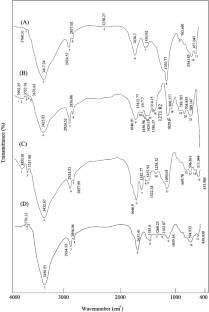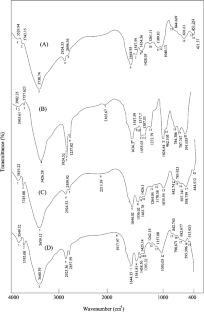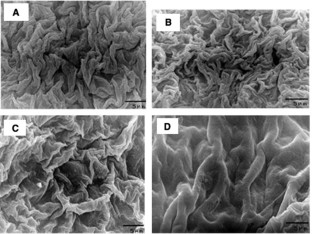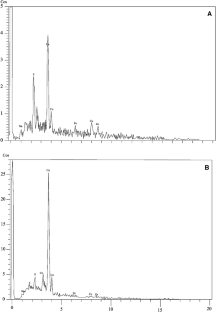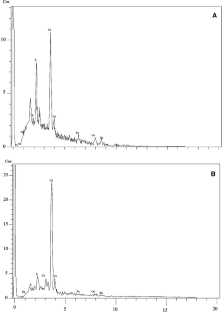 References
Abdel-Razek AS, Shaaban MT, Mahmoud SA, Kandeel EM (2015) Bioaccumulation of Cs137 by immobilized bacterial species isolated from radioactive wastewater. J Appl Environ Microbiol 3(5):112–118

Ahluwalia SS, Goyal D (2007) Microbial and plant derived biomass for removal of heavy metals from wastewater: a review. J Bioresour Technol 98(12):2243–2257

Al Fakih AAM, Ali M I,Gharieb MM (2011) Biosorption of lead (II) and Cobalt (II) from aqueous solutions and industrial effluents by some fungi. Ph.D. Thesis, University of Menoufia, Egypt, 66

Alaa AH (2004) Biosorption of lead, copper, cadmium and nickel by anaerobic biomass. Ph.D. Thesis, Concordia University, Canada

Ali AA, Hadeel JA, Amal AA, Gehan E, Nadine MSM (2014) Biosorption of copper ions from an aqueous solution by Spirluina platensis biomass. Arab J Chem 7(1):57–62

Anastopoulos I, Kyzas GZ (2015) Progress in batch biosorption of heavy metals onto algae. J Mol Liq 209:77–86

APHA (2005) Standard methods for the examination of water and wastewater, 21st edn. American Public Health Association, Washington

Asnaoui H, Laaziri A, Khalis M (2015) Study of the kinetics and the adsorption isotherm of cadmium (II) from aqueous solution using green algae (Ulva lactuca) biomass. J Water Sci Technol 72(9):1505–1515

Bishnoi NR, Kumar R, Kumar S, Rani S (2006) Biosorption of Cr (III) from aqueous solution using algal biomass Spirogyra spp. J Hazard Mater 145(1–2):142–147

Bulgariu D, Bulgariu L (2012) Equilibrium and kinetics studies of heavy metal ions biosorption on green algae waste biomass. J Bioresour Technol 103(1):489–493

Cabuk A, Ilhan S, Filik C, Caliskan F (2005) Pb+2 biosorption by pretreated fungal biomass. Turk J Biol 29(1):23–28

Carlsson AS, Beilen JV, Möller R, Clayton D (2007) Micro- and macro-algae: utility for industrial applications. CPL Press, York

Carsky M, Mbhele FN (2013) Adsorption of heavy metals using marine algae. J S Afr Chem Eng 18(2):40–51

Cheng J, Yin W, Chang Z, Lundholm N, Jiang Z (2017) Biosorption capacity and kinetics of cadmium (II) on live and dead Chlorella vulgaris. J Appl Phycol 29(1):211–221

Cruz CCV, Da-Costa ACA, Henrique's CA, Luna AS (2004) Kinetic modeling and equilibrium studies during cadmium biosorption by dead Sargassum sp. Biomass J Bioresour Technol 91(3):249–257

Das N, Charumathi D, Vimala R (2007) Effect of pretreatment on Cd+2 biosorption by mycelial biomass of Pleurotus florida. Afr J Biotechnol 6(22):2555–2558

Davis TA, Volesky B, Mucci A (2003) A review of the biochemistry of heavy metal biosorption by brown algae. J Water Res 37(18):4311–4330

Edris G, Alhamed Y, Alzahrani A (2014) Biosorption of cadmium and lead from aqueous solutions by Chlorella vulgaris biomass: equilibrium and kinetic study. Arab J Sci Eng 39(1):87–93

El-Naggar AH, El-Sheekh MM (1998) Abolishing cadmium toxicity in Chlorella vulgaris by ascorbic acid, calcium, glucose and reduced glutathione. Environ Pollut 101(2):169–174

El-Sheekh M, El Sabagh S, Abou El-Souod G, Elbeltagy A (2019) Biosorption of cadmium from aqueous solution by free and immobilized dry biomass of chlorella vulgaris. Int J Environ Res 13:511–521

Ghoneim MM, El- Desoky HS, El-Moselhy KM, Amer A, Abou El-Naga EH, Mohamedein LI, Al-Prol AE (2014) Removal of cadmium from aqueous solution using marine green algae, Ulva lactuca. Egypt J Aquat Res 40(3):235–242

Goher ME, Abd El-Monem AM, Abdel-Satar AM, Ali MH, Hussian AM, Napiórkowska-Krzebietke A (2016) Biosorption of some toxic metals from aqueous solution using non-living algal cells of Chlorella vulgaris. J Elementol 21(3):703–714

Hammud HH, El-Shaar A, Khamis E, Mansour ES (2014) Adsorption studies of lead by Enteromorpha algae and its silicates bonded material. J Adv Chem 2014:205459

Hashim MA, Chu KH (2004) Biosorption of cadmium by brown, green and red seaweeds. J Chem Eng 97:249–255

Ibrahim WM (2011) Biosorption of heavy metal ions from aqueous solution by red macroalgae. J Hazarad Mater 192(3):1827–1835

Ivánová D, Kaduková J, Kavuličova J, Horváthová H (2012) Determination of the functional groups in algae Parachlorella kessleri by potentiometric titration. Nova Biotechnologica et Chimica 11(2):93–99

Karthikeyan S, Balasubramanian R, Iyer CSP (2007) Evaluation of the marine algae Ulva fasciata and Sargassum sp. for the biosorption of Cu (II) from aqueous solutions. J Bioresour Technol 98(2):452–455

Kumar PY, King P, Prasad VSRK (2006) Zinc biosorption on Tectona grandis L.f. leaves biomass: equilibrium and kinetic studies. Chem Eng J 124(1):63–70

Lamai C, Kruatrachu M, Pokethitiyook P, Upatham ES, Soonthornsarathool V (2005) Toxicity and accumulation of lead and cadmium in filamentous green alga Cladophora fracta (O.F. Müller ex Vahl): a laboratory study. Sci Asia 31:121–127

Li YH, Du Q, Peng X, Wang D, Wang Z, Xia Y, Wei B (2011) Physico-chemical characteristics and lead biosorption properties of Enteromorpha prolifera. Coll Surf B 85(2):316–322

Luo JM, Xiao X, Luo SL (2010) Biosorption of cadmium (II) from aqueous solutions by industrial fungus Rhizopus cohnii. Trans Nano Ferr Met Soc China 20:1104–1111

Mack C, Wilhelmi B, Duncan JR, Burgess JE (2007) Biosorption of precious metals. Biotechnol Adv 25(3):264–271

Marandi R, Doulati F, Amir H (2010) Biosorption of Lead II and Zinc II ions by pre-treated biomass of Phanerochaete chrysosporium. Int J Min Environ Issues 1(1):9–16

Moo-Young M (ed) (2011) Industrial biotechnology and commodity products, comprehensive, biotechnology, vol 3, 2nd edn. Elsevier, B.V. Amsterdam

Naiya TK, Bhattacharya AK, Mandal Das SK (2009) The sorption of lead (II) ions on rice husk ash. J Hazard Mater 163(2–3):1254–1264

Nassab SMH, Naji A, Yousefzadi M (2017) Kinetics and equilibrium studies on biosorption of cadmium (II) from aqueous solution by Gracilaria corticata and agar extraction algal waste. J Appl Phycol 29(4):2107–2116

Nessim RB, Bassiouny AR, Zaki HR, Moawad MN, Kandeel KM (2011) Biosorption of lead and cadmium using marine algae. J Chem Ecol 27(6):579–594

Nilanjana D, Vimala R, Karthika P (2008) Biosorption of heavy metals: an overview. Ind J Biotechnol 7:159–169

Omar HA, Abdel-Razek AS, Sayed MS (2010) Biosorption of cesium-134 from aqueous solutions using immobilized marine algae: equilibrium and Kinetics. J Nat Sci 8(11):214–221

Onalo JI (2015) Bioremediation of heavy metal polluted water using immobilized fresh water green microalga, Botryococcus sp. M.Sc. Thesis, University Tun Hussein, Malaysia, 18

Park D, Yun YS, Park JM (2010) The past, present, and future trends of biosorption. Biotechnol Bioprocess Eng 15:86–102

Patel GG, Doshi HV, Thakur MC (2016) Biosorption and equilibrium study of copper by marine seaweeds from North West Coast of India. J Environ Sci Toxicol Food Technol 10(7):54–64

Poonkothai M (2015) Bioremediation of heavy metals—an environmental cleanup technology. Int J Innov Res Sci Eng Technol 1:64–71

Raize O, Argaman Y, Yannai S (2004) Mechanisms of biosorption of different heavy metals by brown marine macroalgae. J Biotechnol Bioeng 87(4):451–458

Romera E, González F, Ballester A, Blázquuez ML, Muňoz JA (2007) Comparative study of biosorption of heavy metals using different types of algae. J Bioresour Technol 98:3344–3353

Saleh B (2017) Cadmium biosorption investigation from aqueous solutions with Ulva lactuca (Chlorophyta) and Padina pavonica (phaeophyta) seaweeds. J Stress Physiol Biochem 13(4):81–87

Sekhar KC, Kamala CT, Chary NS, Anjaneyulu Y (2003) Removal of heavy metals using a plant biomass with reference to environmental control. Int J Mineral Process 68(1–4):37–45

Shyong WJ, Chen HC (2000) Acute toxicity of copper, cadmium, and mercury to the freshwater fish Varicorhinus barbatus and Zacco barbata. Acta Zool Taiwan 11(1):33–45

Suzuki Y, Kametani T, Maruyama T (2005) Removal of heavy metals from aqueous solution by nonliving Ulva seaweed as biosorbent. J Water Res 39(9):1803–1808

Tripathi JK, Harilal SS, Hassanein A (2014) Low energy Ar+ ion irradiation induced surface modification in cadmium zinc telluride (CdZnTe). Mater Res Express 1(3):035904. https://doi.org/10.1088/2053-1591/1/3/035904

Tuzen M (2008) Biosorption of Pb(II) and Cd (II) from aqueous solution using green alga (Ulva lactuca) biomass. J Hazarad Mater 152(1):302–308

Volesky B (1992) Removal of heavy metals by biosorption. In: Ladisch MR, Bose A (eds) Harnessing biotechnology for the 21st century. Journal of the American Chemical Society, Washington, pp 462–466

Volesky B, Weber J, Vieira RHSF (1999) Biosorption of Cd and Cu by different types of Sargassum biomass. Process Metall 9:473–482

Wang J, Chen C (2009) Biosorbents for heavy metals removal and their future. Biotechnol Adv 27(2):195–226

Wase J, Forster C (1997) Biosorbents for metal ions. Taylor and Francis, Milton Park, pp 1–10

Zhang L, Zhao L, YuY Chen C (1998) Removal of Pb+2 from aqueous solution by non-living Rhizopus nigricans. J Water Res 32(5):1437–1444
Ethics declarations
Conflict of interest
The authors declare that there is no conflict of interest.
About this article
Cite this article
El-Sheekh, M., El-Sabagh, S., Abou Elsoud, G. et al. Efficacy of Immobilized Biomass of the Seaweeds Ulva lactuca and Ulva fasciata for Cadmium Biosorption. Iran J Sci Technol Trans Sci 44, 37–49 (2020). https://doi.org/10.1007/s40995-020-00828-0
Received:

Accepted:

Published:

Issue Date:
Keywords
Heavy metals

Cadmium

Biosorption

Immobilization

Calcium alginate

Marine algae

Ulva lactuca
Ulva fasciata