Abstract
Different modifications have existed in the textile industry since its creation. Among these is the use of a variety of compounds that improve properties and lifetime as well as new washing methods. Washing materials containing enzymes (i.e., lipase and cellulase) are used to improve the strength of fibers, remove stains, increase the surface hydrolysis, and dissolve particles. Silver nanoparticles (AgNPs) in the form of co-spinning with or deposition on textiles are used to increase their antibacterial and self-cleansing properties. However, it should be noted that the interaction between AgNPs and proteins causes the formation of the protein corona on its surface and decreases both properties. This study examined the effects of AgNPs, lipase and cellulase enzymes as detergent enzymes on the antimicrobial and cleaning features, respectively. For this purpose, the three quantitative factors of enzyme–nanoparticle ratio, temperature, and time and the qualitative factor of enzyme type (cellulase or lipase) were monitored using the central composite design (CCD). The lipase and cellulase and antimicrobial properties of the AgNPs were assayed using different analytical methods, including UV–Vis, dynamic light scattering, X-ray powder diffraction, circular dichroism, 1D gel electrophoresis, contact angle, and bacterial inhibition zone against Staphylococcus aureus and Escherichia coli. It was found that the interaction of AgNPs decreased the activity of the lipase enzyme, but the activity level of the cellulase enzyme was not significantly changed. The antibacterial properties of AgNPs are also mainly inhibited through interaction with lipase.
Access options
Buy single article
Instant access to the full article PDF.
US$ 39.95
Tax calculation will be finalised during checkout.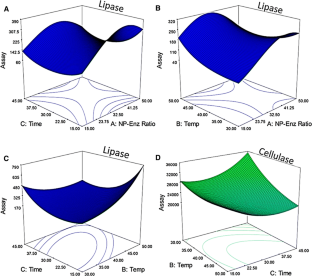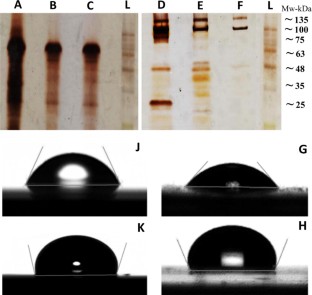 References
Butler KS, Peeler DJ, Casey BJ, Dair BJ, Elespuru RK (2015) Silver nanoparticles: correlating nanoparticle size and cellular uptake with genotoxicity. Mutagenesis 30:577–591. https://doi.org/10.1093/mutage/gev020

Cox A, Venkatachalam P, Sahi S, Sharma N (2016) Silver and titanium dioxide nanoparticle toxicity in plants: a review of current research. Plant Physiol Biochem 107:147–163. https://doi.org/10.1016/j.plaphy.2016.05.022

Durán N, Silveira CP, Durán M, Martinez DST (2015) Silver nanoparticle protein corona and toxicity: a mini-review. J Nanobiotechnol 13(1):55. https://doi.org/10.1186/s12951-015-0114-4

Ghosh S et al (2014) Diosgenin from dioscorea bulbifera: novel hit for treatment of type ii diabetes mellitus with inhibitory activity against α-amylase and α-glucosidase. PloS one 9:e106039

Greenfield NJ (2006) Using circular dichroism spectra to estimate protein secondary structure. Nat Protoc 1:2876–2890

Holmberg K (2018) Interactions between surfactants and hydrolytic enzymes. Colloids Surf, B 168:169–177. https://doi.org/10.1016/j.colsurfb.2017.12.002

Kaweeteerawat C, Na Ubol P, Sangmuang S, Aueviriyavit S, Maniratanachote R (2017) Mechanisms of antibiotic resistance in bacteria mediated by silver nanoparticles. J Toxicol Environ Health, Part A 80:1276–1289. https://doi.org/10.1080/15287394.2017.1376727

Kim JB, Kim JY, Yoon TH (2017) Determination of silver nanoparticle species released from textiles into artificial sweat and laundry wash for a risk assessment human and ecological risk assessment. Int J 23:741–750. https://doi.org/10.1080/10807039.2016.1277417

Kübelbeck S, Mikhael J, Keller H, Konradi R, Andrieu-Brunsen A, Baier G (2018) Enzyme–polymer conjugates to enhance enzyme shelf life in a liquid detergent formulation. Macromol Biosci 18:1800095. https://doi.org/10.1002/mabi.201800095

Lynch I, Salvati A, Dawson KA (2009) Protein-nanoparticle interactions: what does the cell see? Nat Nanotechnol 4(9):546–547

Mao B-H, Tsai J-C, Chen C-W, Yan S-J, Wang Y-J (2016) Mechanisms of silver nanoparticle-induced toxicity and important role of autophagy. Nanotoxicology 10:1021–1040. https://doi.org/10.1080/17435390.2016.1189614

Mehdi WA, Mehde AA, Özacar M, Özacar Z (2018) Characterization and immobilization of protease and lipase on chitin-starch material as a novel matrix. Int J Biol Macromol 117:947–958. https://doi.org/10.1016/j.ijbiomac.2018.04.195

Mirzajani F (2015) The study of nanoparticle size and coating influence on the protein corona thermodynamic. Int J Pure & Appl Biosci 3:42–58. https://doi.org/10.18782/2320-7051.1891

Mirzajani F (2016) Are Biological Potency and Features of Colloidal Silver Nanoparticles Applied in Different Culturing Media Comparable? J Bionanosci 10:241–245. https://doi.org/10.1166/jbns.2016.1349

Mirzajani F, Ghassempour A, Aliahmadi A, Esmaeili MA (2011) Antibacterial effect of silver nanoparticles on Staphylococcus aureus. Res Microbiol 162:542–549. https://doi.org/10.1016/j.resmic.2011.04.009

Morgan IJ, Henry RP, Wood CM (1997) The mechanism of acute silver nitrate toxicity in freshwater rainbow trout (Oncorhynchus mykiss) is inhibition of gill Na + and Cl- transport. Aquat Toxicol 38:145–163

Naddy RB, Gorsuch JW, Rehner AB, McNerney GR, Bell RA, Kramer JR (2007) Chronic toxicity of silver nitrate to Ceriodaphnia dubia and daphnia magna and potential mitigating factors. Aquat Toxicol 84:1–10. https://doi.org/10.1016/j.aquatox.2007.03.022

Sahay S, Chouhan D (2018) Study on the potential of cold-active lipases from psychrotrophic fungi for detergent formulation. J Genet Eng Biotechnol. https://doi.org/10.1016/j.jgeb.2018.04.006

Stempien Z, Rybicki E, Patykowska A, Rybicki T, Szynkowska MI (2017) Shape-programmed inkjet-printed silver electro-conductive layers on textile surfaces. J Ind Text 47:1321–1341. https://doi.org/10.1177/1528083717690610

Takeuchi S, Hashimoto Y, Yamaguchi N, Toyota K (2016) Chemical speciation and enzymatic impact of silver in antimicrobial fabric buried in soil. J Hazard Mater 317:602–607. https://doi.org/10.1016/j.jhazmat.2016.06.027

Zanganeh S, Spitler R, Erfanzadeh M, Alkilany AM, Mahmoudi M (2016) Protein corona: opportunities and challenges. Int J Biochem Cell Biol 75:143–147. https://doi.org/10.1016/j.biocel.2016.01.005

Zhao C-M, Wang W-X (2011) Comparison of acute and chronic toxicity of silver nanoparticles and silver nitrate to Daphnia magna. Environ Toxicol Chem 30:885–892. https://doi.org/10.1002/etc.451
Acknowledgement
Financial support from the Research Council of Shahid Beheshti University is gratefully acknowledged. This publication represents a component of the MSc thesis of Behnam Eisazadeh at Shahid Beheshti University, Tehran, Iran. The authors declare no conflicts of interest.
Electronic supplementary material
Below is the link to the electronic supplementary material.
About this article
Cite this article
Eisazadeh, B., Mirzajani, F. & Sefidbakht, Y. How is the Effect of Silver Nanoparticles and Lipase/Cellulase Enzymes on Each Other?. Iran J Sci Technol Trans Sci 44, 27–35 (2020). https://doi.org/10.1007/s40995-020-00820-8
Received:

Accepted:

Published:

Issue Date:
Keywords
Cellulase

CCD

Lipase

Silver nanoparticle