Abstract
Platanus orientalis L. has been used in traditional Persian medicine to treat allergic rhinitis. In this study, the therapeutic effects of P. orientalis L. distillate on allergic rhinitis mouse model were assessed. Furthermore, chemical components of P. orientalis L. were analyzed, using gas chromatography–mass spectrometry. Allergic rhinitis was induced in ninety mice using ovalbumin, and they were divided into six groups (group 1: negative control, experienced no treatment; group 2: positive control, received loratadine; groups 3, 4 and 5: received different amounts of P. orientalis L. distillate, orally and group 6: received intranasal P. orientalis L. distillate). Clinical signs, serum level of interleukin 4 and eosinophil counts of nasal mucosa were determined. α-eudesmol and β-eudesmol were found as the major components of the distillate. Clinical signs improved significantly in the groups that had received P. orientalis L. distillate in comparison with the control group. Also, pathological findings were in favor of decrement in the nasal mucosal eosinophil counts. The serum level of interleukin 4 was not in the detectable ranges in any of the groups. Improving effects of P. orientalis L. distillate were observed in allergic rhinitis mouse models.
Access options
Buy single article
Instant access to the full article PDF.
US$ 39.95
Tax calculation will be finalised during checkout.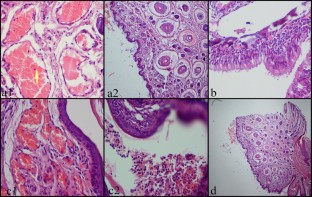 Abbreviations
AR:

Allergic rhinitis

HPF:

High-power field

OVA:

Ovalbumin

P. orientalis L.:

Platanus orientalis L.

TPM:

Traditional Persian Medicine
References
Abolhassanzadeh Z, Aflaki E, Yousefi G, Mohagheghzadeh A (2016) Medicinal plants for joint pain in Traditional Persian Medicine. Trends Pharm Sci 2:89–100

Araújo LU, Grabe-Guimarães A, Mosqueira VCF, Carneiro CM, Silva-Barcellos NM (2010) Profile of wound healing process induced by allantoin. Acta Cir Bras 25:460–461

Asakura K, Kanemasa T, Minagawa K, Kagawa K, Yagami T, Nakajima M, Ninomiya M (2000) α-Eudesmol, a P/Q-type Ca2+ channel blocker, inhibits neurogenic vasodilation and extravasation following electrical stimulation of trigeminal ganglion. Brain Res 873:94–101

Benninger MS, Ahmad N, Marple BF (2003) The safety of intranasal steroids. Otolaryngol Head Neck Surg 129:739–750

Bernstein DI, Bernstein CK, Deng C, Murphy KJ, Bernstein IL, Bernstein JA, Shukla R (2002) Evaluation of the clinical efficacy and safety of grapeseed extract in the treatment of fall seasonal allergic rhinitis: a pilot study. Ann Allergy Asthma Immunol 88:272–278

Campanati A et al (2010) Effect of allium cepa-allantoin-pentaglycan gel on skin hypertrophic scars: clinical and video-capillaroscopic results of an open-label, controlled, nonrandomized clinical trial. Dermatol Surg 36:1439–1444

Finkelman FD, Morris SC (1999) Development of an assay to measure in vivo cytokine production in the mouse. Int Immunol 11:1811–1818

Grzincich G, Capra L, Cammarata MG (2004) Effectiveness of intranasal corticosteroids. Acta Bio Med Atenei Parmensis 75:22–25

Haider S, Nazreen S, Alam MM, Hamid H, Alam MS (2012) Anti-inflammatory and anti-nociceptive activities of Platanus orientalis Linn. and its ulcerogenic risk evaluation. J Ethnopharmacol 143:236–240

Hatami GAAA, Najafi A, Razavi Sh, Afrasiabi K, Afarid M (2003) Prevalence of symptoms and severity of allergic rhinitis, asthma and ectopic eczema in 13-14 years old students in Booshehr. Iran Sout Med J 2:167–175

Hossen MA, Fujii Y, Ogawa M, Takubo M, Tsumuro T, Kamei C (2005) Effect of loratadine on mouse models of atopic dermatitis associated pruritus. Int Immunopharmacol 5:1331–1336

Lin L, Zheng C, Zhang L, Da C, Zhao K (2011) 2-Aminoethoxydiphenyl borate administration into the nostril alleviates murine allergic rhinitis. Am J Otolaryngol 32:318–328

Ma Y, Hurst HE, Fernandez-Botran R (1996) Soluble cytokine receptors as carrier proteins: effects of soluble interleukin-4 receptors on the pharmacokinetics of murine interleukin-4. J Pharmacol Exp Ther 279:340–350

Mirheidar H (1996) Herbal learnings, usage of herbs in prevention and treatment of diseases, vol 3. Islamic Culture Press Center, Tehran

Miri S, Farid R, Akbari H, Amin R (2006) Prevalence of allergic rhinitis and nasal smear eosinophilia in 11-to 15 yr-old children in Shiraz. Pediatr Allergy Immunol 17:519–523

Mizuki D, Miura T, Sasaki S, Mizuki M, Madarame H, Nakane A (2001) Interference between host resistance to listeria monocytogenes infection and ovalbumin-induced allergic responses in mice. Infect Immun 69:1883–1888

Mosaddegh M, Naghibi F, Moazzeni H, Pirani A, Esmaeili S (2012) Ethnobotanical survey of herbal remedies traditionally used in Kohghiluyeh va Boyer Ahmad province of Iran. J Ethnopharmacol 141:80–95

Nasab FK, Khosravi AR (2014) Ethnobotanical study of medicinal plants of Sirjan in Kerman Province, Iran. J Ethnopharmacol 154:190–197

Nishanbaev S, Khidyrova N, Kuliev Z (2004) Dimeric proanthocyanidins from platanus orientalis bark. Chem Nat Compd 40:93

Nishanbaev S, Kuliev Z, Khidyrova N, Vdovin A, Abdullaev N, Shakhidoyatov KM, Aripov O (2010) New oligomeric proanthocyanidin glycosides platanoside-A and platanoside-B from Platanus orientalis trunk bark. Chem Nat Compd 46:357–362

Nishikubo K et al (2003) A single administration of interleukin-4 antagonistic mutant DNA inhibits allergic airway inflammation in a mouse model of asthma. Gene Ther 10:2119–2125

Okano M (2009) Mechanisms and clinical implications of glucocorticosteroids in the treatment of allergic rhinitis. Clin Exp Immunol 158:164–173

Sadat-Hosseini M, Farajpour M, Boroomand N, Solaimani-Sardou F (2017) Ethnopharmacological studies of indigenous medicinal plants in the south of Kerman, Iran. J Ethnopharmacol 199:194–204

Sadeghi Z, Kuhestani K, Abdollahi V, Mahmood A (2014) Ethnopharmacological studies of indigenous medicinal plants of Saravan region, Baluchistan, Iran. J Ethnopharmacol 153:111–118

Seo M-J et al (2011) The regulatory mechanism of β-eudesmol is through the suppression of caspase-1 activation in mast cell–mediated inflammatory response. Immunopharmacol Immunotoxicol 33:178–185

Spector SL (1997) Overview of comorbid associations of allergic rhinitis. JAllergy Clin Immunol 99:S773–S780

Thai QD et al (2016) Phytochemical study and biological evaluation of chemical constituents of Platanus orientalis and Platanus acerifolia buds. Phytochemistry 130:170–181

Tsuneki H et al (2005) Antiangiogenic activity of β-eudesmol in vitro and in vivo. Eur J Pharmacol 512:105–115

Wallace DV et al (2008) The diagnosis and management of rhinitis: an updated practice parameter. J Allergy Clin Immunol 122:S1–S84

Yamamoto K, Kawamura I, Tominaga T, Nomura T, Ito J, Mitsuyama M (2006) Listeriolysin O derived from Listeria monocytogenes inhibits the effector phase of an experimental allergic rhinitis induced by ovalbumin in mice. Clin Exp Immunol 144:475–484

Yoshimura M, Enomoto T, Dake Y, Okuno Y, Ikeda H, Cheng L, Obata A (2007) An evaluation of the clinical efficacy of tomato extract for perennial allergic rhinitis. Allergol Int 56:225–230
Acknowledgements
This study was supported by Shiraz University of Medical Sciences. We are thankful to Mr. Omid Koohi-Hosseynabadi for his contribution in this study. The authors wish to thank Mr. H. Argasi at the Research Consultation Center (RCC) of Shiraz University of Medical Sciences for his invaluable assistance in editing this manuscript.
About this article
Cite this article
Alyasin, S., Maneshian, B., Tanideh, N. et al. The Effect of Platanus orientalis L. Distillate on Mouse Model of Allergic Rhinitis. Iran J Sci Technol Trans Sci 44, 21–26 (2020). https://doi.org/10.1007/s40995-019-00813-2
Received:

Accepted:

Published:

Issue Date:
Keywords
Allergic rhinitis

Chemical constituents

Mouse model

Platanus orientalis L.