Abstract
In the present study, detection of heavy metals was carried out in a textile industry soil by ICPOES method. Chromium was the most abundant heavy metal in the examined soil samples and its concentration (95–1180 ppm) exceed the EPA limit. Furthermore, six chromium-tolerant bacterial strains were isolated, most of which belong to Bacillus spp. The maximum tolerance limit of strains was 0.5 ppm for K2Cr2O7. Cr-tolerant strains in consortium were used for the inoculation in combination with biochar. The maximum increase in shoot and root length was (22–23.4%), and maximum increase in chlorophyll and SOD was (28–40%). In the similar way, the proline and sugar contents were improved up to 20.5% and 9.6%, respectively. Significant reduction in Cr uptake was recorded in dry biomass of wheat plants where Cr concentration was 0.28 ± 1.01 mg/kg as compared to control. Hence, according to the findings, PGPR and biochar are an important tool for amelioration of chromium and can be used as inoculums for better plant production.
Access options
Buy single article
Instant access to the full article PDF.
US$ 39.95
Tax calculation will be finalised during checkout.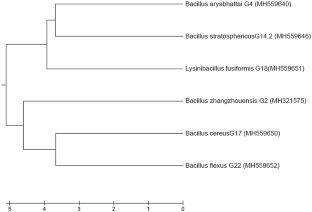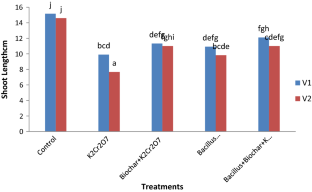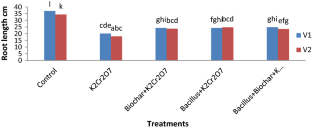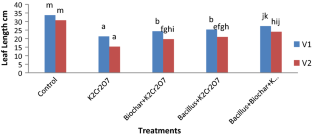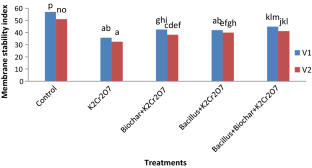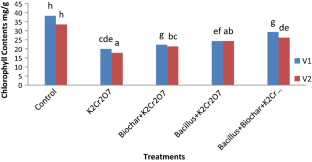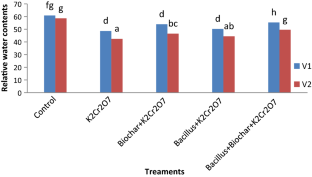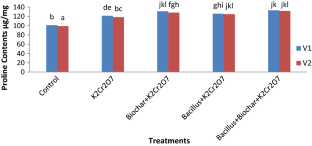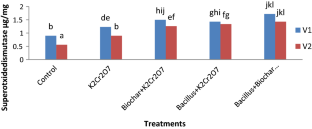 References
Abdul-Baki AA, Anderson JD (1973) Vigor determination in soybean seed by multiple criteria 1. Crop Sci 13(6):630–633

Abit SM, Bolster CH, Cai P, Walker SL (2012) Influence of feedstock and pyrolysis temperature of biochar amendments on transport of Escherichia coli in saturated and unsaturated soil. Environ Sci Technol 46(15):8097–8105

Ahmad I, Akhtar MJ, Zahir ZA, Jamil A (2012) Effect of cadmium on seed germination and seedling growth of four wheat (Triticum aestivum L.) cultivars. Pak J Bot 44(5):1569–1574

Ayangbenro A, Babalola O (2017) A new strategy for heavy metal polluted environments: a review of microbial biosorbents. Int J Environ Res Public Health 14(1):94

Azzam AM, Tawfik A (2015) Removal of heavy metals using bacterial bio-flocculants of Bacillus sp. and Pseudomonas sp. J Environ Eng Land Manag 23(4):288–294

Bashan Y (1998) Inoculants of plant growth-promoting bacteria for use in agriculture. Biotechnol Adv 16(4):729–770

Bates L, Waldren R, Teare I (1973) Rapid determination of free proline for water-stress studies. Plant Soil 39(1):205–207

Bruinsma J (1963) Absorption of light by chlorophyll a and b in plant extracts. Photochem Photobiol 2:241–249

Burd GI, Dixon DG, Glick BR (2000) Plant growth-promoting bacteria that decrease heavy metal toxicity in plants. Can J Microbiol 46(3):237–245

Chen S, Rotaru AE, Liu F, Philips J, Woodard TL, Nevin KP, Lovley DR (2014) Carbon cloth stimulates direct interspecies electron transfer in syntrophic co-cultures. Bioresour Technol 173:82–86

Choppala GK, Bolan N, Megharaj M, Chen Z, Naidu R (2012) The influence of biochar and black carbon on reduction and bioavailability of chromate in soils. J Environ Qual 41(4):1175–1184

Compant S, Duffy B, Nowak J, Clement C, Barka EA (2005) Use of plant growth-promoting bacteria for biocontrol of plant diseases: principles, mechanisms of action, and future prospects. Appl Environ Microbiol 71(9):4951–4959

Dey SK, Jena PP, Kundu S (2009) Antioxidative efficiency of Triticum aestivum L exposed to chromium stress. J Environ Biol 30(4):539–544

Dubois M, Gilles K, Hamilton J, Rebers P, Smith F (1951) A colorimetric method for the determination of sugars. Nature 168(4265):167

Ellis RJ, Morgan P, Weightman AJ, Fry JC (2003) Cultivation-dependent and-independent approaches for determining bacterial diversity in heavy-metal-contaminated soil. Appl Environ Microbiol 69(6):3223–3230

Fulekar M, Sharma J, Tendulkar A (2012) Bioremediation of heavy metals using biostimulation in laboratory bioreactor. Environ Monit Assess 184(12):7299–7307

Gee G, Bauder J (1979) Particle size analysis by hydrometer: a simplified method for routine textural analysis and a sensitivity test of measurement parameters 1. Soil Sci Society Am J 43(5):1004–1007

Giannopolitis CN, Ries SK (1977) Superoxide dismutases: I. Occurrence in higher plants. Plant Physiol 59(2):309–314

Glick BR, Penrose DM, Li J (1998) A model for the lowering of plant ethylene concentrations by plant growth-promoting bacteria. J Theor Biol 90(1):63–68

Glick BR, Cheng Z, Czarny J, Duan J (2007) Promotion of plant growth by ACC deaminase-producing soil bacteria. In: Bakker PAHM, Raaijmakers JM, Bloemberg G, Höfte M, Lemanceau P, Cooke BM (eds) New perspectives and approaches in plant growth-promoting Rhizobacteria research. Springer, Dordrecht, pp 329–339

Harvey DJ, Gange AC, Hawes CJ, Rink M (2011) Bionomics and distribution of the stag beetle, Lucanus cervus (L.) across Europe. Insect Conserv Divers 4(1):23–38

Herrmann L, Lesueur D (2013) Challenges of formulation and quality of biofertilizers for successful inoculation. Appl Microbiol Biotechnol 97(20):8859–8873

Hossain M, Hanafi M, Saleh G, Foroughi M, Behmaram R, Noori Z (2012) Growth, photosynthesis and biomass allocation of different kenaf ('Hibiscus cannabinus' L) accessions grown on sandy soil. Aust J Crop Sci 6(3):480

Kasozi GN, Zimmerman AR, Nkedi-Kizza P, Gao B (2010) Catechol and humic acid sorption onto a range of laboratory-produced black carbons (biochars). Environ Sci Technol 44(16):6189–6195

Khan A, Ashraf M (2008) Exogenously applied ascorbic acid alleviates salt-induced oxidative stress in wheat. Environ Exp Bot 63(1–3):224–231

Kumar RN, Nagendran R (2009) Fractionation behavior of heavy metals in soil during bioleaching with Acidithiobacillus thiooxidans. J Hazard Mater 169(1–3):1119–1126

Kumar S, Stecher G, Tamura K (2016) MEGA7: molecular evolutionary genetics analysis version 7.0 for bigger datasets. Mol Biol Evol 33(7):1870–1874

Lehmann J, Rillig MC, Thies J, Masiello CA, Hockaday WC, Crowley D (2011) Biochar effects on soil biota–a review. Soil Biol Biochem 43(9):1812–1836

Liu H, Zhang J, Christie P, Zhang F (2008) Influence of iron plaque on uptake and accumulation of Cd by rice (Oryza sativa L.) seedlings grown in soil. Sci Total Environ 394(2–3):361–368

Lopez-Luna J, Gonzalez-Chavez M, Esparza-Garcia F, Rodriguez-Vazquez R (2009) Toxicity assessment of soil amended with tannery sludge, trivalent chromium and hexavalent chromium, using wheat, oat and sorghum plants. J Hazard Mater 163(2–3):829–834

Lu H, Li Z, Fu S, Mendez A, Gasco G, Paz-Ferreiro J (2014) Can biochar and phytoextractors be jointly used for cadmium remediation? PLoS ONE 9(4):e95218

Maccaferri M, Sanguineti MC, Giuliani S, Tuberosa R (2009) Genomics of tolerance to abiotic stress in the Triticeae. In: Muehlbauer G, Feuillet C (eds) Genetics and genomics of the triticeae. Springer, New York, pp 481–558

Mao J, Liu X, Chen B, Luo F, Wu X, Jiang D, Luo Z (2017) Determination of heavy metals in soil by inductively coupled plasma mass spectrometry (ICP-MS) with internal standard method. Electrn Sci Technol Appl 4(1):1–6

Mazhar R, Ilyas N, Saeed M, Bibi F, Batool N (2016) Biocontrol and salinity tolerance potential of Azospirillum lipoferum and its inoculation effect in wheat crop. Int J Agric Biol 18(3):494–500

Messer J, Reynolds M, Stoddard L, Zhitkovich A (2006) Causes of DNA single-strand breaks during reduction of chromate by glutathione in vitro and in cells. Free Rad Bio Med 40(11):1981–1992

Mihdhir A, Assaeedi A, Abulreesh H, Osman G (2016) Detection, identification and characterization of some heavy metals tolerant bacteria. J Microbiol Biochem Technol 8:226–230

Mukherjee A, Zimmerman A, Harris W (2011) Surface chemistry variations among a series of laboratory-produced biochars. Geoderma 163(3–4):247–255

Murphy J, Riley JP (1962) A modified single solution method for the determination of phosphate in natural waters. Anal Chim Acta 27:31–36

Nei M, Kumar S (2000) Molecular evolution and phylogenetics. Oxford University Press, Oxford

Olsen S, Sommers L (1982) Phosphorus. In: Page AL et al (eds) Methods of soil analysis. Part 2. Agron. monogr., vol 9. ASA and SSSA, Madison, pp 403–430

Ouzounidou G, Eleftheriou E, Karataglis S (1992) Ecophysical and ultrastructural effects of copper in Thlaspi ochroleucum (Cruciferae). Can J Bot 70(5):947–957

Pacha C, Baumann T, Georgakos G, Kamgaing AUT (2011) Circuit arrangement with a test circuit and a reference circuit and corresponding method: Google Patents

Park D, Lim SR, Yun YS, Park JM (2008) Development of a new Cr(VI)-biosorbent from agricultural biowaste. Biores Technol 99(18):8810–8818

Petatan-Sagahon I, Anducho-Reyes MA, Silva-Rojas HV, Arana-Cuenca A, Tellez-Jurado A, Cárdenas-Álvarez IO, Mercado-Flores Y (2011) Isolation of bacteria with antifungal activity against the phytopathogenic fungi Stenocarpella maydis and Stenocarpella macrospora. Int J Mol Sci 12(9):5522–5537

Rahaie M, Xue GP, Schenk PM (2013) The role of transcription factors in wheat under different abiotic stresses abiotic stress-plant responses and applications in agriculture. InTech, Rijeka

Rout GR, Samantaray S, Das P (2000) Effects of chromium and nickel on germination and growth in tolerant and non-tolerant populations of Echinochloa colona (L.) Link. Chemosphere 40(8):855–859

Saeed M, Ilyas N, Mazhar R, Bibi F, Batool N (2016) Drought mitigation potential of Azospirillum inoculation in canola (Brassica napus). J Appl Bot Food Qual 89:26–32

Sairam R (1994) Effect of moisture-stress on physiological activities of two contrasting wheat genotypes. Ind J Exp Biol 32:594

Sandaa RA, Torsvik V, Enger O (2001) Influence of long-term heavy-metal contamination on microbial communities in soil. Soil Biol Biochem 33(3):287–295

Sarwar M, Arshad M, Martens DA, Frankenberger W (1992) Tryptophan-dependent biosynthesis of auxins in soil. Plant Soil 147(2):207–215

Schwyn B, Neilands J (1987) Universal chemical assay for the detection and determination of siderophores. Anal Biochem 160(1):47–56

Sharma P, Dubey RS (2005) Lead toxicity in plants. Braz J Plant Pathol 17(1):35–52

Sheng XF, Xia JJ (2006) Improvement of rape (Brassica napus) plant growth and cadmium uptake by cadmium-resistant bacteria. Chemosphere 64(6):1036–1042

Sundaramoorthy P, Chidambaram A, Ganesh KS, Unnikannan P, Baskaran L (2010) Chromium stress in paddy: (i) nutrient status of paddy under chromium stress; (ii) phytoremediation of chromium by aquatic and terrestrial weeds. CR Biol 333(8):597–607

Tica D, Udovic M, Lestan D (2011) Immobilization of potentially toxic metals using different soil amendments. Chemosphere 85(4):577–583

Tong XJ, Li JY, Yuan JH, Xu RK (2011) Adsorption of Cu (II) by biochars generated from three crop straws. Chem Eng J 172(2–3):828–834

Wang X, Zang S (2014) Distribution characteristics and ecological risk assessment of toxic heavy metals and metalloid in surface water of lakes in Daqing Heilongjiang Province, China. Ecotoxicology 23(4):609–617

Wang Y, Shi J, Wang H, Lin Q, Chen X, Chen Y (2007) The influence of soil heavy metals pollution on soil microbial biomass, enzyme activity, and community composition near a copper smelter. Ecotoxicol Environ Saf 67(1):75–81

Wei B, Yang L (2010) A review of heavy metal contaminations in urban soils, urban road dusts and agricultural soils from China. Microchem J 94(2):99–107

Zeid I (2001) Responses of Phaseolus vulgaris chromium and cobalt treatments. Biol Plant 44(1):111–115
About this article
Cite this article
Mazhar, R., Ilyas, N., Arshad, M. et al. Isolation of Heavy Metal-Tolerant PGPR Strains and Amelioration of Chromium Effect in Wheat in Combination with Biochar. Iran J Sci Technol Trans Sci 44, 1–12 (2020). https://doi.org/10.1007/s40995-019-00800-7
Received:

Accepted:

Published:

Issue Date:
Keywords
Chromium

PGPR

Biochar

Heavy metal

Wheat