Abstract
Backgrounds
Matrix metalloproteinases (MMP) and fascin-1 play roles in epithelial–mesenchymal transition and tumour invasion.
Aims
This study was performed to investigate the relationships of fascin-1 and MMP-9 expression with prognostic parameters in endometrioid-type endometrial carcinoma (EEC).
Methods
A total of 100 cases of EEC were included in the study. Tissues were stained with antibodies against fascin-1 and MMP-9. The relationships between the immunohistochemical findings and clinicopathological prognostic parameters of EEC were examined.
Results
Tumour diameter was significantly related to lymphovascular invasion, FIGO stage and FIGO grade (p < 0.05). A tumour size > 2 cm was associated with a poor prognosis. The staining score for fascin-1 was ≤ 5 in 81 cases and > 5 in 19 cases (p > 0.05), and that for MMP-9 was ≤ 5 in 39 cases and > 5 in 61 cases (p > 0.05). Neither fascin-1 nor MMP-9 expression was significantly related to any of the clinicopathological parameters examined.
Conclusion
There were no significant relationships of fascin-1 and MMP-9 expression with the clinicopathological parameters of EEC. The results of this study suggested that these molecules do not contribute to the clinical behaviour of EECs. A tumour size > 2 cm is associated with a poor prognosis in EEC patients. To verify these results, more studies are needed with larger patient groups.
Access options
Buy single article
Instant access to the full article PDF.
US$ 39.95
Tax calculation will be finalised during checkout.
Subscribe to journal
Immediate online access to all issues from 2019. Subscription will auto renew annually.
US$ 79
Tax calculation will be finalised during checkout.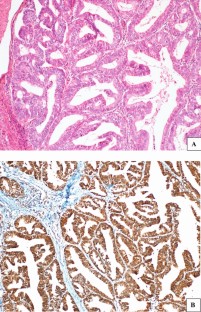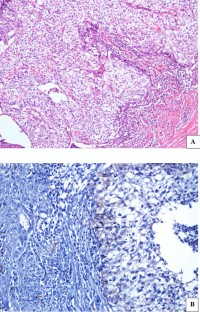 References
1.

Fact Sheets by Population [Internet]; Available from: http://globocan.iarc.fr/Pages/fact_sheets_population.aspx. Accessed 25 Dec 2017

2.

2014 Yılı Türkiye Kanser İstatistikleri [Internet]. Available from: https://hsgm.saglik.gov.tr/tr/kanser-istatistikleri/yillar/2014-yili-turkiye-kanser-istatistikleri.html

3.

Kurman RJ, Hedrick EL, Ronnett BM, Blaustein A. Endometrial Carcinoma. In: Kurman RJ, Hedrick EL, Ronnett BM, editors. Blaustein's pathology of the female genital tract. 6th ed. New York, Dodrecht, Heidelberg, London: Springer; 2011. p. 319–476.

4.

Radisky DC. Epithelial-mesenchymal transition. J Cell Sci. 2005;118(19):4325–6.

5.

Abouhashem NS, Ibrahim DA, Mohamed AM. Prognostic implications of epithelial to mesenchymal transition related proteins (E-cadherin, Snail) and hypoxia inducible factor 1α in endometrioid endometrial carcinoma. Ann Diagn Pathol. 2016;22:1–11.

6.

Akter H, Park M, Kwon O-S, Song EJ, Park W-S, Kang M-J. Activation of matrix metalloproteinase-9 (MMP-9) by neurotensin promotes cell invasion and migration through ERK pathway in gastric cancer. Tumor Biol Agust. 2015;36(8):6053–62.

7.

Hashimoto Y, Skacel M, Adams JC. Roles of fascin in human carcinoma motility and signaling: prospects for a novel biomarker? Int J Biochem Cell Biol. 2005;37(9):1787–804.

8.

Makker A, Goel MM. Tumor progression, metastasis, and modulators of epithelial–mesenchymal transition in endometrioid endometrial carcinoma: an update. Endocr Relat Cancer. 2016;23(2):R85-111.

9.

Zhou X, Zhang H, Han X. Role of epithelial to mesenchymal transition proteins in gynecological cancers: pathological and therapeutic perspectives. Tumor Biol. 2014;35(10):9523–30.

10.

Planagumà J, Liljeström M, Alameda F, et al. Matrix metalloproteinase-2 and matrix metalloproteinase-9 codistribute with transcription factors RUNX1/AML1 and ETV5/ERM at the invasive front of endometrial and ovarian carcinoma. Hum Pathol. 2011;42(1):57–67.

11.

Di Nezza LA, Misajon A, Zhang J, et al. Presence of active gelatinases in endometrial carcinoma and correlation of matrix metalloproteinase expression with increasing tumor grade and invasion: MMPs in Endometrial Carcinoma. Cancer. 2002;94(5):1466–75.

12.

Aglund K, Rauvala M, Puistola U, et al. Gelatinases A and B (MMP-2 and MMP-9) in endometrial cancer—MMP-9 correlates to the grade and the stage. Gynecol Oncol. 2004;94(3):699–704.

13.

Yu F, Jiang Q, Zhou Y, et al. Abnormal expression of matrix metalloproteinase-9 (MMP9) correlates with clinical course in Chinese patients with endometrial cancer. Dis Markers. 2012;32(5):321–7.

14.

Srdelić Mihalj S, Kuzmić-Prusac I, Zekić-Tomaš S, Šamija-Projić I, Čapkun V. Lipocalin-2 and matrix metalloproteinase-9 expression in high-grade endometrial cancer and their prognostic value. Histopathol Agust. 2015;67(2):206–15.

15.

Inoue Y, Abe K, Obata K, et al. Immunohistochemical studies on matrix metalloproteinase-9 (MMP-9) and type-IV collagen in endometrial carcinoma. J Obstet Gynaecol Res. 1997;23(2):139–45.

16.

Grybos A, Bar J. The relationships between the immunoexpression of KAI1, MMP-2, MMP-9 and steroid receptors expression in endometrial cancer. Folia Histochem Cytobiol. 2014;52(3):187–94.

17.

Graesslin O, Cortez A, Fauvet R, Lorenzato M, Birembaut P, Daraï E. Metalloproteinase-2, -7 and -9 and tissue inhibitor of metalloproteinase-1 and -2 expression in normal, hyperplastic and neoplastic endometrium: a clinical-pathological correlation study. Ann Oncol. 2006;17(4):637–45.

18.

Tan VY, Lewis SJ, Adams JC, Martin RM. Association of fascin-1 with mortality, disease progression and metastasis in carcinomas: a systematic review and meta-analysis. BMC Med. 2013;11(1):1.

19.

Lin C, Su H-Y, Tsai W-C, Sheu L-F, Jin J-S. Association of cortactin, fascin-1 and epidermal growth factor receptor (EGFR) expression in ovarian carcinomas: correlation with clinicopathological parameters. Dis Markers. 2008;25(1):17–26.

20.

Stewart CJR, Crook ML, Manso L. Fascin expression in low-grade uterine endometrioid adenocarcinoma: correlation with microcystic, elongated and fragmented (MELF)-type alteration at the deep invasive margin: Fascin in endometrial carcinoma. Histopathology. 2011;59(1):73–80.

21.

Gun BD, Bahadir B, Bektas S, et al. Clinicopathological significance of fascin and CD44v6 expression in endometrioid carcinoma. Diagn Pathol. 2012;7(1):1.

22.

Oz M, Korkmaz V, Meydanli MM, Sari ME, Cuylan ZF, Gungor T. Is tumor size really important for prediction of lymphatic dissemination in grade1 endometrial carcinoma with superficial myometrial invasion? Int J Gynecol Cancer. 2017;27(7):1393–8.
Acknowledgements
This project was realised with the contribution of Inonu University Scientific Research Projects Coordination Unit.
Ethics declarations
Conflict of Interest
The authors declare that they have no conflict of interest.
Additional information
Publisher's Note
Springer Nature remains neutral with regard to jurisdictional claims in published maps and institutional affiliations.
About this article
Cite this article
Tecellioglu, F.S., Akpolat, N. & Sahin, N. Mmp-9 and Fascin-1 Expression in Endometrioid-Type Endometrial Carcinoma and Their Prognostic Value. Indian J Gynecol Oncolog 19, 24 (2021). https://doi.org/10.1007/s40944-020-00492-7
Received:

Revised:

Accepted:

Published:
Keywords
Endometrial carcinoma

Endometrium

Fascin-1

MMP-9

Prognosis