Abstract
Purpose
Ovarian cancers are common forms of neoplasia in women and account for 15–20% of all gynaecological malignancies. They can occur at any age and no age is exempted. A systematic study of all ovarian neoplasms in large institute produce a significant data as regard to clinical presentation and incidence of various tumours.
Objectives
To establish frequency and changing trends of histopathological pattern of ovarian tumour at tertiary care hospital
Methods
Retrospective study from January 2007 to June 2017. The data so collected was analysed using SPSS software.
Results
Mean age for benign, borderline, and malignant ovarian neoplasms were 23, 34.4 & 41.2 years respectively. During study 418 neoplastic tumours were observed out of which 54.3% were benign & 41.9% were malignant with borderline malignancy 3.8%. A rising trend has been noted in the incidence of mucinous cystadenoma and cystadenocarcinoma.
Conclusion
In our study, increased frequency of serous cystadenocarcinoma is seen in age group < 40 years, a new trend of shift towards development of malignancy in younger age group is noted. A significant reduction in mean age of malignancy (maximum number of neoplasms in the age group 31–40 years) emphasizes our priority to rule out malignancy in all age groups.
This is a preview of subscription content, log in to check access.
Access options
Buy single article
Instant access to the full article PDF.
US$ 39.95
Price includes VAT for USA
Subscribe to journal
Immediate online access to all issues from 2019. Subscription will auto renew annually.
US$ 99
This is the net price. Taxes to be calculated in checkout.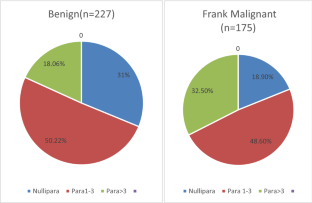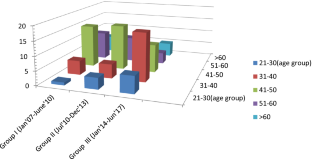 References
1.

Benson RC. Diagnosis and treatment. Current Obstet Gynaecol. 1976;1:236.

2.

Sen U, Sankaranarayanan R, Mandal S, Ramanakumar AV, Parkin DM, Siddiqi M. Cancer patterns in eastern India: the first report of the Kolkata cancer registry. Int J Cancer. 2002;100(1):86–91.

3.

Piver MS. Prophylactic oophorectomy: reducing the U.S. death rate from epithelial ovarian cancer. A continuing debate. Oncologist. 1996;1(5):326–30.

4.

Sharma I, Sharma U, Dutta UC (2014) Pathology of ovarian tumour-a hospital based study Int J Med Sci Clin Invention 6(1): 284–286 ISSN: 2348-991X Available Online At: http://valleyinternational.net/index.php/our-jou/ijmsci.

5.

Murthy NS, Shalini S, Suman G, Pruthvish S, Mathew A. Changing trends in incidence of ovarian cancer-the Indian scenario. Asian Pac J Cancer Prev. 2009;10(6):1025–30.

6.

Torre LA, Trabert B, DeSantis CE, Miller KD. Ovarian cancer statistics. Cancer J Clin. 2018;68(4):284–96. https://doi.org/10.3322/caac.21456Epub 2018 May 29 2018.

7.

Momenimovahed Z, Tiznobaik A, Taheri S, Salehiniya H. Ovarian cancer in the world: epidemiology and risk factors. Int J Womens Health. 2019;11:287–99. https://doi.org/10.2147/ijwh.s197604.

8.

Patel A, Patel P, Karena Z, et al. A retrospective analytic study of clinico-histopathological correlation of ovarian mass. Int J Reprod Contracept Obstet Gynecol. 2016;5(11):3802–5. https://doi.org/10.18203/2320-1770.ijrcog20163843.

9.

Shraddha SO, Sridevi TA, Renukadevi TK, Gowri R, Binayah D, Indra V. Ovarian masses: changing histopathological trends. J Obstet Gynaecol India. 2015;65(1):34–8.

10.

Kayastha S. Study of ovarian tumours in Nepal Medical College Teaching Hospital. Nepal Med Coll J. 2009;11(3):200–2.

11.

Hatwal D, Choudhari S, Batra N, Bhatt P, Bhatt S. Clinico-histopathological analysis of neoplastic and non-neoplastic lesion of ovary in Garhwal region of Uttarakhand: a 4-year study at tertiary level hospital. Indian J Pathol Oncol. 2016;3(2):133–40.

12.

Forae GD, Aligbe JU. A histopathological overview of ovarian lesions in Benin City, Nigeria: how common are the functional cysts? Int J Med Public Health. 2014;4(3):265–8. https://doi.org/10.4103/2230-8598.137714.

13.

Mondal SK, Banyopadhyay R, Nag DR, Roychowdhury S, Mondal PK, Sinha SK. Histologic pattern, bilaterality and clinical evaluation of 957 ovarian neoplasms: a 10-year study in a tertiary hospital of eastern India. J Cancer Res Therapeutics. 2011;7(4):433–7. https://doi.org/10.4103/0973-1482.92011.

14.

Wasim T, Majrroh A, Siddiq S. Comparison of clinical presentation of benign and malignant ovarian tumours. J Pak Med Assoc. 2009;59(1):18–21.

15.

Jha R, Karki S. Histological pattern of ovarian tumors and their age distribution. Nepal Med Coll J. 2008;10(2):81–5.

16.

Vaidya S, Sharma P, KC S, Vaidya S. Spectrum of ovarian tumors in a referral hospital in Nepal. J Pathol Nepal. 2014;4(7):539–43. https://doi.org/10.3126/jpn.v4i7.10295.

17.

Swamy GG, Satyanarayana N. Clinicopathological analysis of ovarian tumors: a study on five years samples. Nepal Med Coll J. 2010;12(4):221–3.

18.

Yasmin S, Yasmin A, Asif M. Clinicohistological pattern of ovarian tumours in Peshawar region. J Ayub Med Coll Abbottabad 2008;20(4) http://www.ayubmed.edu.pk.

19.

Amin SM, Olah F, Babandi RM, Liman MI, Abubakar SJ. Histopathological analysis and clinical correlations of ovarian lesions in a tertiary hospital in Nigeria: a 10-year review. Ann Trop Pathol. 2017;8:25–8.

20.

Jung SE, Rha SE, Lee JM, Park SY, Oh SN, Cho KS, Lee EJ, Byun JY, Hahn ST. CT and MRI findings of sex cordstromal tumor of the ovary. AJR Am J Roentgenol. 2005;185(1):207–15.

21.

Lengyel E. Ovarian cancer development and metastasis. Am J Pathol. 2010;177(3):1053–64. https://doi.org/10.2353/ajpath.2010.100105.
Funding
No funding was obtained from any source
Ethics declarations
Conflict of interest
All the authors declare that there is no conflict of interest
Ethics Approval
Ethical approval was taken from Institutional committee
Additional information
Publisher's Note
Springer Nature remains neutral with regard to jurisdictional claims in published maps and institutional affiliations.
About this article
Cite this article
Singh, U., Solanki, V., Prakash, B. et al. Clinicopathological Spectrum of Ovarian Tumours in Northern India: Changing Trends Over 10 Years. Indian J Gynecol Oncolog 18, 59 (2020). https://doi.org/10.1007/s40944-020-00405-8
Received:

Revised:

Accepted:

Published:
Keywords