Abstract
The largest Mekong River Tributary in Thailand, the Mun River nurtures more than 10 million people, although degradation of its water quality has been reported. This study aims to illustrate spatio-temporal patterns of water quality across the basin. Water quality datasets acquired from field sampling, questionnaires, and long-term monitoring were analyzed. The findings show seven surface water quality characteristics, which were significantly spatiotemporally dependent. During the monsoon, water quality was often found with high coliform bacteria. Salinity problem was substantial, particularly during the early monsoon in the upper northern part. The dry-season water quality was even worse, exhibiting high loadings of organic compounds, coliform bacteria, nutrient, and low dissolved oxygen. This poor water quality was found in Lam Takhong Sub-Basin and the lower basins—including the lower part of the main river, Huai Samran Sub-Basin, and Lam Se Bai Sub-Basin. The degrading water, with a rotten smell and algae bloom, was affecting the quality of supplied water, as reported by the local agencies. Discharge of household wastewater could respond to the poor water quality, exhibiting high BOD and PO43−, whereas agriculture contributes to high N-to-P ratio characteristics. Suggestions on water quality management should focus on solutions for salinity, control of direct discharges of household wastewater, promoting good agricultural practices, and properly disinfecting tap water.
This is a preview of subscription content, log in to check access.
Access options
Buy single article
Instant access to the full article PDF.
US$ 39.95
Price includes VAT for USA
Subscribe to journal
Immediate online access to all issues from 2019. Subscription will auto renew annually.
US$ 99
This is the net price. Taxes to be calculated in checkout.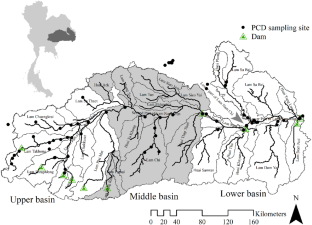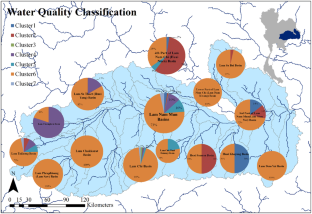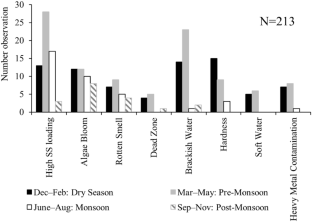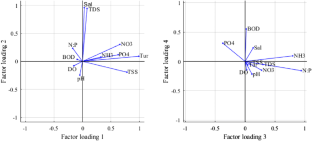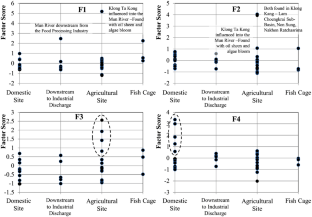 References
Akter A, Babel MS (2012) Hydrological modeling of the Mun River basin in Thailand. J Hydrol 452–453:232–246

Carstens D, Amer R (2019) Spatio-temporal analysis of urban changes and surface water quality. J Hydrol 569:720–734

Choo-In S, Kasemsawat S, Sriwilai J, Kuanprasert N (2015) The participation of surface water quality management, Amphawa district, Samut Songkhram, Thailand. Proc Soc Behav Sci 197:1551–1557

El Najjar P, Kassouf A, Probst A, Probst JL, Ouaini N, Daou C, El Azzi D (2019) High-frequency monitoring of surface water quality at the outlet of the Ibrahim River (Lebanon): a multivariate assessment. Ecol Indic 104:13–23

Hydro and Agro Informatics Institute (HAII), Ministry of Science and Technology (2012) Data collection and analysis under the project on developing 25 Basins Data Archive and water extreme simulations: Mun River Basin. https://www.thaiwater.net/web/attachments/25basins/05-moon.pdf. Accessed 24 Dec 2018 (in Thai)

Kongprajug A, Chyerochana N, Somnark P, Kampaengthong PL, Mongkolsuk S, Sirikanchana K (2019) Human and animal microbial source tracking in a tropical river with multiple land use activities. Int J Hyg Envir Heal 222(4):645–654

Kordach A, Chardwattananon C, Wongin K, Chayaput B, Wongpat N (2018) Evaluation on the Quality of Bangkok Tap Water with Other Drinking Purpose Water. In E3S Web of Conferences (Vol. 30, p. 01011). EDP Sciences

Land Development Department (2018). LDD soil guide Online Database. https://www.ldd.go.th/www/lek_web/web.jsp?id=17837. Accessed 24 Dec 2018 (in Thai)

Li X, Huang T, Ma W, Sun X, Zhang H (2015) Effects of rainfall patterns on water quality in a stratified reservoir subject to eutrophication: Implications for management. Sci Total Environ 521:27–36

Liu J, Han G, Liu X, Liu M, Song C, Zhang Q, Yang K, Li X (2019) Impacts of anthropogenic changes on the Mun River Water: Insight from spatio-distributions and relationship of C and N Species in Northeast Thailand. Int J Environ Res Public Health 16:659

Medeiros AC, Faial KRF, Faial KDCF, da Silva Lopes ID, de Oliveira LM, Guimarães RM, Mendonça NM (2017) Quality index of the surface water of Amazonian rivers in industrial areas in Pará. Brazil Mar Pollut Bull 123(1–2):156–164

Mrozik W, Vinitnantharat S, Thongsamer T, Pansuk N, Pattanachan P, Thayanukul P, Davenport RJ (2019) The food-water quality nexus in periurban aquacultures downstream of Bangkok Thailand. Sci Total Environ 695:133923

Niu A, Song LY, Xiong YH, Lu CJ, Junaid M, Pei DS (2019) Impact of water quality on the microbial diversity in the surface water along the Three Gorge Reservoir (TGR), China. Ecotoxicol Environ Saf 181:412–418

Pitakwinai P, Khanitchaidecha W, Nakaruk A (2019) Spatial and seasonal variation in surface water quality of Nan River, Thailand. NUEJ 14:1–10

Rico A, Oliveira R, McDonough S, Matser A, Khatikarn J, Satapornvanit K, Nogueira AJA, Soares AMVM, Domingues I, Brink PJVD (2014) Use, fate and ecological risks of antibiotics applied in tilapia cage farming in Thailand. Environ Pollut 191:8–16

Scheelbeek PFD, Khan AE, Mojumder S, Elliott P, Vineis P (2016) Drinking water sodium and elevated blood pressure of healthy pregnant women in salinity affected coastal areas. Hypertension 68:464–470

Sukwimolseree T, Kosa P (2014) The relationship between land use change and runoff. Int J Environ Ecol Eng 8(6):428–431

Suwanich P (2010) Geology and geological structure of Potash and rock salt deposits in Chalerm Phrakiat District, Nakhon Ratchasima Province in Northeastern Thailand. Kasetsart J (Nat Sci) 44:1058–1068

Suwannarat G, Suwanwaree P (2014). The effect of land use on water quality in Lam Takong Basin, Nakhon Ratchasima Province, Thailand. Adv Mater Res 1030–1032: 641–647

Tian H, Yu GA, Tong L, Li R, Huang HQ, Bridhikitti A, Prabamroong T (2019) Water quality of the Mun River in Thailand—Spatiotemporal variations and potential causes. Int J Environ Res Public Health 16:3906

Varol M, Sünbül MR (2020). Macroelements and toxic trace elements in muscle and liver of fish species from the largest three reservoirs in Turkey and human risk assessment based on the worst-case scenarios. Environ Res 109298

Wu C, Liu G, Ma G, Liu Q, Yu F, Huang C, Zhao Z, Liang L (2019) Study of the differences in soil properties between the dry season and rainy season in the Mun River Basin. CATENA 182:104103

Yadav S, Babel MS, Shrestha S, Deb P (2019) Land use impact on the water quality of large tropical river: Mun River Basin. Thailand Environ Monit Assess 191:614

Yimrattanabavorn J, Rungrueang O, Karuchit S, Wirikitkhul P (2018) Assessing urban water supply system in northeastern Thailand: water quality and authority organization. Int J Geomate 15(48):187–194

Zeinalzadeh K, Rezaei E (2017) Determining spatial and temporal changes of surface water quality using principal component analysis. J Hydrol Reg 13:1–10

Zhao Z, Liu G, Liu Q, Huang C, Li H (2018) Studies on the spatiotemporal variability of river water quality and its relationships with soil and precipitation: a case study of the Mun River Basin in Thailand. Int J Environ Res Public Health 15(11):2466
Acknowledgements
This research was financially supported by the National Research Committee of Thailand, NRCT fiscal year 2018, and co-funded by the National Natural Science Foundation of China (NSFC, No. 41661144030) under the Thailand–China Future Earth Project. This work has closely collaborated with the Institute of Geographical and Natural Resource Research, Chinese Academy of Sciences, Beijing, China. The authors are grateful to the Pollution Control Department, Dr. Chao Nokyoo, for the long-term water quality data provision. Special thanks were given to MSU undergraduate students—Miss Saowalak Kangwon-Ngan, Miss Chooleekorn Moraram, Mr. Ekkachai Thungsamet, Mr. Thanapon Rattana-Anan—for field works and laboratory assistance.
Additional information
Publisher's Note
Springer Nature remains neutral with regard to jurisdictional claims in published maps and institutional affiliations.
About this article
Cite this article
Bridhikitti, A., Prabamroong, T. & Yu, G. Problem identification on surface water quality in the Mun River Basin, Thailand. Sustain. Water Resour. Manag. 6, 53 (2020). https://doi.org/10.1007/s40899-020-00413-8
Received:

Accepted:

Published:
Keywords
Lower Mekong river region

Mun River

Nutrient

Salinity

Water quality

Water supply