Inventory of managed aquifer recharge schemes in Latin America and the Caribbean
Abstract
Managed aquifer recharge (MAR) is being used worldwide as a tool to overcome distinct water management challenges. An analysis of MAR case studies from different countries in Latin America and the Caribbean (LAC) was carried out as part of a larger study focused on the compilation of a global inventory of MAR schemes which aims at providing guidance for the planning and implementation of new MAR projects. The MAR case studies were collected from freely available scientific publications. These were classified according to the specific MAR type developed, main objective and the source of the influent water. Most reported cases (>60%) were found in Brazil, followed by Mexico and Chile. The main MAR type reported in LAC is in-channel modification, which represents more than half of the reported MAR schemes, and the main influent water used is river water and storm water (together accounting for >90% of cases). Approximately two-thirds of the MAR cases in LAC were developed to maximize natural storage. Publication of freely available scientific reports on MAR in LAC is scarce; however, this is not due to lack of MAR projects, but rather suggests insufficient motivation in sharing experiences with the international scientific community. Nevertheless, MAR has been successfully implemented in at least ten LAC countries. For four of these, estimates of annual recharge volume are available—Mexico (156 Mm3), Cuba (115 Mm3), Peru (36 Mm3) and Costa Rica (4 Mm3)—and a further 30 Mm3 are crudely but conservatively calculated for the remaining LAC countries (mostly in Brazil) bringing the total to approximately 340 Mm3. The application of MAR is expected to grow further as a sustainable and reliable tool to address challenges related to climate, population and economic changes.
Keywords
Managed aquifer recharge 
Latin America and the Caribbean 
Global inventory of MAR schemes 
MAR per population index 
Abbreviations
EC

Electrical conductivity

EMBRAPA

Brazilian Agricultural Research Corporation

IGRAC

International Groundwater Resources Assessment Centre

IMTA

Instituto Mexicano de Tecnología del Agua (Mexican Institute of Water Technology)

INTA

Instituto Nacional de Tecnología Agropecuaria (National Agricultural Technology Institute)

LAC

Latin America and the Caribbean

MAR

Managed aquifer recharge

MOP

Ministerio de Obras Públicas

UN

United Nations

UNSD

United Nations Statistics Division
Introduction
The Real Academia de la Lengua Española defines Latin America as the countries of America that were colonized by Latin speaking countries (Spain, Portugal or France) (ASALE, n.d.). According to the United Nations Statistics Division (UNSD) regional grouping, Latin America and the Caribbean (LAC) is an intermediary region of the America continent (UN 2017). This grouping is based on six continents, where LAC is composed of the Caribbean, Central America and South America sub-regions. The United Nations (UN) division is used in this study.
In general, the LAC climate is classified as humid to very humid; however, there are some arid and semi-arid regions (Guzmán-Arias and Calvo-Alvarado 2013; WWAP 2017). With 30% of the continental precipitation and one-third of the global runoff (ibid.), the region as a whole has a large amount of water resources. Furthermore, the available water resources, such as reclaimed water from municipal treatment plants, offers an alternative source of water for reuse (WWAP 2017). According to Bixio et al. (2005), the majority of the municipal reclamation treatment plants in LAC reach a secondary treatment and the main use is direct irrigation of agricultural land. It is expected that the number of municipal reclamation treatment plants will increase with urban growth (WWAP 2017).
The LAC countries have a total area of >20 million square kilometres and an estimated population of >645 million inhabitants in 2017 (UN 2017), which represents 8.6% of the world population. Within LAC, the sub-region's population is concentrated in South America with almost two-thirds of LAC population (66%); the rest is composed of Central America with more than one-quarter (27%) and the Caribbean (7%) (UN2017). Brazil is the largest country, representing almost 42% of the total area and with >32% of the LAC population. Mexico is the second largest country regarding population (20%), and third largest regarding size.
The LAC population is concentrated in urban areas, representing 82% of the total population (Serebrisky 2014). Three cities in LAC are megacities (population >10 million inhabitants)—Mexico City, Sao Paulo and Buenos Aires; and two more are close to becoming megacities—Bogota and Lima (ibid.). These three megacities already had a population of >10 million inhabitants in the 1990s (Anton 1993). In these five megacities, basic services such as water and sanitation are still unattended issues for lower economic classes (Serebrisky 2014).
A 14% increase in the LAC population is projected by 2030 and 24% by 2050 (UN 2015). Population growth triggers global change, which is defined as natural and anthropogenic influences on terrestrial climate and the hydrologic cycle (Green et al. 2011). Global change threatens the safe drinking water supply to the population as well as for agriculture, where water is a key component (Hanjra and Qureshi 2010). However, water demand is not restricted to drinking water supply in LAC. Almost half (46%) of the energy produced in the region comes from hydropower plants (Miralles-Wilhelm 2014). Additional major water users include industry and agriculture, with agriculture being almost entirely rainfed in the region (90% of the agriculture land) (ibid.). Thus, the trend is to depend more on groundwater for land irrigation as rain patterns are changing.
Salt water intrusion is another threat for the water resources in the region, as many of the biggest urban areas in LAC are located near the coast, e.g., Buenos Aires, Cartagena, Havana, Kingston, Lima, Maracaibo, Montevideo, San Marta, Veracruz, and most of the cities in Brazil and Guyana (Anton 1993). As these urban areas expand, the coastal aquifers where they are located become threatened by declining water levels and saline water intrusion. According to Anton (1993), saline water intrusion was reported along the coast of LAC in cities like Lima, Santa Marta, Coro, Rio Grande, Natal and Mar del Plata. These cities are not only threatened by overpumping of groundwater, but urbanization also reduces the recharge area of coastal aquifers.
Managed aquifer recharge (MAR) offers great potential to contribute to the prevention of saltwater intrusion and restoration of depleted groundwater, as well as other benefits (Gale 2005). MAR is defined as the intentional banking, recharge, storage and/or treatment of water in aquifers (Dillon 2005; Dillon et al. 2009; Hannappel et al. 2014); it has also been called artificial recharge, enhanced recharge, water banking and sustainable water storage (Dillon 2005). There are many human activities that increase the naturally occurring recharge to aquifers. Dillon et al. (2009) classified them as unintentional, unmanaged and managed. In this classification system, MAR is carried out with the purpose of recovery of the water or for environmental benefit (ibid.).
According to Stefan and Ansems (2017), MAR is still regarded by some water resources managers as a rather costly and risky tool that is mostly applied in arid and semi-arid regions. This is due to their lack of easy access to information on successful MAR projects that are relevant to the characteristics of their locality. To address this, a global inventory of MAR schemes was created to raise awareness and improve the dissemination of results from MAR projects around the world (Stefan and Ansems 2017). A first compilation of MAR projects is found in the European MAR catalogue; this was elaborated by the DEMEAU project in order to demonstrate promising technologies that tackle emerging pollutants in water and wastewater (Hannappel et al. 2014; Sprenger et al. 2017). They established a systematic and categorized database of the European MAR sites. A worldwide database of MAR projects was collected by the INOWAS Junior Research Group of TU Dresden. This database is known as the global inventory of MAR schemes (Stefan and Ansems 2017) and is accessible via the International Groundwater Resources Assessment Centre MAR Portal (IGRAC 2015b).
A modification of the classification of the MAR techniques following Gale (2005), IGRAC (2015a), Sprenger et al. (2017) and Stefan and Ansems (2017), is given in Table 1. This classification system is used for the collated MAR schemes from LAC. The main objectives of the MAR application as well as operational data were also recorded. The case studies for the global MAR inventory were collected from freely available scientific papers, reports, academic theses and published presentations from >60 countries worldwide and with >1200 identified MAR projects (Stefan and Ansems 2017).
Table 1
Classification of the MAR techniques modified from IGRAC (2015a)
 

Main MAR technique

Specific MAR methods

Techniques referring primarily to getting water infiltrated

Spreading methods

Infiltration ponds and basins

Flooding

Ditch, furrow, drains

Irrigation

Induced bank filtration

River/lake bank filtration

Dune filtration

Well, shaft and borehole recharge

Aquifer storage and recovery (ASR)/aquifer storage, transfer and recovery (ASTR)

Shallow well/shaft/pit infiltration

Techniques referring primarily to intercepting the water

In-channel modifications

Recharge dams

Subsurface dams

Sand dams

Channel spreading

Runoff harvesting

Rooftop rainwater harvesting

Barriers, bunds and trenches
In the present paper, 144 case studies from nine countries of the LAC region are analyzed in detail. The main objective of this work is to synthesize the MAR experiences in LAC for a better comprehension of the existing developments and future outlook. Many of the MAR schemes in Latin America are published in local journals or internal reports, inhibiting the flow of information and likely constraining the spread of these techniques in the region. The aim of this work is not to discuss the implications of MAR in the regional water resources, but to bring to light and create awareness of available information of MAR in the region. The created database is incorporated into the main database which is published by IGRAC (2015b).
Methods
The case studies were collected from freely available scientific papers, conference proceedings, internal reports and academic theses published in English, Spanish and Portuguese. Only fully implemented schemes were considered as case studies; small-scale investigations or test cases were not taken into consideration. Site selection for aquifer recharge and feasibility studies were also excluded, although there were several studies of this kind available for LAC (Bonilla et al. 2016; Cabrera Fajardo 2014; MOP 2014). Further selection criteria included the type of recharge, with only those schemes being considered that aim at purposely recharging the aquifer by means of various techniques (Dillon et al. 2009). Other types of anthropogenic recharge, either unintentional or unmanaged, were excluded from the LAC database. Some examples of unintentional recharge can be found in Brazil (Blackburn et al. 2002), Chile (Iriarte-Díaz 2003) and Mexico (Pastén-Zapata et al. 2014), while the El Mezquital/Tula Valley in Mexico represents a good example of unmanaged recharge (Kazner et al. 2012).
The information collected includes spatial and operational data. The spatial data refer to the country, the administrative unit, and the geographical coordinates of the MAR application. For some cases, a note is included in the database reporting if the coordinates were explicitly mentioned in the reference, extracted from a map in the document, inferred from Google Maps or simply associated with the nearest geographical object (e.g., city, highway, etc.). The operational data include the reported year of operation start and shut down, main and specific MAR techniques, main and specific objectives, as well as the influent source of recharge and final use of the extracted water (Table 2). As one single MAR scheme may have several objectives, recharge sources and final uses, these are all recorded in the database; however, only the principal objective, influent source and final use are considered for the statistical analysis.
Table 2
Collected information from the MAR projects
| Geographical information | Operational data |
| --- | --- |
| Sub-region | Starting operation (year) |
| Country | Shut down since (year) |
| State/Prefecture/Province | Type of operation |
| County/District/Prefecture/Department | Main and specific MAR type |
| City | Main and specific objective |
| Latitude | Influent source |
| Longitude | Final use of extracted water |
The main MAR technique follows the modified classification by IGRAC (IGRAC 2015a) (see Table 1). The main MAR objectives used in this work correspond to the categories proposed by Hannappel et al. (2014) for the European MAR catalogue—(a) maximize natural storage, (b) physical management of the aquifer, (c) management of water distribution systems, (d) water quality management, (e) ecological benefits, and (f) other benefits. The maximization of natural storage refers to the enhancement of the aquifer storage capacity, while physical management of the aquifer refers to restoration of falling groundwater levels, reduction of land subsidence, prevention of saltwater intrusion, enhancing well field production, and hydraulic control of contaminant plumes (Hannappel et al. 2014).
The types of influent water considered in the present inventory include (a) brackish water, (b) distilled water, (c) groundwater, (d) lake water, (e) river water, (f) storm water, (g) tap water and (h) treated wastewater. Four final uses are recognized in the inventory—(a) agricultural, (b) domestic, (c) ecological and (d) industrial.
Results
In total, 144 MAR projects were collected from 71 publications and are overlaid in Fig. 1 on the map of physical and economic water scarcity (Molden 2007).Table 3 presents the number of MAR projects reported per country and where they were published. The brackets contain the number of references when the correspondence is not one to one. For example, there are three case studies reported in one journal article for Argentina and 44 case studies reported in 18 journal articles for Brazil.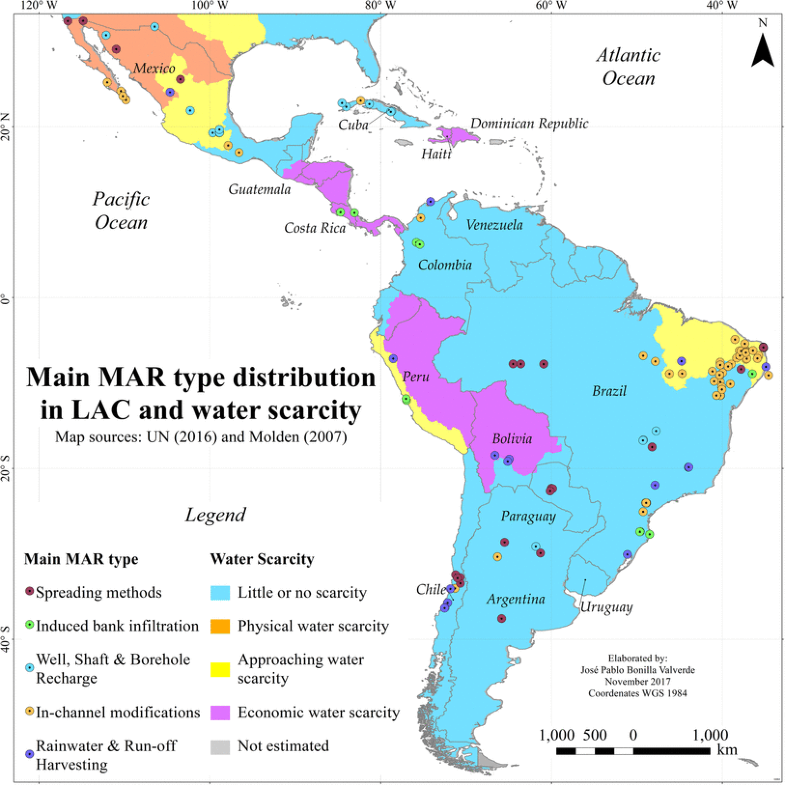 Table 3
MAR projects reported and the number of references
| Country | Books | Conference papers | Journal articles | Newspaper articles | Presentations | Reports | Theses | Total MAR projects |
| --- | --- | --- | --- | --- | --- | --- | --- | --- |
| Argentina | 1 |   | 3 (1) |   | 2 (1) | 2 |   | 8 (5) |
| Bolivia |   |   |   |   |   | 3 (1) |   | 3 (1) |
| Brazil | 3 (2) | 16 (9) | 44 (18) |   |   | 1 | 25 (10) | 89 (41) |
| Chile |   |   | 5 (2) |   | 1 | 1 | 2 | 9 (6) |
| Colombia | 3 (1) |   |   |   |   |   | 2 (1) | 5 (2) |
| Costa Rica |   |   | 2 (1) |   |   |   |   | 2 (1) |
| Cuba |   |   | 4 (1) | 2 (1) |   |   |   | 6 (2) |
| Mexico |   | 2 (1) | 12 (6) |   | 3 (1) | 2 |   | 19 (10) |
| Peru |   | 1 | 2 |   |   |   |   | 3 (3) |
| Total | 7 (4) | 19 (11) | 72 (31) | 2 (1) | 6 (3) | 9 (7) | 29 (13) | 144 (71) |
One report on Brazil describes >50,000 specific structures which are not represented in Fig. 1 because they are reported at state level, without coordinates. For more information on these structures see the description in section "MAR schemes by country" and the works of Barros (2003), Brito et al. (1989, 1997), Silva (2011) and Silva et al. (2007, 2009).
Regarding the total number of MAR projects in LAC, more than half of the surveyed case studies were reported in journal articles. Some of these journals are published in national languages (e.g., Spanish or Portuguese) and are only known locally; thus, limiting the reach to an international audience. The same principle applies to the academic theses; they represent 20% of the sources that contained basic information for the case studies. The theses present a bigger challenge as most of them were not available online. In many cases only a reference to them was found and it was necessary to search for the full text in the university databases.
MAR schemes by country
The reported MAR schemes in Latin America are briefly presented by country, with a description of the most notable features encountered.
Comparison between countries
Qualitative information relating to sites could be compared among LAC countries, but there were insufficient data on recharge volumes to allow quantitative comparisons across the region. Hence, the following analysis relates to the number of sites rather than the volume of recharge. The authors recognize they have aggregated information from projects with a wide range in scale, and this compilation reflects the accessible information rather than the totality of sites in LAC countries. Therefore, these comparisons are presented as a preliminary perspective on MAR in LAC, and as an inducement to others to report more sites and hence allow a more accurate future picture.
Brazil (excluding hundreds of thousands of barraghinas) accounts for almost two-thirds (61%) of the total reported MAR case studies in LAC, followed by Mexico (12%), Chile (6%) and Argentina (5%). The other six countries represent <15% of the total cases. In-channel modifications are the most applied MAR technique reported in LAC (see Fig. 2), covering almost half of the case studies (47%); the second most applied MAR technique is spreading methods (22%), followed by well, shaft and borehole recharge and runoff harvesting (both with 12%). Induced bank filtration is the least reported MAR technique in LAC.
Most of the reported MAR schemes are located in areas that either have physical water scarcity or are approaching that situation (Molden 2007) as in shown in Fig. 1, e.g., in-channel modifications in the north of Brazil, induced bank filtration in Peru or the different MAR schemes in Mexico. Induced bank filtration and runoff harvesting can also be found in areas defined as having economic water scarcity. Argentina, Chile, Colombia and Paraguay are defined as having little or no water scarcity; however, in the Argentina and Paraguay cases, the quality of the available water resources in some areas where MAR techniques are being implemented is not good enough for agricultural use.
Well, shaft and borehole recharge and spreading methods are the main MAR types reported for Argentina and Paraguay in areas that share a common characteristic, i.e., the occurrence of a shallow unconfined aquifer with an EC of >1000 µS/cm (Basán Nickisch 2011; Godoy et al. 1994). For this reason, the aquifer recharge and surface storage systems are implemented to improve the quality and quantity based on the distribution and management of rainwater. In Cuba, water runoff has been used to prevent saline water intrusion by a system of perforated wells in storm water channels since the 1950s (Gonzalez Baez 1985).
Induced bank filtration is the main reported MAR technology for Colombia, Costa Rica and Peru. This technique is used for the urban water supply in Costa Rica and Peru. It is one of the water sources for the main coastal cities in the Pacific and Caribbean areas of Costa Rica (Arias et al. 2006), and is used for part of the capital city of Lima in Peru (Quintana and Tovar 2002).There is only one case study in Bolivia, with runoff harvesting being reported mainly for agricultural purposes (Arteaga 2003). A special case is the Chilean experience, where there is no direct use of the water after recharge, but a biomass increase is reported in the plantations that use MAR techniques (Pizarro Tapia et al. 2008).
Although any of the MAR project may have multiple benefits, only the main objective for each MAR scheme in LAC was recorded in the database. The main objective of the reported MAR schemes for LAC is to maximize the natural storage of the aquifers, accounting for more than half of the reported objectives (56%), followed by physical management of the aquifer (26%) and improvement of water quality (10%). The other reported objectives account for <8%. Figure 3 shows the distribution of the objectives of the MAR schemes by country and for LAC. MAR schemes for maximization of the natural storage are reported in all countries except Cuba, Paraguay and Peru. Ecological benefits are the least reported objective, identified only in Chile, Mexico and Peru.
Bolivia, Costa Rica and Cuba have only one stated objective for all their reported MAR schemes. Bolivia and Costa Rica also have only one MAR type reported, i.e., runoff harvesting and induced bank filtration, respectively (see Fig. 2). The final use of the MAR scheme in Bolivia is for agriculture and in Costa Rica is for water supply systems. In Cuba, both the reported MAR schemes are used for the same objective, i.e., to stop or prevent saltwater intrusion.
Storm and river water are the main source of water for the MAR schemes in LAC, representing 48 and 45%, respectively. Wastewater accounts for one-quarter of the reported MAR schemes in Mexico. Brazil is the other country where wastewater is also being reused via MAR. The distribution of the influent source of recharged water among LAC countries is given in Fig. 4. The use of wastewater as a source of recharge is being used in these two countries that either have physical water scarcity or are approaching water scarcity (Fig. 1).
The final use of the recharged water in LAC is shown in Fig. 5. MAR is mostly applied in LAC to recover water for agricultural purposes (>50% of the case studies) followed by domestic and ecological uses. Industrial use of the recharged water is only reported in Colombia (Escobar Correa et al. 2011; Jaramillo Uribe 2015).
These statistics are strongly influenced by Brazil, where in-channel modifications account for 64% of the MAR cases. For the other nine LAC countries (without Brazil) the leading MAR techniques are spreading methods and well, shaft and borehole recharge with more than one-quarter of the case studies (28 and 26%, respectively), followed by in-channel modifications representing 19% of the total reported MAR schemes. The main objective without Brazil is still to maximize the natural storage, but it represents only one-third (35%) of the reported cases, closely followed by the physical management of the aquifer (30%). The source for recharge percentages also changes with the exclusion of Brazil, but storm water (60%) and river water (30%) are still the main reported source of recharge. Without Brazil, the dominant final use of the recovered water is domestic.
A 'MAR per population index' is proposed to facilitate comparison between countries. This is calculated by dividing the reported MAR cases by the country population, i.e., cases per million inhabitants. The total volume of recharged and recovered water would be an optimal index but the available information in this matter is scarce in the MAR projects reported in LAC and could only be estimated for Mexico (2.7 m3 per capita). The 'MAR per population index' (Fig. 6) is a first effort to produce a common base to compare the application of MAR between countries. Cuba and Chile have the highest index in LAC, both >0.5. These are followed by Brazil, Paraguay and Costa Rica, all with an index >0.4. Brazil still appears as one of the main participants in the region in respect of application of MAR schemes, but other countries are now appearing when the population is taken into account. Bolivia, Costa Rica and Paraguay are among these countries, but they only have one reported MAR technique—runoff harvesting, induced bank filtration and spreading methods, respectively. Note that Fig. 6 refers to the reporting of MAR cases, not to the relative magnitude or importance of MAR in LAC countries.
Discussion
For better readability, the discussion is split into specific topics—a comparison with other regions of the world (the LAC MAR database in the global MAR inventory context), freely available information on LAC MAR projects, MAR guidelines in various countries, and the opportunities for MAR in LAC.
Conclusions
MAR technologies are reported as being applied in ten of the LAC countries. The percentage of reported MAR schemes in LAC regarding the Global MAR inventory (12%) is relatively similar to the percentage of the LAC global population (9%). Cuba and Chile are the countries with the highest MAR-per-population index in the region (>0.5 MAR cases reported per million inhabitants), followed by Brazil, Paraguay and Costa Rica.
The best estimate of total annual volume of MAR from reported sites is 340 Mm3, where 311 Mm3 have been reported and 30 Mm3 are roughly estimated, considering the type and likely scale of the project.
The concentration on only two types of MAR techniques (spreading methods and in-channel modifications) among the reported cases and the record of few attempts with other MAR types (in pilot projects) suggests that the other possibilities may have a future in the region.
This synthesis of the MAR schemes in LAC improves the dissemination of the local experiences in the region to an international audience. This will expand the comprehension of the opportunities and limitations of distinct MAR techniques in LAC and the world. The application of MAR is expected to increase in the coming years to overcome global change challenges in the region—three countries in LAC already have guidelines or regulations for MAR projects (Colombia, Chile and Mexico).
Notes
Acknowledgements
This work was partly funded by the Programa de Innovación y Capital Humano para la Competitividad (PINN) of Costa Rica through a fellowship grant provided to José Pablo Bonilla Valverde, by the German Academic Exchange Service (DAAD) through a fellowship grant provided to Eduardo Bernardo da Silva and Hugo Pivaral Vivar and by the German Federal Ministry of Education and Research through a research grant provided to the Junior Research Group INOWAS, project no. 01LN1311A. The authors would like to thank the reviewers and the editor for the suggestions made to improve the manuscript.
Author contributions
Catalin Stefan conceived and designed the methodology and provided final corrections. José Pablo Bonilla Valverde collected and analyzed the results and wrote the first draft of the paper. Eduardo Bernardo da Silva collected and analyzed the data from Brazil and Hugo Leonel Pivaral Vivar collected and analyzed the data from the rest of the Latin American countries. Adriana Palma collected and analyzed the data from Mexico and provided feedback on the written manuscript.
Conflict of interest
The founding sponsors had no role in the design of the study; in the collection, analyses, or interpretation of data; in the writing of the manuscript, and in the decision to publish the results.
Copyright information
© Springer International Publishing AG, part of Springer Nature 2018