Abstract
In the discourse of the lopsided development trajectory of Gujarat in which social development could not keep pace with economic development, poor child nutritional status shares a significant space. The level of child undernutrition remains higher, and its over-time decline has been slower as compared to the economically similar ranked states. Following this on, this study aims to unravel the underlying causes of poor nutritional status by examining its socio-economic, inter-district and regional disparities using data from the NFHS-1 (1992–93) and NFHS-4 (2015–2016). As analysis suggests, the underlying causes appear to be wide and persistent socio-economic and inter-district inequalities in the level of child undernutrition and inter-district variation in the magnitude of socio-economic inequalities of child undernutrition resulting from possible differentials in resource endowment across the districts of Gujarat. The paper concludes by suggesting a need of programme and policy assessment to check its effectiveness, formulate an equity-based fund devaluation system and initiate an intervention programme for children those who are socio-economically deprived.
Access options
Buy single article
Instant access to the full article PDF.
US$ 39.95
Tax calculation will be finalised during checkout.
Subscribe to journal
Immediate online access to all issues from 2019. Subscription will auto renew annually.
US$ 79
Tax calculation will be finalised during checkout.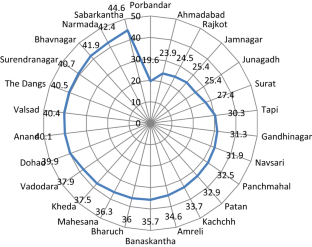 References
Akhtar S (2016) Malnutrition in South Asia—A critical reappraisal. Crit Rev Food SciNutr 56(14):2320–2330. https://doi.org/10.1080/10408398.2013.832143

Baxi H (2019) Social expenditure and human development in Gujarat. Econ PolitWkly 54(14):58–64

Betancourt TS, Shaahinfar A, Kellner SE, Dhavan N, Williams TP (2013) A qualitative case study of child protection issues in the Indian construction industry: investigating the security, health, and interrelated rights of migrant families. BMC Public Health 13(1):858

Census of India (2001, 2011) Registrar of census, Census of India 2011. www.censusindia.gov.in

Chalasani S, Rutstein S (2014) Household wealth and child health in India. Popul Stud 68(1):15–41

Chatterjee K, Sinha RK, Kundu AK et al (2016) Social determinants of inequities in under-nutrition (weight-for-age) among under-5 children: a cross sectional study in Gumla district of Jharkhand, India. Int J Equity Health 15(1):104. https://doi.org/10.1186/s12939-016-0392-y

Choudhary N, Parthasarathy D (2009) Is migration status a determinant of urban nutrition insecurity? Empirical evidence from Mumbai city. J BiosocSci 41(3):583–605

Dibley MJ, Goldsby JB, Staehling NW, Trowbridge FL (1987) Development of normalized curves for the international growth reference: historical and technical considerations. Am J ClinNutr 46(5):736–748

DTE staff (2017) Poor social indicators must make Gujarat rethink its growth model. Down to Earth, December 18

Ellaway A, Macintyre S (2000) Social capital and self-rated health: support for a contextual mechanism. Am J Public Health 90(6):988

Ellen IG, Mijanovich T, Dillman KN (2001) Neighborhood effects on health: exploring the links and assessing the evidence. J Urban Aff 23(3–4):391–408

Fenske N, Burns J, Hothorn T, Rehfuess EA (2013) Understanding child stunting in India: a comprehensive analysis of socio-economic, nutritional and environmental determinants using additive quantile regression. PLoS ONE 8(11):e78692. https://doi.org/10.1371/journal.pone.0078692

Fotso JC, Ezeh A, Madise N, Ciera J (2007) Progress towards the child mortality millennium development goal in urban sub-Saharan Africa: the dynamics of population growth, immunization, and access to clean water. BMC Public Health 7:218. https://doi.org/10.1186/1471-2458-7-218

Frost MB, Forste R, Haas DW (2005) Maternal education and child nutritional status in Bolivia: finding the links. SocSci Med 60(2):395–407

Ghatak M (2017) Gujarat model: the gleam of state's high growth numbers hides dark reality of poverty, inequality. Scroll.in, October 25

Ghosh S (2012) An analysis of state of education in Gujarat. In: Sood A (ed) Poverty amidst prosperity: essays on the trajectory of development in Gujarat. Aakar Books, New Delhi, pp 180–198

GoG (2020) Directorate of economics and statistics, government of Gujarat, Gandhinagar. https://gujecostat.gujarat.gov.in/sites/default/files/SER-2019-20_ENG.pdf. Accessed 12 May 2020

Headey DD (2013) Developmental drivers of nutritional change: a cross-country analysis. World Dev 42:76–88

Imai KS, Annim SK, Kulkarni VS, Gaiha R (2014) Women's empowerment and prevalence of stunted and underweight children in rural India. World Dev 62:88–105

India State-Level Disease Burden Initiative Malnutrition Collaborator (2019) The burden of child and maternal malnutrition and trends in its indicators in the states of India: the global burden of disease study 1990–2017. Lancet Child Adolesc Health. https://doi.org/10.1016/S2352-4642(19)30273-1

International Institute for Population Sciences (IIPS) and ICF (2017) National family health survey (NFHS-4), 2015–16: India. IIPS, Mumbai

Joe W, Mishra US, Navaneethan K (2010) Socio-economic inequality in child health: recent evidence from India. Glob Public Health 5(5):493–508

Kanjilal B, Mazumdar PG, Mukherjee M et al (2010) Nutritional status of children in India: household socio-economic condition as the contextual determinant. Int J Equity Health 9:19. https://doi.org/10.1186/1475-9276-9-19

Kumar A, Kumari D, Singh A (2015) Increasing socioeconomic inequality in childhood undernutrition in urban India: trends between 1992–93, 1998–99 and 2005–06. Health Policy Plan 30(6):1003–1016

Kurian CO (2017) Gujarat: economically upfront, but far behind in health. Health Express, December 6

Mukhopadhyay S, Chakraborty A (2020) Changing wealth inequality in child nutrition in Indian states. Econ PolitWkly 55(10):45–52

Nie P, Rammohan A, Gwozdz W, Sousa-Poza A (2019) Changes in child nutrition in India: a decomposition approach. Int J Environ Res Public Health 16(10):1815. https://doi.org/10.3390/ijerph16101815

Pakhare AP, Pawar R, Lokhande GS, Datta SS (2014) Does seasonal migration for sugarcane harvesting influence routine immunization coverage? A cross-sectional study from rural Maharashtra. Indian J Public Health 58(2):116–120

Pickett KE, Pearl MJ (2001) Multilevel analysis of neighbourhood socioeconomic contact and health outcomes: a critical review. J EpidemiolCommun Health 55(2):111–122

Prusty RK, Keshri K (2015) Differentials in child nutrition and immunization among migrants and non-migrants in urban India. Int J Migr Health Soc Care 11(3):194–205

Ravindranath D, Trani JF, Iannotti L (2019) Nutrition among children of migrant construction workers in Ahmedabad, India. Int J Equity Health 18:143. https://doi.org/10.1186/s12939-019-1034-y

RBI (2019) Handbook of Statistics on Indian States. https://rbidocs.rbi.org.in/rdocs/Publications/PDFs/0HANDBOOK201819_FDF254115C6094E3CAB32A1DCDA9ADA88.PDF. Accessed 12 May 2020

Rutenberg N, Watkins C (1997) The buzz outside the clinics: conversation in Nyanza Province, Kenya. Stud Fam Plan 28(4):290–307

Rutstein S (1999) Wealth versus expenditure: comparison between the DHS wealth index and household expenditures in four departments of Guatemala. ORC Macro, Calverton, Maryland

Sazzad P (2016) A comparative study of Gujarat and Kerala developmental experiences. Int J Rural Manag 12(2):104–124

Sengupta P, Benjamin AI, Myles PR, Babu BV (2016) Evaluation of a community based intervention to improve routine childhood vaccination uptake among migrants in urban slums of Ludhiana, India. J Public Health 39(4):805–812

Shah A, Dhak B (2014) Labour migration and welfare in Gujarat: recent evidence and issues. In: Hirway I, Shah A, Shah A (eds) Growth or development: which way is Gujarat going? Oxford University Press, New Delhi, pp 301–339

Sharma S (2012) Rich state with poor health: disappointing status of public health in Gujarat. In: Sood A (ed) Poverty amidst prosperity: essays on the trajectory of development in Gujarat. Aakar Books, India, pp 199–213

Snijders TAB, Boske RJ (1999) Multilevel analysis: an introduction to basic and advanced multilevel modeling. Sage Publications, New Delhi

Subramanian SV, Lochner K, Kawachi I (2003) Neighborhood differences in social capital: a compositional artifact or a contextual construct. Health Place 9(1):33–44

Suryanarayana MH, Agrawal A, Prabhu KS (2016) Inequality-adjusted human development index: states in India. Indian J Hum Dev 10(2):157–175

Thorat S, Sadana N (2009) Discrimination and children's nutritional status in India. IDS Bull 40(4):25–29

WHO (2006) WHO child growth standards: length/height-for-age, weight-for-age, weight-for-length, weight-for-height and body mass index-for-age: methods and development. World Health Organization, Geneva
Additional information
Publisher's Note
Springer Nature remains neutral with regard to jurisdictional claims in published maps and institutional affiliations.
About this article
Cite this article
Dhak, B. Socio-economic inequalities of child undernutrition in Gujarat: over-time change and inter-district disparities. J. Soc. Econ. Dev. (2021). https://doi.org/10.1007/s40847-020-00130-0
Keywords
Socio-economic inequality

Inter-district variation

Child stunting

Gujarat