Abstract
The present paper aims: on the one hand, to investigate the impact of public service delivery, corruption and inequality on North African migration to developed countries; and on the other hand, to zoom in on the role of education and good governance in mitigating migration flows from North African countries (Algeria, Egypt, Morocco, and Tunisia) over the period 1996–2015, by using pooled OLS regression, fixed-effect and random effect models. The main findings indicate that higher inequality is expected to stimulate migration from North Africa to the developed world. The results also show that enhancing government effectiveness and widening access to good-quality basic services negatively influence North African people's migration decisions. In fact, rampant inequality and failure to scale up public service delivery bring about a worsening of living conditions and serve as repellent factors in North African sending countries. Furthermore, political stability and control of corruption tend to negatively affect North African migration to developed countries. To sum up, enhancing North African countries' governance capabilities, alleviating inequality, ensuring broad access to high-quality public services, and cracking down on corruption, will undoubtedly bring tangible benefits, open up more opportunities for people and reduce incentives for migration.
This is a preview of subscription content, log in to check access.
Access options
Buy single article
Instant access to the full article PDF.
US$ 39.95
Price includes VAT for USA
Subscribe to journal
Immediate online access to all issues from 2019. Subscription will auto renew annually.
US$ 99
This is the net price. Taxes to be calculated in checkout.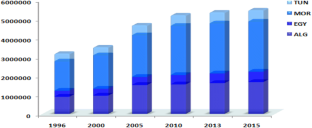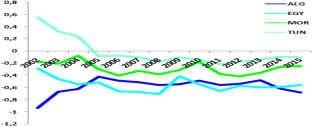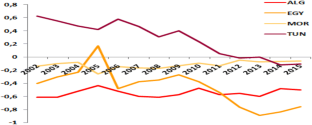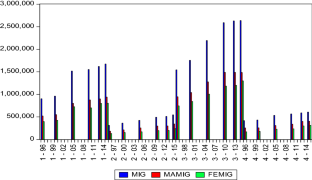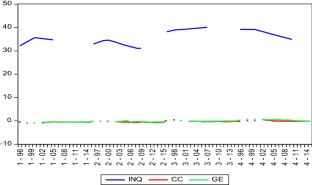 References
Adepoju A (2008) Migration and social policy in sub-Saharan Africa. UNRISD, Berlin

Allison PD (2005) Fixed effects regression methods for longitudinal data using SAS. SAS Institute, Cary

Andrei T, Matei A, Roșca IG (2009) The corruption: an economic and social analysis. Editura Economica, Bucharest

Arellano M, Bond S (1991) Some tests of specification for panel data: Monte Carlo evidence and an application to employment equations. Rev Econ Stud 58(2):277–297

Arellano M, Bover O (1995) Another look at the instrumental-variable estimation of error-components models. J Econom 68(1):29–51

Baltagi BH (2005) Econometric analysis of panel data, 3rd edn. Wiley, Chichester

Basel S, Gopakumar KU, Rao RP (2020) Broad-based index for measurement of development. J Soc Econ Dev 2020:1–25

Baum CF (2006) An introduction to modern econometrics using stata. Stata Press, College Station

Beine MA, Docquier F, Schiff M (2008) "Brain drain and its determinants: a major issue for small states", IZA discussion paper, no 3398. Institute for the Study of Labor (IZA), Bonn

Belhaj Hassine N (2015) Economic inequality in the Arab region. World Dev 66(1):532–556

Black R, Natali C, Skinner J (2005) "Migration and inequality", equity and development. World Development Report 2006, Background Papers, Development Research Centre on Migration, University of Sussex

Blundell R, Bond S (1998) Initial conditions and moment restrictions in dynamic panel data models. J Econom 87(1):115–143

Bowles S (2006) Institutional poverty traps. In: Bowles S, Durlauf SN, Hoff K (eds) Poverty trap. Princeton University Press, Princeton, pp 116–138

Brixi HP, Lust E, Woolcock MJV (2015) Trust, voice, and incentives: learning from local success stories in service delivery in the middle east and North Africa. World Bank Group, Washington, DC

Brooks C (2008) Introductory econometrics for finance, 2nd edn. Cambridge University Press, Cambridge

Chong A, Gradstein M (2004) Inequality and institutions. Research department working papers 506. Inter-American Development Bank, Washington, DC

De Haas H (2011) Mediterranean migration futures: patterns, drivers and scenarios. Glob Environ Change 21:S59–S69

Department of International Development (DFID) (2007) Moving out of poverty-making migration work better for poor people. DFID, London

Devarajan S, Mottaghi L (2015) MENA economic monitor: towards a new social contract. Middle East and North Africa (MENA) economic monitor. World Bank, Washington, DC

Devarajan S, Mottaghi L (2016) The economic effects of war and peace. MENA Quarterly Economic Brief. World Bank, Washington, DC

Deyshappriya NR (2015) Do corruption and peace affect economic growth? Evidences from the cross-country analysis. J Soc Econ Dev 17(2):135–147

DiPrete TA, Goux D, Maurin E, Quesnel-Vallee A (2006) Work and pay in flexible and regulated labor markets: a generalized perspective on institutional evolution and inequality trends in Europe and the US. Res Soc Stratif Mob 24(1):311–332

Dustmann C, Glitz A (2011) Migration and education. In: Hanushek EA, Machin S, Woessmann L (eds) Handbook of the economics of education, vol 4. Elsevier, Amsterdam, pp 183–282

El-Kogali S, Krafft C (2015) Expanding opportunities for the next generation: Early childhood development in the middle east and North Africa. World Bank, Washington, DC

El-Said H (2015) Aid the political economy of aid in North Africa. In: Monga IC, Lin JY (eds) The Oxford handbook of Africa and economics: policies and practices, vol 2. Oxford University Press, Oxford, pp 680–697

Faath S, Mattes H (2014) Political conflicts and migration in the MENA states. In: Bommes M, Fassmann H, Sievers W (eds) Migration from the middle east and North Africa to Europe. Amsterdam University Press, Amsterdam, pp 159–190

Fargues P, Fandrich C (2012) "Migration after the Arab Spring", Migration policy centre research report, 2012/09. European University Institute, RSCAS, Florence

Ferrant G, Tuccio M (2015) South–South migration and discrimination against women in social institutions: a two-way relationship. World Dev 72:240–254

Foreign and Commonwealth Office (FCO) (2004) Annual human rights report, 2004. Stationery Office, London

Furceri D, Mazraani S, Versailles B (2013) "Morocco: selected issues"; IMF country report 13/110; May 2013, technical report 13. International Monetary Fund, Washington, DC

Gallup (2015) Gallup world poll—law and order index. www.gallup.com/poll/105226/world-poll-methodology.aspx. Accessed 14 Jan 2017

Gartenstein-Ross D, Barr N, Willcoxon G, Basuni N (2015) The Crisis in North Africa: implications for Europe and options for EU. Policymakers. Clingendael report, Netherlands Institute of International Relations, Apr 2015, pp 1–90

Giulietti C, Wahba J (2013) Welfare migration. In: Zimmermann KF, Constant AF (eds) International handbook on the economics of migration. Edward Elgar, Cheltenham

Gradstein M (2007) Inequality, democracy and the protection of property rights. Econ J 117(516):252–269

Grove NJ, Zwi AB (2006) Our health and theirs: forced migration, othering, and public health. Soc Sci Med 62:1931–1942

Hanushek EA, Woessmann L (2010) Education and economic growth. In: Brewer DJ, McEwan PJ (eds) Economics of education. Elsevier, Amsterdam

Hones DF, Cheng L, Baek J (2016) Transnational English: dialogue and solidarity among teachers. In: Jean-Francois E, Avoseh MBM, Griswold W (eds) Perspectives in transnational higher education. Sense Publishers, Rotterdam, pp 127–140

Hsiao C (2003) Analysis of panel data, 2nd edn. Cambridge University Press, Cambridge

Ibáñez AM, Vélez CE (2008) Civil conflict and forced migration: the micro determinants and welfare losses of displacement in Colombia. World Dev 36(4):659–676

Jayachandran S (2015) Governance challenges in education and health care in developing countries. In: Asefa S, Huang WC (eds) The political economy of good governance. W.E. Upjohn Institute for Employment Research, Kalamazoo, pp 93–110

Johnson E, Martini M (2012) Corruption trends in the middle east and North Africa Region (2007–2011): U4 expert answer. Transparency International, Berlin

Kanyeihamba GW (2006) Kanyeihamba's commentaries on law, politics and governance. LawAfrica, Kampala

Kaufmann D, Kraay A, Mastruzzi M (2007) Governance matters VI: aggregate and individual governance indicators 1996–2006. World Bank, Washington, DC, pp 1–93

Lanchovichina E (2017) Eruptions of popular anger: the economics of the Arab Spring and its aftermath. The World Bank, Washington, DC

Lucas RE (1997) Internal migration in developing countries. In: Rosenzweig M, Stark O (eds) Handbook of population and family economics, vol 1B. Elsevier, Amsterdam

Maki A (2011) Introduction to estimating economic models. Routledge advanced texts in economics and finance, series no. 14. Routledge, London

Marrero GA, Rodríguez JG (2013) Inequality of opportunity and growth. J Dev Econ 104(1):107–122

Mphande FA (2016) Infectious diseases and rural livelihood in developing countries. Springer, Singapore

OECD (1994) Employment outlook. OECD, Paris

OECD (2005) OECD annual report 2005. OECD, Paris

Park D (2015) Summary of key findings and main policy recommendations and concluding observations. In: Park D, Lee S-H, Lee M (eds) Inequality, inclusive growth, and fiscal policy in Asia. Routledge, Oxon, pp 276–288

Persson T, Tabellini GE (2000) Political economics: explaining economic policy. MIT Press, Cambridge

Rontos K, Syrmali ME, Vavouras I (2015) Economic, political and social determinants of governance worldwide. J Soc Econ Dev 17(2):105–119

Rowlands D (1999) Domestic governance and international migration. World Dev 27(8):1477–1491

Salih MARM (2014) Economic development and political action in the Arab world. Routledge, New York

Solt F (2014) The standardized world income inequality database. Working Paper, SWIID Version 5.0, October 2014. Available at: https://fsolt.org/swiid/. Accessed 20 Feb 2020

Seguino S (2000) Gender inequality and economic growth: a cross-country analysis. World Dev 28(7):1211–1230

Shafique S, Haq R (2006) Governance and income inequality. Pak Dev Rev 45(4):751–760

Shelley LI (2014) Dirty entanglements: corruption, crime, and terrorism. Cambridge University Press, New York

Simplice A (2015) Determinants of health professionals' migration in Africa: a WHO based assessment. Int J Soc Econ 42(7):666–686

Smith MD, Floro MS (2020) Food insecurity, gender, and international migration in low-and middle-income countries. Food Policy 91:101837

Sousa R (2011) Resource curse, globalization and conflicts. In: House-Soremekun B, Falola T (eds) Globalization and sustainable development in Africa. University of Rochester Press, Rochester, pp 354–377

Stark O (2006) Inequality and migration: a behavioral link. Econ Lett 91(1):146–152

Stark O, Micevska M, Mycielski J (2009) Relative poverty as a determinant of migration: evidence from Poland. Econ Lett 103(3):119–122

Sumkoski G (2018) Regulation and social capital. J Soc Econ Dev 20(1):152–173

Thomas V, Dailami M, Dhareshwar A, Kaufmann D, Kishor N, Lopez R, Wang Y (2000) The quality of growth. Oxford University Press/World Bank, Oxford/Washington, DC

Tiliouine H, Estes RJ (2016) Social development in North African Countries: achievements and current challenges. In: Tiliouine H, Estes RJ (eds) The state of social progress in islamic societies: social, economic, political, and ideological challenges. Springer, Cham, pp 109–136

Transparency International (2009) Corruption perceptions index 2009: regional highlights: Middle East and North Africa. Transparency International, Berlin

Transparency International (2015) Corruption perceptions index 2015. Retrieved January 14, 2017 from https://www.transparency.org/cpi2015/results

UN-Habitat (2008) The state of African cities 2008: a framework for addressing urban challenges in Africa. Nairobi: United Nations Human Settlements Programme (UN-Habitat)

United Nations Research Institute for Social Development (UNRISD) (2010) Combating poverty and inequality: structural change, social policy and politics. UNRISD, Geneva

Wooldridge J (2002) Econometric analysis of cross section and panel data. MIT Press, Cambridge

World Bank (2010) Labor migration from North Africa: development impact, challenges and policy options, vol 2, Main report, middle east and North Africa region, vol 2. World Bank, Washington, DC

World Bank (2011) "Poor places, thriving people: how the middle East and North Africa can rise above spatial disparities", MENA development report. The World Bank, Washington, DC

World Health Organization (WHO) (2016) World health statistics 2016: monitoring health for the SDGs. http://www.who.int/gho/publications/world_health_statistics/2016/en/

Zafarullah H, Huque AS (2006) understanding development governance: concepts, institutions, and processes. In: Huque AS, Zafarullah H (eds) International development governance. CRC Press, New York, pp 13–50
Acknowledgements
The author would like to express her sincere appreciation and thanks to the Editor T.S. Syamala and anonymous referees for their helpful comments and suggestions that have greatly helped to improve the paper.
Funding
The author has no funding to report
Ethics declarations
Conflict of interest
The author declares that she has no conflict of interest.
Additional information
Publisher's Note
Springer Nature remains neutral with regard to jurisdictional claims in published maps and institutional affiliations.
About this article
Cite this article
Matallah, S. Public service delivery, corruption and inequality: key factors driving migration from North Africa to the developed world. J. Soc. Econ. Dev. (2020). https://doi.org/10.1007/s40847-020-00101-5
Keywords
Migration

Public service delivery

Inequality

Governance

North Africa
JEL Classification