Abstract
Introduction
In this study, ultrasound measurement was used to reveal objective differences between male and female patients in arm burn scar thickness.
Methods
An experienced physician trained by radiologists used an ultrasound machine and a digital height and weight scale to measure normal skin and scar thicknesses and patients' body mass indices (BMIs). On the day of testing, the pressure garments (PGs) on the patients' arms were removed.
Results
Bonferroni 95% confidence intervals for scar thicknesses measured in female and male patients were 0.135 to 0.212 cm and 0.045 to 0.113 cm, respectively; the individual confidence level was 97.5%. For both groups, a P value of < .05 was obtained for the multiple comparison and Levene tests. The test for equal variances for both groups resulted in no overlapping intervals and significantly different corresponding standard deviations. Thus, scar thicknesses differed between male and female patients using 24-mmHg PGs. The scar tissue of female patients was thicker than that of male patients. We also observed that patients with a high BMI (22.4–23.8) had smaller mean scar thicknesses.
Conclusion
Patients with a high BMI had smaller mean scar thickness. Although these findings are notable, the same pressure was applied to different body types and body parts; the height of the scars also varied across different areas of patients' bodies. We hope to recruit more patients with burns on other parts of the body to extend our findings.
Access options
Buy single article
Instant access to the full article PDF.
US$ 39.95
Tax calculation will be finalised during checkout.
Subscribe to journal
Immediate online access to all issues from 2019. Subscription will auto renew annually.
US$ 79
Tax calculation will be finalised during checkout.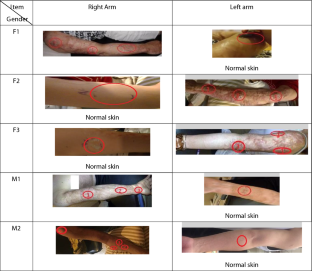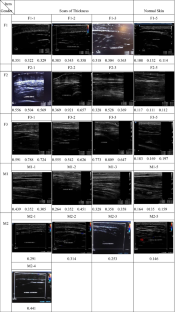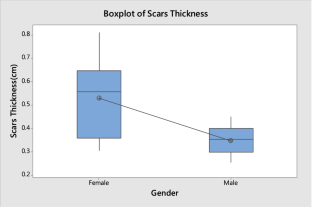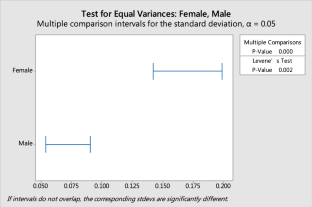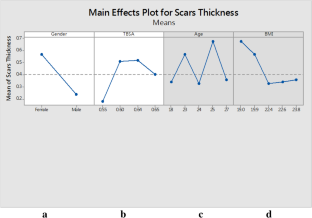 References
1.

Stan Monstrey, H. H., Verbelen, J., Pirayesh, A., & Blondeel, P. (2008). Assessment of burn depth and burn wound healing potential. Burns, 34(6), 761–769.

2.

Li, P., et al. (2018). The recovery of post-burn hypertrophic scar in a monitored pressure therapy intervention programme and the timing of intervention. Burns, 44(6), 1451–1467.

3.

Zhang, N., et al. (2020). Modulating cationicity of chitosan hydrogel to prevent hypertrophic scar formation during wound healing. International Journal of Biological Macromolecules, 154, 835–843.

4.

Cheng, W., et al. (2001). Ultrasound assessment of scald scars in Asian children receiving pressure garment therapy. Journal of Pediatric Surgery, 36(3), 466–469.

5.

Candy, L. H. Y., Cecilia, L.-T.W.P., & Ping, Z. Y. (2010). Effect of different pressure magnitudes on hypertrophic scar in a Chinese population. Burns, 36(8), 1234–1241.

6.

Atiyeh, B. S., El Khatib, A. M., & Dibo, S. A. (2013). Pressure garment therapy (PGT) of burn scars: evidence-based efficacy. Annals of Burns and Fire Disasters, 26(4), 205–212.

7.

Bayat, A., et al. (2005). Keloid disease: Clinical relevance of single versus multiple site scars. British Journal of Plastic Surgery, 58(1), 28–37.

8.

Chin, G. A., & Mast, B. A. (2006). Hypertrophic scars and keloids. Current therapy in plastic surgery (pp. 60–65). Philadelphia: WB Saunders.

9.

Gauglitz, G. G., et al. (2011). Hypertrophic scarring and keloids: Pathomechanisms and current and emerging treatment strategies. Molecular Medicine, 17(1–2), 113–125.

10.

Dunne, J. A., & Rawlins, J. M. (2014). Management of burns. Surgery (Oxford), 32(9), 477–484.

11.

Rowan, M. P., et al. (2015). Burn wound healing and treatment: Review and advancements. Critical Care, 19, 1–12.

12.

Linares, M. A. (1996). From wound to scar. Burns, 22, 339–352.

13.

Van den Kerckhove, E. S., Fieuws, K., Laperre, S., Massage, J., Flour, P., & Boeckx, W. M. (2005). The assessment of erythema and thickness on burn related scars during pressure garment therapy as a preventive measure for hypertrophic scarring. Burns, 31(6), 696–702.

14.

Wang, X. Q., et al. (2010). Ultrasound assessed thickness of burn scars in association with laser Doppler imaging determined depth of burns in paediatric patients. Burns, 36(8), 1254–1262.

15.

Li-Tsang, C. W., et al. (2015). A histological study on the effect of pressure therapy on the activities of myofibroblasts and keratinocytes in hypertrophic scar tissues after burn. Burns, 41(5), 1008–1016.

16.

Lai, C. H., & Li-Tsang, C. W. (2009). Validation of the Pliance X System in measuring interface pressure generated by pressure garment. Burns, 35(6), 845–851.

17.

Monstrey, S., Middelkoop, E., Vranckx, J. J., Bassetto, F., Ziegler, U. E., Meaume, S., & Téot, L. (2014). Updated scar management practical guidelines: Non-invasive and invasive measures. Journal of Plastic, Reconstructive & Aesthetic Surgery, 67(8), 1017–1025.

18.

Macintyre, L. (2007). Designing pressure garments capable of exerting specific pressures on limbs. Burns, 33(5), 579–586.

19.

Feng, B., et al. (2013). Are "smart pressure monitored suits" "smarter" than conventional garments in clinical applications? Hong Kong Journal of Occupational Therapy, 23(2), 82–88.

20.

Huang, P.-W., & Lu, C.-W. (2017). Effectiveness of fitting pressure garments for minor and moderate burn patients. In 2017 4th International Conference on Biomedical and Bioinformatics Engineering (ICBBE 2017) Seoul, Korea (pp 14–19)

21.

Anna, I. A., Gauglitz, G. G., Juan, P. B., & Marc, G. J. (2014). Up-to-date approach to manage keloids and hypertrophic scars: A useful guide. Burns, 40(7), 1255–1266.

22.

Maenthaisong, R., et al. (2007). The efficacy of aloe vera used for burn wound healing: A systematic review. Burns, 33(6), 713–718.

23.

Mieke Anthonissen, D. D., Thais, J., & Van den Kerckhove, E. (2016). The effects of conservative treatments on burn scars: A systematic review. Burns, 42(3), 508–518.

24.

Mlosek, R. K., & Malinowska, S. (2013). Ultrasound image of the skin, apparatus and imaging basics. Journal of ultrasonography, 13, 212–221.

25.

Gee Kee, E. L., et al. (2016). Scar outcome of children with partial thickness burns: A 3 and 6 month follow up. Burns, 42(1), 97–103.

26.

Hartshorne, T. C., McCollum, C. N., Earnshaw, J. J., Morris, J., & Nasim, A. (2011). Ultrasound measurement of aortic diameter in a national screening programme. European Journal of Vascular and Endovascular Surgery, 42(2), 195–199.

27.

Macintyre, L., & Baird, M. (2006). Pressure garments for use in the treatment of hypertrophic scars—A review of the problems associated with their use. Burns, 32(1), 10–15.

28.

Ripper, S., et al. (2009). Adherence to pressure garment therapy in adult burn patients. Burns, 35(5), 657–664.

29.

Leung, W. Y., et al. (2010). Pressure prediction model for compression garment design. Journal of Burn Care & Research, 31(5), 716–727.

30.

Parbhoo, A., Louw, Q. A., & Grimmer-Somers, K. (2010). Burn prevention programs for children in developing countries require urgent attention: A targeted literature review. Burns, 36(2), 164–175.

31.

Derraik, J. G., et al. (2014). Effects of age, gender, BMI, and anatomical site on skin thickness in children and adults with diabetes. PLoS ONE, 9(1), 1–6.

32.

Sandby-Moller, J., Poulsen, T., & Wulf, H. C. (2003). Epidermal thickness at different body sites: Relationship to age, gender, pigmentation, blood content, skin type and smoking habits. Acta Dermato Venereologica, 83(6), 410–413.

33.

Petro, J. A., & Salisbury, R. E. (1986). Rehabilitation of the burn patient. Clinics in Plastic Surgery, 13(1), 145–149.
Acknowledgements
We express our deep appreciation to Dr. Shiow-Shuh Chuang of the Department of Plastic and Reconstructive Surgery, Chang Gung Memorial Hospital, Linkou; Dr. Katie Pei- Hsuan Wu of the Department of Physical Medicine and Rehabilitation, Chang Gung Memorial Hospital, Linkou & Taoyuan; and Prof. Shyi-Gen Chen, M.D., MPh, of the National Defense Medical Center Tri-Service General Hospital for providing the instrumentation and their expertise. We also thank the participants.
Ethics declarations
Conflict of interest
The authors have no conflict of interest to declare.
Ethical Approval
The study was approved by Institutional Review Board of Jen-Ai Hospital, Taichung, Taiwan (Number: IRB 108–30).
Additional information
Publisher's Note
Springer Nature remains neutral with regard to jurisdictional claims in published maps and institutional affiliations.
About this article
Cite this article
Huang, PW., Lu, CW., Chu, KT. et al. Assessing Thickness of Burn Scars Through Ultrasound Measurement for Patients with Arm Burns. J. Med. Biol. Eng. (2021). https://doi.org/10.1007/s40846-020-00592-x
Received:

Accepted:

Published:
Keywords
Pressure garments

Scar

Patients with burns

Ultrasound

High body mass index