Abstract
Community currencies (CCs) are considered one of the tools used to energize and stimulate the economy and foster sustainable development. This sustainability was formed by iterating non-commercial (e.g., volunteer activities) and subsequent commercial transactions through using the earned CCs from non-commercial transactions in commercial transactions. While many studies have tried to assess the actual impact of these currencies, stagnation in CCs still has not been solved effectively. This paper aims to reduce stagnation by proposing a concept of "customized community" to accelerate the circulation of CCs by creating a market that fits the needs of members within the community. This market is created by giving a "preference" to people who would like to join the community by giving a bonus premium amount to add to the initial purchase of CC with money. The selection of the "preferred" people is based on personal factors (e.g. gender, product category etc.) of members who were frequently and actively involved in the CC transactions. Our main findings suggest that this concept can reduce the stagnation in CCs significantly from 15% to 3%. This customization has been examined by creating a random network model of 100 people and using computer simulation to analyze transactions.
This is a preview of subscription content, log in to check access.
Access options
Buy single article
Instant access to the full article PDF.
US$ 39.95
Price includes VAT for USA
Subscribe to journal
Immediate online access to all issues from 2019. Subscription will auto renew annually.
US$ 99
This is the net price. Taxes to be calculated in checkout.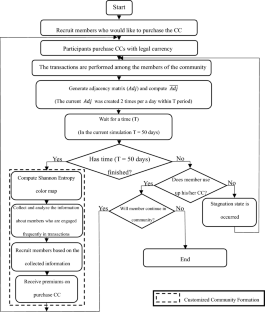 References
Arnaud M, Marek H (2015) Community currencies and sustainable development: a systematic review. Ecol Econ 116:160–171

Bakos Y, Marotta-Wurgler F, Trossen DR (2009) Does anyone read the fine print? Testing a law and economics approach to standard form contracts. In: Testing a law and economics approach to standard form contracts (October 6, 2009). CELS 2009 4th annual conference on empirical legal studies paper: 09–40

Kato T (2001) The new millennium of eco money (in Japanese). Keiso Shobo, Tokyo

Kichiji N, Nishibe M (2008) Network analysis of the circulation flow of community currency. Evolut Inst Econ Rev 4(2):267–300

Kichiji N, Nishibe M (2012) A comparisons in transaction efficiency between dispersive and concentrated money creation. Int J Commun Curr Res 16:49–57

McDonald AM, Cranor LF (2008) Cost of reading privacy policies. ISJLP 4:543

Nishibe M (2004) Chiiki Tuka No Susume (in Japanese). Hokkaido Shokoukai Rengou

Plaut VC, Bartlett RP III (2012) Blind consent? A social psychological investigation of non-readership of click-through agreements. Law Hum Behav 36(4):293
Acknowledgments
We would like to express our appreciation and gratitude to Andrew WINSINGER for his English proofreading and editing support.
Ethics declarations
Conflict of interest
This research was performed based on a mutual research collaboration between Global Communication Planning Co. Ltd. and Good Money Lab in Senshu University.
Additional information
Publisher's Note
Springer Nature remains neutral with regard to jurisdictional claims in published maps and institutional affiliations.
About this article
Cite this article
Alaraj, M., Nishibe, M. Stimulate currency circulation in the currency community by creating a customized community. Evolut Inst Econ Rev (2020). https://doi.org/10.1007/s40844-020-00181-2
Keywords
Computational economics

Network analysis

Customized community

Currency stagnation

Entropy