Abstract
Based on primary data, the present study analyzes the gender income gap and its compositions throughout the income distribution of the handloom micro-entrepreneurs in Assam. The unconditional quantile decomposition reveals the existence of substantial gender income gaps along the income distribution. The differences in the productive characteristics explain much of the gap at the median and beyond. The endowment effects of education, financial literacy, risk attitude, SHGs membership, and technology adoption are found in favor of the male micro-entrepreneurs. The results suggest that the extent of risk aversion towards producing high-valued dress materials and poor management of entrepreneurial activities of the females have widened gender gap, particularly at the upper quantiles of the income distribution.
This is a preview of subscription content, log in to check access.
Access options
Buy single article
Instant access to the full article PDF.
US$ 39.95
Tax calculation will be finalised during checkout.
Subscribe to journal
Immediate online access to all issues from 2019. Subscription will auto renew annually.
US$ 99
Tax calculation will be finalised during checkout.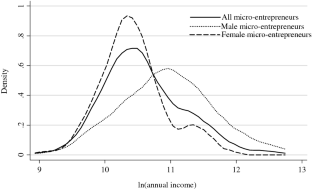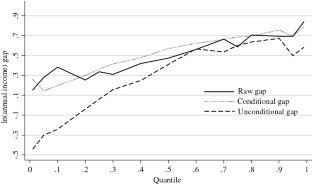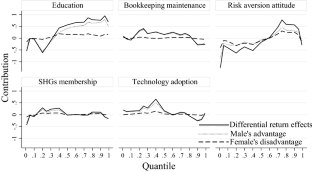 Notes
1.

Of the total female owned enterprises in India, about 48.02% are in textile and wearing apparel sector (Deshpande 2013).

2.

Data for the stratification was used from Statistical Handbook of Assam, 2010 (Directorate of Economics and Statistics 2011).

3.

An enterprise that does not exceed INR 2.5 million in terms of investment in plant and machinery is categorized as a micro-enterprise in Indian formal sector whereas the informal entrepreneurship covers all the enterprises which are not registered and are within the definitions for the formal sector (MoMSME 2017). As the present study concerns with informal sector and a low capital intensive industry, the operational definition of handloom micro-enterprise is derived based on a few earlier studies (Honig 1998; Hazarika et al. 2016).

4.

5.

6.

For a review of these methods, please see Fortin et al. (2011).

7.

Often technology adoption appears to be endogenous variable in income model. Following the literature, the endogeneity of the access to technology was examined considering 'technological awareness' and 'access to extension services' as instruments for weaving machinery adoption. However, no evidence of endogeneity of technology adoption is observed for the present sample (results are not presented, available upon request).

8.

ARTFED and BRAWFED are the two apex cooperative societies looking after the handloom cooperative activities in the State which are currently facing some structural challenges including shortage of working capital.

9.

The two-sample Kolmogorov–Smirnov test compares the observed cumulative distribution function for a variable with a specified theoretical distribution, which may be normal, uniform, Poisson, or exponential. The Kolmogorov–Smirnov Z-statistic is computed from the largest difference (in absolute value) between the empirical and theoretical cumulative distribution functions. It gives the goodness-of-fit test about the observations for a specified distribution.

10.

It should be noted that though the recommendations of Gardeazable and Ugidos (2004) are followed in the present study to tackle the omitted category problem for categorical variables, the discriminatory coefficients of the determinants other than the continuous are somewhat arbitrary (Jann 2008; Magnani and Zhu 2012).

11.

In order to overcome the problem of omitted category in detailed decomposition for categorical variables, the present study follows the procedure presented in Jann (2008).
References
Ahmed, S., & Maitra, P. (2015). A distributional analysis of the gender wage gap in Bangladesh. The Journal of Development Studies,51(11), 1444–1458.

Ahmed, S., & McGillivray, M. (2015). Human capital, discrimination, and the gender wage gap in Bangladesh. World Development,67, 506–524.

Álvarez G, Gradín C, Otero MS (2009). Self-employment in Spain: transition and earnings differential. Universidade de Vigo, Departamento Economía Aplicada Documento de Traballo 0907, Vigo.

Arellano, M., & Bonhomme, S. (2017). Sample selection in quantile regression: a survey. In Koenker et al. (Eds.), Handbook of quantile regression (pp. 209–224). New York: Taylor and Francis Group.

Åstebro, T., & Chen, J. (2014). The entrepreneurial earnings puzzle: mismeasurement or real? Journal Business Venturing,29, 88–105.

Becolod, M. (2016). Skills, the gender wage gap, and cities. Journal of Regional Science,57, 290–318.

Bhagavatula, S., Elfring, T., Tilburg, A. V., & Bunt, G. G. V. (2010). How social and human capital influence opportunity recognition and resource mobilization in India's handloom industry. Journal Business Venturing,25, 245–260.

Blinder, A. S. (1973). Wage discrimination: reduced form and structural estimates. Journal of Human Resource,8, 436–455.

Bortamuly, A. B., & Goswami, K. (2012). Factors influencing wage structure of the handloom workers in Assam: An assessment from gender perspective. Journal of Rural Development,31(139–150), 2012.

Bortamuly, A. B., Goswami, K., & Hazarika, B. (2013). Determinants of occupational choice of workers in handloom industry in Assam. International Journal Social Economics,40, 1041–1057.

Bortamuly, A. B., Goswami, K., Hazarika, B., & Handique, K. (2014). Do different determinants affect differently across gender and location in handloom entrepreneurship development? Journal of Small Business & Entrepreneurship,27, 427–449.

Buchinsky, M. (2001). Quantile regression with sample selection: estimating women's return to education in the US. Empirical Economics,26, 87–113.

Carter, S. (2011). The rewards of entrepreneurship: exploring the incomes, wealth, and economic well-being of entrepreneurial households. Entrepreneurship Theory and Practice,35(39–55), 2011.

Chi, W., & Li, B. (2014). Trends in China's gender employment and pay gap: estimating gender pay gaps with employment selection. Journal of Comparative Economics,42, 708–725.

Chzhen, Y., & Mumford, K. (2011). Gender gaps across the earnings distribution for full-time employees in Britain: Allowing for sample selection. Labour Economics,18, 837–844.

Cressy, R. (2006). Why do most firms die young? Small Business Economics,26(2), 103–116.

Das, P. (2012). Wage inequality in India: Decomposition by sector, gender and activity status. Economic and Political Weekly,47(50), 58–64.

Deininger, K., Jin, S., & Nagarajan, H. (2013). Wage Discrimination in India's informal labor markets: Exploring the impact of caste and gender. Review of Development Economics,17(1), 130–147.

Deshpande, A. (2013). Entrepreneurship or survival? Caste and gender of small business in India. Economic and Political Weekly,118(80), 38–49.

Deshpande, A., & Sharma, S. (2016). Disadvantage and discrimination in self-employment: caste gaps in earnings in Indian small businesses. Small Business Economics,46, 325–346.

Directorate of Economics and Statistics. (2011). Statistical Handbook of Assam 2010. Guwahati: Government of Assam.

Fairlie, R. W., & Robb, A. M. (2009). Gender differences in business performance: evidence from the characteristics of business owners survey. Small Business Economics,33, 375–395.

Firpo, S., Fortin, N., & Lemieux, T. (2009). Unconditional quantile regressions. Econometrica,77, 953–973.

Fortin, N. (2008). The gender wage gap among young adults in the United States: The importance of money versus people. Journal of Human Resources,43, 886–929.

Fortin, N., Lemieux, T., & Firpo, S. (2011). Decomposition methods in economics. In O. Ashenfelter & D. Card (Eds.), Handbook of labor economics (4A) (pp. 1–102). Amsterdam: Elsevier.

Gardeazabal, J., & Ugidos, A. (2004). More on identification in detailed wage decompositions. Review of Economics and Statistics,86, 1034–1036.

Gardner, D. G., Cummings, L. L., Dunham, R. B., & Pierce, J. L. (1998). Single-item versus multiple-item measurement scales: An empirical comparison. Educational and Psychological Measurement, 58(6), 898–915.

Goswami, K., Hazarika, B., & Handique, K. (2019). Entrepreneurial motivations of socio-cultural relevance: an exploratory analysis in the handloom industry in Assam. Asian Journal of Women's Studies, 25(3), 317–351.

Hazarika, B., Bezbaruah, M. P., & Goswami, K. (2016). Adoption of modern weaving technology in the handloom micro-enterprises in Assam: A double hurdle approach. Technological Forecasting and Social Change,102, 344–356.

Hazarika, B., & Goswami, K. (2014). Rural non-farm micro-entrepreneurship or not: gender issue in decision making. Paper presented at the 6th Bolivian Conference on Development Economics, Cochabamba.

Hazarika, B., & Goswami, K. (2016). Do home-based micro-entrepreneurial earnings empower rural women? Evidence from the handloom sector in Assam. Asian Journal of Women's Studies,22, 289–317.

Heckman, J. (1979). sample selection bias as a specification error. Econometrica,47, 153–163.

Honig, B. (1998). What determines success? Examining the human, financial, and social capital of Jamaican microentrepreneurs. Journal of Business Venturing,13, 371–394.

Hundley, G. (2001). Why women earn less than men in self-employment. Journal of Labor Research,22, 817–829.

Iyer, L., Khanna, T., & Varshney, A. (2013). Caste and entrepreneurship in India. Economic and Political Weekly,48, 52–60.

Jann, B. (2008). A Stata implementation of the Blinder–Oaxaca decomposition. Stata Journal,8, 453–479.

Jimenez, G., Ongena, S., Peydro, J. L., & Saurina, J. (2014). Hazardous times for monetary policy: What do 23 million bank loans say about the effects of monetary policy on credit risk-taking? Econometrica,82(2), 463–505.

Jodhka, S. S. (2010). Dalits in business: Self-employed scheduled castes in Northwest India. Economic and Political Weekly,55, 41–48.

Khanna, S. (2012). Gender wage discrimination in India: Glass ceiling or sticky floor? Working Paper No. 214. Centre for Development Economics, Delhi School of Economics, New Delhi.

Kijima, Y. (2006). Why did wage inequality increase? Evidence from Urban India 1983–1999. Journal of Development Economics,81, 97–117.

Koellinger, P., Minniti, M., & Schade, C. (2013). Gender differences in entrepreneurial propensity. Oxford Bulletin of Economics and Statistics,75, 213–234.

Koenker, R., & Bassett, G. (1978). Regression quantiles. Econometrica,46, 33–50.

Koenker, R., & Hallock, K. (2001). Quantile regression: An introduction. Journal of Economic Perspectives,15(43–56), 2001.

Langowitz, N., & Minniti, M. (2007). The entrepreneurial propensity of women. Entrepreneurship Theory and Practice,31(3), 341–364.

Lechmann, D. S. J., & Schnabel, C. (2012). Why is there a gender earnings gap in self-employment? A decomposition analysis with German data. IZA Journal of European Labor Studies,1, 1–25.

Leung, D. (2006). The male/female earnings gap and female self-employment. Journal of Socio Economics,35, 759–779.

Loscocco, K., & Bird, S. R. (2012). Gendered paths: Why women lag behind men in small business success. Work and occupations,39(2), 183–219.

Machada, J. A. F., & Mata, J. (2005). Counterfactual decomposition of changes in wage distributions using quantile regression. Journal of Applied Economics,20, 445–465.

Magnani, E., & Zhu, R. (2012). Gender wage differentials among rural–urban migrants in China. Regional Science and Urban Economics,42, 779–793.

Matano, A., & Naticchioni, P. (2016). What drives the urban wage premium? Evidence along the wage distribution. Journal of Regional Science,56, 191–209.

Melly, B. (2005). Decomposition of differences in distribution using quantile regression. Labour Economics,12, 577–590.

Mincer, J. (1958). Investment in human capital and personal income distribution. Journal of Political Economy,66, 281–302.

Ministry of Textile. (2018). Annual report 2017–18. New Delhi: Ministry of Textile, Government of India.

MoMSMEs. (2017). Annual report 2016–17. New Delhi: Ministry of Micro, Small and Medium Enterprises, Government of India.

Mulligan, C., & Rubinstein, Y. (2008). Selection, investment, and women's relative wages over time. Quarterly Journal of Economics,123(3), 1061–1110.

NCAER. (2004). Joint census of handloom & powerloom 1995–1996: handloom sector. New Delhi: National Council of Applied Economic Research.

NCAER. (2010). Handloom census 2009–2010. New Delhi: Development Commissioner for Handlooms, Government of India.

Nordman, C. J., Robilliard, A., & Roubaud, F. (2011). Gender and ethnic earnings gaps in seven West African cities. Labour Economics,18, S132–S145.

Oaxaca, R. (1973). Male–female wage differentials in urban labor markets. International Economic Review,14, 693–709.

Orser, B. J., Riding, A. L., & Manley, K. (2006). Women entrepreneurs and financial capital. Entrepreneurship Theory and Practice,30, 643–665.

Shariff, A., & Azam, M. (2011). Income inequality in rural India: Decomposing the Gini by income sources. Economics Bulletin,31, 739–748.

Simon, J. K., & Way, M. M. (2016). Why the gap? Determinants of self-employment earnings differentials for male and female millennials in the US. Journal of Family and Economic Issues,37(2), 297–312.

Verrest, H. (2013). Rethinking microentrepreneurship and business development programs: Vulnerability and ambition in low-income urban Caribbean households. World Development,47, 58–70.

Yun, M. (2006). Earnings inequality in USA, 1969–1999: Comparing inequality using earnings equations. Review of Income and Wealth,52(1), 127–144.
Additional information
Publisher's Note
Springer Nature remains neutral with regard to jurisdictional claims in published maps and institutional affiliations.
About this article
Cite this article
Hazarika, B. Gender income gap in rural informal micro-enterprises: an unconditional quantile decomposition approach in the handloom industry. Eurasian Bus Rev 10, 441–473 (2020). https://doi.org/10.1007/s40821-019-00139-4
Received:

Revised:

Accepted:

Published:

Issue Date:
Keywords
Micro-entrepreneurs

Handloom

Gender

Income gap

Unconditional quantile regression
JEL Classification