Abstract
The study area of Golden Triangular (South Wadi Qena "S.W. Qena") area is located in the central Eastern Desert of Egypt, which is a promising area and it is between three towns (Safaga, Qena and El-Qosier). The Golden Triangle is one of the largest industrial society was built between Qena town and the Red Sea shoreline. So, this study focused on water storage tracing by GLDAS data with structure evaluation using gravity and aeromagnetic data. Moreover, detecting the basement surface and Precambrian Nubian sandstone depths by density inversion to determine which area is suitable for agricultural reclamation and has a good storage of water that will use for developing this area. Geophysical Data as Bouguer gravity and Aeromagnetic maps are used to achieve the aim of this study by clarifying the structure's evaluation of this area. The 3D density inversion modelling was built along the area. That explains the depth map of the relief basement surface, which increased in the west direction to − 3500 m and outcropped in the Red Sea shoreline. The depth of Precambrian Nubian sandstone, which parallel to the relief basement surface and increases in the west direction reached − 1700 m. The change in water storage during the last 20 years supported the charging information of aquifers and their locations. Therefore, the correlation between topography, structure map, basement surface and Precambrian Nubian sandstone depths maps suggests that the best location of aquifers in our study area in the NW and SE parts where the Precambrian Nubian sandstone depth is reached to − 1700 m.
Access options
Buy single article
Instant access to the full article PDF.
US$ 39.95
Tax calculation will be finalised during checkout.
Subscribe to journal
Immediate online access to all issues from 2019. Subscription will auto renew annually.
US$ 79
Tax calculation will be finalised during checkout.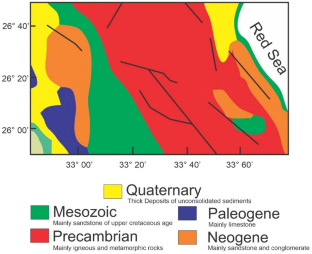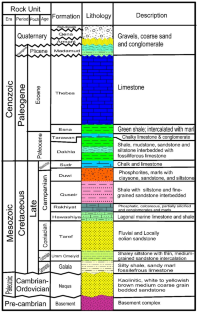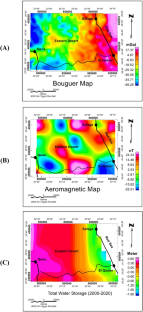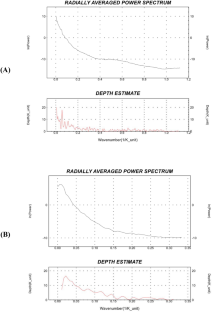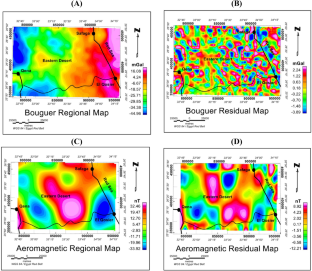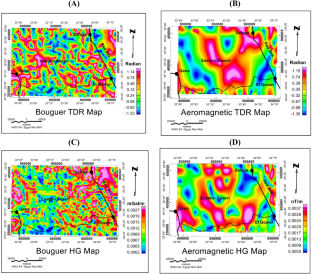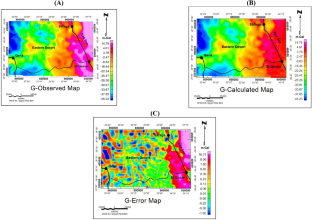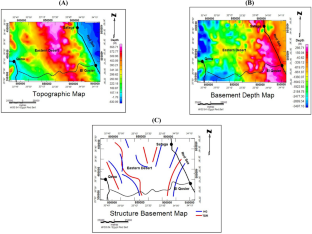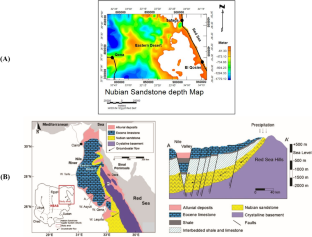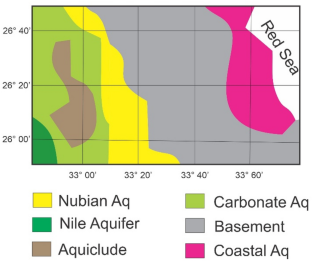 References
Abdel Khalek ML (1980) Tectonic evolution of basement rocks in the Southern and Central Eastern Desert of Egypt. Bull Inst Appl Geol King Abdul Aziz Univ Jeddah 3(1):53–62

Abdel Moneim AA (2005) Hydrogeological conditions and land suitability for development on the area surrounding the proposed new road between Sohag and the Red Sea, Wadi Qena, Eastern Desert, Egypt. Fourth Int Conf Geol Afr Assiut Univ 2:17–41

Abdel Moneim A, Seleem EM, Zeid SA et al (2015) Hydrogeochemical characteristics and age dating of groundwater in the Quaternary and Nubian aquifer systems in Wadi Qena, Eastern Desert. Egypt Sustain Water Resour Manag 1:213–232

Abdel Razik TM, Razvaliaev AV (1972) On the tectonic origin of the Nile Valley between Idfu and Qena. Egypt Egypt J Geol 16:235–244

Abdelrahman E, Refai E, El-Ghalban H (1988) Gravity models of the Nile delta basin, Egypt. Egyptian Geological Survey Proceedings of 6TH Annual Meeting.

Aggour TA (1997) Impact of geomorphological and geological setting on groundwater in Qena-Safaga District. PhD Theses, Cairo University, p 320

Aggour TA, Sadek MA (2001) The recharge mechanism of some cases of the different groundwater aquifers, Eastern Desert. Egypt Bull Fac Sci Mansoura Univ 28(1):43–78

Ahmed EA (1983) Sedimentology and Tectonic Evolution of Wadi Qena Area, Egypt. Ph.D thesis, Geology Department, Assuit University, p 136

Assiut University (2001) Groundwater resources and land use evaluation in the Southern Entrance of Wadi Qena, Eastern Desert, Egypt. A project conducted by Assiut University and Supported by the Egyptian Ministry of International Development.

Balmino G, Vales N, Bonvalot S, Briais A (2012) Spherical harmonic modelling to ultra-high degree of Bouguer and isostatic anomalies. J Geod 86:499–520

Bonvalot S, Balmino G, Briais A, Kuhn M, Peyrefitte A, Vales N, Biancale R, Gabalda G, Moreaux G, Reinquin F, Sarraillh M (2012) World Gravity Map. vol. 1 Bureau Gravimetrique International (BGI) e Commission for the Geological Map of the World (CGMW), Centre National d'Etudes Spatiales (CNES) Institut de Reserche pour le Development (IRD), Paris (p. 50,000,000).

CONOCO (1987) Geological map of Egypt, scale 1: 500,000, Assiut and Beni Suef. The Egyptian General Petroleum Corporation, Cairo

EGPC (1990) Aeromagnetic map for Sinai Peninsula (scale 1:100 000). Corporation Egyptian General Petroleum, Cairo

EGSMA (Egyptian Geological Survey and Mining Authority) (1981) Geologic Map of Egypt 1:2000000. EGSMA, Cairo

EGSMA (1983a) Geological map of Gebel el 'urf quadrangles, Egypt, scale 1:250000. Geological Survey Egypt, Cairo

EGSMA (1983b) Geological map of Wadi Qena Quadrangle, Egypt, scale 1: 250,000. Geological Survey Egypt, Cairo

EGSMA (2006) Geological map of Abu had quadrangle. Egypt Scale 1:100000

El Ramly MF (1972) A new geological map for the basement rocks in the eastern and southwestern desert of Egypt. Ann Geol Surv Egypt II:1–18

Elewa HH, Abu El Ella EM (2011) Numerical modeling for the Nubian aquifer development in Wadi Qena, Eastern Desert. Egypt Egypt J Geol 55:105–125

Elewa HH, Fathy RG, Zaghloul EA (2000) Groundwater potential of the Southern Part of Wadi Qena Basin, Eastern Desert of Egypt Using Remote Sensing Techniques. Egypt J Rem Sens Spac Sci 3:135–152

Elewa HH, Fath RG, Zaghloul EA (2006) Possibility of the agricultural expansion based on land and water resources potentialities at the Southern Part of Wadi Qena, Central Eastern Desert. Egypt Egypt J Soil Sci 46(2):153–174

Faris MI (1974) The Contact of the Cretaceous and Eocene Rocks in Tramsa-Tukh Areal Qena Upper Egypt. Bull Inst Egypt 28:73–85

Gheith H, Sultan M (2002) Construction of a hydrologic model for estimating Wadi runoff and groundwater recharge in the Eastern Desert. Egypt J Hydrol 263:36–55

Ghorab SM (1956) Stratigraphical Studies on Some Parts of the Eastern Desert of Egypt. Ph.D. Thesis, Geo. Department Faculty of Science. Assuit University.

Ginzburg A, Ben-Avraham Z (1987) The deep structure of the central and southern Levant continental margin. Ann Tecton 5:105–115

Gomaa MA (1992) Hydrogeological studies between Quseir-Safaga area, Eastern Desert, Egypt. MSc Thesis Fac Sci Ain Shams University, p 150

Hinze WJ, Von Frese RRB, Saad AH (2013) Gravity and magnetic exploration principles, practices, and applications. Cambridge University Press, New York

Issawi B (1983) Ancient rivers of the Eastern Egyptian Desert. Episodes 2, 3–6. Reynolds, J.M., 1997. An introduction to applied and environmental geophysics. Jhon Wiley and Sons Ltd., New York, p 795

Issawi B, El Hinnawi M, Francis M, Mazhar A (1999) The Phanerozoic geology of Egypt. Egypt Geol Surv Spec Publ 76:1–462

Makris J, Wang J (1994) Bouguer gravity anomalies of the eastern Mediterranean Sea. In: Krasheninnikov VH (ed) Geological Structure of the Northeastern Mediterranean (Cruise 5 of the Research Vessel "Akademik Nikolaj Strakhov"). Historical Production Hall Ltd, Jerusalem, pp 87–98

Miller HG, Singh V (1994) Potential field tilt: a new concept for location of potential field sources. J Appl Geophys 32:213–217

RIGW (1993) Hydrogeological map of Egypt, Asyuti sheet. Research Institute for Groundwater, Academy of Scientific Research and Technology, Cairo, Egypt. RIGW, Cairo

RIGW (1998a) Hydrogeological map of Egypt, 1:2,000,000 with explanatory note. Academy of Scientific Research and Technology. RIGW, Cairo

RIGW (1998b) Hydrogeological map of Luxor, 1:5,00,000 with explanatory note. Academy of Scientific Research and Technology, Cairo, Egypt

Said R (1961) Tectonic framework of Egypt and its influence on distribution of foraminifera. Am Assoc Petrol Geol Bull 45:198–220

Said R (1962) The Geology of Egypt. Elsevier Pub. Co., Amesterdam, p 377

Said R (1990) The geology of Egypt. Balkema, Rotterdam, pp 1–721

Salem A, Williams S, Fairhead J, Ravat D, Smith R (2007) Tilt-depth method: a simple depth estimation method using first-order magnetic derivatives. Lead Edge 26:1502–1505

Salem A, Williams S, Fairhead D, Smith R, Ravat D (2008) Interpretation of magnetic data using tilt-angle derivatives. Geophysics 73:L1–L10

Seleem (2014) Hydrogeological and geoelectrical studies on some areas in Wadi Qena, Eastern Desert, Egypt. PhD thesis submitted to Faculty of Science, Sohag University.

Sharma PV (1997) Environmental and Engineering Geophysics. Cambridge University Press, Cambridge, pp 1–475

Sultan M, Sturchio N, Gheith H, Abdel Hady Y, El Anbeawy M (2000) Chemical and isotopic constraints on the origin of wadi el tarfa ground waters, eastern desert. Egypt Groundw 38:743–751

Thorweihe U, Heinl M (1993) Groundwater resources and management in southwest Egypt Catena supplement, biomineralisation processes of iron and manganese. Berliner Geowissenschaft Abhand 2:99–121

Woodward-Clyde Consultants (1985) Earthquake activity and stability evaluation for Aswan High Dam; Unpublished report, High and Aswan Dam Authority. Ministry of Irrigation, Egypt.

Yehia A (2001) Study of general planning of the area surrounding the proposed road between Sohag and Hurgada. NARSSC, Cairo, p 104

Youssef MI (1957) Upper Cretaceous rocks in Qusseir area. Bull Inst Desert Egypt 7(2):35–54
Ethics declarations
Conflict of interest
I confirmed that there are no known conflicts of interest associated with this publication, and there has been no significant financial support for this work that could have influenced its outcome.
Additional information
Publisher's Note
Springer Nature remains neutral with regard to jurisdictional claims in published maps and institutional affiliations.
About this article
Cite this article
Gaber, G.M. 3D Inversion modelling of gravity data integrated with aeromagnetic and GLDAS data for water storage tracing in Golden Triangular area, Central Eastern Desert, Egypt. Model. Earth Syst. Environ. (2021). https://doi.org/10.1007/s40808-021-01121-8
Received:

Accepted:

Published:
Keywords
3D Density inversion modelling

Basement relief

Bouguer gravity anomaly

Aeromagnetic data

Precipitation

Water storage

Agricultural reclamation