Abstract
The contamination of aquifers due to the leaching of organic and inorganic waste materials deposited in landfills and open dumpsites leads to serious degradation of the environment. To determine the extent of leaching and to assess the migration of the leachate into the surrounding aquifer, vertical electrical sounding (VES) and electrical resistivity tomography (ERT) surveys were carried out along a heavily contaminated waste disposal site in South-eastern Nigeria. The results obtained from the vertical electrical soundings show that the area comprises three subsurface layers, and that the aquifer lies between the second and third layer. Computation of longitudinal conductance values shows that the overall protective capacity of the aquifer is weak; hence, the capacity for leachate contamination within the aquifer is higher. Models obtained from the electrical resistivity tomography surveys indicate the direction of the leachate plumes and also show the extent of leachate percolation into the aquifer. On the electrical resistivity tomography models, the locations of anomalous low resistivity zones indicate the presence of leachate. The results show that the leachate is moving rapidly towards the aquifer and this will create serious environmental degradation to valuable water resources in the area, thereby affecting health of humans and livestock within this heavily populated zone. Further, the results from the resistivity surveys confirm that the resistivity technique is a powerful tool for delineating the presence of leachate plumes and for indicating to what extent the leachate has infiltrated into the surrounding aquifer.
Access options
Buy single article
Instant access to the full article PDF.
US$ 39.95
Tax calculation will be finalised during checkout.
Subscribe to journal
Immediate online access to all issues from 2019. Subscription will auto renew annually.
US$ 79
Tax calculation will be finalised during checkout.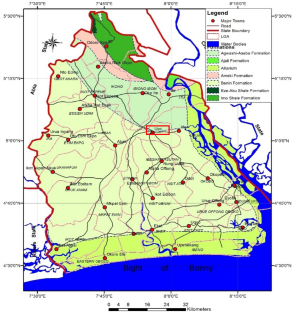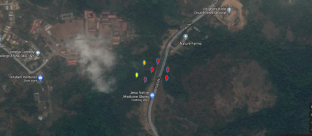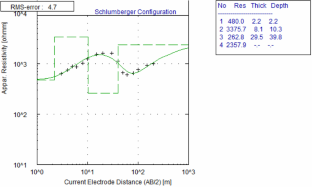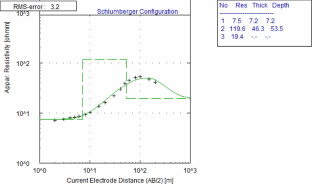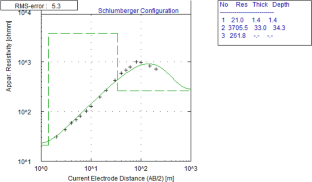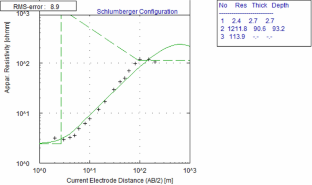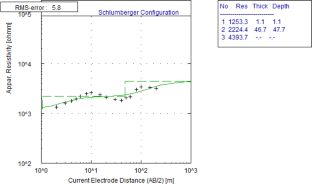 References
Abu-Zeid N, Bianchini G, Santarato G, Vaccaro C (2004) Geochemical characterization and geophysical mapping of landfill leachates: the Marozzo canal case study (NE Italy). Environ Geol 45:439–447

Ahmed AM, Sulaiman WN (2001) Evaluation of groundwater and soil pollution in a landfill area using electrical resistivity imaging survey. Environ Manag 28:655–663

Akinola BS, Awoyemi MO, Matthew OJ, Adebayo AS (2018) Geophysical and hydro-chemical investigation of contamination plume in a basement complex formation around Sunmoye dumpsite in Ikire, Southwestern Nigeria. Model Earth Syst Environ 4:753–764

Aristodemou E, Thomas-Betts A (2000) DC resistivity and induced polarization investigations at a waste disposal site and its environments. J Appl Geophys 44:275–302

Batayneh AT, Barjous MO (2005) Resistivity surveys near a waste disposal site in the Qasr Tuba area of central Jordan. Bull Eng Geol Environ 64:285–291

Bernstone C, Dahlin T, Ohlsson T, Hogland H (2000) DC-resistivity mapping of internal landfill structures: two pre-excavation surveys. Environ Geol 39:360–371

Cardarelli E, Bernabini M (1997) Two case studies of the determination of parameters of urban waste dumps. J Appl Geophys 36:167–174

Chambers JE, Kuras O, Meldrum PI, Ogilvy RD, Hollands J (2006) Electrical resistivity tomography applied to geologic, hydrogeologic, and engineering investigations at a former waste disposal site. Geophysics 71:B231

Clement R, Oxarango L, Descloitres M (2011) Contribution of 3-D time-lapse ERT to the study of leachate recirculation in a landfill. Waste Manag 31:457–467

Depountis N, Harris C, Davies MCR, Koukis G, Sabatakakis N (2005) Application of electrical imaging to leachate plume evolution studies under in-situ and model conditions. Environ Geol 47:907–914

Devaraj N, Chidambaram S, Panda B, Thivya C, Thilagavathi R, Ganesh N (2018) Geo-electrical approach to determine the lithological contact and groundwater quality along the KT boundary of Tamilnadu, India. Model Earth Syst Environ 4:269–279

Dolk H, Vrijheid M, Armstrong B, Abramsky L, Bianchi F, Garne E, Nelen V, Robert E, Scott JES, Stone D, Tenconi R (1998) Risk of congenital anomalies near hazardous-waste landfill sites in Europe: the Eurohazcon study. Lancet 352:423–427

Fatoba JO, Eluwole AB, Sanuade OA, Hammed OS, Igboama WN, Amosun JO (2020) Geophysical and geochemical assessments of the environmental impact of Abule-Egba landfill, southwestern Nigeria. Model Earth Syst Environ. https://doi.org/10.1007/s40808-020-00991-8

Frid V, Liskevich G, Doudkinski D, Korostishevsky N (2008) Evaluation of landfill disposal boundary by means of electrical resistivity imaging. Environ Geol 53:1503–1508

Gallas JDF, Taioli F, Filho WM (2011) Induced polarization, resistivity, and self-potential: a case history of a contamination evaluation due to landfill leakage. Environ Earth Sci 63:251–261

Gautam PK, Biswas A (2016) 2D geo-electrical imaging for shallow depth investigation in Doon Valley Sub-Himalaya, Uttarakhand, India. Model Earth Syst Environ 2:1–9

Gawande NA, Reinhart DR, Thomas PA, McCreanor PT, Townsend TG (2003) Municipal solid waste in situ moisture content measurement using an electrical resistance sensor. Waste Manag 23:667–674

Genelle F, Sirieix C, Riss J, Renié S, Bégassat P (2012) Electrical resistivity monitoring on an experimental landfill clayey cover. In: Proceedings of the Near Surface Geoscience 2012—18th European meeting of environmental and engineering geophysics, Paris, France

George NJ, Ekanem AM, Ibanga JI, Udosen NI (2017) Hydrodynamic implication of Aquifer Quality Index (AQI) and flow zone (F21) in ground water abstraction: a case study of coastal hydro-lithofacies in South-eastern Nigeria. J Coast Conserv 21:759–776

Grellier S, Guerin R, Aran C, Robain H, Bellier G (2004) Geophysics applied to a bioreactor during leachate recirculation and to leachate samples. In: Conference proceedings of the 17th EEGS symposium on the application of geophysics to engineering and environmental problems, Feb 2004, cp-186-00062

Grellier S, Reddy KR, Gangathulasi J, Adib R, Peters CC (2007) Correlation between electrical resistivity and moisture content of municipal solid waste in bioreactor landfill. Geotechnical special publication, vol 163. ASCE Press, Reston, pp 1–14

Grellier S, Guérin R, Robain H, Bobachev A, Vermeersch F, Tabbagh A (2008) Monitoring of leachate recirculation in a bioreactor landfill by 2D electrical resistivity imaging. J Environ Eng Geophys 13:351–359

Guerin R, Munoz ML, Christophe A, Laperrelle C, Hidra M, Drouart E, Grellier S (2004) Leachate recirculation: moisture content assessment by means of a geophysical technique. Waste Manag 24:785–794

Guy G, Best M, Spence G, Dosso S, Telmer K. (2000) EM and GPR mapping of bedrock fractures as conduits for contaminated groundwater flow in a landfill. In: Symposium on the application of geophysics to engineering and environmental problems 2000

Kamura K (2002) Relationships between electrochemical properties of leachate and resistivity of strata in the landfill site consisting mainly of combustion residuals. Environ Geol 41:537–546

Leroux V, Dahlin T, Svensson M (2007) Dense resistivity and induced polarization profiling for a landfill restoration project at Härlöv, Southern Sweden. Waste Manag Res 25:49–60

Lohva J, Jokinen T, Suppala I (2008) Airborne geophysical studies around landfill areas—case histories from Finland. In: Conference Proceedings of the Near Surface 2008—14th EAGE European meeting of environmental and engineering geophysics, Sep 2008, cp-64-00038

Martinho E, Almeida F (2006) 3D behaviour of contamination in landfill sites using 2D resistivity/IP imaging: case studies in Portugal. Environ Geol 49:1071–1078

Moreira C, Castro M, Gonsalez A, Cavallari F, Munhoz T, Pereira A (2014) Comparative analysis between biogas flow in landfill and electrical resistivity tomography in Rio Claro City, Brazil. J Geol Res. https://doi.org/10.1155/2014/845906

Naudet V, Revil A, Rizzo E, Bottero JY, Bégassat P (2004) Groundwater redox conditions and conductivity in a contaminant plume from geoelectrical investigations. Hydrol Earth Syst Sci 8:8–22

Oladapo MI, Akintorinwa OJ (2007) Hydrogeophysical study of Ogbese Southwestern Nigeria. Global J Pure Appl Sci 13:55–61

Olagunju E, Ariyibi E, Awoyemi M, Adebayo A, Dasho O, Adenika C (2017) Application of geochemical and geophysical approach to environmental impact assessment: a case study of Emirin active open dumpsite, Ado-Ekiti Southwestern Nigeria. Model Earth Syst Environ 3:1543–1555

Rosqvist H, Leroux V, Dahlin T, Svensson M, Lindsjo M, Mansson C, Johansson S (2011) Mapping landfill gas migration using resistivity monitoring. Waste Resour Manag 164:3–15

Udosen NI, George NJ (2018) A finite integration forward solver and a domain search inverse solver for electrical resistivity tomography. Model Earth Syst Environ 4:1–12

Udosen NI, Potthast RWE (2018) Automated optimization of electrode locations for electrical resistivity tomography. Model Earth Syst Environ 4:1059–1083

White E, Day-Lewis F, Johnson CD, Lane J (2016) Application of frequency and time-domain electromagnetic surveys to characterize hydrostratigraphy and landfill construction at the Amargosa Desert Research Site, Beatty, Nevada. In: Symposium on the application of geophysics to engineering and environmental problems 2015

Yoon GL, Oh H, Park J (2002) Laboratory study of landfill leachate effect on resistivity in unsaturated soil using cone penetrometer. Environ Geol 43:18–28

Zume JT, Tarhule A, Christenson SC (2006) Subsurface imaging of an abandoned solid waste landfill site in Norman, Oklahoma. Ground Water Monit Rem 26:62–69
Additional information
Publisher's Note
Springer Nature remains neutral with regard to jurisdictional claims in published maps and institutional affiliations.
About this article
Cite this article
Udosen, N.I. Geo-electrical modeling of leachate contamination at a major waste disposal site in south-eastern Nigeria. Model. Earth Syst. Environ. (2021). https://doi.org/10.1007/s40808-021-01120-9
Received:

Accepted:

Published:
Keywords
Leachate

South-eastern nigeria

Electrical resistivity tomography

Aquifer contamination