Abstract
The study validated the use of an updated MCD12Q1 MODIS Land Use Land Cover (LULC) data into Weather Research and Forecasting (WRF) model and investigated the effects of LULC change on the spatiotemporal pattern of dew point temperature (DPT), temperature, precipitation and some associated parameters over West Africa (WA). Series of WRF model simulations were carried out with 6 LULC scenarios, which include Built-up (Bu), Partial Deforest I and II (PDI/PDII), Partial Afforest (PA), Total Afforest (TA) and Total Deforest (TD). MCD12Q1 LULC data was integrated into WRF model to carry out eight simulations from May–September, 2012 at 12 km horizontal resolution over WA. The integration of updated MODIS LU data into WRF model showed improvement with lesser RMSE. The BU and TD scenario generally decreases dew point temperature while the areas with remarkable decrease (increase) in dew point temperature also have a decrease (increase) in evapotranspiration and an increase (decrease) in Sensible Heat (SH). Increased SH could be a factor for the increased precipitation over the urbanized area. All afforestation options decreased the temperature due to weakening of the SH. Afforestation of the Sahel led to an increase in rainfall, which is attributed to increase in ET. Deforestation of the Guinea zone (PDI/PDII) reduced the precipitation in Sahel and Sahel–Sahara interface and the entire area. Only the TA scenario increased precipitation over the Sahel–Sahara interface due to increased ET. The effects of LULC change on precipitation are complex as more in-depth analysis of the effects on major features of the general circulation of WA is recommended for future research.
Access options
Buy single article
Instant access to the full article PDF.
US$ 39.95
Tax calculation will be finalised during checkout.
Subscribe to journal
Immediate online access to all issues from 2019. Subscription will auto renew annually.
US$ 79
Tax calculation will be finalised during checkout.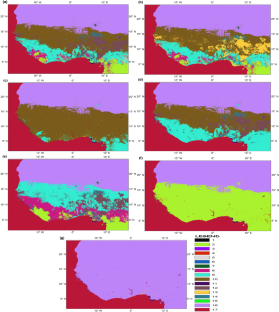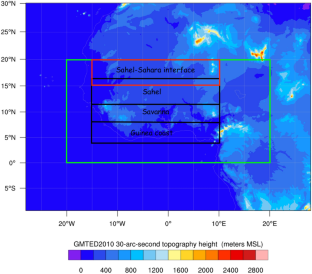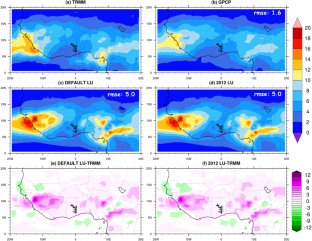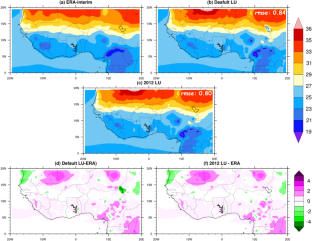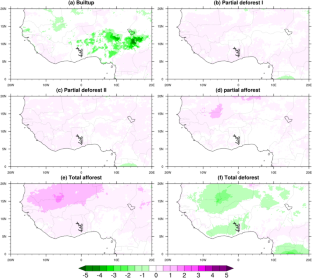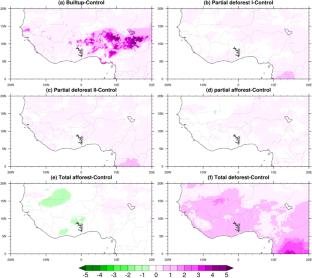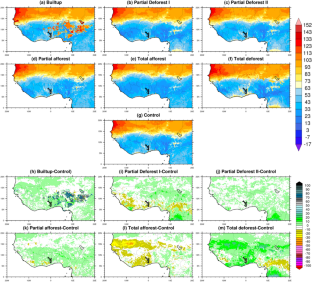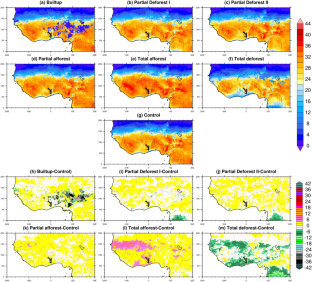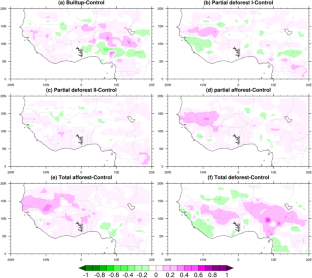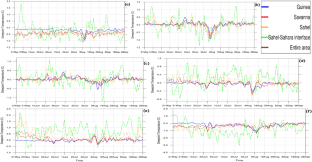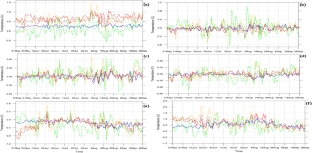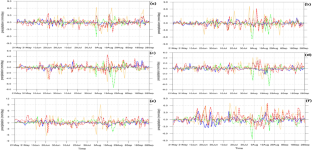 Data availability
The data used for the research are archived in the NCAR HPSS storage and could only be made available from the corresponding author upon reasonable request.
References
Abiodun BJ, Pal JS, Afiesimama EA, Gutowski WJ, Adedoyin A (2008) Simulation of West African monsoon using RegCM3 Part II: impacts of deforestation and desertification. Theor Appl Climatol 93:245–261. https://doi.org/10.1007/s00704-007-0333-1

Abiodun BJ, Pal JS, Afiesimama EA, Gutowski WJ, Adedoyin A (2010) Modelling the impacts of deforestation on monsoon rainfall in West Africa. Int Conf Planet Bound Layer Climate Change IOP Conf Series Earth Environ Sci 13:012008. https://doi.org/10.1088/1755-1315/13/1/012008

Achugbu IC, Dudhia J, Olufayo AA, Balogun IA, Adefisan EA, Gbode IE (2020) Assessment of WRF land surface model performance over West Africa. Adv Meteorol. https://doi.org/10.1155/2020/6205308

Amani A, Thomas J, Abou MN (2007) Climate change adaptation and water resources management in West Africa. Synthesis report WRITESHOP. UNESCO. Retrieved April 2014

Ayanlade A (2016) Variation in diurnal and seasonal urban land surface temperature: landuse change impacts assessment over Lagos metropolitan city. Model Earth Syst Environ 2:1–8. https://doi.org/10.1007/s40808-016-0238-z

Bai JH, Lu QQ, Zhao QQ, Wang JJ, Ouyang H (2013) Effects of alpine wetland landscapes on regional climate. Adv Meterol 5:1–7

Bonan GB (2002) Landscapes as patches of plant functional types: An integrating concept for climate and ecosystem models. Glob Biogeochem Cycles 16:1–18. https://doi.org/10.1029/2000gb001360

Caldwell P, Sun G, McNulty S, Cohen E, Myers JM (2012) Impacts of impervious cover, water withdrawals, and climate change on river flows in the conterminous US. Hydrol Earth Syst Sci 16:2839–2857

Cao Q, Yu D, Georgescu M, Han Z, Wu J (2015) Impacts of land use and land cover change on regional climate: a case study in the agro-pastoral transitional zone of China. Environ Res Lett 10:124025. https://doi.org/10.1088/1748-9326/10/12/124025

Carrington DP, Gallimore RG, Kutzbach JE (2001) Climate sensitivity to wetlands and wetland vegetation in mid-Holocene North Africa. Clim Dyn 17:151–157

Case JL, LaFontaine FJ, Kumar SV, Peters-Lidard CD (2012) Using the NASA-Unified WRF to assess the impacts of real-time vegetation on simulations of severe weather Preprints. In: 13th Annual WRF User's Workshop, Boulder, CO, p 69

Charney JG (1975) Dynamics of deserts and drought in the Sahel. Q J R Meteorl Soc 101:193–202

Chawla I, Osuri KK, Mujumdar PP, Niyogi D (2018) Assessment of the Weather Research and Forecasting (WRF) model for simulation of extreme rainfall events in the upper Ganga Basin. Hydrol Earth Syst Sci 22:1095–1117

Chotamonsak C, Salathe EP, Kreasuwan J, Chantara S (2012) Evaluation of precipitation simulations over Thailand using a WRF regional climate model. Chiang Mai J Sci 39:623–628

Dee DP, Uppala SM, Simmons AJ, Berrisford P, Poli P, Kobayashi S, Andrae U, Balmaseda M, Balsamo G, Bauer P, Bechtold P, Beljaars CM (2011) The ERA-Interim reanalysis: configuration and performance of the data assimilation system. Q J R Meteorol Soc 137(656):553–597. https://doi.org/10.1002/qj828

Dezfuli A, Nicholson S (2013) The relationship of rainfall variability in western equatorial Africa to the tropical oceans and atmospheric circulation part II: the boreal autumn. J Clim 26:66–84

Diaz JP, Gonzalez A, Exposito FJ, Perez JC, Fernandez J, García-Díez M, Taima D (2015) WRF multi-physics simulation of clouds in the African region. Q J R Meteorol Soc 141:2737–2749

Diba I, Camara M, Sarr AB, Diedhiou A (2016) Impacts of the Sahel–Sahara interface reforestation on West African climate: intraseasonal variability and extreme precipitation events. Adv Meteorol Article ID 3262451 20 pages https://doi.org/10.1155/2016/3262451.

Diba I, Camara M, Sarr AB, Diedhiou A (2018) Potential impacts of land cover change on the interannual variability of rainfall and surface temperature over West Africa. Atmosphere 9(376):1–32. https://doi.org/10.3390/atmos9100376

Eltahir EAB, Gong C (1996) Dynamics of wet and dry years in West Africa. J Clim 9:1030–1042

Feddema JJ, Oleson KW, Bonan GB, Mearns LO, Buja LE, Meehl GA, Washington WM (2005) The importance of land-cover change in simulating future climates. Science 310:1674–1678

Foley JA, DeFries R, Asner GP, Barford C, Bonan G, Carpenter SR, Chapin FS, Coe MT, Daily GC, Gibbs HK, Helkowski JH, Holloway T, Howard EA, Kucharik CJ, Monfreda C, Patz JA, Prentice IC, Ramankutty N, Snyder PK (2005) Global consequences of land use. Science 309:570–574

Friedl MA, Sulla-Menashe D, Tan B, Schneider A, Ramankutty N, Sibley A, Huang X (2010) MODIS Collection 5 global land cover: algorithm refinements and characterization of new datasets. Remote Sens Environ 114:168–182

Fuller DO, Ottke C (2002) Land cover rainfall and land-surface albedo in West Africa. Clim Change 54:181–204

Gao Y, Markkanen T, Backman L, Henttonen HM, Pietikäinen J-P, Mäkelä HM, Laaksonen A (2014) Biogeophysical impacts of peatland forestation on regional climate changes in Finland. Biogeosciences 11:7251–7267

Gbode IE, Dudhia J, Ogunjobi KO, Ajayi VO (2018) Sensitivity of different physics schemes in the WRF model during a West African monsoon regime. Theore Appl Climatol 136:733–751. https://doi.org/10.1007/s00704-018-2538-x

Ge Q, Zhang X, Zheng J (2014) Simulated effects of vegetation increase/decrease on temperature changes from 1982 to 2000 across the Eastern China. Int J Climatol 34:187–196

Gebrekidan W (2016) Modeling land surface temperature from satellite data the case of Addis Ababa In: ES RI Eastern Africa Education GIS conference Held at Africa hall United Nations conference center from 23 to 24 Sept 2016 Addis Ababa

Georgescu M (2008) Evaluating the effect of land-use and land-cover change on climate in the greater phoenix AZ region. Phd Thesis, The Graduate School-New Brunswick Rutgers The State University of New Jersey.

Gharbia SS, Alfatah SA, Gill L et al (2016) Land use scenarios and projections simulation using an integrated GIS cellular automata algorithms. Model Earth Syst Environ 2:151. https://doi.org/10.1007/s40808-016-0210-y

Gornitz V (1985) A survey of anthropogenic vegetation changes in West Africa during the last century—climatic implications. Clim Change 7:285–325

Green JK, Konings AG, Alemohammad SH, Berry J, Entekhabi D, Kolassa J, Lee J-E, Gentine P (2017) Regionally strong feedbacks between the atmosphere and terrestrial biosphere. Nat Geosci 10:410–414. https://doi.org/10.1038/ngeo2957

Grimmond S (2007) Urbanization and global environmental change: local effects of urban warming. Geogr J 173:83–88

Hagos S, Leung LR, Xue YK, Boone A, de Sales F, Neupane N, Huang M, Yoon J-H (2014) Assessment of uncertainties in the response of the African monsoon precipitation to land use change simulated by a regional model. Clim Dyn 43:2765–2775. https://doi.org/10.1007/s00382-014-2092-x

Han J-Y, Baik J-J, Lee H (2013) Urban impacts on precipitation. Asia-Pacific J Atmos Sci. https://doi.org/10.1007/s13143-014-0016-7

Hanna S, Marciotto E, Britter R (2011) Urban energy fluxes in built- up downtown areas and variations across the urban area for use in dispersion models. J Appl Meteorol Climatol 50:1341–1353. https://doi.org/10.1175/2011JAMC25551

Hoffmann WA, Jackson RB (2000) Vegetation–climate feedbacks in the conversion of tropical Savanna to grassland. J Clim 13:1593–1602. https://doi.org/10.1175/1520-0442(2000)013%3c1593:VCFITC%3e20CO;2

Holt T, Niyogi D, Chen F, LeMone MA, Mannings K, Qureshi AL (2006) Effect of land–atmosphere interactions on the IHOP 24–25 May 2002 convection case. Mon Wea Rev 134:113–133

Hong SY, Lim JOJ (2006) The WRF single-moment 6-class microphysics scheme (WSM6). J Korean Meteor Soc 42:129–151

Huffman GJ, Bolvin DT, Nelkin EJ et al (2007a) The TRMM multisatellite precipitation analysis (TMPA): quasi-global multiyear combined-sensor precipitation estimates at fine scales. J Hydrometeorol 8(1):38–55

Huffman GJ, Bolvin DT, Nelkin EJ, Wolff DB, Adler RF, Gu G, Hong Y, Bowman KP, Stocker EF (2007b) The TRMM multisatellite precipitation analysis (TMPA): quasi-global multiyear combined-sensor precipitation estimates at fine scales. J Hydrometeorol 8(1):38–55

Huffman GJ, Bolvin DT, Adler RF (2016) "GPCP version 12 one-degree daily precipitation data set" Research Data Archive at the National Center for Atmospheric Research Computational and Information Systems Laboratory

Iacono MJ, Delamere JS, Mlawer EJ, Shephard MW, Clough SA, Collins WD (2008) Radiative forcing by long-lived greenhouse gases: calculations with the AER radiative transfer models. J Geophys Res 113:13103. https://doi.org/10.1029/2008JD009944

Jain S, Roy SB, Panda J et al (2020) Modeling of land-use and land-cover change impact on summertime near-surface temperature variability over the Delhi–Mumbai Industrial Corridor. Model Earth Syst Environ. https://doi.org/10.1007/s40808-020-00959-8

Jamali A (2020) Land use land cover modeling using optimized machine learning classifiers: a case study of Shiraz Iran. Model Earth Syst Environ. https://doi.org/10.1007/s40808-020-00859-x

Kaufmann RK, Seto KC, Schneider A, Liu Z, Zhou L, Wang W (2007) Climate response to rapid urban growth: evidence of a human-induced precipitation deficit. J Clim 20:2299–2306

Kishtawal CM, Niyogi D, Tewari M, Pielke RA Sr, Shepherd JM (2010) Urbanization signature in the observed heavy rainfall climatology over India. Int J Climatol 30:1908–1916. https://doi.org/10.1002/joc2044

Klein C, Bliefernicht J, Heinzeller D, Gessner U, Klein I, Kunstmann H (2016) Feedback of observed interannual vegetation change: a regional climate model analysis for the West African monsoon. Clim Dyn 48:2837–2858

Koster RD, Dirmeyer PA, Guo Z, Bonan G, Chan E, Cox P, Gordon CT, Kanae S, Kowalczyk E, Lawrence D, Liu P, Lu C-H, Malyshev S, McAvaney B, Mitchell K, Mocko D, Oki T, Oleson K, Pitman A, Sud YC, Taylor CM, Verseghy D, Vasic R, Xue Y, Yamada T (2004) Regions of strong coupling between soil moisture and precipitation. Science 305:1138–1140

Kueppers LM et al (2008) Seasonal temperature responses to land-use change in the western United States. Glob Planet Change 60:250–264

Kumar A, Chen F, Barlage M, Ek MB, Niyogi D (2014) Assessing impacts of integrating MODIS vegetation data in the weather research and forecasting (WRF) model coupled to two different canopy-resistance approaches. J Appl Meteorol Climatol 53:62–80

Kumar BP, Babu KR, Rajasekhar M et al (2020) Identification of land degradation hotspots in semiarid region of Anantapur district Southern India using geospatial modeling approaches. Model Earth Syst Environ 6:1841–1852. https://doi.org/10.1007/s40808-020-00794-x

Lamptey BL, Barron EJ, Pollard D (2005) Impacts of agriculture and urbanization on the climate of the Northeastern United States. Glob Planet Change 49:203–221

Laux P, Nguyen NBP, Cullmann J, Kunstmann H (2017) Impacts of Land-Use/Land-Cover Change and Climate Change on the Regional Climate in the Central Vietnam. https://doi.org/10.1007/978-981-10-2624-9_9

Li QP, Ding H (2004) Research process in the effect of vegetation change on regional climate. J Nanjing Inst Meteorol 27(1):131–140

Li J, Zheng X, Zhang C, Chen Y (2018a) Impact of land-use and land-cover change on meteorology in the Beijing–Tianjin–Hebei region from 1990 to 2010. Sustainability 10:176. https://doi.org/10.3390/su10010176

Li X, Mitra Marzen C, Dong L, Yang Q (2018b) Understanding land use change impacts on microclimate using Weather Research and Forecasting (WRF) model. Phys Chem Earth 103:115–126

Liu X, Ren L, Yuan F, Singh VP, Fang X, Yu Z, Zhang W (2009) Quantifying the effect of land use and land cover changes on green water and blue water in northern part of China. Hydrol Earth Syst Sci 13:735–747

MacKellar N, Tadross M, Hewitson B (2010) Synoptic-based evaluation of climate response to vegetation change over Southern Africa. Int J Clim 30:774–789

Mahmood R, Quintanar AI, Conner G, Leeper R, Dobler S, Pielke RA, Syktus J (2010) Impacts of land use/land cover change on climate and future research priorities. Bull Am Meteor Soc 91:37–46

Miller J, Barlage M, Zeng X, Wei H, Mitchell K, Tarpley D (2006) Sensitivity of the NCEP/Noah land surface model to the MODIS green vegetation fraction data set. Geophys Res Lett. https://doi.org/10.1029/2006GL026636

Mitra C, Shepherd JM, Jordan T (2011) On the relationship between the premonsoonal rainfall climatology and urban land cover dynamics in Kolkata city India. Int J Climatol 32:1443–1454. https://doi.org/10.1002/joc2366

Nakanishi M, Niino H (2006) An improved Mellor-Yamada level-3 model: its numerical stability and application to a regional prediction of advection fog. Bound Layer Meteor 119:397–407. https://doi.org/10.1007/s10546-005-9030-8

Nasehi S, Imanpournamin A, Salehi E (2019) Simulation of land cover changes in urban area using CA-MARKOV model (case study: zone 2 in Tehran Iran). Model Earth Syst Environ 5:193–202. https://doi.org/10.1007/s40808-018-0527-9

Niu G-Y, Yang Z-L, Mitchell KE, Chen F, Ek MB, Barlage M, Longuevergne L, Kumar A, Manning K, Niyogi D, Rosero E, Tewari M, Xia Y (2011) The community Noah land surface model with multiparameterization options (Noah-MP): 1 Model description and evaluation with local-scale measurements. J Geophys Res. https://doi.org/10.1029/2010JD015139

Niyogi D, Kishtawal CM, Tripathi S, Govindaraju RS (2010) Observational evidence that agricultural intensification and land use change may be reducing the Indian Summer Monsoon rainfall. Water Resour Res 46:3. https://doi.org/10.1029/2008WR007082

Nogherotto R, Coppola E, Giorgi F, Mariotti L (2013) Impact of Congo basin deforestation on the African monsoon. Atmos Sci Lett 14:45–51

Olorunfemi IE, Fasinmirin J, Akinola FF (2018) Soil physic–chemical properties and fertility status of long-term land use and cover changes: a case study in forest zone of Nigeria. Eurasian J Soil Sci 7(2):133–150

Omotosho J, Abiodun BJ (2007) A numerical study of moisture build-up and rainfall over West Africa. Meteorol Appl 14(3):209–225

Pielke R (2001) Influence of the spatial distribution of rainfall and soil on the prediction of cumulus convective rainfall. Rev Geophys 39:151–177

Pielke Sr RA, Beltrán-Przekurat A, Hiemstra CA, Lin J, Nobis TE (2006) Impacts of regional land use and land cover on rainfall: an overview climate variability and change-hydrological impacts. In: Proceedings of the fifth FRIEND world conference held at Havana Cuba November 2006, vol 308. IAHS Publ, pp 325–331

Pitman AJ, de Noblet-Ducoudre N, Avila FB, Alexander LV, Boisier J-P, Brovkin V, Delire C, Cruz F, Donat MG, Gayler V, van den Hurk B, Reick C, Voldoire A (2012) Effects of land cover change on temperature and rainfall extremes in multi-model ensemble simulations. Earth Syst Dyn 3:213–231

Qu R, Cui X, Yan H, Ma E, Zhan J (2013) Impacts of land cover change on the near-surface temperature in the north china plain. Adv Meteorol. https://doi.org/10.1155/2013/409302

Ray DK, Welch RM, Lawton RO, Nair US (2006) Dry season clouds and rainfall in Northern Central America: implications for the mesoamerican biological corridor. Glob Planet Change 54:150–162

Ren G, Zhou Y, Chu Z, Zhou J, Zhang A, Guo J, Liu X (2008) Urbanization effects on observed surface air temperature trends in north. China J Clim 21:1333–1348. https://doi.org/10.1175/2007JCLI13481

Sandstrom MA, Lauritsen RG, Changnon D (2004) A central–US summer extreme dew-point climatology (1949–2000). Phys Geogr 25:191–207. https://doi.org/10.2747/0272-3646253191

Sertel E, Ormeci C, Robock A (2011) Modelling land cover change impact on the summer climate of the Marmara Region Turkey. Int J Glob Warm 3(1/2):194–202

Shepherd JM, Carter M, Manyin M, Messen D, Burian S (2010) The impact of urbanization on current and future coastal precipitation: a case study for Houston. Environ Plann Plann Des 37(2):284–304

Shimadera H, Kondo A, Shrestha KL, Kitaoka K, Inoue Y (2015) Numerical evaluation of the impact of urbanization on summertime precipitation in Osaka Japan. Adv Meteorol. vol 2015 article ID 379361 https://doi.org/10.1155/2015/379361.

Skamarock W, Klemp J, Dudhia J, Gill D, Barker D, Duda M, yu Huang X, Wang W (2008) A Description of the Advanced Research WRF Version 3 Tech rep Mesoscale and Microscale Meteorology Division National Center for Atmospheric Research https://doi.org/10.5065/D68S4MVHhttp://nldr.library.ucar.edu/repository/collections/TECH-NOTE-000-000-000-855. Accessed 13 Dec 2013

Sulla-Menashe D, Friedl MA (2018) User Guide to Collection 6 MODIS Land Cover (MCD12Q1 and MCD12C1) Products https://www.google.com/url?sa=t&rct=j&q=&esrc=s&source=web&cd=&cad=rja&uact=8&ved=2ahUKEwjAu7ag-prrAhXJXhUIHcdwBIsQFjAAegQIBhAB&url=https%3A%2F%2Flpdaacusgsgov%2Fdocuments%2F101%2FMCD12_User_Guide_V6pdf&usg=AOvVaw2DOz6CWt3DliUmRcor6YV1.

Sulla-Menashe D, Gray JM, Abercrombie SP, Friedl MA (2019) Hierarchical mapping of annual global land cover 2001 to present: the MODIS collection 6 land cover product. Remote Sens Environ 222:183–194. https://doi.org/10.1016/jrse201812013

Swann ALS, Fung IY, Chaing JCH (2012) Mid-latitude afforestation shifts general circulation and tropical precipitation. PNAS 109(3):712–716

Tafesse B (2019) Suryabhagavan KV (2019) Systematic modeling of impacts of land-use and land-cover changes on land surface temperature in Adama Zuria District Ethiopia. Model Earth Syst Environ 5:805–817. https://doi.org/10.1007/s40808-018-0567-1

Taylor CM, Lambin EF, Stephenne N, Harding RJ, Essery RLH (2002) The influence of land use change on climate in the Sahel. J Clim 15:3615–3629

Trail M, Tsimpidi AP, Liu P, Tsigaridis K, Hu Y, Nenes A, Stone B, Russell AG (2013) Potential impact of land use change on future regional climate in the Southeastern US: Reforestation and crop land conversion. J Geophys Res Atmos 118(20):11577–11588. https://doi.org/10.1002/2013JD020356

Trenberth KE, Fasullo JT, Kiehl J (2009) Earth's global energy budget. Bull Am Meteor Soc 90:311–323

Trusilova K, Jung M, Churkina G, Karsten U, Heimann M, Claussen M (2008) Urbanization impacts on the climate in Europe: numerical experiments by the PSU-NCAR mesoscale model (MM5). J Appl Meteor Climatol 47:1442–1455

Van Asselen S, Verburg PH (2013) Land cover change or land-use intensification: simulating land system change with a global-scale land change model. Glob Change Biol 19:3648–3667. https://doi.org/10.1111/gcb12331

Veldkamp A, Verburg PH (2004) Modelling land use change and environmental impact. J Environ Manage 72(1–2):1–3

Wang L, Cheung KW (2017) Potential impact of reforestation programmes and uncertainties in land cover effects over the loess plateau: a regional climate modeling study. Clim Change 144:475–490. https://doi.org/10.1007/s10584-016-1848-1

Xue YK, Shukla J (1993) The influence of land surface properties on sahel climate part I: desertification. J Clim 6:2232–2245

Xue Y, Bastable HG, Dirmeyer PA, Sellers PJ (1996) Sensitivity of simulated surface fluxes to changes in land surface parameterizations–a study using ABRACOS Data. J App Meteorol 35:386–400

Xue Y, Hutjes RWA, Harding RJ, Claussen M, Prince S, Lambin EF, Allen SJ, Dirmeyer P, Oki T (2004) The sahelian climate (Chapter A5). In: Kabat P et al (eds) Vegetation water humans and the climate. Springer-Verlag, Berlin, pp 59–77

Xue Y, De Sales F, Vasic R, Mechoso CR, Prince SD, Arakawa A (2010) Global and temporal characteristics of seasonal climate/vegetation biophysical processes (VBP) interactions. J Clim 23:1411–1433

Zeng N, Neelin JD, Lau KW, Tucker CJ (1999) Enhancement of inter-decadal climate variability in the Sahel by vegetation interaction. Science 286:1537–1540

Zhang C, Chen F, Miao S, Li Q, Xia X, Xuan CY (2009) Impacts of urban expansion and future green planting on summer precipitation in the Beijing metropolitan area. J Geophys Res 114:D02116. https://doi.org/10.1029/2008JD010328

Zhang N, Gao Z, Wang X, Chen Y (2010) Modeling the impact of urbanization on the local and regional climate in Yangtze River Delta China. Theor Appl Climatol 102(3–4):331–342

Zhang C, Wang Y, Hamilton K (2011) Improved representation of boundary layer clouds over the Southeast Pacific in ARW-WRF using a modified Tiedtke cumulus parameterization scheme Mon. Weather Rev 139:3489–3513

Zhao L, Jin J, Wang S-Y, Ek MB (2012) Integration of remote-sensing data with WRF to improve lake–effect precipitation simulations over the Great Lakes region. J Geophys Res. https://doi.org/10.1029/2011JD016979

Zhao L, Wang S-Y, Jin J, Clark AJ (2014) Weather Research and Forecasting model simulations of a rare springtime bow echo near the Great Salt Lake USA. Meteorol Appl. https://doi.org/10.1002/met1455

Zhou L, Chen H, Dai Y (2015) Stronger warming amplification over drier eco-regions observed since 1979. Environ Res Lett 10:064012
Acknowledgements
The authors would like to appreciate the Mesoscale and Microscale Meteorology (MMM) Laboratory, NCAR, for supporting the research. We would like acknowledge the NCAR's Computational and Information System Laboratory for providing access to Cheyenne and other computing facilities for the research. Also, many thanks to Ming Chen, Micheal Duda, Mike Dixon and other NCAR staff who gave technical support for this research. The German Federal Ministry of Education and Research (BMBF) through the WACS-GRP FUTA primarily funded this research.
Ethics declarations
Conflict of interest
The authors declare no conflicts of interest.
Additional information
Publisher's Note
Springer Nature remains neutral with regard to jurisdictional claims in published maps and institutional affiliations.
About this article
Cite this article
Achugbu, I.C., Olufayo, A.A., Balogun, I.A. et al. Modeling the spatiotemporal response of dew point temperature, air temperature and rainfall to land use land cover change over West Africa. Model. Earth Syst. Environ. (2021). https://doi.org/10.1007/s40808-021-01094-8
Received:

Accepted:

Published:
Keywords
Land use land cover change (LULCC)

Weather research and forecasting (WRF) model

Afforest

Deforest

Rainfall

Temperature