Abstract
We simulated the carbon dioxide (CO2) emissions from a great Amazonian hydroelectric reservoir under future climate and land use land cover conditions using a three-dimensional ecological model. Future scenarios were developed taking into account the Representatives Concentrations Pathway (RCP) adopted by the Intergovernmental Panel for Climate Change (IPCC) in its fifth Assessment Report (AR5). To investigate the possible effects of future climate and land use changes on CO2 emissions, we compared our results with a previous study that simulated the carbon emissions under present climate conditions. The results showed that under moderate climatic changes scenario associated to the recuperation of natural land covers in the watershed (i.e., increase in forestry areas) the CO2 emissions are estimated to be more than 100% higher than the current emissions in a specific season. On the other hand, in a more extreme climatic changes scenario associated to the expansion of agriculture and pasture areas, the estimates of CO2 emissions along the year decrease of 5% compared to current emissions. Our findings indicate that the processes such as eutrophication, mixing and stratification of water column and the water retention time will be key elements controlling the CO2 emission from Amazonian reservoirs in the future. We highlight that the CO2 emissions from future planed Amazonian hydroelectric reservoirs are uncertain and will be highly dependent of regional climate and LULC changes. Decision makers must to consider these two important factors in the environmental impact studies and comparisons with CO2 emission from other energy sources.
Access options
Buy single article
Instant access to the full article PDF.
US$ 39.95
Tax calculation will be finalised during checkout.
Subscribe to journal
Immediate online access to all issues from 2019. Subscription will auto renew annually.
US$ 79
Tax calculation will be finalised during checkout.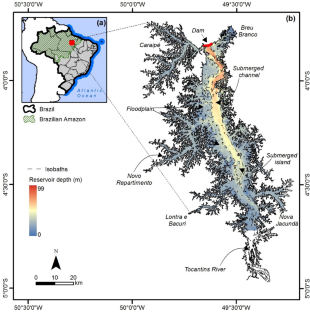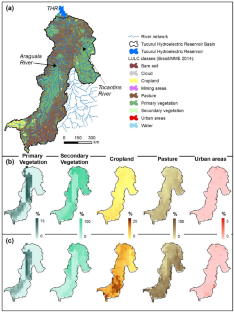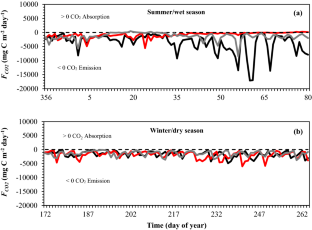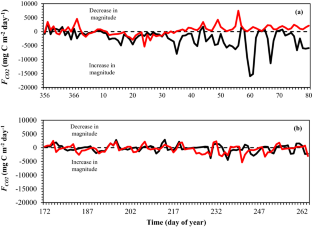 References
Barros NJJ, Cole JJ, Tranvik LJ, Prairie YT, Bastviken D, Huszar VLM, del Giorgio P, Roland F (2011) Carbon emission from hydroelectric reservoirs linked to reservoir age and latitude. Nat Geosci 4:593–596. https://doi.org/10.1038/ngeo1211

Brazilian Ministry of Mines and Energy—MME (2014) Emissão de gases de efeito estufa em reservatórios de centrais hidrelétricas (In Portguese). MME, Brazil

Bruce LC, Hamilton D, Imberger J, Gal G, Gophen G, Zohary T, Hambright KD (2006) A numerical simulation of the role of zooplankton in C, N and P cycling in Lake Kinneret, Israel. Ecol Model 193:412–436. https://doi.org/10.1016/j.ecolmodel.2005.09.008

Curtarelli MP, Ogashawara I, Araújo CAS, Alcântara E, Lorenzzetti JA, Stech JL (2014) Influence of summertime mesoscale convective systems on the heat balance and surface mixed-layer dynamics of a large Amazonian hydroelectric reservoir. J Geophys Res Oceans 119:8472–8494

Curtarelli MP, Leão JAD, Ogashawara I, Lorenzzetti JA, Stech J (2015) Assessment of spatial interpolation methods to map the bathymetry of an Amazonian hydroelectric reservoir to aid in decision making for water management. ISPRS Int J Geo-Inf 4:220–235. https://doi.org/10.3390/ijgi4010220

Curtarelli MP, Ogashawara I, Araújo CAS, Lorenzzetti JA, Leão JA, Alcântara E, Stech JL (2016) Carbon dioxide emissions from Tucuruí reservoir (Amazon biome): new findings based on three-dimensional ecological model simulations. Sci Tot Env 551–552:676–694. https://doi.org/10.1016/j.scitotenv.2016.02.001

Davidson EA et al (2012) The Amazon basin in transition. Nature 481:321–328. https://doi.org/10.1038/nature10717

Dee DP et al (2011) The ERA-Interim reanalysis: configuration and performance of the data assimilation system. Q J R Meteorol Soc 137:553–597. https://doi.org/10.1002/qj.828

Faria FAM, Jaramillo P, Sawakuchi HO, Richey JE, Barros N (2015) Estimating greenhouse gas emissions from future Amazonian hydroelectric reservoirs. Environ Res Lett 10:1–13. https://doi.org/10.1088/1748-9326/10/12/124019

Fearnside PM (1995) Hydroelectric dams in Brazilian Amazonia as sources of greenhouse gases. Environ Conserv 22:7–19. https://doi.org/10.1017/S0376892900034020

Fearnside PM (2002) Greenhouse gas emissions from a hydroelectric reservoir (Brazil's Tucuruí Dam) and the energy policy implications. Water Air Soil Pollut 133:69–96. https://doi.org/10.1023/A:1012971715668

Gal G, Hipsey MR, Parparov A, Wagner U, Makler V, Zohary T (2009) Implementation of ecological modeling as an effective management and investigation tool: Lake Kinneret as a case study. Ecol Model 220:1697–1718. https://doi.org/10.1016/j.ecolmodel.2009.04.010

Giorgi F et al (2009) Addressing climate information needs at the regional level: the CORDEX framework. WMO Bull 58:175–183

Giorgi F et al (2012) RegCM4: model description and preliminary tests over multiple CORDEX domains. Clim Res 52:7–29. https://doi.org/10.3354/cr01018

Guérin F, Abril G, Richard S, Burban B, Reynouard C, Seyler P, Delmas R (2006) Methane and carbon dioxide emissions from tropical reservoirs: significance of downstream rivers. Geophys Res Lett 33:1–6. https://doi.org/10.1029/2006GL027929

Hipsey MR, Hamilton D (2014) Computational aquatic ecosystem dynamics model: CAEDYM v3: v3.2 Science Manual. Centre for Water Research University of Western Australia, Perth.

Hipsey MR, Romero J, Antenucci J, Imberger J (2007) The Computational Aquatic Ecosystem Dynamics Model (CAEDYM): a versatile water quality model for coupling with hydrodynamics drivers. In: Proceeding of the 7th international conference on hydroinformatics. Research Publishing Services, Chennai, pp 526–533

Hodges BR, Imberger J, Saggio A, Winters KB (2000) Modelling basin scale waves in a stratified lake. Limnol Oceanogr 45:1603–1620. https://doi.org/10.4319/lo.2000.45.7.1603

Intergovernmental Panel on Climate Change (IPCC) (2013) Climate Change 2013: the physical science basis. In: Stocker TF, Qin D, Plattner G-K, Tignor M, Allen SK, Boschung J, Nauels A, Xia Y, Bex V, Midgley PM (eds) Contribution of working group I to the fifth assessment report of the intergovernmental panel on climate change. Cambridge University Press, Cambridge

Lima IBT (2005) Biogeochemical distinction of methane releases from two Amazon hydroreservoirs. Chemosphere 59:1697–1702. https://doi.org/10.1016/j.chemosphere.2004.12.011

Marengo JA, Ambrizzi T, Rocha RP, Alves LM, Cuadra SV, Valverde MC, Torres RR, Santos DC, Ferraz ET (2010) Future change of climate in South America in the late twenty-first century: intercomparison of scenarios from three regional climate models. Clim Dyn 35:1073–1097. https://doi.org/10.1007/s00382-009-0721-6

Missaghi S, Hondzo M (2010) Evaluation and application of a three-dimensional water quality model in a shallow lake with complex morphometry. Ecol Model 22:1512–1525. https://doi.org/10.1016/j.ecolmodel.2010.02.006

Moss RH et al (2010) The next generation of scenarios for climate change research and assessment. Nature 463:747–756. https://doi.org/10.1038/nature08823

Pacheco FS, Roland F, Downing JA (2013) Eutrophication reverses whole-lake carbon budgets. Inland Water 4:41–48

Pacheco FS, Soares MCS, Assireu AT, Curtarelli MP, Roland F, Abril G, Stech JL, Alvalá PC, Ometto JP (2015) The effects of river inflow and retention time on the spatial heterogeneity of chlorophyll and water–air CO2 fluxes in a tropical hydropower reservoir. Biogeosciences 12:147–162. https://doi.org/10.5194/bg-12-147-2015

Riahi K, Rao S, Krey V, Cho C, Chirkov V, Fischer G, Kindermann G, Nakicenovic N, Rafaj P (2011) RCP 8.5—a scenario of comparatively high greenhouse gas emission. Clim Changes 109:33–57. https://doi.org/10.1007/s10584-011-0149-y

Robson BJ, Hamilton DP (2004) Three-dimensional modelling of a Microcystis bloom event in the Swan River estuary, Western Australia. Ecol Model 174:203–222. https://doi.org/10.1016/j.ecolmodel.2004.01.006

Rosa LP, Santos MA, Matvienko B, Santos EO, Sikar E (2004) Greenhouse gas emissions from hydroelectric reservoirs in tropical regions. Clim Change 66:9–21. https://doi.org/10.1023/B:CLIM.0000043158.52222.ee

Stech JL, Lima IBT, Novo EMLM, Silva CM, Assireu AT, Lorenzzetti JA, Carvalho JC, Barbosa CC, Rosa RR (2006) Telemetric monitoring system for meteorological and limnological data acquisition. Verhandlungen des Internationalen Verein Limnologie 29:1747–1750

Tavares MDRM (2011) Estrutura da comunidade microfitoplanctônica da área de influência da UHE de Tucuruí-Pará (In Portuguese) Master Thesis (Universidade Federal do Pará)

Thomson AM et al (2011) RCP4.5: a pathway for stabilization of radiative forcing by 2100. Clim Change 109:77–94. https://doi.org/10.1007/s10584-011-0151-4

Tundisi JG, Goldemberg J, Matsumura-Tundisi T, Saraiva ACF (2014) How many more dams in the Amazon? Energy Policy 74:703–708. https://doi.org/10.1016/j.enpol.2014.07.013

Wanninkhof R (1992) Relationship between wind speed and gas exchange over the ocean. J Geophys Res 97(C5):7373–7382. https://doi.org/10.1029/92JC00188

Weiss RF (1974) Carbon dioxide in water and seawater: the solubility of a non-ideal gas. Mar Chem 2:203–215. https://doi.org/10.1016/0304-4203(74)90015-2

Zahid M, Iqbal W (2015) Multi-model cropping seasons projections over pakistan under representative concentration pathways. Model Earth Syst Environ 1:13. https://doi.org/10.1007/s40808-015-0008-3
Acknowledgements
The authors wish to thank the Remote Sensing Division (DSR) and the Hydrosphere Research Group of the National Institute for Space Research (INPE) for providing the infrastructure to conduct this study. The authors also thank Dr. Julio Pablo Reyes Fernandez from Brazilian Center for Weather Forecasting and Climate Studies (CPTEC/INPE) for his contributions and insights about the regional climate modelling approach used in this study. The first author is grateful to the Brazilian Council of Technological and Scientific Development (CNPq) for the doctorate-level scholarship (under Grant 161233/2013-9). Part of this work were supported by Centrais Elétrica do Norte do Brasil S.A. (ELETRONORTE, Grant 4500075234) and the Brazilian Electricity Regulatory Agency (ANEEL, Grant 8000003629). The authors are grateful to the National Institute of Science and Technology for Climate Change (INCT for Climate Change) for funding the ELCOM-CAEDYM model license.
Additional information
Publisher's Note
Springer Nature remains neutral with regard to jurisdictional claims in published maps and institutional affiliations.
About this article
Cite this article
Curtarelli, M., Stech, J., Lorenzzetti, J. et al. Predicting modeling scenarios of climate change impact on the CO2 emissions from an Amazonian hydroelectric reservoir. Model. Earth Syst. Environ. 7, 631–639 (2021). https://doi.org/10.1007/s40808-020-00930-7
Received:

Accepted:

Published:

Issue Date:
Keywords
Carbon dioxide

Hydroelectric reservoirs

Amazon

Climate changes

Land use and cover changes