Abstract
Evapotranspiration (ET) is a crucial agrometeorological parameter and is of significant importance for irrigation planning and management. Any change in reference evapotranspiration (ETO) and the consequent change in actual ET can cause a significant change in the water demand, thereby affecting the water balance adversely. This study analyzes the trends in the ETO time series using non-parametric Mann–Kendall and Sen's Slope estimator at six stations for 102 years (1901–2002) in the Kashmir valley. Results indicate statistically insignificant trends at the annual timescale at a 95% confidence level. However, at the seasonal timescale, a significant trend was observed. Winter ETO time series showed an increasing trend while summer ETO showed a decreasing trend at a 95% confidence level. The trend analysis of the governing meteorological variables revealed increasing trends in winter temperature and cloudiness in summers in the study area. The water deficit calculated in terms of the difference of precipitation and ETO showed an increasing trend for all the stations at the annual timescale. At the seasonal timescale, four out of the six stations showed an increasing deficit for the spring season.
Access options
Buy single article
Instant access to the full article PDF.
US$ 39.95
Tax calculation will be finalised during checkout.
Subscribe to journal
Immediate online access to all issues from 2019. Subscription will auto renew annually.
US$ 79
Tax calculation will be finalised during checkout.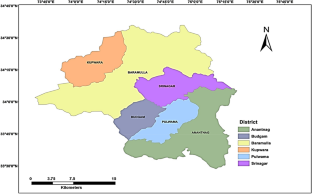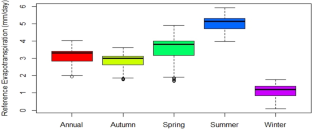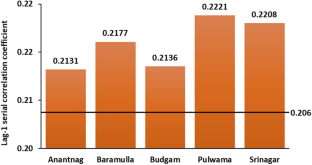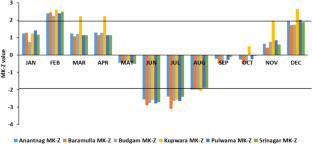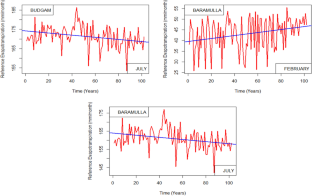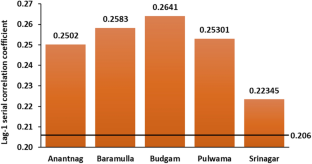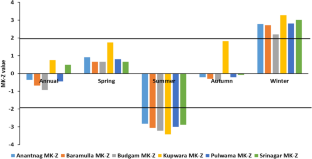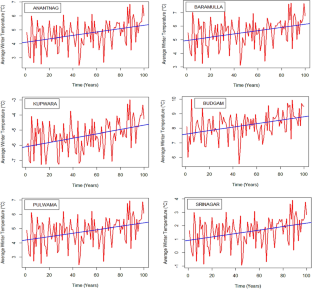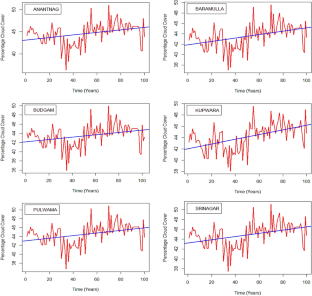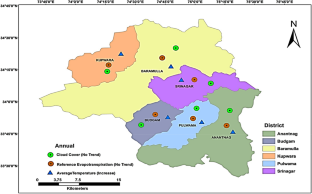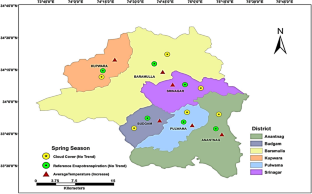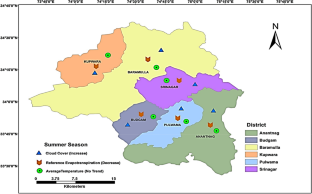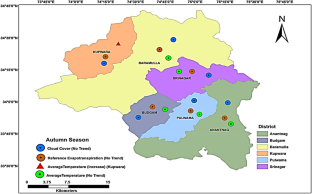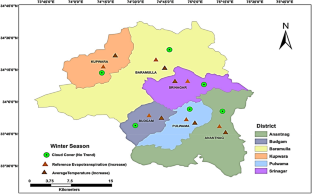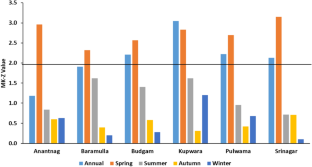 Availability of data and material
References
Allen RG, Pereira LS, Raes D, Smith M (1998) Crop evapotranspiration: guidelines for computing crop water requirements. FAO Irrigation and Drainage Paper no. 56. FAO, Rome

Arora M, Goel NK, Singh P (2005) Evaluation of temperature trends over India. Hydrol Sci J 50:81–93

Bandyopadhyay A, Bhadra A, Raghuwanshi NS, Singh R (2009) Temporal trends in estimates of reference evapotranspiration over India. J Hydrol Eng 14:508–515

Bhat FM, Riar CS (2015) Health benefits of traditional rice varieties of temperate regions. Med Aromat Plants 4:198

Chattopadhyay N, Hulme M (1997) Evaporation and potential evapotranspiration in India under conditions of recent and future climate change. Agric For Meteorol 87:55–73

Darshana PA, Pandey RP (2013) Analysing trends in reference evapotranspiration and weather variables in the Tons River Basin in Central India. Stoch Env Res Risk Assess 27:1407–1421

Espadafor M, Lorite IJ, Gavlian P, Berengena J (2011) An analysis of the tendency of reference evapotranspiration estimates and other climate variables during the last 45 years in Southern Spain. Agric Water Manag 98:1045–1061

Hamed KH, Rao AR (1998) A modified Mann–Kendall trend test for autocorrelated data. J Hydrol 204:182–196

He Y, Ye J, Yang X (2015) Analysis of the spatiotemporal patterns of dry and wet conditions in the Huai River Basin using the standardized precipitation index. Atmos Res 166:120–128

Hirsch RM, Slack JR (1984) A non-parametric trend test for seasonal data with serial dependence. Water Resour Res 20:727–732

Houghton J, Ding Y, Griggs DJ, Noguer M, van der Linden PJ, Xiaosu D (eds) (2001) Climate change 2001: the scientific basis; contribution of working Group I to the third assessment report of the Intergovernmental Panel on Climate Change (IPCC). Cambridge University Press, Cambridge

Jain SK, Kumar V (2012) Trend analysis of rainfall and temperature data for India. Curr Sci 102:37–49

Jain SK, Kumar V, Saharia M (2013) Analysis of rainfall and temperature trends in northeast India. Int J Climatol 33:968–978

Jhajharia D, Singh VP (2011) Trends in temperature, diurnal temperature range and sunshine duration in Northeast India. Int J Climatol 31:1353–1367

Kendall MG (1948) Rank correlation methods. Griffin, London

Kendall MG (1973) Time series. Charles Griffin and Co., Ltd., London

Kishore P, Jyothi S, Basha G, Rao SVB, Rajeevan M, Velicogna I, Sutterley TC (2016) Precipitation climatology over India: validation with observations and reanalysis datasets and spatial trends. Clim Dyn 46:541–556

Krishnakumar KN, Prasada Rao GSLHV, Gopakumar CS (2009) Rainfall trends in twentieth century over Kerala, India. Atmos Environ 43:1940–1944

Kulkarni A, Von Storch H (1995) Monte-Carlo experiments on the effect of serial correlation on the Mann–Kendall test of trend. Meteorol Z 4:82–85

Liang LQ, Li LJ, Liu Q (2010) Temporal variation of reference evapotranspiration during 1961–2005 in the Taoer River basin of Northeast China. Agric For Meteorol 150:298–306

Mall RK, Gupta A, Singh R, Singh RS, Rathore LS (2006) Water resources and climate change: an Indian perspective. Curr Sci 9:1610–1625

Mann HB (1945) Non-parametric tests against trend. Econometrica 13:245–259

Matalas NC (1967) Time series analysis. Water Resour Res 3:817–829

Pandey BK, Khare D (2018) Identification of trend in long term precipitation and reference evapotranspiration over Narmada river basin (India). Glob Planet Change 161:172–182

Rahmani V, Hutchinson SL, Harrington JA Jr, Hutchinson J, Anandhi A (2015) Analysis of temporal and spatial distribution and change- points for annual precipitation in Kansas, USA. Int J Climatol 35:3879–3887

Rashid MM, Beecham M, Chowdhury RK (2015) Assessment of trends in point rainfall using continuous wavelet transforms. Adv Water Res 82:1–15

Sa'adi Z, Shahid S, Ismail T, Chung ES, Wang XJ (2019) Trends analysis of rainfall and rainfall extremes in Sarawak, Malaysia using modified Mann–Kendall test. Meteorol Atmos Phys 131:263–277

Sen PK (1968) Estimates of the regression coefficient based on Kendall's tau. J Am Stat Assoc 63:1379–1389

Shadmani M, Marofi S, Roknian M (2012) Trend analysis in reference evapotranspiration using Mann–Kendall and Spearman's Rho tests in arid regions of Iran. Water Resour Manag 26:211–224

Shafiq MU, Rasool R, Ahmed P, Dimri AP (2019) Temperature and precipitation trends in Kashmir valley, North Western Himalayas. Theor Appl Climatol 135:293–304

Some'e BS, Ezani A, Tabari H (2012) Spatiotemporal trends and change point of precipitation in Iran. Atmos Res 113:1–12

Sonali P, Kumar N (2013) Review of trend detection methods and their application to detect temperature changes in India. J Hydrol 476:212–227

Subash N, Sikka AK, Ram Mohan HS (2011) An investigation into observational characteristics of rainfall and temperature in Central Northeast India—a historical perspective 1889–2008. Theor Appl Climatol 103:305–319

Suryavanshi S, Panday A, Chaube UC, Joshi N (2014) Long term historic changes in climatic variables of Betla Basin, India. Theor Appl Climatol 117:403–418

Tabari H, Talaee PH (2011) Analysis of trends in temperature data in arid and semi-arid regions of Iran. Glob Planet Change 79:1–10

Tabari H, Marofi S, Aeini A, Talaee PH, Mohammadi K (2011) Trend analysis of reference evapotranspiration in the Western Half of Iran. Agric For Meteorol 151:128–136

Theil H (1950a) A rank-invariant method of linear and polynomial regression analysis, I. Ned Akad Wetensch Proc 53:386–392

Theil H (1950b) A rank-invariant method of linear and polynomial regression analysis, II. Ned Akad Wetensch Proc 53:521–525

Theil H (1950c) A rank-invariant method of linear and polynomial regression analysis, III. Ned Akad Wetensch Proc 53:1397–1412

Ullah S, You Q, Ullah W, Ali A (2018) Observed changes in precipitation in China–Pakistan economic corridor during 1980–2016. Atmos Res 210:1–14

Wang WG, Peng SZ, Yang T, Shao QX, Xu JZ, Xing WQ (2011) Spatial and temporal characteristics of reference evapotranspiration trends in the Haihe River Basin, China. J Hydrol Eng 16:239–252

WMO (1966) Climatic change. WMO Technical Note 79, World Meteorological Organization, Geneva

Yue S, Pilon P, Cavadias G (2002) Power of the Mann–Kendall and Spearman's rho test for detecting monotonic trends in hydrological series. J Hydrol 259:254–271

Zhang Y, Cai W, Chen Q, Yao Y, Liu K (2015) Analysis of changes in precipitation and drought in Aksu River Basin, Northwest China. Adv Meteorol 2015:1–15
Funding
MHRD, Government of India.
Ethics declarations
Conflict of interest
No conflicts of interest.
Additional information
Publisher's Note
Springer Nature remains neutral with regard to jurisdictional claims in published maps and institutional affiliations.
About this article
Cite this article
Mohsin, S., Lone, M.A. Trend analysis of reference evapotranspiration and identification of responsible factors in the Jhelum River Basin, Western Himalayas. Model. Earth Syst. Environ. 7, 523–535 (2021). https://doi.org/10.1007/s40808-020-00903-w
Received:

Accepted:

Published:

Issue Date:
Keywords
Reference evapotranspiration

Trend analysis

Mann–Kendall test

Sen's slope