Abstract
An attempt has been made in this study to quantify the soil loss rate in Guna-Tana Landscape, Ethiopia. A Digital Elevation Model (12 m by 12 m spatial resolution), rainfall data over 10 years, soil, and land cover/land use extracted were used as an input to calculate soil loss rates. GIS-based RUSLE factors were integrated and analyzed in the ArcGIS 10.3 plate form. The results showed that 12-monthly loss of soil in the study area ranges from zero in the lower, middle, upper, and steeper slope parts of the watershed to 4735 t/ha/year with a mean annual soil loss of 3627.5 t/ha/year. The overall annual soil loss in the study area is 14,335,517.8 tonnes. Approximately 681.21 ha of the area is within the extreme and very extreme erosion clusters which demand immediate controlling measures.
We're sorry, something doesn't seem to be working properly.
Please try refreshing the page. If that doesn't work, please contact support so we can address the problem.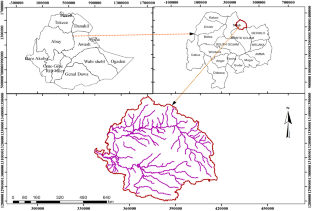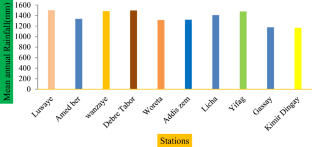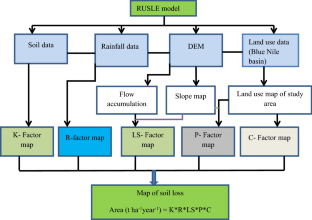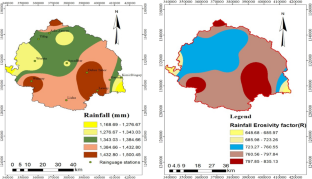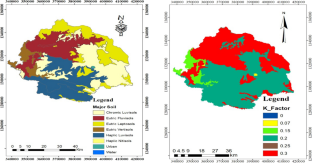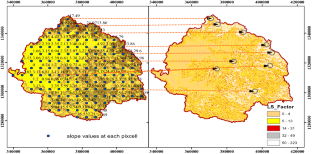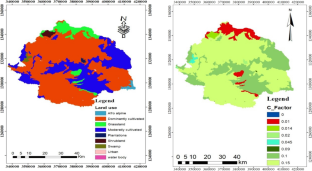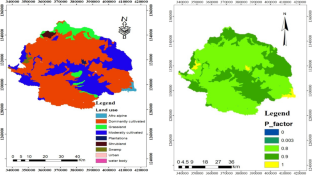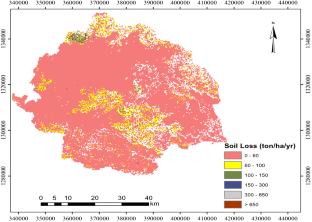 References
Amsalu A, de Graaff J (2007) Determinants of adoption and continued use of stone terraces for soil and water conservation in an Ethiopian highland watershed. Ecol Econ 61:294–302

Bayramin I, Dengiz O, Parlak BM (2003) Soil erosion risk assessment with ICONA model; case study: Beypazari area. Turk J Agric For 27:105–116

Bewket W (1950s) Land cover dynamic since the 1950s in Chemoga watershed, Blue Nile basin, Ethiopia. Mt Res Dev 22:263–269

Bewket W, Teferi E (2009) Assessment of soil erosion hazard and prioritization for treatment at the watershed level: case study in the Chemoga watershed, Blue Nile basin. Ethiopia. Land Degrad Dev 20(6):609–622

Dunn M, Hickey R (1998) The effect of slope algorithm on slope estimates within a GIS. J Cartogr 27(1):9–15

Edwards KA (1979) Regional contrasts in rates of soil erosion and their significance concerning agricultural development in Kenya. In: Lal R, Greenland DJ (eds) Soil physical and crop production. Willey and Sons, Chichester

Fazzini M, Bisci C, Billi P (2015) The climate of Ethiopia. In: Billi P (ed) Landscapes and Landforms of Ethiopia. World geomorphologic landscapes. Springer, Dordrecht

Gachene CCK (1995) Evaluation and mapping of soil erosion susceptibility: an example from Kenya. Soil Use Manag 11:1–4

Hurni H (1985) Soil conservation manual for Ethiopia. Ministry of Agriculture, Addis Ababa

Imran A (2018) Digital elevation model (DEM) coupled with geographic information system (GIS): an approach towards erosion modeling of Gumara watershed, Ethiopia. Environ Monit Assess. https://doi.org/10.1007/s10661-018-6888-8

Kaltenrieder J (2007) Adaptation and validation of the universal soil loss equation (USLE) for the Ethiopian–Eritrean Highlands. MSc Thesis, University of Berne, Centre for Development and Environment Geographisches Institut

Lulseged T, Park S, Dikau R, Vlek PLG (2006) Analysis of factors determining sediment yield variability in the highlands of Ethiopia. Geomorphology 76:76–91

Mekuriaw A, Heinimann A, Zeleke G, Hurni H (2018) Factors influencing the adoption of physical soil and water conservation practices in the Ethiopian highlands. Int Soil Water Conserv Res 6:23–30

Miheretu BA, Yimer AA (2018) Estimating soil loss for sustainable land management planning at the Gelana sub-watershed, Northern Highlands of Ethiopia. Int J River Basin Manag 16(1):41–50

Mitas Z, Mitasova H (1996) Modeling topographic potential for erosion and deposition using GIS. Int J GIS 10:629–641

Moore ID, Burch GJ (1986a) The physical basis of the length-slope factor in the universal soil loss equation. Soil Sci Soc Am J 50(5):1294–1298

Moore ID, Burch GJ (1986b) Modeling erosion and deposition: topographic effects. Trans Asae 26:1624–1630

Moore D, Wilson JP (1992) Length–slope factors for the revised universal soil loss equation: a simplified method of estimation. J Soil Water Conserv 47(5):423–428

Nyssen J, Veyret-Picot M, Poesen J, Moeyersons J, Haile M, Deckers J, Govers G (2004) The effectiveness of loose rock check dams for gully control in Tigray, northern Ethiopia. Soil Use Manag 20(1):55–64

Renard KG, Foster GR, Weesies GA, McCool DK, Yoder DC (1996) Predicting soil erosion by water: a guide to conservation planning with the revised universal soil loss equation (RUSLE). Handbook No. 703. USDA Agricultural, Washington DC

Sertsu S (2000) Degraded Soil of Ethiopia and their management. In: Proceedings of 2nd Network Meeting FAO/ISCW expert consultation on management of degraded soils in Southern and East Africa, Subregional Office for Southern and East Africa, pp 18–22

Simms AD, Woodroffe CD, Jones BG (2003) Application of RUSLE for erosion management in a coastal catchment, Southern NSW. In: Proceedings of MODSIM 2003: international congress on modelling and simulation, vol 2. Integrative modelling of biophysical, social and economic systems for resource managment solutions, Townsville, Queensland, 14-17 July 2003, pp 678–683

Stillhardt B, Herweg K, Hurni H (2002) Long-term Monitoring of Soil Erosion and Soil and Water Conservation in Afdeyu, Eritrea (1984–1998). Centre for Development and Environment, Berne

Taddese G (2001) Land degradation: a challenge to Ethiopia. Environ Manag 27:815–824

Tamene L, Vlek PLG (2008) Soil erosion studies in northern Ethiopia. In: Braimoh AK, Vlek PLG (eds) Land use and soil resources. Springer, Berlin

Tiffen M, Mortimore M, Gichuki F (1994) More people, less erosion: environmental recovery in Kenya. Wiley, Chichester

Tirkey AS, Pandey AC, Nathawat MS (2013) Use of satellite data, GIS and RUSLE for estimation of average annual soil loss in Daltonganj watershed of Jharkhand (India). J Remote Sens Technol 1:20–30

Wischmeier WH, Smith DD (1978) Predicting rainfall erosion losses: a guide to conservation planning (No. 537). Department of Agriculture, Science, and Education Administration

Xu Y, Shao X, Kong X, Peng J, Cai Y (2008) Adapting the RUSLE and GIS to model soil erosion risk in a mountains karst watershed, Guizhou Province, China. Environ Monit Assess 141:275–286
Ethics declarations
Conflict of interest
No conflict of interest.
Additional information
Publisher's Note
Springer Nature remains neutral with regard to jurisdictional claims in published maps and institutional affiliations.
About this article
Cite this article
Teshome, A., Halefom, A., Teshome, M. et al. Soil erosion modelling using GIS and revised universal soil loss equation approach: a case study of Guna-Tana landscape, Northern Ethiopia. Model. Earth Syst. Environ. 7, 125–134 (2021). https://doi.org/10.1007/s40808-020-00864-0
Received:

Accepted:

Published:

Issue Date:
Keywords
GIS

RUSLE

Soil erosion

Guna-Tana landscape

Ethiopia