Abstract
Different geophysical approaches including seismic refraction, electromagnetic resistivity with very low frequency and magnetics prospecting method were used to gain a richer and more complete understanding of subsurface environment in delineating the origin of the cracks on the buildings of the Faculty of Social Sciences and Humanities, Federal University Oye- Ekiti. Three (3) profiles of seismic refraction, Five (5) Very Low Frequency-Electromagnetic traverses, twenty-one (21) Vertical Electrical Soundings and three (3) magnetic profiles were occupied and investigated around the distress building. Three major layers were delineated in the study region comprising the topsoil, the weathered/fractured layer and the fresh basement. The VES curve types obtained were A, H, K and Q curves. The buildings were found to be situated within the area of a fairly high concentration of fractures that can aid subsidence in the area and relatively low resistivity zones typical of incompetent clay formation. The geovelocity layers' characteristics substantiate the electrical resistivity imaging and vertical electrical sounding results as it revealed a 3-layer model namely: topsoil and basement bedrock as the weathered layer is blinded. The topsoil has average velocity 363 m/s which is diagnostic of weak/unconsolidated materials presumably clayey materials and average thickness of 1.7 m. The sub-weathering/ is blinded while the third layer is the bedrock with average velocity of 1183 m/s and characterized with a displaced parallel time segment indicating fault within the bedrock. From the result, the building failure observe as cracks and foundation subsidence may have been caused by the foundation soils that made up of incompetent materials (clay) which could compress on imposing loads by differential settlement. It is noteworthy that geological features such as fractures/faults delineated within the bedrock is also inimical to the building foundation.
Access options
Buy single article
Instant access to the full article PDF.
US$ 39.95
Tax calculation will be finalised during checkout.
Subscribe to journal
Immediate online access to all issues from 2019. Subscription will auto renew annually.
US$ 79
Tax calculation will be finalised during checkout.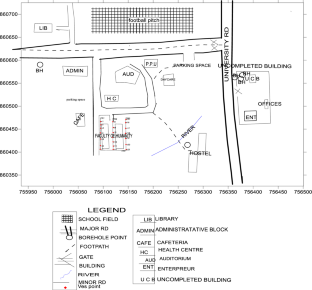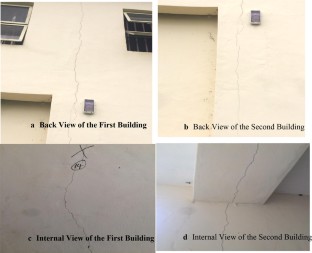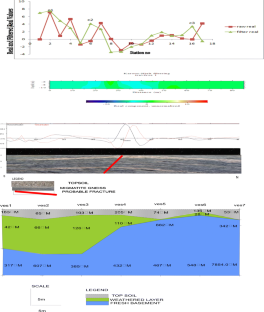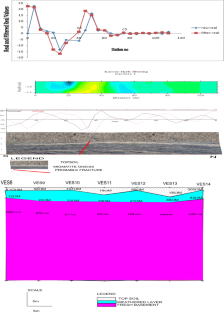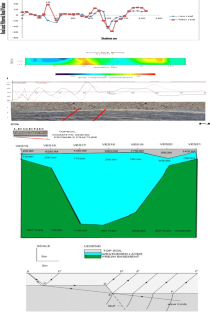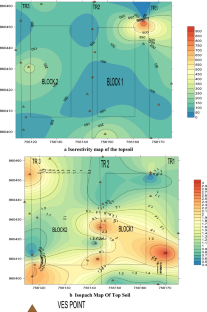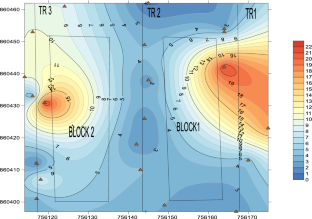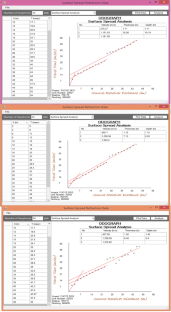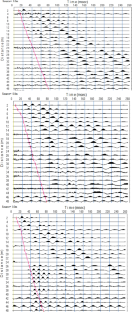 References
Ackermann HD, Pankratz LW, Dansereau D (1986) Resolution of ambiguities of shallow refraction travel-time curves. Geophysics 51:223–235

Adeleke BO, Leong GC (1978) Certificate physical and human geography, west, African edn. Oxford University Press, Nigeria

Adesida A, Omosuyi GO (2005) Geoelectric Investigation of Bedrock Structures in the Mini- campus of the Federal University of Technology, Akure, Southwestren Nigeria, and the geotechnical significance. Niger J Pure Appl Phys 4:32–40

Barry KM (1967) Delay-time and its application to refraction profile interpretation. In: Musgrave AW (ed) seismic refraction prospecting. Society of Exploration Geophysicists, Tulsa

Federal Ministry of Works and Housing (1972) Highway manual part 1 road design. Federal Ministry of Works and Housing, Lagos

Olorunfemi MO, Idoringie AI, Coker AT, Babadiya GE (2004) The application of the electrical resistivity method in foundation failure investigation. J Appl Geosci 2(1):139–151

Oyedele KF (2009) Engineering geophysical approach to progressive or sudden collapse of engineering structures in Lagos Nigeria. J Am Sci 5(5):91–100

Rahaman MA (1989) Review of the basement geology of southwestern Nigeria. In: Kogbe CA (ed) Geology of Nigeria. Rock View (Nig.) Limited, Jos

Sharma SK (1967) Response characteristics and stability of earth dams during strong earthquakes. PhD Thesis, Imperial College, University of London

Vander Velper BPA (1988) Resist Version 1.0, M.Sc. esearch Project, ITC. Delft, Netherlands

Venkatranmaiah C (2006) Geotechnical engineering. New Age International Limited Publisher, Chennai, pp 541–603

Walker C, Leung TM, Win MA, Whiteley RJ (1991) Engineering seismic refraction: an improved field practice and a new interpretation method. Explor Geophys 22:423–426

Whiteley, R.J., Eccleston, P.J., (2006) Comparison of shallow seismic refraction interpretation methods for regolith mapping: 18th ASEG Geophysical Conference and Exhibition, paper. p23
Additional information
Publisher's Note
Springer Nature remains neutral with regard to jurisdictional claims in published maps and institutional affiliations.
About this article
Cite this article
Fajana, A.O. Geohazard characterization of subsurface materials using integrated geophysical methods for post foundation studies: a case study. Model. Earth Syst. Environ. 7, 403–415 (2021). https://doi.org/10.1007/s40808-020-00861-3
Received:

Accepted:

Published:

Issue Date:
Keywords
Electrical resistivity

Foundation

subsidence

Building and fractures