Abstract
Heavy rainfall over a short period or slowly during long periods can significantly increase the amount of water. Where it results in floods that can pose a direct threat, capable of causing human and material losses. Over the past two decades, artificial intelligence has been widely applied in the field of hydrology as well as in many other areas of hydraulic engineering. The wavelet transform is a very popular technique in the analysis of non-stationary time series and particularly effective for hydrological series. Currently, the application of intelligent hybrid systems in different fields has shown good performance and unparalleled efficiency. As such, in this work, we propose a hybrid neuro-fuzzy-wavelet model to modelling the rainfall-runoff transformation for forecasting daily flow rates in the Sebaou basin located in Tizi Ouzou region. The results obtained are very encouraging and better than those obtained by the models used for comparison in this research. According to the results, the hybrid neuro-fuzzy-wavelet model with mother wavelet db7 gave us better performance for daily flow rates forecasting.
This is a preview of subscription content, log in to check access.
Access options
Buy single article
Instant access to the full article PDF.
US$ 39.95
Price includes VAT for USA
Subscribe to journal
Immediate online access to all issues from 2019. Subscription will auto renew annually.
US$ 99
This is the net price. Taxes to be calculated in checkout.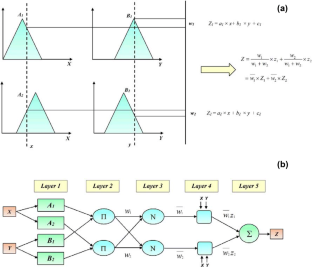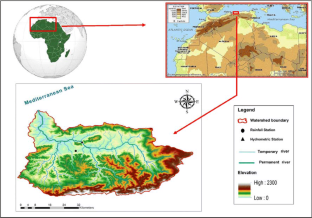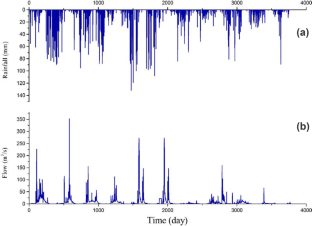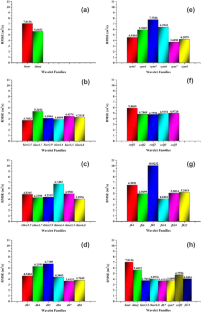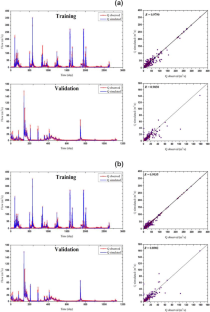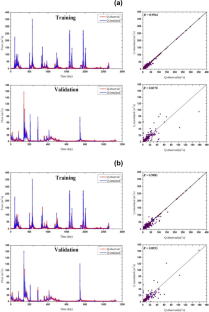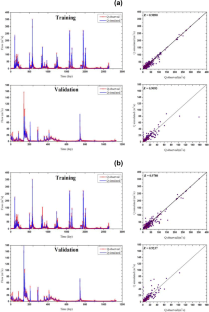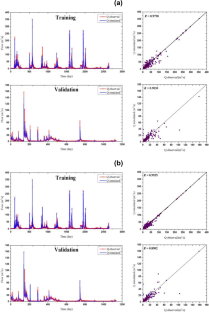 References
Abda Z, Chettih M (2018) Forecasting daily flow rate-based intelligent hybrid models combining wavelet and Hilbert-Huang transforms in the Mediterranean basin in northern Algeria. Acta Geophys 66(5):1131–1150. https://doi.org/10.1007/s11600-018-0188-0

Abda Z, Chettih M, Zerouali B (2019) Efficiency of a neuro-fuzzy model based on the Hilbert-Huang transform for flood prediction. In: Chaminé HI, et al. (eds) Advances in sustainable and environmental hydrology, hydrogeology, hydrochemistry and water resources. Advances in science, technology & innovation. Springer, Cham, pp 401–404. https://doi.org/10.1007/978-3-030-01572-5_94

Adarsh S, Janga Reddy M (2015) Trend analysis of rainfall in four meteorological subdivisions of southern India using nonparametric methods and discrete wavelet transforms. Int J Clim 35(6):1107–1124. https://doi.org/10.1002/joc.4042

Aghelpour P, Bahrami-Pichaghchi H, Kisi O (2020) Comparison of three different bio-inspired algorithms to improve ability of neuro fuzzy approach in prediction of agricultural drought, based on three different indexes. Comput Electron Agric 170:105279

Akrami SA, El-Shafie A, Jaafar O (2013) Improving rainfall forecasting efficiency using modified adaptive neuro-fuzzy inference system (MANFIS). Water Resour Manag 27(9):3507–3523. https://doi.org/10.1007/s11269-013-0361-9

Awan JA, Bae DH (2014) Improving ANFIS based model for long term dam inflow prediction by incorporating monthly rainfall forecasts. Water Resour Manag 28(5):1185–1199. https://doi.org/10.1007/s11269-014-0512-7

Aytek A, Asce M, Alp M (2008) An application of artificial intelligence for rainfall-runoff modeling. J Earth Sys Sci 117(2):145–155. https://doi.org/10.1007/s12040-008-0005-2

Christodoulou S, Deligianni A (2010) A neurofuzzy decision framework for the management of water distribution networks. Water Resour Manag 24(1):139–156. https://doi.org/10.1007/s11269-014-0774-0

Ebtehaj I, Bonakdari H (2014) Performance evaluation of adaptive neural fuzzy inference system for sediment transport in sewers. Water Resour Manag 28(13):4765–4779. https://doi.org/10.1007/s11269-014-0774-0

El-Shafie A, Taha MR, Noureldin A (2007) A neuro-fuzzy model for inflow forecasting of the Nile River at Aswan high dam. Water Resour Manag 21(3):533–556. https://doi.org/10.1007/s11269-006-9027-1

Fouchal A, Souag-Gamane D (2019) Long-term monthly streamflow forecasting in humid and semiarid regions. Acta Geophys 67:1223–1240. https://doi.org/10.1007/s11600-019-00312-3

Freire PKMM, Santos CAG, da Silva GBL (2019) Analysis of the use of discrete wavelet transforms coupled with ANN for short-term streamflow forecasting. Appl Soft Comput 80:494–505

Hauduc H, Neumann MB, Muschalla D, Gamerith V, Gillot S, Vanrolleghem PA (2015) Efficiency criteria for environmental model quality assessment: a review and its application to wastewater treatment. Environ Modell Soft 68:196–204. https://doi.org/10.1016/j.envsoft.2015.02.004

He Z, Zhang Y, Guo Q, Zhao X (2014) Comparative study of artificial neural networks and wavelet artificial neural networks for groundwater depth data forecasting with various curve fractal dimensions. Water Resour Manag 28(15):5297–5317. https://doi.org/10.1007/s11269-014-0802-0

Hsu KL, Gupta HV, Sorooshian S (1995) Artificial neural network modeling of the rainfall-runoff process. Water Resour Res 31(10):2517–2530. https://doi.org/10.1029/95WR01955

Jang JSR (1993) ANFIS: adaptive-network-based fuzzy inference system. IEEE Trans Syst Man Cybern 23(3):665–685. https://doi.org/10.1109/21.256541

Jawerth B, Sweldens W (1994) An overview of the theory and applications of wavelets. In: Toet A, Foster D, et al. (eds) O YL Shape in picture, NATO ASI series (series F: computer and systems sciences), vol 126. Springer, Berlin, pp 249–274

Kavetski D, Franks SW, Kuczera G (2003) Confronting input uncertainty in environmental modelling. In: Duan Q, Gupta H, Sorooshian S, Rousseau A, Tourcotte R (eds) Calibration of watershed models. Water science and application series 6. American Geophysical Union, Washington DC, pp 49–68

Kisi O (2011) Wavelet regression model as an alternative to neural networks for river stage forecasting. Water Resour Manag 25(2):579–600. https://doi.org/10.1007/s11269-010-9715-8

Kisi O, Heddam S (2019) Evaporation modelling by heuristic regression approaches using only temperature data. Hydrol Sci J 64(6):653–672

Kisi O, Latifoğlu L, Latifoğlu F (2014) Investigation of empirical mode decomposition in forecasting of hydrological time series. Water Resour Manag 28(12):4045–4057. https://doi.org/10.1007/s11269-014-0726-8

Krause P, Boyle DP, Bäse F (2005) Comparison of different efficiency criteria for hydrological model assessment. Adv Geosci Eur Geosci Union 5:89–97

Labat D, Ababou R, Mangin A (2000) Rainfall-runoff relation forkarstic springs. Part II: continuous wavelet and discrete orthogonal multiresolution analyses. J Hydrol 238:149–178. https://doi.org/10.1016/S0022-1694(00)00322-X

Mallat SG (1989) A theory for multiresolution signal decomposition: the wavelet representation. IEEE Trans Pattern Anal Mach Intell 11(7):674–693. https://doi.org/10.1109/34.192463

Mehr AD, Nourani V, Karimi Khosrowshahi V, Ghorbani MA (2019) A hybrid support vector regression–firefly model for monthly rainfall forecasting. Int J Environ Sci Technol 16(1):335–346

Pahlavani H, Dehghani AA, Bahremand AR, Shojaei S (2017) Intelligent estimation of flood hydrographs using an adaptive neuro-fuzzy inference system (ANFIS). Model Earth Syst Environ 3(1):35. https://doi.org/10.1007/s40808-017-0305-0

Rajurkar MP, Kothyari UC, Chaube UC (2002) Artificial neural networks for daily rainfall–runoff modelling. Hydrol Sci J 47(6):865–877. https://doi.org/10.1080/02626660209492996

Rezaeianzadeh M, Stein M, Tabari A et al (2013) Assessment of a conceptual hydrological model and artificial neural networks for daily outflows forecasting. Int J Environ Sci Technol 10(6):1181–1192. https://doi.org/10.1007/s13762-013-0209-0

Riad S, Mania J, Bouchaou L, Najjar Y (2004) Rainfall-runoff model using an artificial neural network approach. Math Comp Modell 40(7–8):839–846. https://doi.org/10.1016/j.mcm.2004.10.012

Sihag P (2018) Prediction of unsaturated hydraulic conductivity using fuzzy logic and artificial neural network. Model Earth Syst Environ 4(1):189–198. https://doi.org/10.1007/s40808-018-0434-0

Shabri A, Samsudin R (2014) A new approach for water demand forecasting based on empirical mode decomposition. In: Software engineering conference (MySEC), 2014 8th Malaysian, IEEE, pp 284–288. https://doi.org/10.1109/MySec.2014.6986030

Sugeno M, Kang G (1986) Fuzzy modelling and control of multilayer incinerator. Fuzzy Set Syst 18(3):329–345. https://doi.org/10.1016/0165-0114(86)90010-2

Takagi T, Sugeno M (1985) Fuzzy identification of systems and its applications to modeling and control. IEEE Trans Syst Man Cybern SMC 15(1):116–132. https://doi.org/10.1109/TSMC.1985.6313399

Tikhamarine Y, Souag-Gamane D, Ahmed AN, Sammen SSh, Kisi O, Huang YF, El-Shafie A (2020) Rainfall-runoff modelling using improved machine learning methods: Harris hawks optimizer vs. particle swarm optimization. J Hydrol 125133

Vrugt JA, Diks CG, Gupta HV, Bouten W, Verstraten JM (2005) Improved treatment of uncertainty in hydrologic modeling: combining the strengths of global optimization and data assimilation. Water Resour Res. https://doi.org/10.1029/2004WR003059

Yaseen ZM, Ghareb MI, Ebtehaj I, Bonakdari H, Siddique R, Heddam S, Yusif AA, Deo R (2018) Rainfall pattern forecasting using novel hybrid intelligent model based ANFIS-FFA. Water Res Manag 32(1):105–122

Zerouali B, Mesbah M, Chettih M, Djemai M (2018) Contribution of cross time-frequency analysis in assessment of possible relationships between large-scale climatic fluctuations and rainfall of northern central Algeria. Arab J Geosci 11(14):392. https://doi.org/10.1007/s12517-018-3728-7
Acknowledgements
We would like to thank the National Agency of Water Resources for providing the hydrological data and the Directorate General for Scientific Research and Technological Development for supporting this research project.
Additional information
Publisher's Note
Springer Nature remains neutral with regard to jurisdictional claims in published maps and institutional affiliations.
About this article
Cite this article
Abda, Z., Chettih, M. & Zerouali, B. Assessment of neuro-fuzzy approach based different wavelet families for daily flow rates forecasting. Model. Earth Syst. Environ. (2020). https://doi.org/10.1007/s40808-020-00855-1
Received:

Accepted:

Published:
Keywords
Forecasting

Flow rates

Neuro-fuzzy approach

Discrete wavelet transform

Wavelet families