Abstract
In this paper,the dynamics of smoking behavior under the influence of educational and media programs is modeled in the presence of two control strategies. Optimal control theory is applied to a non-linear mathematical model on smoking: impact of anti-smoking campaign which helps in obtaining time dependent case detection strategy while minimizing the cost of implementation of such strategy. We prove the existence of an optimal control set and analyze the necessary and sufficient conditions, optimality and transversality conditions. The optimality of the system is deduced analytically and solved numerically.
This is a preview of subscription content, log in to check access.
Access options
Buy single article
Instant access to the full article PDF.
US$ 39.95
Price includes VAT for USA
Subscribe to journal
Immediate online access to all issues from 2019. Subscription will auto renew annually.
US$ 99
This is the net price. Taxes to be calculated in checkout.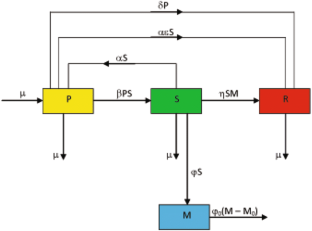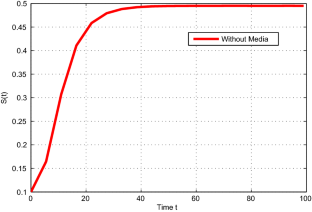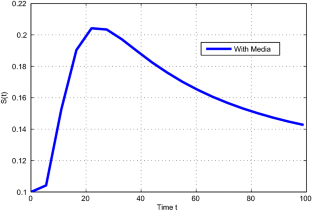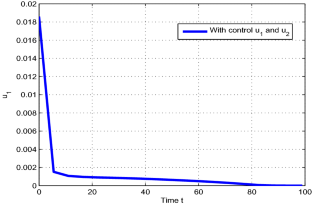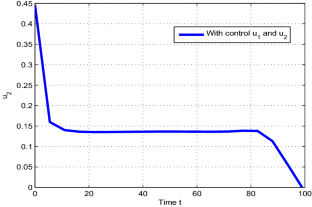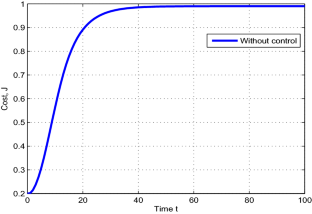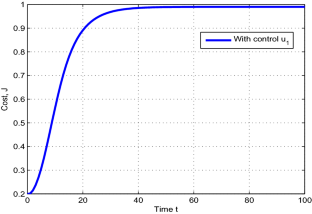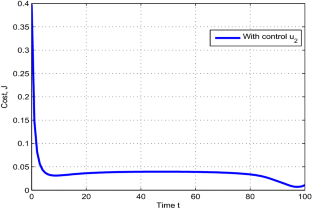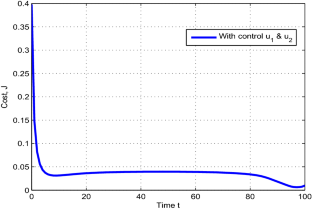 References
Ahmad A, Farman M, Ahmad MO, Raza N, Abdullah (2018) Dynamical behavior of SIR epidemic model with non-integer time fractional derivatives: a mathematical analysis. Int J Adv Appl Sci 5(1):123–129

Ahmad A, Farman M, Yasin F, Ahmad MO (2020) Dynamical transmission and effect of smoking in society. Int J Adv Appl Sci 5(2):71–75

Arafa AAM, Rida SZ, Khalil M (2012) Fractional modeling dynamics of HIV and 4 T-cells during primary infection. Nonlinear Biomed Phys 6:1–7

Ashraf F, Ahmad A, Saleem MU, Farman M, Ahmad MO (2018) Dynamical behavior of HIV immunology model with non-integer time fractional derivatives. Int J Adv Appl Sci 5(3):39–45

Biazar J (2006) Solution of the epidemic model by Adomian decomposition method. Appl Math Comput 173:1101–1106

Bonyah E, Khan MA, Okosun KO, Islam S (2017) A theoretical model for Zika virus transmission. PLoS One 12(10):1–26

Buonomo B, Lacitignola D (2008) On the dynamics of an SEIR epidemic model with a convex incidence rate. Ricerche Mat 57:261–281

Busenberg S, Driessche P (1990) Analysis of a disease transmission model in a population with varying size. J Math Biol 28:65–82

Castilho C (2006) Optimal control of an epidemic through educational campaigns. Electron J Differ Eq:1–11

El-Sayed AMA, Rida SZ, Arafa AAM (2009) On the solutions of time-fractional bacterial chemotaxis in a diffusion gradient chamber. Int J Nonlinear Sci 7:485–495

Fleming wendell H, Rishel Raymond W (1975) Deterministics and Stochastic Optimal Control, vol 1. Springer Verlag, New York

Fister KR, Lenhart S, McNally JS (1998) Optimzing chemothearpy in an HIV model. Electron J Diff Eq:1–12

Garsow C Castillo, Jordan-Salivia G, Rodriguez Herrera A (1997) Mathematical models for the dynamics of tobacco use recovery and relapse Technical Report Series BU-1505- M: Cornell University Ithaca NY USA

Haq F, Shah K, Rahman GU, Shahzad M (2018) Numerical solution of fractional order smoking model via laplace Adomian decomposition method. Alex Eng J 57:1061–1069

https://en.wikipedia.org/wiki/Epidemiology. 17th Nov 2016

Kar TK, Jana S (2013) A theoretical study on mathematical modeling of an infectious disease with application of optimal control. BioSystems 111:37–50

Kribs-Zaleta CM (1999) Structured models for heterosexual disease transmission. Math Biosci 160:83–108

Kusum Lata, Mishra SN, Mishra AK (2020) An optimal control problem for carrier dependent disease. BioSystems 187:1–10

Lenhart S, Workman J (2007) Optimal Control Applied to Biological Model. Chapman and Hall/CRC,

Liu X, Wang C (2010) Bifurcation of a predator-prey model with disease in the prey. Nonlinear Dyn 62:841–850

Lukes DL (1982) Differential equations: classical to controlled. Acad Press NY 162:182

Matintu SA (2017) Smoking as epedemic modeling and simulation study. Am J Appl Math 5:31–38

Misra AK, Sharama A, Shukla JB (2011) Modeling and analysis of effect of awareness programs by media on the spread of infectious diseases. Math Comput Model 53:1221–1228

Misra AK, Sharma A (2014) Modeling the impact of awareness created by media campaigns on vaccination coverage in a variable population. J Biol Sys 22:249–270

Misra AK, Sharama A, Singh V (2011) Effect of awareness programs in controlling the prevalence of an epidemic with time delay. J Biol Sys 19:389–402

Misra AK, Sharma A, Shukla JB (2015) Stability analysis and optimal control of an epidemic model with awareness programs by media. BioSystems 138:53–62

Njankou SDD, Nyabadza F (2016) An optimal control for Ebola virus disease. J Biol Sys 24(1):1–21

Algahtani Obaid J, Momani Anwar Zeb Gul Zaman Shahar, Jung IH (2015) Mathematical study of smoking model by incorporating campaign class. Department of Mathematics King Saud University, Saud Arabia

Okosun KO, Makinde OD (2014) A co-infection model of malaria and cholera diseases with optimal control. Math Biosci 258:19–32

Okosun KO, Khan MA, Bonyah E, Ogunlade ST (2017) On the dynamics of HIV-AIDS and cryptosporidiosis. Eur Phys J Plus 132(8):363

Pontryagin LS, Boltyanskii VG, Gamkrelidze RV, Mishchenko EF (1962) The mathematical theory of optimal process. Interscience Publishers, New York

Sharomi O, Gumel AB (2008) Curtailing smoking dynamics a mathematical modeling approach. Appl Math Comput 195:475–499

Shukla JB, Ram Naresh, Rani Verma Sandhya, Manju Agarwal (2020) Modeling the effect of sanitation in a human habitat to control the spread of bacterial diseases. Model Earth Syst Environ 6(1):39–49

Shyam Sundar, Kumar Mishra Ashish, Ram Naresh (2018) Modeling the impact of media awareness programs on mitigation of carbon dioxide emitted from automobiles. Model Earth Syst Environ 4:349–357

Verma V, Bhadauria Archana S (2019) Global dynamics of a mathematical model on smoking:impact of anti-smoking campaign. J Math Model 7(1):49–62

World Health Organization report on tobacco (2013) http://www.who.int/tobacco/globalreport/2013/en/index.html

Zaman G (2011) Qualitative behavior of giving up smoking model. Bull Malaysian Math Sci Soc. 2:403–415
Acknowledgements
The authors thank the handling editor and anonymous referees for their valuable comments and suggestions which led to an improvement of our original manuscript.
Additional information
Publisher's Note
Springer Nature remains neutral with regard to jurisdictional claims in published maps and institutional affiliations.
About this article
Cite this article
Verma, V. Optimal control analysis of a mathematical model on smoking. Model. Earth Syst. Environ. (2020). https://doi.org/10.1007/s40808-020-00847-1
Received:

Accepted:

Published:
Keywords
Smoking

Education

Media campaigns

Stability

Optimal control