Abstract
This study employs time domain reflectometry (TDR) technology for the automatic monitoring of a landslide area to explore rock deformation mechanism in comparison with rock cores and to estimate the location of a potential sliding surface and the amount of the sliding. Comparing to the data from the TDR monitoring and rock cores in Lushan landslide area in Taiwan, sliding surfaces of the landslide area occurred mainly at two locations of rock formations. One was located at an interface between colluvium and weathered rock; the other's location was a buckling type of rock structures associated with slope creeping. Using a regression equation of the relation between TDR reflection coefficients and shear displacements, the magnitude of a TDR-cable deformation in the field can be determined. Resulting from field TDR monitoring, rock mass creep increased from 0 to 0.67 cm at 13.4-, 57.9- and 70.6-m depths of T3 borehole in the landslide area from September 2018 to May 2019. Overall, the TDR technology is practically used for a real-time and automatic slope monitoring system to detect the location and magnitude of sliding surfaces in the landslide area.
Access options
Buy single article
Instant access to the full article PDF.
US$ 39.95
Tax calculation will be finalised during checkout.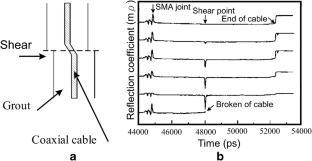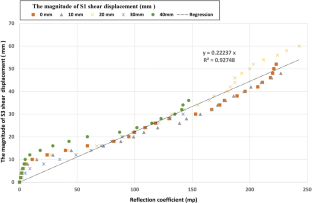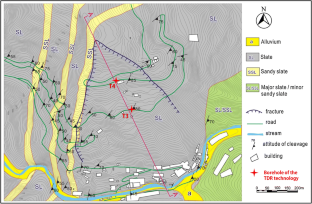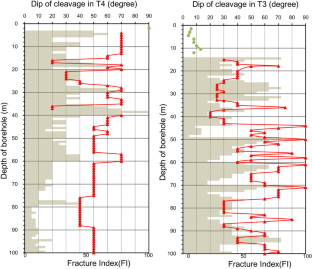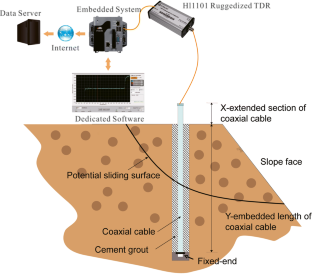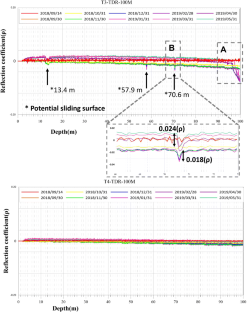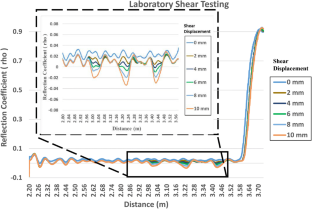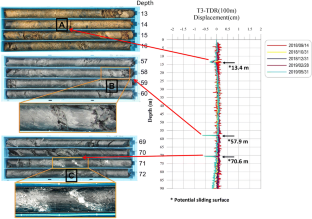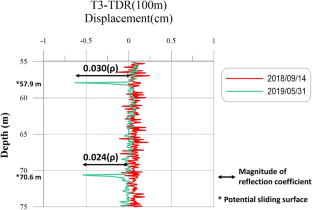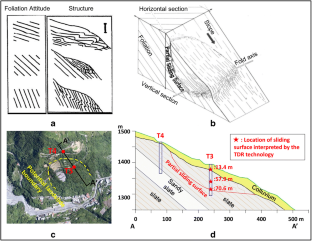 Data Availability
We can upload our data if necessary.
References
1.

Goodman RE (1989) Introduction to rock mechanics (second edition). Wiley, New York

2.

Borgatti L, Corsini A, Barbieri M, Sartini G, Truffelli G, Caputo G, Puglisi C (2006) Large reactivated landslides in weak rock masses: a case study from the northern Apennines (Italy). Landslides 3:115

3.

Dowding CH, Su MB, O'Connor KM (1988) Principles of time domain reflectometometry applied to measurement of rock mass deformation. Int J Rock Mech Min Sci 25:287–297

4.

Dowding CH, Su MB, O'Connor KM (1989) Measurement of rock mass deformation with grouted coaxial antenna cables. Rock Mech Rock Eng 22:1–23

5.

Dowding CH, Pierce CE (1994) Use of Time Domain Reflectometry to Detect Bridge Scour and Monitor Pier Movement. Proceedings of the Symposium on Time Domain Reflectometry in Environmental, Infrastructure, and Mining Applications, Evanston, Illinois. U.S. Bureau of Mines Sept. pp.7–9

6.

Osasan KS, Afeni TB (2010) Review of surface mine slope monitoring techniques. J Min Sci 46:177–186

7.

Su MB, Chen IH, Liao CH (2009) Using TDR cables and GPS for landslide monitoring in High Mountain area. J Geotech Geoenviron Eng 135:1113–1121

8.

Yin Y, Wang H, Gao Y, Li X (2010) Real-time monitoring and early warning of landslides at relocated Wushan town, the three gorges reservoir. China Landslides 7:339–349

9.

O'Connor KM, Dowding CH (1999) GeoMeasurements by pulsing TDR cables and probes. CRC Press, Boca Raton, Florida

10.

Federico A, Popescu M, Elia G, Fidelibus C, Internò G, Murianni A (2012) Prediction of time to slope failure: a general framework. Environ Earth Sci 66:245–256

11.

Su MB, Chen YJ (1998) Multiple reflection of metallic time domain Reflectometry. Exp Techniques 22:26–29

12.

Drusa M, Bulko R (2016) Rock slide monitoring by using TDR inclinometers. Civil Environ Eng 12:137–144

13.

Su MB (1990) Fracture monitoring within concrete structure by time domain Reflectometry. Eng Fract Mech 35:313–320

14.

Su MB, Chen YJ (1999) MTDR monitoring systems for the integrity of infrastructures. J Intell Mater Syst Struct 10:242–247

15.

Chang KT, Ge L, Lin HH (2014) Slope creep behavior: observations and simulations. Environ Earth Sci 73:275–287

16.

Chang KT, Huang HC (2015) Three-dimensional analysis of a deep-seated landslide in Central Taiwan. Environ Earth Sci 74:1379–1390

17.

Mitchell JK, Soga K (2005) Fundamentals of soil behavior. Wiley

18.

Mufundirwa A, Fujii Y, Kodama J (2010) A new practical method for prediction of geomechanical failure-time. Int J Rock Mech Min Sci 47:1079–1090

19.

Su MB, Chen YJ (2000) TDR monitoring for integrity of structural systems. J Infrastruct Syst 6:67–72

20.

Dowding CH, Dussud ML, Kane WF, O'Connor KM (2003) Monitor deformation in rock and soil with TDR sensor cables. Geotechn Instrum News June:51–59

21.

Lin YS, Chen IH, Ho SC, Chen JY, Su MB (2019) Applying time domain reflectometry to quantification of slope deformation by shear failure in a landslide. Environ Earth Sci 78:123–133

22.

Xu ZL, Pierce CE (2013) TDR-based shear deformation measuring system for slope failure modelling. Adv Mater Res 639:1155–1161

23.

Karthik G, Jayanthu S (2017) Quantification of cable deformation using TDR-experiments. Eur J Electr Eng 19:209–219

24.

Ho SC, Chen IH, Lin YS, Chen JY, Su MB (2019) Slope deformation monitoring in the Jiufenershan landslide using time domain Reflectometry technology. Landslides 16:1141–1151

25.

Chen IH, Lin YS, Ho SC, Chen JY, Su MB (2019) Applying Time Domain Reflectometry Technology to Measure Slope Deformation in Landslides. The 8th Civil Engineering Conference in THE ASIAN REGION (CECAR8), Tokyo, Japan, GS-6-2_GS-3, No.2

26.

Chigira M (1992) Long-term gravitational deformation of rocks by mass rock creep. Eng Geol 32:157–184

27.

Lo CM, Feng ZY (2014) Deformation characteristics of slate slopes associated with morphology and creep. Eng Geol 178:132–154

28.

Drnevich VP, Lin C, Yi Q, Lovell JE (2001) Real-Time Determination Of Soil Type, Water Content, and Density Using Electromagnetics. Publication FHWA/IN/JTRP-2000/20. Joint Transportation Research Program, Indiana Department of Transportation and Purdue University, West Lafayette, Indiana

29.

Hoek E, Diederichs MS (2006) Empirical estimation of rock mass modulus. Int J Rock Mech Min Sci 43:203–215
Acknowledgements
The field test presented in this study was made possible through the support and sponsorship of Second Maintenance Office, Directorate General of Highways in Taiwan. The consecutive projects including long-term monitoring are proposed and approved by the technical counselling committee on remediation works of the road in Lushan landslide area. Furthermore, the performance evaluation of each project is periodically reviewed by the committee annually.
Code Availability (Software Application or Custom Code)
Custom code.
Ethics declarations
Conflicts of Interest/Competing Interests
This manuscript has not been submitted to, nor is under review at, another journal or other publishing venue. The authors have no affiliation with any organization with a direct or indirect financial interest in the subject matter discussed in the manuscript.
Additional information
Publisher's Note
Springer Nature remains neutral with regard to jurisdictional claims in published maps and institutional affiliations.
About this article
Cite this article
Chu, YM., Chen, IH. & Su, MB. Automatic TDR Monitoring System for Rock Mass Deformation in a Landslide Area. Exp Tech (2021). https://doi.org/10.1007/s40799-021-00446-4
Received:

Accepted:

Published:
Keywords
Field instrumentation

Landslides

Automatic monitoring system

Time domain reflectometry