Abstract
I review recent developments in the economic analysis of crime, focusing in particular on organized crime and corruption. I first discuss the main challenges to the empirical identification of causal relationships—namely, measurement error due to endogenous reporting of crime and the fact that randomized controlled trials are rarely an option when studying crime. I then discuss recent advancements made possible by the combination of detailed micro data and quasi-experimental methods.
This is a preview of subscription content, log in to check access.
Access options
Buy single article
Instant access to the full article PDF.
US$ 39.95
Price includes VAT for USA
Subscribe to journal
Immediate online access to all issues from 2019. Subscription will auto renew annually.
US$ 99
This is the net price. Taxes to be calculated in checkout.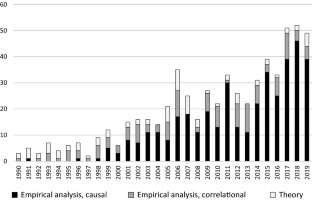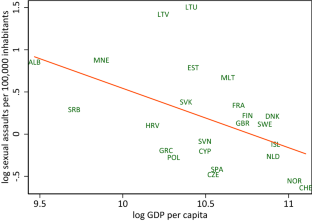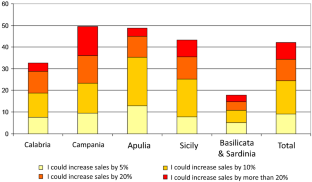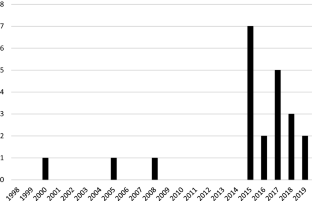 References
Acemoglu D, De Feo G, De Luca GD (2020) Weak states: Causes and consequences of the Sicilian Mafia. Rev Econ Stud 87(2):537–581

Alesina A, Piccolo S, Pinotti P (2019) Organized crime, violence, and politics. Rev Econ Stud 86(2):457–499

Angrist JD, Pischke JS (2010) The credibility revolution in empirical economics: How better Research design is taking the con out of econometrics. J Econ Perspect 24(2):3–30

Banerjee AV, Duflo E (2009) The experimental approach to development economics. Annu Rev Econ 1(1):151–178

Barbarino A, Mastrobuoni G (2014) The incapacitation effect of incarceration: Evidence from several Italian collective pardons. Am Econ J Econ Policy 6(1):1–37

Beccaria C (1764) On crimes and punishment (Dei delitti e delle pene). Trans. Richard Brian Davies. Cambridge University Press, Cambridge

Becker GS (1968) Crime and punishment: An economic approach. J Polit Econ 76(2):169–217

Bentham J (1864) Theory of legislation. R. Hildreth, Trübner & Co., London (Original work published 1802)

Bericat E (2012) The European gender equality index: Conceptual and analytical issues. Soc Indic Res 108(1):1–28

Bianchi M, Buonanno P, Pinotti P (2012) Do immigrants cause crime? J Eur Econ Assoc 10(6):1318–1347

Blattman C, Green D, Ortega D, Tobón S (2017) Place-based interventions at scale: The direct and spillover effects of policing and city services on crime. Technical Report, National Bureau of Economic Research

Britto D, Pinotti P, Sampaio B (2020) The effect of job loss and unemployment insurance on crime in Brazil. CEPR Discussion Paper, (14789)

Brollo F, Nannicini T, Perotti R, Tabellini G (2013) The political resource curse. Am Econ Rev 103(5):1759–96

Brückner M, Ciccone A (2011) Rain and the democratic window of opportunity. Econometrica 79(3):923–947

Buonanno P, Raphael S (2013) Incarceration and incapacitation: Evidence from the 2006 Italian collective pardon. Am Econ Rev 103(6):2437–65

Buonanno P, Montolio D, Vanin P (2009) Does social capital reduce crime? J Law Econ 52(1):145–170

Buonanno P, Durante R, Prarolo G, Vanin P (2015) Poor institutions, rich mines: Resource curse in the origins of the Sicilian mafia. Econ J 125(586):F175–F202

Calamunci F, Drago F (2020) The economic impact of organized crime infiltration in the legal economy: Evidence from the judicial administration of organized crime firms. Ital Econ J. https://doi.org/10.1007/s40797-020-00128-x

Cantoni D, Yuchtman N (2020) Historical natural experiments: Bridging economics and economic history. Technical Report, National Bureau of Economic Research

CENSIS (2009) Il condizionamento delle mafie sull'economia, sulla società sulle istituzioni del mezzogiorno,

Checchi VV, Polo M (2020) Blowing in the wind: The infiltration of Sicilian Mafia in the wind power business. Ital Econ J. https://doi.org/10.1007/s40797-020-00126-z

Cingano F, Tonello M (2020) Law enforcement, social control and organized crime: Evidence from local government dismissals in Italy. Ital Econ J. https://doi.org/10.1007/s40797-020-00124-1

Dal Bó E, Dal Bó P, Di Tella R (2006) Plata o Plomo?: Bribe and punishment in a theory of political influence. Am Polit Sci Rev 100(1):41–53

Daniele G, Geys B (2015) Organised crime, institutions and political quality: Empirical evidence from Italian municipalities. Econ J 125(586):F233–F255

De Angelis I, de Blasio G, Rizzica L (2020) Lost in corruption. Ital Econ J, Evidence from EU funding to Southern Italy. https://doi.org/10.1007/s40797-020-00123-2

Decarolis F, Fisman R, Pinotti P, Vannutelli S (2019) Rules, discretion, and corruption in procurement: Evidence from Italian government contracting. CEPR Discussion Paper No. 14794

Di Tella R, Schargrodsky E (2003) The role of wages and auditing during a crackdown on corruption in the city of Buenos Aires. J Law Econ 46(1):269–292

Di Tella R, Schargrodsky E (2004) Do police reduce crime? Estimates using the allocation of police forces after a terrorist attack. Am Econ Rev 94(1):115–133

Doleac J (2020) Database of crime-related papers published in economics journals

Draca M, Machin S, Witt R (2011) Panic on the streets of London: Police, crime, and the July 2005 terror attacks. Am Econ Rev 101(5):2157–81

Drago F, Galbiati R (2012) Indirect effects of a policy altering criminal behavior: Evidence from the Italian prison experiment. Am Econ J Appl Econ 4(2):199–218

Drago F, Galbiati R, Vertova P (2009) The deterrent effects of prison: Evidence from a natural experiment. J Polit Econ 117(2):257–280

Duflo E, Glennerster R, Kremer M (2007) Using randomization in development economics research: A toolkit. Handb Dev Econ 4:3895–3962

Duggan Mark, Levitt SD (2002) Winning isn't everything: Corruption in sumo wrestling. Am Econ Rev 92(5):1594–1605

Dunning T (2012) Natural experiments in the social sciences: A design-based approach. Cambridge University Press, Cambridge

Faccio M (2006) Politically connected firms. Am Econ Rev 96(1):369–386

Fenizia A (2018) Breaking the ties between the Mafia and the State: Evidence from Italian municipalities. Available at SSRN 3105798

Fisman R (2001) Estimating the value of political connections. Am Econ Rev 91(4):1095–1102

Fisman R, Wei S-J (2004) Tax rates and tax evasion: Evidence from missing imports in China. J Polit Econ 112(2):471–496

Galletta S (2017) Law enforcement, municipal budgets and spillover effects: Evidence from a quasi-experiment in Italy. J Urban Econ 101:90–105

Gambetta D (1996) The Sicilian Mafia: The business of private protection. Harvard University Press, Cambridge

Gara M, Pauselli C (2020) Looking at 'Crying Wolf' from a different perspective: An attempt at detecting banks under-and over-reporting of suspicious transactions. Ital Econ J. https://doi.org/10.1007/s40797-020-00122-3

Gerber AS, Green DP (2012) Field experiments: Design, analysis, and interpretation. WW Norton, New York

Hyslop DR, Imbens GW (2001) Bias from classical and other forms of measurement error. J Bus Econ Stat 19(4):475–481

Kilmer B, Caulkins JP, Pacula RL, Reuter P (2011) Bringing perspective to illicit markets: Estimating the size of the US marijuana market. Drug Alcohol Depend 119(1–2):153–160

Lazear EP (2015) Gary Becker's impact on economics and policy. Am Econ Rev 105(5):80–84

Levitt SD (1996) The effect of prison population size on crime rates: Evidence from prison overcrowding litigation. Q J Econ 111(2):319–351

Mastrobuoni G (2015) The value of connections: Evidence from the Italian-American Mafia. Econ J 125(586):F256–F288

Mastrobuoni G, Pinotti P (2015) Legal status and the criminal activity of immigrants. Am Econ J Appl Econ 7(2):175–206

Mastrobuoni G, Rialland P (2020) Partners in crime: Evidence from recidivating inmates. Ital Econ J. https://doi.org/10.1007/s40797-020-00125-0

Miguel E, Satyanath S, Sergenti E (2004) Economic shocks and civil conflict: An instrumental variables approach. J Polit Econ 112(4):725–753

Olken BA (2007) Monitoring corruption: Evidence from a field experiment in Indonesia. J Polit Econ 115(2):200–249

Pinotti P (2015) The causes and consequences of organised crime: Preliminary evidence across countries. Econ J 125(586):F158–F174

Pinotti P (2015) The economic costs of organised crime: Evidence from Southern Italy. Econ J 125(586):F203–F232

Pinotti P (2017) Clicking on heaven's door: The effect of immigrant legalization on crime. Am Econ Rev 107(1):138–68

Ratcliffe JH, Taniguchi T, Groff ER, Wood JD (2011) The Philadelphia foot patrol experiment: A randomized controlled trial of police patrol effectiveness in violent crime hotspots. Criminology 49(3):795–831

Soares RR (2004) Development, crime and punishment: Accounting for the international differences in crime rates. J Dev Econ 73(1):155–184

Takáts E (2011) A theory of Crying Wolf: The economics of money laundering enforcement. J Law Econ Org 27(1):32–78

Zitzewitz E (2012) Forensic economics. J Econ Lit 50(3):731–69
Additional information
Publisher's Note
Springer Nature remains neutral with regard to jurisdictional claims in published maps and institutional affiliations.
I thank Luca De Benedictis for useful comments on an earlier draft of this paper.
About this article
Cite this article
Pinotti, P. The Credibility Revolution in the Empirical Analysis of Crime. Ital Econ J 6, 207–220 (2020). https://doi.org/10.1007/s40797-020-00130-3
Received:

Accepted:

Published:

Issue Date:
Keywords
Economics of crime

Measurement error

Identification

Quasi-experiments
JEL