Natural Disasters and Injuries: What Does a Surgeon Need to Know?
Open Access
Traumatic Brain Injury (A Valadka, Section Editor)
Part of the following topical collections:
Abstract
Purpose of review
Natural disasters have injured more than 2 million people in the last 10 years and led to significant international medical relief deployment. Knowledge of expected injury patterns following these disasters is an important part of planning for type and size of outside surgical assistance. This review aims to summarize what is known about injury patterns following natural sudden-onset disasters (SODs).
Recent findings
Several systematic reviews have concluded that data on injury patterns and surgical needs following natural SODs is scarce. Studies on earthquakes indicate that earthquakes generate large numbers of injured, out of which limb injuries are most common. Tsunamis, floods, storms, and wildfires do not generate a significant burden of injuries in relation to numbers affected.
Summary
Earthquake may require surgical assistance, especially for limb injuries; therefore, mainly orthopedic and plastic surgeries are priority specialist areas. Major injuries seem to be few in other natural disasters. However, more detailed data is needed on specific injury patterns to determine if additional surgical assistance is needed and to what extent it is needed to cater for normal surgical conditions if existing health care has seized to function.
Keywords
Natural disasters 
Trauma surgery 
Wounds and injuries 
Emergency medicine 
Disaster medicine 
Disaster victims 
Introduction
In the last 10 years, natural disasters have killed 760,000 people, injured 2 million and affected more than 2 billion people [1]. Natural disaster caused mortality and morbidity is likely to increase in coming years due to climate change [2, 3].
A disaster is defined by the Centre of Research on the Epidemiology of Disasters (CRED) as "a situation or event which overwhelms local capacity, necessitating a request to a national or international level for external assistance; an unforeseen and often sudden event that causes great damage, destruction and human suffering." [
4
] Natural disasters, as compared to man-made disasters, are caused by natural phenomena. Several natural disaster classifications exist. CRED uses a cause-based classification where natural disasters are divided into six main groups: biological, geophysical, hydrological, meteorological, climatological, and extra-terrestrial [
4
]. Natural disasters can also be divided into slow or sudden-onset. WHO defines sudden-onset disasters (SODs) as disasters "for which there is little or no warning" (Fig. 
1
) [
5
].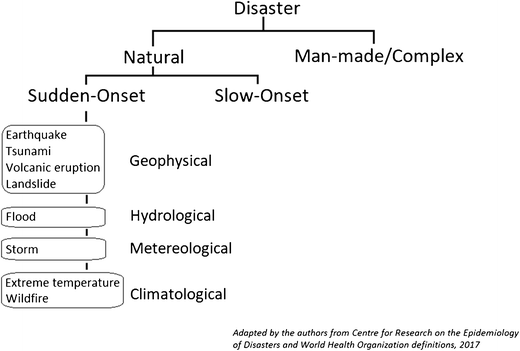 Recent natural SODs in low- and middle-income countries have led to significant international medical relief deployment [6, 7, 8]. However, this response has been critiqued for being of low quality and not adapted to existing health needs [9]. In order to address this, a classification system and standards for emergency medical teams (EMT) was defined by WHO in 2013 [10]. EMTs deploying to international disasters need to adhere to these standards and be WHO-verified beforehand [11]. To ensure that EMTs are equipped and staffed to cater for the health needs, knowledge about the health effects of different disasters is essential in addition to context-specific information. From a surgical perspective, knowledge of injury patterns in different disasters can help both local health care coordination, as well as defining whether international EMTs are needed and adapt their deployment. This study aims to summarize current knowledge about surgical injury patterns following different types of natural SODs.
Methods
This literature review was done using online database searches with the search words "injury," "sudden onset disaster," "surgery," "trauma," and specific natural disaster terms in various combinations. In addition, articles from reference lists from retrieved articles were identified. Relevant articles were read, and data on injury was extracted and compiled using an adapted CRED categorization.
Discussion
Our study found that the injury pattern varies greatly between different natural SODs. However, there is a lack of population-based epidemiological studies on physical injuries and surgical needs.
Earthquakes are the only SOD that cause a significant burden of injuries, mainly of the limb. Because of large numbers of extremity injuries, including wound and fractures, there is a demand for orthopedic and plastic surgery. The main challenge is to ensure rapid surgical care for critical injuries. Outside assistance arrives late, and transportation to functional hospitals is too long to save lives of the most critically injured. This may explain why relatively few abdominal and head/neck injuries are reported during earthquakes. General surgeons are needed for wound management and debridement but also to cater for all non-disaster-related surgeries, including cesarean sections. Physiotherapists and orthopedic technicians are essential for early rehabilitation [58, 59].
The need for trauma surgery following tsunamis, storms, floods, and wildfires is low. This is probably also true for most landslide and volcanic eruption disasters, even though a few studies suggest some severe trauma and burn injuries. Injuries following these disasters are generally few compared to the total numbers affected, and mostly consist of lacerations and minor contusions. It may be assumed that these lacerations or wounds easily get infected, and it is reasonable to believe that surgical procedures foremost will include basic debridement and leaving the wound open for delayed primary suture. Other health care needs such as care for communicable diseases remain more important. Experience show that the most important resources after these disasters are not surgeons, but nurses with wound care skills and general practice doctors with basic surgical skills and ability to treat communicable and non-communicable diseases.
There is no data on injuries during heatwaves and very limited evidence regarding injury patterns during cold waves. Extreme temperatures probably do not cause any significant surgical burden, but more studies are needed.
Secondary injuries are quite common after disasters during clean-up, including falls and traffic accidents, but generally minor. Infrastructural and property damage causing a general lack of health care facilities and medicine is a threat of health in the affected population. When existing health facilities have been destroyed, outside surgical assistance may be needed to cater both for the normal burden of disease and the few severely injured.
Conclusion
There is limited population-based data on type of injuries following natural SODs. Existing studies indicate that besides earthquakes, major injuries are not a significant problem, while bruises and lacerations may render basic wound management. To determine whether outside surgical assistance is needed, information on expected injury pattern, estimated number of injured, and existing health care resources are necessary.
Notes
Compliance with Ethical Standards
Conflict of Interest
The authors declare no conflicts of interest relevant to this manuscript.
Human and Animal Rights and Informed Consent
This article does not contain any studies with human or animal subjects performed by any of the authors.
References
Papers of particular interest, published recently, have been highlighted as: • Of importance
Copyright information
© The Author(s) 2018
Open Access This article is distributed under the terms of the Creative Commons Attribution 4.0 International License (http://creativecommons.org/licenses/by/4.0/), which permits unrestricted use, distribution, and reproduction in any medium, provided you give appropriate credit to the original author(s) and the source, provide a link to the Creative Commons license, and indicate if changes were made.