Abstract
Purpose
Surgical training models have changed from master-apprentice to competency-based training. We aimed to determine the relative importance and peak periods of acquiring these competencies in newly commencing colorectal surgeons.
Methods
A mailed questionnaire to all current Colorectal Surgical Society of Australia and New Zealand (CSSANZ) members was conducted between October and December 2016 assessing the relative importance of each competency and the period or activity of learning or training contributing most to achieving that competency.
Results
The response rate was 43% (90/208) with 87% (n = 75) agreed or strongly agreed to the relevance and applicability of the nine RACS competencies. Competencies varied in perceived importance (strongly agreed: judgment-clinical decision-making (JU) 63%, collaboration/teamwork (CT) 53%, technical expertise (TE) 47%, communication (CO) 44%, medical expertise (ME) 34%, scholarship/teaching (ST) 33%, professionalism (PR) 33%/ethics (ET) 24%, health advocacy (HA) 18%, management (MX) 13%/leadership (LE) 17%), and the peak period for acquiring them (registrar: CO 39%, ST 30%; fellow: TE 62%, CT 44%, ME 40%, JU 38%; consultant: MX/LE 52%, HA 48%, PR/ET 33%).
Conclusion
Surgical competencies for colorectal surgeons are accumulated and acquired at varying degrees and periods across a spectrum of continuing registrar, fellow, and consultant education and training. These findings serve as a baseline for further refinement of current and continuing educational and training programs.
This is a preview of subscription content, log in to check access.
Access options
Buy single article
Instant access to the full article PDF.
US$ 39.95
Price includes VAT for USA
Subscribe to journal
Immediate online access to all issues from 2019. Subscription will auto renew annually.
US$ 99
This is the net price. Taxes to be calculated in checkout.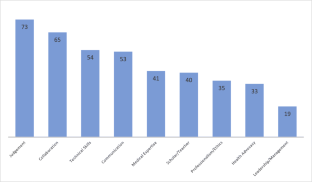 References
1.

Hamdorf JM, Hall JC. Acquiring surgical skills. Br J Surg. 2000;87(1):28–37.

2.

Royal College of Physicians and Surgeons of Canada. The CanMEDS. Physician Competency Framework—Better Standards, Better Physicians, Better Care. 2005.

3.

Arora S, Sevdalis N, Suliman I, Athanasiou T, Kneebone R, Darzi A. What makes a competent surgeon?: experts' and trainees' perceptions of the roles of a surgeon. Am J Surg. 2009;198(5):726–32.

4.

Royal Australasian College of Surgeons. A guide to surgical education & training, 2nd edn. Melbourne: Royal Australasian College of Surgeons, 2018.

5.

Rademakers JJ, De rooy N, Ten cate OT. Senior medical students' appraisal of CanMEDS competencies. Med Educ 2007;41(10):990–994.

6.

Ringsted C, Hansen TL, Davis D, Scherpbier A. Are some of the challenging aspects of the CanMEDS roles valid outside Canada? Med Educ. 2006;40(8):807–15.

7.

Gawande AA, Thomas EJ, Zinner MJ, Brennan TA. The incidence and nature of surgical adverse events in Colorado and Utah in 1992. Surgery. 1999;126(1):66–75.

8.

Verma S, Flynn L, Seguin R. Faculty's and residents' perceptions of teaching and evaluating the role of health advocate: a study at one Canadian university. Acad Med. 2005;80(1):103–8.

9.

Borman KR, Vick LR, Biester TW, Mitchell ME. Changing demographics of residents choosing fellowships: longterm data from the American Board of Surgery. J Am Coll Surg. 2008;206(5):782–8.

10.

Nousiainen MT, Latter DA, Backstein D, Webster F, Harris KA. Surgical fellowship training in Canada: what is its current status and is improvement required? Can J Surg. 2012 Feb;55(1):58–65.

11.

Simon MA. Evolution of the present status of orthopaedic surgery fellowships. J Bone Joint Surg Am. 1998;80(12):1826–9.

12.

Sachdeva AK, Blair PG, Lupi LK. Education and training to address specific needs during the career progression of surgeons. Surg Clin North Am. 2016 Feb;96(1):115–28.

13.

Sue GR, Bucholz EM, Yeo H, Roman SA, Jones A, Bell RH, et al. The vulnerable stage of dedicated research years of general surgery residency: results of a national survey. Arch Surg. 2011 Jun;146(6):653–8.

14.

Vincent C, Young M, Phillips A. Why do people sue doctors? A study of patients and relatives taking legal action. Lancet. 1994;343:1609–13.

15.

Arora S, Sevdalis N, Nestel D, Tierney T, Woloshynowych M, Kneebone R. Managing intraoperative stress: what do surgeons want from a crisis training program? Am J Surg. 2009;197(4):537–43.

16.

Baldwin PJ, Paisley AM, Brown SP. Consultant surgeons' opinion of the skills required of basic surgical trainees. Br J Surg. 1999;86(8):1078–82.

17.

Hall JC, Ellis C, Hamdorf J. Surgeons and cognitive processes. Br J Surg. 2003;90(1):10–6.

18.

Sonnadara RR, Mui C, Mcqueen S, et al. Reflections on competency-based education and training for surgical residents. J Surg Educ. 2014;71(1):151–8.

19.

Bhatti NI, Cummings CW. Competency in surgical residency training: defining and raising the bar. Acad Med. 2007;82(6):569–73.

20.

Hawkins RE, Welcher CM, Holmboe ES, Kirk LM, Norcini JJ, Simons KB, et al. Implementation of competency-based medical education: are we addressing the concerns and challenges? Med Educ. 2015;49(11):1086–102.

21.

Ten cate O. Competency-based education, entrustable professional activities, and the power of language. J Grad Med Educ. 2013;5(1):6–7.

22.

Ten cate O. Nuts and bolts of entrustable professional activities. J Grad Med Educ. 2013;5(1):157–8.

23.

Moore D, Young CJ, Hong J. Implementing entrustable professional activities: the yellow brick road towards competency-based training? ANZ J Surg. 2017;87(12):1001–5.

24.

El Boghdady M, Alijani A. Feedback in surgical education. Surgeon. 2017;15(2):98–103.

25.

van Rossum TR, Fedde S, Sluiter HE, Bosman PJ, Rijksen L, Heyligers IC. Flexible competency based medical education: more time efficient, higher costs. Med Teach. Informa UK Ltd; 2018;0(0):315–317.

26.

Ten cate O. Trust, competence, and the supervisor's role in postgraduate training. BMJ. 2006;333(7571):748–51.

27.

Arora S, Sevdalis N, Nestel D, Woloshynowych M, Darzi A, Kneebone R. The impact of stress on surgical performance: a systematic review of the literature. Surgery. 2010;147(3):318–30 330.e1–6.
Acknowledgments
Thanks to Colorectal Surgical Society of Australia and New Zealand for their approval to distribute the survey.
Ethics declarations
Conflict of Interest
The authors declare that they have no conflict of interest.
Ethical Approval
Approved
Informed Consent
Obtained from participants
Additional information
Publisher's Note
Springer Nature remains neutral with regard to jurisdictional claims in published maps and institutional affiliations.
This paper furthers the understanding and relevance of competency-based surgical education and training to the professional development of a colorectal surgeon.
About this article
Cite this article
Zahid, A., Rajan, V., Hong, J. et al. Surgical Competencies Required in Newly Commencing Colorectal Surgeons: an Educational and Training Spectrum. Med.Sci.Educ. (2020). https://doi.org/10.1007/s40670-020-01005-z
Keywords
Competency

Surgery

Training

Colorectal