Abstract
Background
Faculty development programs, studied both within the USA and internationally, have been shown to be helpful for enhancing scholarly and academic work for academic faculty in teaching institutions. This project investigates the impact of a well-studied faculty development program applied to basic science teachers in an academic medical center in the Dominican Republic.
Methods
A faculty cohort of physician educators in the Basic Sciences at Universidad Iberoamericana (UNIBE) School of Medicine in the Dominican Republic underwent training in the Stanford Faculty Development Center (SFDC) model of teaching through a sequence of seven workshops that were adapted for basic science content. A validated retrospective pre- and post-test instrument was used to measure study outcomes on specific teaching behaviors at the end of the workshops, at 3-month and at 12-month post-intervention. Thematic analysis of specific teaching techniques and barriers to their teaching were compiled.
Results
Fourteen faculty participants completed the study. All participants found the workshops valuable. Significant improvement in self-reported teaching abilities was seen comparing the mean pre-intervention scores of 106.21 (maximum score = 145, standard deviation [SD] = 12.70) with mean immediate post-intervention scores of 138.28 (SD = 6.12), the 3-month post-intervention scores of 129.79 (SD = 11.12) and the 1-year post-intervention scores of 131.86 (SD = 11.26). Several consistent themes were found among participants.
Conclusions
Faculty development for improving teaching of basic science concepts by clinicians can be performed across the cultures of the USA and the Dominican Republic.
This is a preview of subscription content, log in to check access.
Access options
Buy single article
Instant access to the full article PDF.
US$ 39.95
Price includes VAT for USA
Subscribe to journal
Immediate online access to all issues from 2019. Subscription will auto renew annually.
US$ 99
This is the net price. Taxes to be calculated in checkout.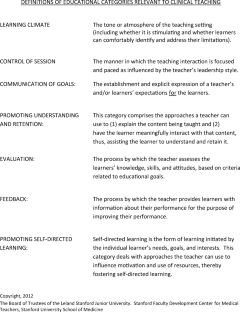 References
1.

Skeff KM, Stratos GA, Campbell M, Cooke M, Jones HW. Evaluation of the seminar method to improve clinical teaching. J Gen Intern Med. 1986;1:315–22.

2.

Litzelman DK, Stratos GA, Marriott DJ, Skeff KM. Factorial validation of a widely disseminated educational framework for evaluating clinical teachers. Acad Med. 1998;73(6):688–95.

3.

Skeff KM, Stratos GA, Berman J, Bergen MR. Improving clinical teaching – evaluation of a national dissemination program. Arch Intern Med. 1992;152:1156–61.

4.

Wong JG, Agisheva K. Developing teaching skills for medical educators in Russia: a cross-cultural faculty development project. Med Educ. 2007;41:318–24.

5.

Johansson J, Skeff K, Stratos G. Clinical teaching improvement: the transportability of the Stanford Faculty Development Program. Med Teacher. 2009;31:e377–82.

6.

Wong JG, Fang Y. Improving clinical teaching in China: initial report of a multihospital pilot faculty development effort. Teach Learn Med. 2012;24(4):355–60.

7.

Wong JG, Son D, Miura W. Cross-cultural inter-professional faculty development in Japan: results of an Integrated Workshop for Clinical Teachers. Am J Med Sci. 2017;354(6):597–602.

8.

Functions and Structure of a Medical School. Standards for accreditation of medical education programs leading to the MD Degree. LCME (Liaison Committee on Medical Education) Published March 2019.

9.

Flexner A. Medical education in the United States and Canada. NY: The Carnegie Foundation New York; 1910.

10.

Finnerty EP, Chauvin S, Bonaminio G, Andrews M, Carroll RG, Pangaro LN. Flexner revisited: the role and value of the basic sciences in medical education. Acad Med. 2010;85:349–55.

11.

UNIBE at https://www.unibe.edu.do/consumer-information/institutional-information/. Accessed December 9, 2019.

12.

Stanford Faculty Development Center for Medical Teachers at http://sfdc.stanford.edu. Accessed November 25, 2019.

13.

Kirkpatrick DL, Kirkpatrick JD. Evaluating training programs: the four levels. 3rd ed. San Francisco: Berrett-Koehler; 2006.

14.

Skeff KM, Stratos GA, Bergen MR. Evaluation of a medical faculty development program: a comparison of traditional pre/post and retrospective pre/post self-assessment ratings. Eval Health Profess. 1992;15:351–66.

15.

Howard GS, Ralph KM, Gulanick NA, Maxwell SE, Nance SW, Gerber SK. Internal invalidity in pretest–posttest self-report evaluations and a reevaluation of retrospective pretests. Appl Psychol Meas. 1979;3:1–23.

16.

Hoogstraten J. Influence of objective measures on self-reports in a retrospective pretest-posttest design. J Exp Educ. 1985;53:207–10.

17.

Bray JH, Howard GS. Methodological considerations in the evaluation of a teacher-training program. J Educ Psychol. 1980;72:62–70.

18.

Howard GS, Dailey PR. Response-shift bias: a source of contamination of self-report measures. J Appl Psychol. 1979;64:144–50.

19.

Philibert I, Konopasek L, Riddle J. The international literature on teaching faculty development in English-language journals: a scoping review and recommendations for core topics. J Grad Med Ed. 2019;11(4 Suppl):47–63.
Acknowledgements
The authors acknowledge and thank the Stanford Faculty Development Center for the use of the retrospective pre- and post-test instrument and the framework of the seven major categories of clinical teaching. The authors also acknowledge and thank the University of Vermont Larner College of Medicine/Western Connecticut Health Network Global Health Program and its leader, Dr. Majid Sadigh, for the interest and support of this project.
Ethics declarations
Conflict of Interest
The authors declare that they have no conflict of interest.
Ethical Approval
The project was exempted from Human Subject review
Informed Consent
Participation in the project was voluntary. As stated on the survey, voluntarily completing and submitting of the survey instrument implied consent
Additional information
Publisher's Note
Springer Nature remains neutral with regard to jurisdictional claims in published maps and institutional affiliations.
About this article
Cite this article
Wong, J.G., Nunez Cuervo, M.A. & Peralta Saba, E.D. Faculty Development in Basic Science Disciplines for Clinical Teachers: Results of a Cross-Cultural Workshop in the Dominican Republic. Med.Sci.Educ. (2020). https://doi.org/10.1007/s40670-020-00992-3
Keywords
Faculty development

Basic science medical education

International medical education

Teaching and learning