Abstract
Background
The effect of student feedback on teaching quality has been well-documented. However, only a few studies have examined the impact of feedback on clinical teachers delivering cross-border medical education in this geographical region. The aim of this study is to investigate (i) the quality of teaching among clinical teachers in a cross-border medical education setup, (ii) the impact of student feedback on teaching effectiveness, (iii) the differences in ratings among different groups of students, and (iv) factors that improve clinical teaching.
Methods
Fifty-seven clinical teachers and 140 students participated in this study. Teachers received feedback on their performance and were allowed to reflect on them. Six months later, the teachers received feedback again. Additionally, semi-structured individual interviews were conducted with 5 selected clinical teachers working in 2 different hospitals to explore the factors that influenced clinical teaching.
Result
Overall, nearly half of the clinical teachers (n = 25) showed a trend of greater scores in the second assessment, while most of the remaining teachers (n = 24) continued to have more or less the same score or marginal fall in the second assessment. Even though few clinical teachers demonstrated significantly lesser scores, careful observation of data showed that the mean value of the second score either remained above (n = 5) or closer (n = 2) to the cut-off value of 3.74, except one teacher who recorded the least mean score of 3.17 in the second assessment. In qualitative analysis, teachers emphasised that the student feedback allowed them to develop more effective teaching approaches and strategies.
Conclusion
The pattern of results suggests that the effect of student feedback on teaching quality can have multiple outcomes, mostly positive or neutral, and very rarely negative. This study also advocates that feedback can be more beneficial if strengthened by other interventions like faculty training.
Access options
Buy single article
Instant access to the full article PDF.
US$ 39.95
Tax calculation will be finalised during checkout.
Subscribe to journal
Immediate online access to all issues from 2019. Subscription will auto renew annually.
US$ 79
Tax calculation will be finalised during checkout.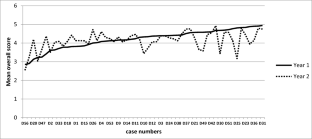 Abbreviations
mSETQ:

modified systematic evaluation of teaching qualities

RCSI Bahrain:

Royal College of Surgeons in Ireland–Bahrain
References
1.

Aaronson D, Barrow L, Sander W. Teachers and student achievement in the Chicago public high schools. J Labor Econ. 2007;25(1):95–135.

2.

Marsh HW, Roche L. The use of students' evaluations and an individually structured intervention to enhance university teaching effectiveness. Am Educ Res J. 1993;30(1):217.

3.

Gould B, Grey M, Huntington C, Gruman C, Rosen J, Storey E, et al. Improving patient care outcomes by teaching quality improvement to medical students in community-based practices. Acad Med. 2002;77(10):1011–8.

4.

Rivkin S, Hanushek E, Kain J. Teachers, schools, and academic achievement. Econometrica. 2005;73(2):417–58.

5.

Rockoff J. The impact of individual teachers on student achievement: evidence from panel data. Am Econ Rev. 2004;94(2):247–52.

6.

Baker K. Clinical teaching improves with resident evaluation and feedback. Anesthesiology. 2010.

7.

Bok H, Teunissen P, Spruijt A, Fokkema J, van Beukelen P, Jaarsma D, et al. Clarifying students' feedback-seeking behaviour in clinical clerkships. Med Educ. 2013;47(3):282–91.

8.

Branch W, Paranjape A. Feedback and reflection. Acad Med. 2002;77(12, Part 1):1185–8.

9.

Stalmeijer R, Dolmans D, Wolfhagen I, Peters W, van Coppenolle L, Scherpbier A. Combined student ratings and self-assessment provide useful feedback for clinical teachers. Adv Health Sci Educ Theory Pract. 2009;15(3):315–28.

10.

Kember D, Leung D, Kwan K. Does the use of student feedback questionnaires improve the overall quality of teaching? Assess Eval High Educ. 2002;27(5):411–25.

11.

Hattie J, Timperley H. The power of feedback. Rev Educ Res. 2007;77(1):81–112.

12.

Clynes, Mary P., and Sara E.C. Raftery. Feedback: an essential element of student learning in clinical practice. Nurse Educ Pract 2008; 8 (6): 405–411.

13.

Telio S, Ajjawi R, Regehr G. The "educational alliance" as a framework for reconceptualizing feedback in medical education. Acad Med. 2015;90(5):609–14.

14.

Skeff K. Enhancing teaching effectiveness and vitality in the ambulatory setting. J Gen Intern Med. 1988;3(S1):S26–33.

15.

Van der Leeuw R, Lombarts K, Heineman M, Arah O. Systematic evaluation of the teaching qualities of obstetrics and gynecology faculty: reliability and validity of the SETQ tools. PLoS One. 2011;6(5):e19142.

16.

Al Ansari A, Strachan K, Hashim S, Otoom S. Analysis of psychometric properties of the modified SETQ tool in undergraduate medical education. BMC Med Educ. 2017;17(1):56.

17.

Krackov S. Expanding the horizon for feedback. Med Teach. 2011;33(11):873–4.

18.

Ramani S, Krackov S. Twelve tips for giving feedback effectively in the clinical environment. Med Teach. 2012;34(10):787–91.

19.

Wilbur K, BenSmail N, Ahkter S. Student feedback experiences in a cross-border medical education curriculum. Int J Med Educ. 2019;10:98–105.

20.

Field, A. P. Discovering statistics using SPSS (and sex and drugs and rock'n' roll). Los Angeles [Calif.: SAGE]. 2005.

21.

Violato C, Saberton S. Assessing medical radiation technologists in practice: a multi-source feedback system for quality assurance. Can J Med Radiat Technol. 2006;37(2):10–7.

22.

Zamawe F. The implication of using NVivo software in qualitative data analysis: evidence-based reflections. Malawi Med J. 2015;27(1):13–5.

23.

Khandkar, Shahedul Huq. "Open Coding." University of Calgary 23. 2009.

24.

Walsh M. Teaching qualitative analysis using Qsr Nvivo. Qual Rep. 2003;8(2):251–6.

25.

Ezzy D. Qualitative analysis. Taylor & Francis. 2013.

26.

Holloway, I. Qualitative research in health care. Open University Press 2005.

27.

Poulos A, Mahony MJ. Effectiveness of feedback: the students' perspective. Assess Eval High Educ. 2008;33(2):143–54.

28.

Fleming P, Heath O, Goodridge A, Curran V. Making medical student course evaluations meaningful: implementation of an intensive course review protocol. BMC Medical Education. 2015 Dec;15(1):99.

29.

Novak L, & Purkey W. Invitational education. Bloomington, IN: Phi Delta kappa fastback. 2001.

30.

Korthagen F, Vasalos A. Levels in reflection: core reflection as a means to enhance professional growth. Teach Teach Theory Pract. 2005;11(1):47–71.

31.

Matthew-Maich N, Ploeg J, Jack S, Dobbins M. Transformative learning and research utilization in nursing practice: a missing link? Worldviews Evid-Based Nurs. 2010;7(1):25–35.

32.

Doyle KO, Whitely SE. Student ratings as criteria for effective teaching. Am Educ Res J. 1974;11(3):259.
Availability of Data and Material
The datasets used during the current study are available from the corresponding author on reasonable request.
Ethics declarations
Conflict of Interest
The authors declare that they have no conflict of interest.
Ethics Approval and Consent to Participate
The research was approved by the Research and Ethics Committee at the RCSI–Bahrain and was conducted in accordance with the Declaration of Helsinki.
Consent for Publication
Not Applicable.
Additional information
Publisher's Note
Springer Nature remains neutral with regard to jurisdictional claims in published maps and institutional affiliations.
About this article
Cite this article
Al Ansari, A., Strachan, K., Al Balooshi, S. et al. Influence of Student Feedback on the Quality of Teaching among Clinical Teachers in Bahrain. Med.Sci.Educ. 30, 253–262 (2020). https://doi.org/10.1007/s40670-019-00892-1
Keywords
mSETQ

Feedback

Clinical education

Teaching quality

Mixed method