Abstract
Mobile devices are an integral part of modern medical education, as convenient platforms for access to online interactive learning resources; students' use of textbooks has correspondingly declined. We designed an interactive iBook© for pre-clinical students encompassing the content of the pulmonary segment in an organ-based multidisciplinary course. We found, via a survey-based study, that students preferred the iBook to other faculty-supplied materials (PowerPoints and PDFs), mainly due to its interactive images, animations, and study questions. Students' test performance did not change significantly after introducing the iBook. This study suggests that expanded use of interactive learning resources may enhance students' engagement with pre-clinical courses.
This is a preview of subscription content, log in to check access.
Access options
Buy single article
Instant access to the full article PDF.
US$ 39.95
Tax calculation will be finalised during checkout.
Subscribe to journal
Immediate online access to all issues from 2019. Subscription will auto renew annually.
US$ 99
Tax calculation will be finalised during checkout.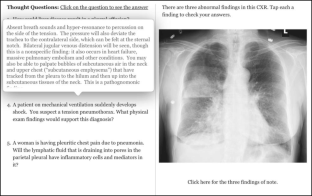 References
1.

Davies BS, Rafique J, Vincent TR, Fairclough J, Packer MH, Vincent R, et al. Mobile Medical Education (MoMEd) - how mobile information resources contribute to learning for undergraduate clinical students - a mixed methods study. BMC Med Educ. 2012;12:1.

2.

Masters KM, Ellaway RH, Topps D, Archibald D, Hogue RJ. Mobile technologies in medical education: AMEE Guide No. 105. Med Teacher. 2016;38:537–49.

3.

Koohestani HR, Arabshahi SKS, Fata L, Ahmadi F. The educational effects of mobile learning on students of medical sciences: a systematic review in experimental studies. J Adv Med Educ Prof. 2018;6(2):58–69.

4.

Maudsley G, Taylor D, Allam O, Garner J, Calinici T, Linkman K. A Best Evidence Medical Education (BEME) systematic review of: what works best for health professions students using mobile (hand-held) devices for educational support on clinical placements? BEME Guide No. 52. Med Teach. 2018;28:1–16.

5.

Klimova B. Mobile learning in medical education. J Med Syst. 2018;42:194.

6.

Pickett KM. Resource format preferences across the medical curriculum. J Med Libr Assoc. 2016;104(3):193–6.

7.

Backhaus J, Huth K, Entwistle A, Homayounfar K, Koenig S. Digital affinity in medical students influences learning outcome: a cluster analytical design comparing vodcast with traditional lecture. J Surg Educ. 2019;76(3):711–9.

8.

Sinclair P, Kable A, Levett-Jones T. The effectiveness of internet-based e-learning on clinician behavior and patient outcomes: a systematic review protocol. JBI Database System Rev Implement Rep. 2015;13(1):52–64.

9.

Al-Hussaini A, Tomkinson A. Exploring medical undergraduates' perceptions of the educational value of a novel ENT iBook: a qualitative study. J Vis Commun Med. 2016;39(1–2):3–9.

10.

Acosta ML, Sisley A, Ross J, Brailsford I, Bhargava A, Jacobs R, et al. Student acceptance of e-learning methods in the laboratory class in optometry. PLoS One. 2018;13(12):e0209004.

11.

Payne KF, Goodson AM, Tahim A, Wharrad HJ, Fan K. Using the iBook in medical education and healthcare settings--the iBook as a reusable learning object; a report of the author's experience using iBooks Author software. J Vis Commun Med. 2012;35(4):162–9.

12.

Stewart S, Choudhury B. Mobile technology: creation and use of an iBook to teach the anatomy of the brachial plexus. Anat Sci Educ. 2015;8:429–37.

13.

Sahyouni R, Mahmoodi A, Mahmoodi A, Rajaii RR, Hasjim BJ, Bustillo D, et al. Interactive iBook-based patient education in a neurotrauma clinic. Neurosurgery. 2017;81(5):787–94.
Acknowledgements
The authors would like to thank Dr. Moshe Eisenberg and the Renaissance School of Medicine mobile MedEd initiative for their assistance with this project.
Ethics declarations
Conflict of Interest
The authors declare that they have no conflict of interest.
Ethical Approval
The Stony Brook University Committee on Research Involving Human Subjects (IRB) considered this study to be exempt from research approval, based on the anonymous collection of data in an educational setting (CORIHS no. 1090485-1).
Informed Consent
Student participation in this study was voluntary and anonymous. The institutional review board judged it to be exempt from the requirement for informed consent.
Additional information
Publisher's Note
Springer Nature remains neutral with regard to jurisdictional claims in published maps and institutional affiliations.
About this article
Cite this article
Friedmann, T., Bai, J.D.K., Ahmad, S. et al. Outcomes of Introducing a Mobile Interactive Learning Resource in a Large Medical School Course. Med.Sci.Educ. 30, 25–29 (2020). https://doi.org/10.1007/s40670-019-00829-8
Keywords
Mobile learning

iBook

Medical school pre-clinical classes

Test performance

Study habits