This is a preview of subscription content, log in to check access.
Access options
Buy single article
Instant access to the full article PDF.
US$ 39.95
Price includes VAT for USA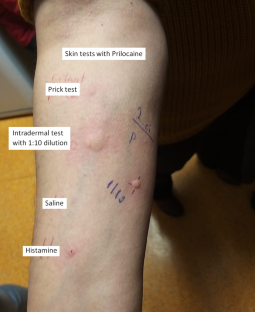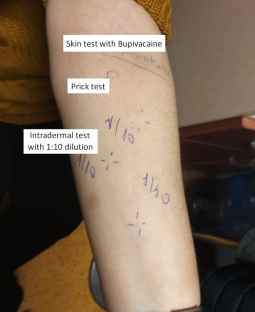 References
1.

Boren E, Teuber SS, Naguwa SM, Gershwin ME. A critical review of local anesthetic sensitivity. Clin Rev Allergy Immunol. 2007;32:119–28.

2.

Batinac T, Sotošek Tokmadžić V, Peharda V, Brajac I. Adverse reactions and alleged allergy to local anesthetics: analysis of 331 patients. J Dermatol. 2013;40:522–7.

3.

Rosa Duque JS, Chong PC, Lau YL, Ho MH. Cross-reactivity pattern of a rare presentation of generalized delayed-type hypersensitivity to local anesthetics. Asian Pac J Allergy Immunol. 2019;37:179–82.

4.

Prieto A, Herrero T, Rubio M, Tornero P, Baeza ML, Velloso A, et al. Urticaria due to mepivacaine with tolerance to lidocaine and bupivacaine. Allergy. 2005;60:261–2.

5.

Ing Lorenzini K, Gay-Crosier Chabry F, Piguet C, Desmeules J. Meta-xylene: identification of a new antigenic entity in hypersensitivity reactions to local anesthetics. J Allergy Clin Immunol Pract. 2016;4:162–4.

6.

Davila-Fernández G, Sánchez-Morillas L, Rojas P, Laguna JJ. Urticaria due to an intradermal test with articaine hydrochloride. J Investig Allergol Clin Immunol. 2012;22:373–4.
Ethics declarations
Conflict of interest
O.C. Bostan, M.E. Cakmak, S.B. Kaya, E. Celebioglu, G. Karakaya and A.F. Kalyoncu declare that they have no competing interests.
About this article
Cite this article
Bostan, O.C., Cakmak, M.E., Kaya, S.B. et al. Anaphylaxis to lidocaine and cross-reactivity to articaine and prilocaine with tolerance to bupivacaine. Allergo J Int (2020). https://doi.org/10.1007/s40629-020-00132-8
Received:

Accepted:

Published:
Keywords
Local anesthetics

Cross-reactivity

Drug hypersensitivity

Drug allergy

Amide group anesthetics