Summary
Background
New Zealand has one of the highest asthma rates in the world, frequently linked to the quality of housing. A confirmed causal factor for asthma is the dust mite allergen, with environmental factors such as temperature and relative humidity (RH) linked to the proliferation of dust mites. Whilst significant research has been undertaken into the habitat and ecology of dust mites, little research has been conducted comparing different categories of housing quality in relation to dust mites.
Methods
A dust mite population prediction algorithm (POPMITE) was used to undertake a comparative analysis of the potential of three housing types (old, newly constructed and newly constructed green certified) to harbour dust mites.
Results
The results determined no statistically significant difference between the quality categories, and the hypothesis that newly constructed, more insulated dwellings would have lower predicted dust mite populations was rejected. Instead, the newly constructed dwellings exhibited a wide range of predicted dust mite populations indicating a potential sensitivity to occupant behaviour in new housing stock which was not experienced in the older vintage dwellings.
Conclusions
Occupant behaviour is suggested as an influencing factor with a call for policy makers to consider real-time feedback loops to dwelling occupants, in conjunction with structural interventions, to improve the health of the interior environment.
This is a preview of subscription content, log in to check access.
Access options
Buy single article
Instant access to the full article PDF.
US$ 39.95
Price includes VAT for USA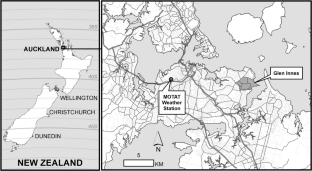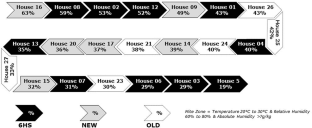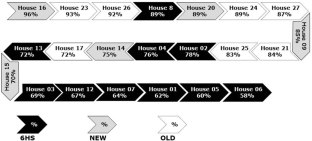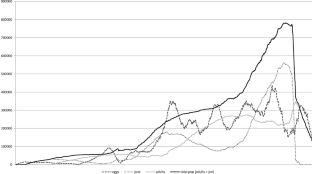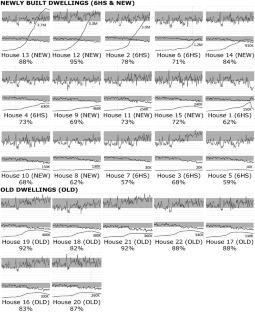 Notes
1.

Human Participants Ethics Committee approval was granted prior to installation of the data loggers.
Abbreviations
6HS:

6‑Homestar

AH:

Absolute humidity

CEH:

Critical equilibrium humidity

DP:

Dermatophagoides pteronyssinus

IEA:

International Energy Agency

LPWAN:

Low-powered wider area network connection

MOTAT:

Museum of Transport and Technology

NEW:

New building stock

NZBC:

New Zealand Building Code

OLD:

Old building stock

POPMITE:

A dust mite population prediction algorithm

RH:

Relative humidity

WOF:

Warrant of fitness
References
1.

Allen JG, MacNaughton P, Laurent JGC, Flanigan SS, Eitland ES, Spengler JD. Green buildings and health. Curr Envir Health Rpt. 2015;2:250–8.

2.

Koistinen K, Kotzias D, Kephalopoulos S, Schlitt C, Carrer P, Jantunen M, et al. The INDEX project: executive summary of a European Union project on indoor air pollutants. Allergy. 2008;63:810–9.

3.

Howden-Chapman P, Matheson A, Crane J, Viggers H, Cunningham M, Blakely T, et al. Effect of insulating existing houses on health inequality: cluster randomised study in the community. BMJ. 2007;334:460. https://doi.org/10.1136/bmj.39070.573032.80.

4.

Telfar-Barnard L, Bennett J, Robinson A, Hailes A, Ombler J, Howden-Chapman P. Evidence base for a housing warrant of fitness. SAGE Open Med. 2019; https://doi.org/10.1177/2050312119843028.

5.

Ingham T, Keall M, Jones B, Aldridge DR, Dowell A, Davies C, et al. Damp mouldy housing and early childhood hospital admissions for acute respiratory infection: a case control study. Thorax. 2019;74:849–57.

6.

Keall MD, Crane J, Baker MG, Wickens K, Howden-Chapman P, Cunningham M. A measure for quantifying the impact of housing quality on respiratory health: a cross-sectional study. Environ Health. 2012;11:33. https://doi.org/10.1186/1476-069X-11-33.

7.

HQSC. Asthma. 2016. https://www.hqsc.govt.nz/our-programmes/health-quality-evaluation/projects/atlas-of-healthcare-variation/asthma/. Accessed: 15 May 2019.

8.

World Health Organization. WHO housing and health guidelines. Geneva: WHO; 2018.

9.

Milner J, Wilkinson P. Effects of home energy efficiency and heating interventions on cold-related health. Epidemiology. 2017;28(1):86–9. https://doi.org/10.1097/EDE.0000000000000570.

10.

Preval N, Keall M, Telfar-Barnard L, Grimes A, Howden-Chapman P. Impact of improved insulation and heating on mortality risk of older cohort members with prior cardiovascular or respiratory hospitalisations. BMJ Open. 2017;7:e18079. https://doi.org/10.1136/bmjopen-2017-018079.

11.

Rangiwhetu L, Pierse N, Viggers H, Howden-Chapman P. Cold New Zealand council housing getting an upgrade. Policy Q. 2018;14:65.

12.

Telfar-Barnard L, Bennett J, Howden-Chapman P, Jacobs D, Ormandy D, Cutler-Welsh M, et al. Measuring the effect of housing quality interventions: the case of the New Zealand "rental warrant of fitness". Int J Environ Res Public Health. 2017;14:1352.

13.

New Zealand Green Building Council. HomeFit. 2019. https://www.nzgbc.org.nz/homefit. Accessed: 2 November 2019.

14.

Ade R, Rehm M. Home is where the health is: what indoor environment quality delivers a "healthy" home? Pac Rim Prop Res J. 2019; https://doi.org/10.1080/14445921.2019.1707949.

15.

International Energy Agency. Energy policies of IEA countries: New Zealand 2017 review. 2017. https://webstore.iea.org/energy-policies-of-iea-countries-new-zealand-2017-review. Accessed: 20 June 2019.

16.

Kāinga Ora. Investor update. 2019. https://kaingaora.govt.nz/assets/Investors-Centre/Investor-update-October-2019.pdf. Accessed: 2 November 2019.

17.

Panuku. Panuku adopts homestar rating to deliver healthier, more energy efficient homes for Auckland. 2017. https://www.panuku.co.nz/panuku-adopts-homestar-rating. Accessed: 2 November 2019.

18.

Richardson G, Eick S, Jones R. How is the indoor environment related to asthma? Literature review. J Adv Nurs. 2005;52:328–39.

19.

Miller JD. The role of dust mites in allergy. Clin Rev Allergy Immunol. 2019;57(3):312–29. https://doi.org/10.1007/s12016-018-8693-0.

20.

Reithofer M, Jahn-Schmid B. Allergens with protease activity from house dust mites. Int J Mol Sci. 2017;18:1368.

21.

Grafetstätter C, Prossegger J, Braunschmid H, Sanovic R, Hahne P, Pichler C, et al. No concentration decrease of house dust mite allergens with rising altitude in alpine regions. Allergy Asthma Immunol Res. 2016;8:312–8.

22.

Park K, Lee J, Lee J, Lee S, Sim D, Shin J, et al. Sensitization to various minor house dust mite allergens is greater in patients with atopic dermatitis than in those with respiratory allergic disease. Clin Exp Allergy. 2018;48:1050–8.

23.

Calderón MA, Linneberg A, Kleine-Tebbe J, De Blay F, Hernandez Fernandez de Rojas D, Virchow JC, et al. Respiratory allergy caused by house dust mites: what do we really know? J Allergy Clin Immunol. 2015;136:38–48.

24.

Wickens K, Siebers R, Ellis I, Lewis S, Sawyer G, Tohill S, et al. Determinants of house dust mite allergen in homes in Wellington, New Zealand. Clin Exp Allergy. 1997;27:1077–85.

25.

Arlian LG. Water balance and humidity requirements of house dust mites. Exp Appl Acarol. 1992;16(1–2):15–35.

26.

Cunningham M. Direct measurements of temperature and humidity in dust mite microhabitats. Clin Exp Allergy. 1998;28:1104–12.

27.

Koekkoek H, van Bronswijk J. Temperature requirements of a house-dust mite dermatophagoides pteronyssinus compared with the climate in different habitats of houses. Entomol Exper Applic. 1972;15:438–42.

28.

Korsgaard J, Hallas TE. Tarsonemid mites in Danish house dust. Allergy. 1979;34:225–32.

29.

Korsgaard J. Epidemiology of house-dust mites. Allergy. 1998;53:36–40.

30.

Korsgaard J, Iversen M. Epidemiology of house dust mite allergy. Allergy. 1991;46:14–8.

31.

Lowe R. Psychrometric control of dust mites in UK housing. Build Serv Eng Res Technol. 2000;21:274–6.

32.

Crowther D, Horwood J, Baker N, Thomson D, Pretlove S, Ridley I, Oreszczyn T. House dust mites and the built environment: a literature review. London: University College; 2000.

33.

Acevedo N, Zakzuk J, Caraballo L. House dust mite allergy under changing environments. Allergy Asthma Immunol Res. 2019;11:450–69.

34.

van Bronswijk JE. House dust biology for allergists, acarologists and mycologists. Zeist: NIB Publishers; 1981.

35.

Crowther D, Wilkinson T, Biddulph P, Oreszczyn T, Pretlove S, Ridley I. A simple model for predicting the effect of hygrothermal conditions on populations of house dust mite dermatophagoides pteronyssinus (acari: pyroglyphidae). Exp Appl Acarol. 2006;39:127–48.

36.

Cunningham MJ. Modelling of some dwelling internal microclimates. Build Environ. 1999;34:523–36.

37.

Biddulph P, Crowther D, Leung B, Wilkinson T, Hart B, Oreszczyn T, et al. Predicting the population dynamics of the house dust mite dermatophagoides pteronyssinus (acari: pyroglyphidae) in response to a constant hygrothermal environment using a model of the mite life cycle. Exp Appl Acarol. 2007;41:61–86.

38.

Rosemeier K. Healthy and affordable housing in new zealand: the role of ventilation. Auckland: University of Auckland; 2014. Unpublished doctoral thesis.

39.

Didovich N. Here's what you need to know to beat dust mites. 2018. https://www.stuff.co.nz/life-style/homed/how-to/108696792/heres-what-you-need-to-know-to-beat-dust-mites. Accessed: 2 November 2019.
Acknowledgements
This study was supported by funding from the Building Research Levy.
Ethics declarations
Conflict of interest
R. Ade is a Homestar Assessor and has worked as a Homestar Assessor for the Building Excellence Group. R. Ade also has an interest in Tether. M. Rehm declares that he has no competing interests.
About this article
Cite this article
Ade, R., Rehm, M. A prediction of dust mite populations in different categories of housing quality in Auckland, New Zealand. Allergo J Int (2020). https://doi.org/10.1007/s40629-020-00130-w
Received:

Accepted:

Published:
Keywords
Dust mites

Indoor environment

Temperature

Relative humidity

Housing

Asthma