Abstract
Background
Post thyroidectomy hypocalcemia is a major sequel of thyroidectomy and continues to trouble the endocrinologists and the endocrine surgeons as there is no ideal predictive marker of hypocalcemia which has the potential to develop into a life-threatening complication. The role of early serum intact parathormone (iPTH) to predict post thyroidectomy hypocalcemia is becoming useful but the literature is still unclear regarding the optimal time of testing and the optimal cut-off value of serum iPTH.
Patients and methods
This is a prospective cohort study of 111 patients who underwent total thyroidectomy in a tertiary care endocrine surgery referral unit. Serum iPTH was measured after 20 min and 4 h of surgery. Receiver-Operator characteristic Curve (ROC) was used to find out of the best cut-off value of S. iPTH 20 min and 4 h after surgery in predicting hypocalcemia.
Results
Hypocalcemia was noted in 60 (54%) out of 111 subjects who underwent total thyroidectomy. The best cut-off values of Serum iPTH to predict hypocalcemia was found to be 4.28 pmol/l at 20 min post total thyroidectomy with a sensitivity and specificity of 81.7% and 51%, respectively. In addition, patients with malignancy or central lymph nodal dissection were significantly over-represented in the hypocalcemia group with serum iPTH above the threshold level of 4.28 pmol/l. Below the cut off level, parenteral calcium supplementation was required in 23% (17/74) subjects while the rate was only 5.4% (2/37) patients when serum iPTH was above the cut-off level.
Conclusions
The decline of serum iPTH below a specific level after surgery has predictive value together with other factors strictly related to patient, the thyroid disease itself and surgery. The risk of development of hypocalcemia and consequent need for calcium supplementation should be evaluated by clinical assessment along with serum PTH measurement.
Access options
Buy single article
Instant access to the full article PDF.
US$ 39.95
Tax calculation will be finalised during checkout.
Subscribe to journal
Immediate online access to all issues from 2019. Subscription will auto renew annually.
US$ 79
Tax calculation will be finalised during checkout.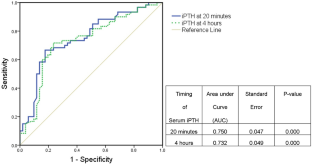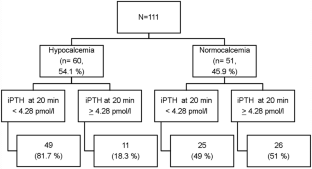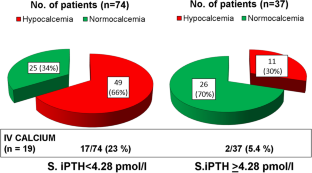 Availability of data and material
The datasets generated during and/or analysed during the current study are available from the corresponding author on reasonable request.
References
1.

Edafe O, Antakia R, Laskar N et al (2014) Systematic review and meta-analysis of predictors of post-thyroidectomy hypocalcemia. Br J Surg 101:307–320

2.

Bliss RD, Gauger PG, Delbridge LW (2000) Surgeon's approach to the thyroid gland: surgical anatomy and the importance of technique. World J Surg 24:891–897

3.

Shaha AR, Jaffe BM (1998) Parathyroid preservation during thyroid surgery. Am J Otolaryngol 19:113–117

4.

Lang BH, Yih PC, Ng KK (2012) A prospective evaluation of quick intraoperative parathyroid hormone assay at the time of skin closure in predicting clinically relevant hypocalcemia after thyroidectomy. World J Surg 36:1300–1306

5.

Amir A, Sands NB, Tamilia M et al (2010) Preoperative serum calcium levels as an indicator of post thyroidectomy hypocalcemia. J Otolaryngol Head Neck Surg 39:654–658

6.

Graff AT, Miller FR, Roehm CE et al (2010) Predicting hypocalcemia after total thyroidectomy: parathyroid hormone level vs. serial calcium levels. Ear Nose Throat J 89:462–465

7.

Chindavijak S (2007) Prediction of hypocalcemia in postoperative total thyroidectomy using single measurement of intra-operative parathyroid hormone level. J Med Assoc Thai 90:1167–1171

8.

Algarni M, Alzahrani R, Dionigi G et al (2017) Parathyroid hormone and serum calcium levels measurements as predictors of postoperative hypocalcemia in total thyroidectomy. Gland Surg 6:428–432

9.

Suwannasarn M, Jongjaroenprasert W, Chayangsu P et al (2017) Single measurement of intact parathyroid hormone after thyroidectomy can predict transient and permanent hypoparathyroidism: a prospective study. Asian J Surg 40:350–356

10.

Chapman DB, French CC, Leng X et al (2012) Parathyroid hormone early percent change: an individualized approach to predict post thyroidectomy hypocalcemia. Am J Otolaryngol 33:216–220

11.

Erbil Y, Bozbora A, Ozbey N et al (2007) Predictive value of age and serum parathormone and vitamin D3 levels for postoperative hypocalcemia after total thyroidectomy for nontoxic multinodular goiter. Arch Surg 142:1182–1187

12.

Orloff LA, Wiseman SM, Bernet VJ et al (2018) American Thyroid Association statement on postoperative hypoparathyroidism: diagnosis, prevention, and management in adults. Thyroid 28:830–841

13.

Mazotas IG, Wang TS (2017) The role and timing of parathyroid hormone determination after total thyroidectomy. Gland Surg 6:S38–S48

14.

Grainger J, Ahmed M, Gama R et al (2015) Post-thyroidectomy hypocalcemia: Impact on length of stay. Ear Nose Throat J 94:276–281

15.

Mercante G, Anelli A, Giannarelli D et al (2019) Cost-effectiveness in transient hypocalcemia post-thyroidectomy. Head Neck 41:3940–3947

16.

Alía P, Moreno P, Rigo R et al (2007) Postresection parathyroid hormone and parathyroid hormone decline accurately predict hypocalcemia after thyroidectomy. Am J Clin Pathol 127:592–597

17.

Roh JL, Park CI (2006) Intraoperative parathyroid hormone assay for management of patients undergoing total thyroidectomy. Head Neck 28:990–997

18.

Sywak MS, Palazzo FF, Yeh M et al (2007) Parathyroid hormone assay predicts hypocalcaemia after total thyroidectomy. ANZ J Surg 77:667–670

19.

Proczko-Markuszewska M, Kobiela J, Stefaniak T et al (2010) Postoperative PTH measurement as a predictor of hypocalcaemia after thyroidectomy. Acta Chir Belg 110:40–44

20.

Kim JP, Park JJ, Son HY et al (2013) Effectiveness of an i-PTH measurement in predicting post thyroidectomy hypocalcemia: prospective controlled study. Yonsei Med J 54:637–642

21.

AlQahtani A, Parsyan A, Payne R et al (2014) Parathyroid hormone levels 1 h after thyroidectomy: an early predictor of postoperative hypocalcemia. Can J Surg 57:237–240

22.

Reddy AC, Chand G, Sabaretnam M et al (2016) Prospective evaluation of intra-operative quick parathyroid hormone assay as an early predictor of post thyroidectomy hypocalcaemia. Int J Surg 34:103–108

23.

Kolahdouzan M, Shahabi Shahmiri S, Hashemi SM et al (2017) Is decline rate of intact parathyroid hormone level a reliable criterion for early discharge of patients after total thyroidectomy? Iran J Otorhinolaryngol 29:239–246

24.

Galy-Bernadoy C, Lallemant B, Chambon G et al (2018) parathyroid hormone assays following total thyroidectomy: is there a predictive value? Eur Thyroid J 7:34–38

25.

Sala DT, Muresan M, Voidazan S et al (2019) First day serum calcium and parathyroid hormone levels as predictive factors for safe discharge after thyroidectomy. Acta Endocrinol (Buchar) 15:225–230

26.

Lombardi CP, Raffaelli M, Princi P et al (2006) Parathyroid hormone levels 4 h after surgery do not accurately predict post-thyroidectomy hypocalcemia. Surgery 140:1016–1023

27.

Toniato A, Boschin IM, Piotto A et al (2008) Thyroidectomy and parathyroid hormone: tracing hypocalcemia-prone patients. Am J Surg 196:285–288

28.

Landry CS, Grubbs EG, Hernandez M et al (2012) Predictable criteria for selective, rather than routine, calcium supplementation following thyroidectomy. Arch Surg 147:338–344

29.

Grodski S, Lundgren CI, Sidhu S et al (2009) Postoperative PTH measurement facilitates day 1 discharge after total thyroidectomy. Clin Endocrinol (Oxf) 70:322–325

30.

Ezzat WF, Fathey H, Fawaz S et al (2011) Intraoperative parathyroid hormone as an indicator for parathyroid gland preservation in thyroid surgery. Swiss Med Wkly 141:w13299

31.

Cayo AK, Yen TW, Misustin SM et al (2012) Predicting the need for calcium and calcitriol supplementation after total thyroidectomy: results of a prospective, randomized study. Surgery 152:1059–1067

32.

Carr AA, Yen TW, Fareau GG et al (2014) A single parathyroid hormone level obtained 4 h after total thyroidectomy predicts the need for postoperative calcium supplementation. J Am Coll Surg 219:757–764

33.

Inversini D, Rausei S, Ferrari CC et al (2016) Early intact PTH (iPTH) is an early predictor of postoperative hypocalcemia for a safer and earlier hospital discharge: an analysis on 260 total thyroidectomies. Gland Surg 5:522–528

34.

Sahli Z, Najafian A, Kahan S et al (2018) One-hour postoperative parathyroid hormone levels do not reliably predict hypocalcemia after thyroidectomy. World J Surg 42:2128–2133

35.

Selberherr A, Scheuba C, Riss P et al (2015) Postoperative hypoparathyroidism after thyroidectomy: efficient and cost-effective diagnosis and treatment. Surgery 157:349–353

36.

Promberger R, Ott J, Kober F et al (2011) Normal parathyroid hormone levels do not exclude permanent hypoparathyroidism after thyroidectomy. Thyroid 21:145–150

37.

Khan Bhettani M, Rehman M, Ahmed M et al (2019) Role of pre-operative vitamin D supplementation to reduce post-thyroidectomy hypocalcemia; cohort study. Int J Surg 71:85–90

38.

Zaidi N, Bucak E, Yazici P et al (2016) The feasibility of indocyanine green fluorescence imaging for identifying and assessing the perfusion of parathyroid glands during total thyroidectomy. J Surg Oncol 113:775–778

39.

Pradeep PV, Ramalingam K (2014) Postoperative PTH measurement is not a reliable predictor for hypocalcemia after total thyroidectomy in vitamin D deficiency: prospective study of 203 cases. World J Surg 38:564–567

40.

Joly D, Drueke TB, Alberti C et al (2008) Variation in serum and plasma PTH levels in second-generation assays in hemodialysis patients: a cross-sectional study. Am J Kidney Dis 51:987–995

41.

Cole DE, Webb S, Chan PC (2007) Update on parathyroid hormone: new tests and new challenges for external quality assessment. Clin Biochem 40:585–590

42.

Cantor T, Yang Z, Caraiani N et al (2006) Lack of comparability of intact parathyroid hormone measurements among commercial assays for end-stage renal disease patients: implication for treatment decisions. Clin Chem 52:1771–1776

43.

Souberbielle JC, Boutten A, Carlier MC et al (2006) Inter-method variability in PTH measurement: implication for the care of CKD patients. Kidney Int 70:345–350

44.

La'ulu SL, Roberts WL (2010) Performance characteristics of six intact parathyroid hormone assays. Am J Clin Pathol 134:930–938
Funding
The authors did not receive support from any organization for the submitted work.
Ethics declarations
Conflict of interest
The authors have no relevant financial or non-financial interests to disclose.
Ethics approval
The study was approved by the Institutional Ethical Committee of Sanjay Gandhi Postgraduate Institute of Medical Sciences (SGPGI), Lucknow, India (IEC Code: 2018–25-MCh_EXP).
Consent to participate
Informed consent was obtained from all individual participants included in the study.
Consent for publication
Appropriate consent for publication has been obtained from the Institute in which the study was conducted.
Additional information
Publisher's Note
Springer Nature remains neutral with regard to jurisdictional claims in published maps and institutional affiliations.
Supplementary Information
Below is the link to the electronic supplementary material.
About this article
Cite this article
Mattoo, S., Agarwal, A., Mayilvaganan, S. et al. Role of postoperative intact serum PTH as an early predictor of severe post-thyroidectomy hypocalcemia: a prospective study. J Endocrinol Invest (2021). https://doi.org/10.1007/s40618-021-01511-w
Received:

Accepted:

Published:
Keywords
Intact PTH

Thyroidectomy

Hypocalcemia