Abstract
Purpose
Charles II (1661–1700) was the last King of the Habsburg dynasty. He was physically and mentally disabled and died at just 39 years old. Here, the authors attempt to investigate the correlations between his signs and symptoms and the physical appearance on the painting.
Methods
Charles II has been portraited by Juan Carreño de Miranda in a painting that may provide precious information about his premature death.
Results
It has been suggested that inbreeding beside other endocrinological disorders were of the major causes responsible for illness and ultimately his death.
Conclusion
Possible endocrinological diseases have been hypothesized.
This is a preview of subscription content, log in to check access.
Access options
Buy single article
Instant access to the full article PDF.
US$ 39.95
Price includes VAT for USA
Subscribe to journal
Immediate online access to all issues from 2019. Subscription will auto renew annually.
US$ 99
This is the net price. Taxes to be calculated in checkout.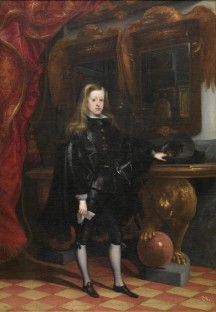 References
1.

Alvarez G, Ceballos FC, Quinteiro C (2009) The role of inbreeding in the extinction of a European royal dynasty. PLoS One 4(4):e5174

2.

Ramos-Levi AM, Diaz-Perez A, Sobrido MJ et al (2012) Axonal neuropathy, long limbs and bumpy tongue: think of MEN2B. Muscle Nerve 46(6):961–964
Ethics declarations
Conflict of interest
On behalf of all authors, the corresponding author states that there is no conflict of interest.
Ethical approval
This paper does not contain any studies with human participants or animals performed by the authors.
Informed consent
For this type of study, formal consent is not required.
Additional information
Publisher's Note
Springer Nature remains neutral with regard to jurisdictional claims in published maps and institutional affiliations.
About this article
Cite this article
Sadeghi, P., Sisti, A. Unveiling Charles II, the last King of the Habsburg Spanish Empire, in a portrait by Juan Carreño de Miranda (1685). J Endocrinol Invest (2020). https://doi.org/10.1007/s40618-020-01333-2
Received:

Accepted:

Published:
Keywords
Growth hormone deficiency

Pituitary hormonal disorders

Multiple endocrine neoplasia type IIb

Consanguineous marriage

Inbreeding