Abstract
The current paper provides an analysis of results for 2 surveys designed to gather information regarding the general public's perceptions and understanding of various job titles related to behavior analysis. Survey data were collected using Amazon Mechanical Turk. Information regarding pleasantness and clarity of job titles, as well as common words associated with job titles, is presented and discussed.
This is a preview of subscription content, log in to check access.
Access options
Buy single article
Instant access to the full article PDF.
US$ 39.95
Price includes VAT for USA
Subscribe to journal
Immediate online access to all issues from 2019. Subscription will auto renew annually.
US$ 99
This is the net price. Taxes to be calculated in checkout.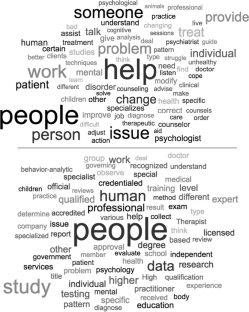 References
Becirevic, A., Critchfield, T. S., & Reed, D. D. (2016). On the social acceptability of behavior-analytic terms: Crowdsourced comparisons of lay and technical language. The Behavior Analyst. Advance online publication. https://doi.org/10.1007/s40614-016-0067-4.

Behavior Analyst Certification Board. (2019). US employment demand for behavior analysts: 2010–2018. Littleton, CO: Author.

Critchfield, T. S. (2018). An emotional appeal for the development of empirical research on narrative. Perspectives on Behavior Science, 41(2), 575–590.

Critchfield, T. S., Doepke, K. J., Epting, K. I., Becirevic, A., Reed, D. D., Fienup, D. M., et al. (2017). Normative emotional responses to behavior analysis jargon and how not to use words to win friends and influence people. Behavior Analysis in Practice, 10, 97–106.

Crump, M. J. C., McDonnell, J. V., & Gureckis, T. M. (2013). Evaluating Amazon's mechanical turk as a tool for experimental behavioral research. PLoS ONE, 8(3), 1–18.

Doughty, A. H., Holloway, C., Shields, M. C., & Kennedy, L. E. (2012). Marketing behavior analysis required (really) different talk: A critique of Kohn (2005) and a(nother) call to arms. Behavior and Social Issues, 21, 115–134.

Hantula, D., Critchfield, T. S., & Rasmussen, E. (2017). Swan song. The Behavior Analyst, 40, 297–303.

Johnston, J. M., Carr, J. E., & Mellichap, F. H. (2017). A history of the professional credentialing of applied behavior analysts. The Behavior Analyst, 40, 523–538.

Lindsley, O. R. (1991). From technical jargon to plain English for application. Journal of Applied Behavior Analysis, 24(3), 449–458.

Malott, R. W. (2018). True confessions of a narrator: Using narrative in textbook writing, or it's gotta be fun or else it won't be fun. Perspectives on Behavior Science, 41(2), 569–574.

Paolacci, G., & Chandler, J. (2014). Inside the turk: Understanding mechanical turk as a participant pool. Current Directions in Psychological Science, 23, 184–188.

Phillips, M. J., & Harris, M. (2015). What's in a name? An evaluation of public perceptions around job role titles within the modern anesthesia team. Journal of Perioperative Practice, 25(4), 68–71.

Witt, J. C., Moe, G., Gutkin, T. B., & Andrews, L. (1984). The effect of saying the same thing in different ways: The problem of language and jargon in school-based consultation. Journal of School Psychology, 22, 361–367.

WordItOut. (n.d.). https://worditout.com/word-cloud/create
Funding
No funding was received for this study.
Ethics declarations
Conflict of Interest
The authors declare that they have no conflict of interest.
Ethical Approval
All procedures performed in studies involving human participants were in accordance with the ethical standards of the institutional and/or national research committee and with the 1964 Helsinki declaration and its later amendments or comparable ethical standards.
Informed Consent
Informed consent was obtained from all individual participants included in the study.
Additional information
Publisher's Note
Springer Nature remains neutral with regard to jurisdictional claims in published maps and institutional affiliations.
About this article
Cite this article
Boydston, P.S., Jowett Hirst, E.S. Public Perceptions and Understanding of Job Titles Related to Behavior Analysis. Behav Analysis Practice 13, 394–401 (2020). https://doi.org/10.1007/s40617-019-00384-z
Keywords
BCBA®

behavior analyst

Board Certified Behavior Analyst®

dissemination