Abstract
Social networking is recognized as one of the major supplies in human life progression. This social form significantly influences the altercation of needs as well as supports. There are various types of social networks that vary as the function of respect to the mass of networking members, contact frequency, geographical vicinity, and subsequent arrangements. Herein, the present analysis examines mainly the workplace influences on the social networking structures within the prosperous immigrants, the types of support (i.e., social, emotional, or instrumental) they get from their co-workers, and the various approaches of women to create and maintain the social relationships. Therefore, the main targets of the present research are the following: highlighting their important strategies for life adaptation in Taiwan and their methodology to create daily life social networking. Herein, around ten women were selected randomly, and their detailed in-depth interview had been taken. As for analysis, the researchers inductively analyzed various essential parameters, such as identifying categories, themes, and outlines, which are mainly appeared from the data. In this course, six relevant and understandable wide themes are mainly appeared via analyzing the interviews. These six themes related to the social networking of Indian women staying in Taiwan are as follows: communication, thinking about Taiwan society, the similarity between India and Taiwan society, differences between India and Taiwan society, social life, and women autonomy and working culture. A major issue for respondents is some have difficulties in communicating their own view and their idea related to the matter because of language problems. However, this place is safe and local people are kind and very helpful in nature. The status of Indian women is excellent, and they feel comfortable, safe, and happy to stay and work in Taiwan.
Access options
Buy single article
Instant access to the full article PDF.
US$ 39.95
Tax calculation will be finalised during checkout.
Subscribe to journal
Immediate online access to all issues from 2019. Subscription will auto renew annually.
US$ 79
Tax calculation will be finalised during checkout.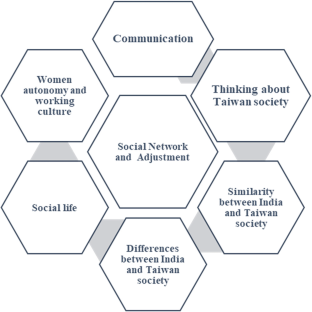 References
Abbott, P., & Wallace, C. (2012). Social quality: a way to measure the quality of society. Social Indicators Research, 108(1), 153–167.

Abubakar, I., Aldridge, R. W., Devakumar, D., Orcutt, M., Burns, R., Barreto, M. L., et al. (2018). UCL–Lancet commission on migration and health. The UCL-Lancet commission on migration and health: The health of a world on the move. Lancet, 392(10164), 2606–2654. https://doi.org/10.1016/S0140-6736(18)32114-7.

Avenarius, C. (2003). Immigrant social networks and the structure of constraints; immigrants from Taiwan in Southern California. Unpublished Ph.D. thesis, University of Cologne, Cologne (Germany).

Azarian, R. (2011). Potentials and limitations of comparative method in social science. International Journal of Humanities and Social Science, 1(4), 113–125.

Beleva, I., & Kotzeva, M. (2001). Bulgaria: country study on international skilled migration. Sofia: Bulgarian Academy of Sciences and University of National and World Economy.

Benstead, L. J. (2016). Conceptualizing and measuring patriarchy: the importance of feminist theory. In POMEPS, "women and gender in Middle East politics. In POMEPS Studies, No. 19, 10 May, p. 8–12, https://pomeps.org/?p=8148.

Burt, R. S., & Burzynska, K. (2017). Chinese entrepreneurs, social networks, and Guanxi. Management and Organization Review, 13(2), 221–260.

Chakrapani, B. C. (2005). Changing status and role of women in Indian society. New Delhi: MD publications.

Chang, D. T. (2009). Women's movements in twentieth-century Taiwan. Urbana and Chicago: University of Illinois Press.

Charmaz, K. (2000). Grounded theory: objectivist and constructivist methods. In N. Denzin & Y. Lincoln (Eds.), Handbook of qualitative research (2nd ed., pp. 509–535). Thousand Oaks: Sage.

Christman, J. (2009). The Politics of Persons. Individual Autonomy and Socio-historical Selves. Cambridge: Cambridge University Press.

Corbin, J. M., & Strauss, A. (2008). Basics of qualitative research, 3rd. ed. Los Angeles: Sage.

Deshpande, S., & Sethi, S. (2010). Role and position of women empowerment in Indian society. International Referred Research Journal, 1(17), 10–12.

Dixon, A. (2018). Women in India's economic growth. Mumbai: The World Bank, The Economic Times Women's Forum.

Fuess Jr., S. M., & Hou, J. W. (2009). Rapid economic development and job segregation in Taiwan. Journal of Family and Economic Issues, 30(March), 171–183.

Gao, P. (2011). Promoting gender parity. Taiwan Review, 61(9), 30–35.

Giddings, L. S., & Wood, P. (2000). The methodological journey of a grounded theorist: an interview with Denise Dignam. Nursing Practice in New Zealand, 16, 4–14.

Glaser, B. (1998). Doing grounded theory: Issues and discussions. Mill Valley: Sociology Press.

Global Migration Indicators. (2018). Insights from the Global Migration Data Portal. Global Migration Data Analysis Centre, Berlin, Germany: International Organization for Migration.

Gray, M., Kittilson, M., & Sandholtz, W. (2006). Women and globalization: a study of 180 countries, 1975–2000. International Organization, 60, 293–333. https://doi.org/10.1017/S0020818306060176.

Hu, C., Zhao, L., & Huang, J. (2014). Exploring online identity re-construction in social network communities: A qualitative study. Proceedings - Pacific Asia Conference on Information Systems, PACIS 2014.

Huang, X. (2019). Understanding Bourdieu - cultural capital and habitus. Review of European Studies, 11(3), 45.

Kabeer, N. (2012). Empowerment, citizenship and gender justice: a contribution to locally grounded theories of change in women's lives. Ethics Social Welfare, 6, 216–232.

Keyton, J. (2011). Communication and organizational culture: a key to understanding work experience. Thousand Oaks: Sage.

Liu, W., Sidhu, A., Beacom, A., & Valente, T. (2017). Social network theory. https://doi.org/10.1002/9781118783764.wbieme0092.

Mandal, A., & Mete, J. (2012). Women empowerment and education in the context of India. University News, 50(20), 12–15.

Massey, D. S., Fischer, M. J., & Capoferro, C. (2006). International migration and gender in Latin America: a comparative analysis. International Migration, 44(5), 63–91.

Mohapatra, H. (2015). Status of women in Indian society. Journal of Research in Humanities and Social Science, 3(6), 33–36.

Morrison, B., & Hamp-Lyons, L. (2007). Grounded theory research. The International Journal of Interdisciplinary Social Sciences: Annual Review, 2, 413–424. https://doi.org/10.18848/1833-1882/CGP/v02i03/52290.

Nagaraja, B. (2013). Empowerment of women in India: a critical analysis. Journal of Humanities and Social Science, 9(2), 45–52.

Nagindrappa, M., & Radhika, M. K. (2013). Women exploitation in Indian modern society. International Journal of Scientific and Research Publications, 3(2), 1–11.

Narasimhamurthy, N. (2014). Cultural impact and gender on Indian young adults in using social networking sites. International Journal of Interdisciplinary and Multidisciplinary Studies, 1(7), 113–125.

Nayak, P., & Mahanta, B. (2009). Women empowerment in India. SSRN Electronic Journal. https://doi.org/10.2139/ssrn.1320071.

Oshana, M. (2006). Personal autonomy in society. Journal of Social Philosophy, 29(1), 81–102.

Pahuja, S. (2016). Work life balance of females employees: a case study. International Research Journal of Management and Commerce, 3, 41–50.

Papacharissi, Z. (Ed.). (2010). A networked self: identity, community, and culture on social network sites. New York: Routledge.

Raghuram, P., Herman, C., Ben, E. & Sondhi, G. (2018). Women and IT scorecard - India 2018. https://doi.org/10.13140/RG.2.2.29158.68160.

Rout, N. (2016). Role of women in ancient India. Odisha Review. Retrieved from http://magazines.odisha.gov.in/Orissareview/2016/Jan/engpdf/43-48.pdf. Accessed 10 Feb 2019.

Shettar, R. M. (2015). A study on issues and challenges of women empowerment in India. IOSR Journal of Business and Management, 17(4), 13–19.

Singhal, D. (2014). Women empowerment through social initiatives: an Indian story. DLSU Business & Economics Review, 24, 35–44.

Thakur, S. S., & Naikoo, A. A. (2016). Women empowerment and their empowering schemes in India. International Journal of Advance Research in Science Humanities and Engineering, 1, 21–27.

Torri, M., & Martinez, A. (2014). Women's empowerment and micro-entrepreneurship in India: constructing a new development paradigm? Progress in Development Studies, 14(1), 31–48. https://doi.org/10.1177/1464993413504347.

Tseng, M., Hwang, J., Madden, C. & Moon, E. (2019). 2019-2020 Taiwan at a glance. Published by the Ministry of Foreign Affairs, Republic of China (Taiwan). ISBN: 978-986-5447-00-7. http://www.mofa.gov.tw. Accessed 22 Mar 2020.

Valk, R., & Srinivasan, V. (2011). Work-family balance of Indian women software professionals: a qualitative study. Journal of Hepatology, 23, 3–3. https://doi.org/10.1016/j.iimb.2011.01.006.

Wei, H.-L., Lin, K.-Y., Lu, H.-P., & Chuang, I.-H. (2015). Understanding the intentions of users to 'stick' to social networking sites: a case study in Taiwan. Behaviour & Information Technology, 34(2), 151–162.

WENR. (2016). Education in Taiwan. Retrieved from http://wenr.wes.org/2016/06/education-in-taiwan. Accessed 23 Feb 2017

Whittaker, A. (2009). Research skills for social work. Exeter: Learning Matters Ltd..

Zhang, Y.-B., Lin, M.-C., Nonaka, A., & Beom, K. (2005). Harmony, hierarchy and conservatism: a cross-cultural comparison of Confucian values in China, Korea, Japan, and Taiwan. Communication Research Reports, 22(2), 107–115.
Acknowledgments
This research work was supported by the Graduate Institute of Social Work, National Taiwan Normal University, Taipei, Taiwan.
Ethics declarations
Conflict of Interest
The authors declare that they have no conflicts of interest.
Ethical Approval
This article does not contain any studies with animals performed by any of the authors.
All procedures performed in studies involving human participants were in accordance with the ethical standards of the institutional and/or national research committee and with the 1964 Helsinki Declaration and its later amendments or comparable ethical standards.
Statement of Informed Consent
Informed consent was obtained from all individual participants included in the study.
Additional information
Publisher's Note
Springer Nature remains neutral with regard to jurisdictional claims in published maps and institutional affiliations.
About this article
Cite this article
Pandey, P., Yu, MK. The Social Network and Adjustment of Indian Women in Taiwan: a Qualitative Study. Glob Soc Welf (2021). https://doi.org/10.1007/s40609-020-00197-x
Keywords
Social network

Immigrants communication

Social life

Women autonomy